LGBT Israelis from Ethiopia to visit U.S.
Trip scheduled to include stops in D.C., San Francisco
SAN FRANCISCO — A group of LGBT Israelis from Ethiopia are scheduled to travel to the U.S. next month.
A Wider Bridge, which describes itself as an "LGBTQ advocacy group building connections between the Israeli and North American LGBTQ communities, on March 29 announced that members of Kehila Lahatavit Ethiopit or LGBT Ethiopian Community will begin their visit to the U.S. in San Francisco on April 17. They are expected to visit D.C., Los Angeles, Chicago and New York before returning to Israel.
"KALA is an extraordinary group of LGBTQ Ethiopian Israelis that is increasing its efforts to address the challenges they face, including discrimination, a relative lack of upward socio-economic mobility and the traditional attitudes of their own families and communities," said A Wider Bridge Executive Director Arthur Slepian in a press release, referring to Kehila Lahatavit Ethiopit.
The trip is scheduled to take place less than three months after protesters forced the cancellation of A Wider Bridge reception at the National LGBTQ Task Force's Creating Change Conference in Chicago.
Sarah Kala-Meir and Tom Canning of the Jerusalem Open House for Pride and Tolerance, an Israeli LGBT advocacy group, were scheduled to speak.
Dianne Feinstein dies at 90
Calif. Democrat elected to U.S. Senate in 1992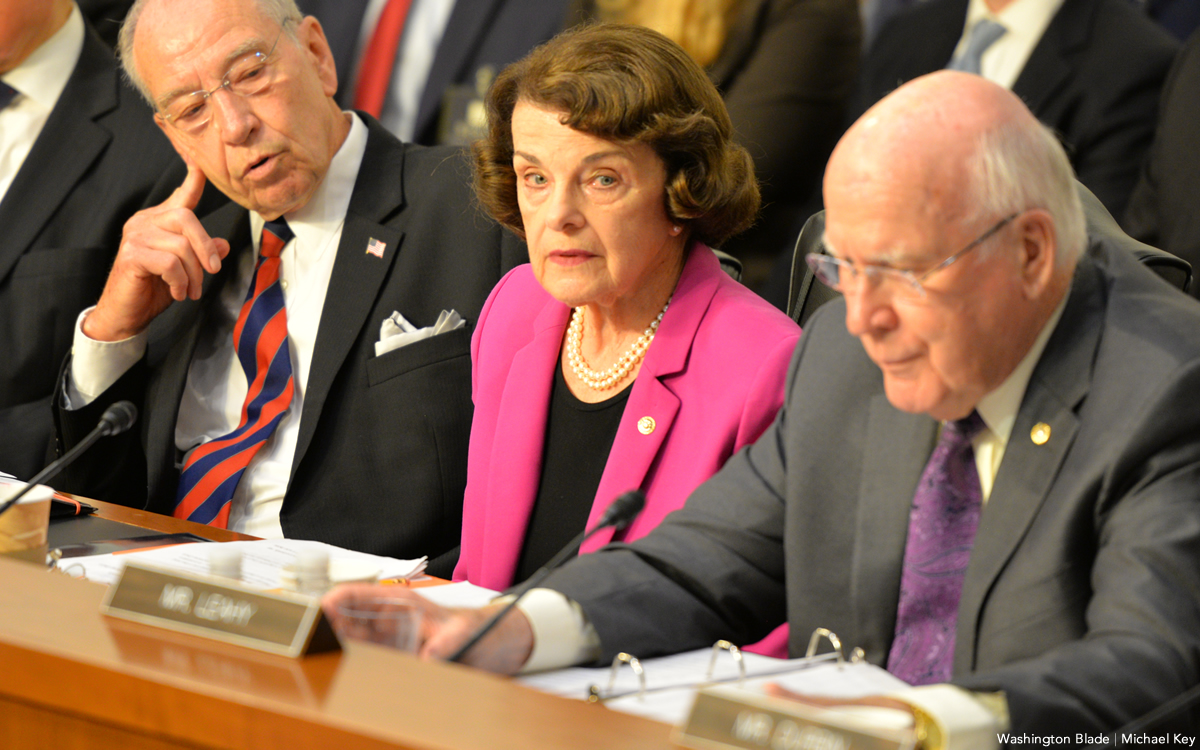 U.S. Sen. Dianne Feinstein (D-Calif.) on Friday died at the age of 90.
The California Democrat was elected to the U.S. Senate in 1992.
Feinstein in 1978 became San Francisco's mayor after the assassination of Mayor George Moscone and openly gay Supervisor Harvey Milk. 
"Senator Dianne Feinstein's passing is a loss for us all," tweeted Human Rights Campaign President Kelley Robinson. "Her steadfast support for the LGBTQ+ community and the fight for justice will be remembered. We carry her legacy forward in our relentless pursuit of equality without exception."
The Washington Blade will update this story.
House passes Boebert's amendment targeting LGBTQ workers at USDA
Democrats call measure 'blatantly homophobic'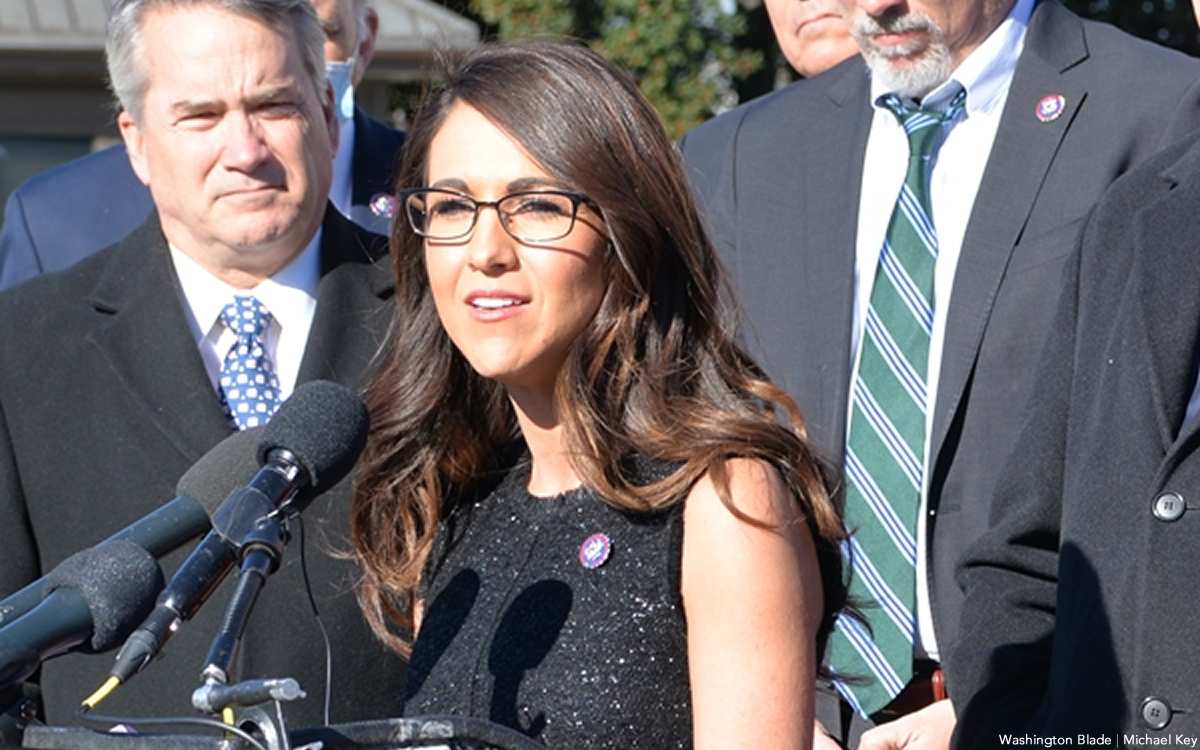 House Republicans on Wednesday pushed through a proposal by U.S. Rep. Lauren Boebert (R-Colo.) that would prohibit the U.S. Department of Agriculture from using federally appropriated funds for materials supporting the agency's LGBTQ employees.
Passing by just three votes in the face of unified opposition from Democrats, along with one GOP member, U.S. Rep. Brian Fitzpatrick (Pa.), the measure will never be signed into law amid Democratic control of the Senate and White House.
For weeks, Boebert and her ideological allies in the lower chamber have dashed hopes of forestalling a government shutdown by insisting on ladening must-pass spending bills with far-right demands, often targeting the LGBTQ community and initiatives promoting diversity, equity, and inclusion.
Even so, the aim and scope of the Colorado congresswoman's amendment to the agriculture appropriations bill was striking.
Among the 17 types of "courses, books, or study guides" circumscribed in the measure are those concerning "approaching LGBT issues in the workplace," "understanding and supporting LGBTQ+ employees," "becoming an ally to all," "conversations with LGBTQ+ leaders on the power of identity," and "creating an inclusive work community" for transgender employees.
Democratic Congressional Campaign Committee Spokesperson Viet Shelton condemned House Republicans' passage of the amendment in a statement shared with the Washington Blade:
"In a clear indication that so-called moderate Republicans are now completely controlled by their extreme fringes, they are now passing such blatantly homophobic legislation that mandates federal employees be discriminated against in the workplace," he said. "Their focus on these hateful policies while ignoring middle class families struggling with rising costs is why they will lose their majority in Congress next year."
Federal government prepares for looming shutdown
White House warns of 'damaging impacts across the country'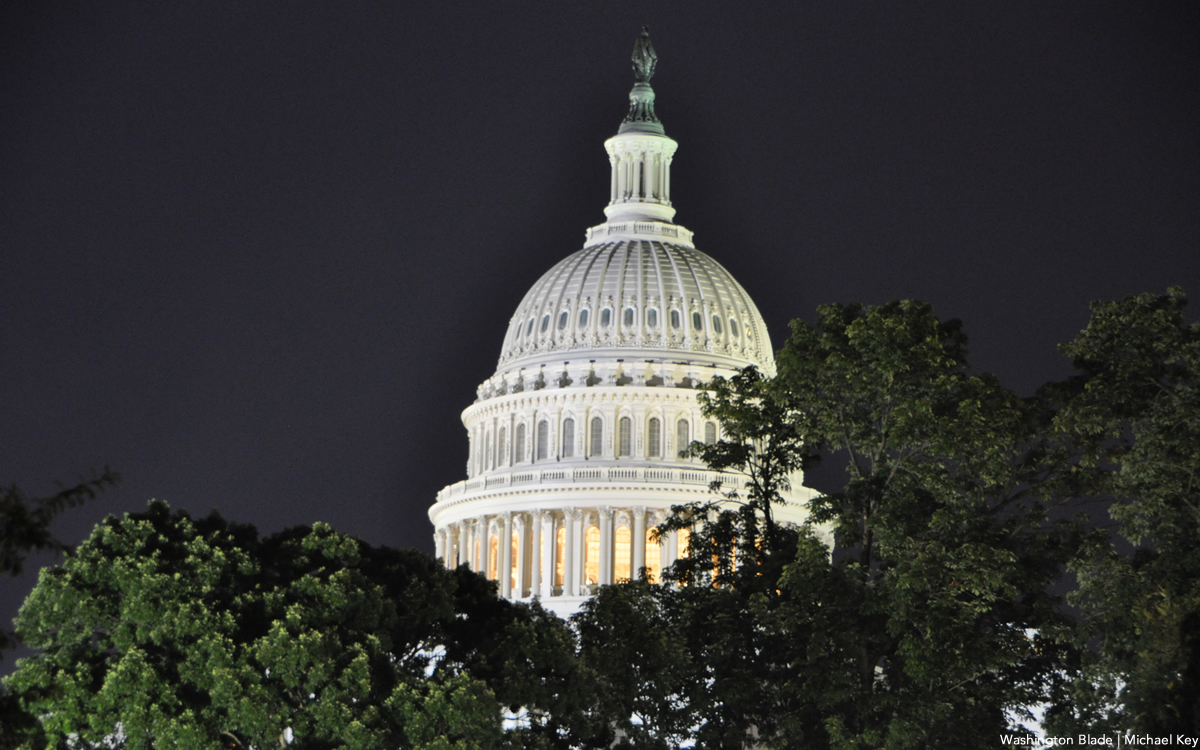 However remote they were on Monday, odds of avoiding a government shutdown were narrowed by Thursday evening as House Republicans continued debate over their hyper-partisan appropriations bills that stand no chance of passage by the Upper Chamber.
As lawmakers in the Democratic controlled Senate forged ahead with a bipartisan stop-gap spending measure that House GOP leadership had vowed to reject, the federal government began bracing for operations to grind to a halt on October 1.
This would mean hundreds of thousands of workers are furloughed as more than 100 agencies from the State Department to the Advisory Council on Historic Preservation roll out contingency plans maintained by the White House Office of Management and Budget. On Thursday the Office of Personnel Management sent out memos to all agencies instructing them to ready for a shutdown on Sunday.
Before 1980, operations would continue per usual in cases where Congress failed to break an impasse over spending, as lapses in funding tended to last only a few days before lawmakers brokered a deal.
Since then, the government has shut down more than a dozen times and the duration has tended to become longer and longer.
"Across the United States, local news outlets are reporting on the harmful impacts a potential government shutdown would have on American families," the White House wrote in a release on Thursday featuring a roundup of reporting on how the public might be affected.
"With just days left before the end of the fiscal year, extreme House Republicans are playing partisan games with peoples' lives and marching our country toward a government shutdown that would have damaging impacts across the country," the White House said.
The nature and extent of that damage will depend on factors including how long the impasse lasts, but the Biden-Harris administration has warned of some consequences the American public is likely to face.
Transportation Secretary Pete Buttigieg, for example, warned: "There is no good time for a government shutdown, but this is a particularly bad time for a government shutdown, especially when it comes to transportation."
Amid the shortage of air traffic controllers and efforts to modernize aviation technology to mitigate flight delays and cancellations, a government shutdown threatens to "make air travel even worse," as Business Insider wrote in a headline Thursday.
Democratic lawmakers including California Congresswoman Barbara Lee and Maxine Waters, meanwhile, have sounded the alarm in recent weeks over the consequences for the global fight against AIDS amid the looming expiration, on Oct. 1, of funding for PEPFAR, the President's Emergency Plan for AIDS Relief.