April 29, 2016 at 5:05 pm EDT | by Lou Chibbaro Jr.
Mayor signs youth suicide prevention bill
D.C. Mayor Muriel Bowser on April 27 signed a bill approved by the City Council that requires the city's public schools to adopt suicide prevention polices that specifically address the needs of LGBT youth.
Bowser signed the bill three weeks after the Council voted unanimously to give final approval of the legislation, the Youth Suicide Prevention and School Climate Survey Amendment Act of 2015.
The bill now goes to Capitol Hill where it must undergo a 30 legislative day review by Congress before it becomes law.
LGBT advocacy organizations that monitor youth-related issues have hailed the bill as the first law in the nation to require school suicide policies to deal with LGBT-related issues.
"With the enactment of this bill, there is now model legislative language that other states can use to implement similar laws," according to a statement released by the Trevor Project, a national group that advocates for suicide prevention efforts pertaining to LGBT youth.
Among other things, the D.C. bill requires that teachers, principals and certain staff employed by public schools and public charter schools receive behavioral health training and suicide prevention, intervention and post intervention training at least once every two years.
The bill also requires the city's Office of the State Superintendent of Education to develop and publish a model suicide prevention, intervention and post-intervention policy and to develop "research based school climate surveys" related to potential causes of youth suicide.
A fiscal impact statement on the bill prepared by the city's independent chief financial officer says "funds are not sufficient in the fiscal year 2016 through fiscal year 2019 budget and financial plan to implement the bill."
CFO Jeffrey DeWitt said in his fiscal impact statement that the cost for implementing the bill through 2019 would be $209,000, which is needed to hire two full-time staff members to administer and analyze the climate surveys.
According to the office of D.C. Council member David Grosso (I-At-Large), who wrote the legislation, Bowser did not include funding for the bill in her proposed fiscal year 2017 budget, which she submitted to the Council on March 24.
A spokesperson for the mayor couldn't immediately be reached to determine whether the $209,000 in funding wasn't included in her budget for logistical reasons since the budget had to be submitted before the Council gave final approval of the bill.
"I am glad to have the support of Mayor Bowser for the Youth Suicide Prevention and School Climate Survey Act of 2015, which she recently signed," Grosso told the Washington Blade in a statement.
Grosso said the Council's Committee on Education, which he chairs, will propose to the full Council that the implementation of the bill be funded in the budget for fiscal year 2017 when the committee votes on the budget next week.
Lou Chibbaro Jr. has reported on the LGBT civil rights movement and the LGBT community for more than 30 years, beginning as a freelance writer and later as a staff reporter and currently as Senior News Reporter for the Washington Blade. He has chronicled LGBT-related developments as they have touched on a wide range of social, religious, and governmental institutions, including the White House, Congress, the U.S. Supreme Court, the military, local and national law enforcement agencies and the Catholic Church. Chibbaro has reported on LGBT issues and LGBT participation in local and national elections since 1976. He has covered the AIDS epidemic since it first surfaced in the early 1980s. Follow Lou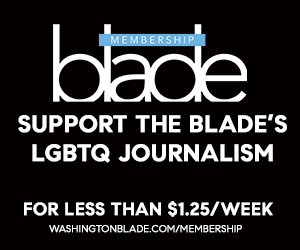 Sign Up for Blade eBlasts