California bakery blasted for making transgender Ken doll cake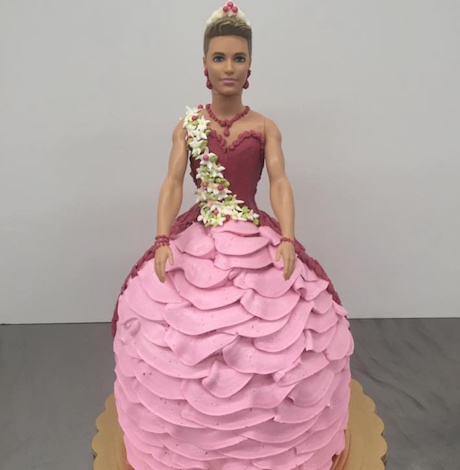 A California bakery sent Facebook into a frenzy after posting a picture of a cake with a Ken doll in a dress.
According to FOX 40, a group of friends ordered a custom Ken doll cake from Freeport Bakery in Sacramento, Calif., for their monthly dice game. The cake was made with Ken wearing a dress made of buttercream, a sash, tiara and jewelry. FOX 40 reports the customer is not transgender and was not trying to make a political statement with the cake.
Co-owner Marlene Goetzeler decided to show off the handy work by posting a photo of the cake to the bakery's Facebook page. But, not everyone was impressed with the cake.
Goetzeler noticed people began unliking the bakery's page and negative comments came swarming in. The post received more than 1,000 reactions.
"Naively, I guess I just thought this is a really cool cake, and look at how great they did with the butter cream," Goetzeler told FOX 40. "What's wrong with a Ken cake?"
Goetzeler deleted the negative comments, but wasn't swayed to take the picture down.
"In the beginning, I thought 'What's the big deal?' but now I realize how important it is to take a stand if you believe in something," Goetzeler told FOX 40.
Goetzeler posted the photo again and urged people to share. The post was captioned "Facebook Friends, After posting this we had a ton of people unliking our Facebook page. I deleted the rude remarks, thank goodness not too many. Our customer was thrilled. Share this for us!"
D.C. to celebrate LGBTQ poetry
Pride Poem-a-Day presents second installation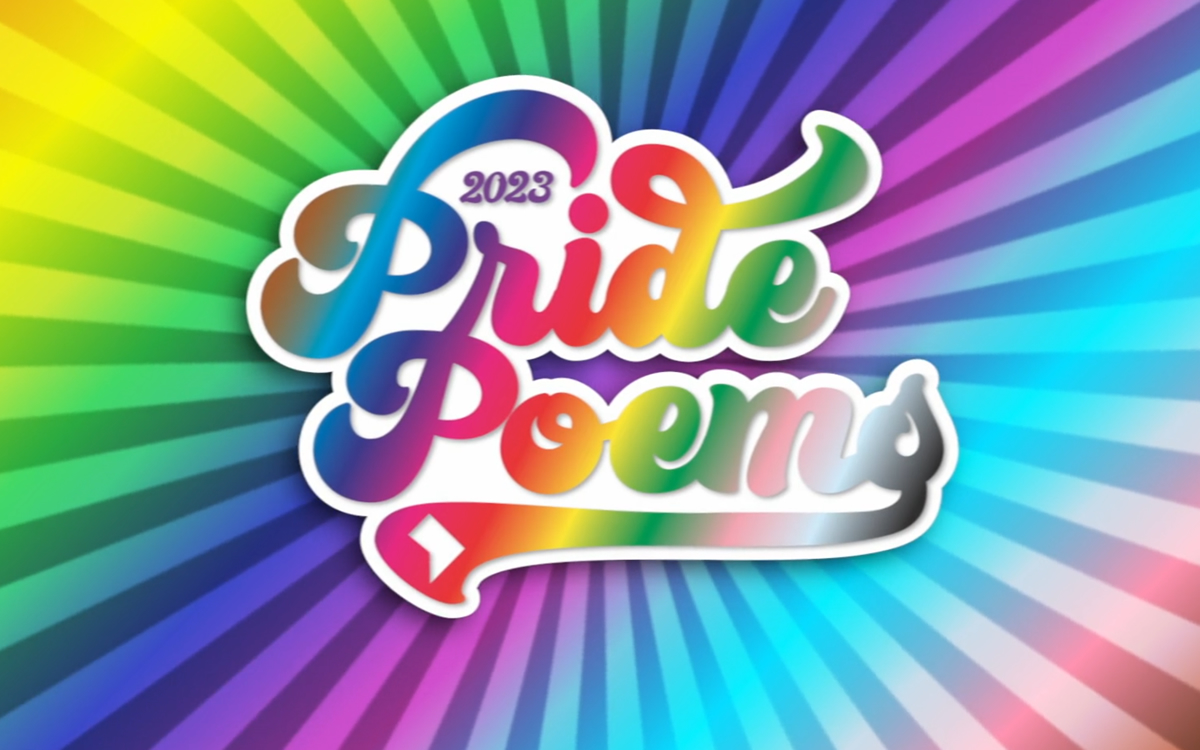 DC Pride Poem-a-Day will present its second installation of short videos featuring LGBTQ poetry from the Washington, D.C. area to celebrate Pride month.
A new video will be released each day in June and will feature different poets reading an original poem on the theme of "heritage."
The videos highlight LGBTQ poets from a variety of backgrounds, ethnicities, races, and countries of origin, and also poets from minority religions, multi-lingual, and disabled. 
To access the poetry, visit DC Pride Poems' website.
Calendar: June 2-8
LGBTQ events in the days to come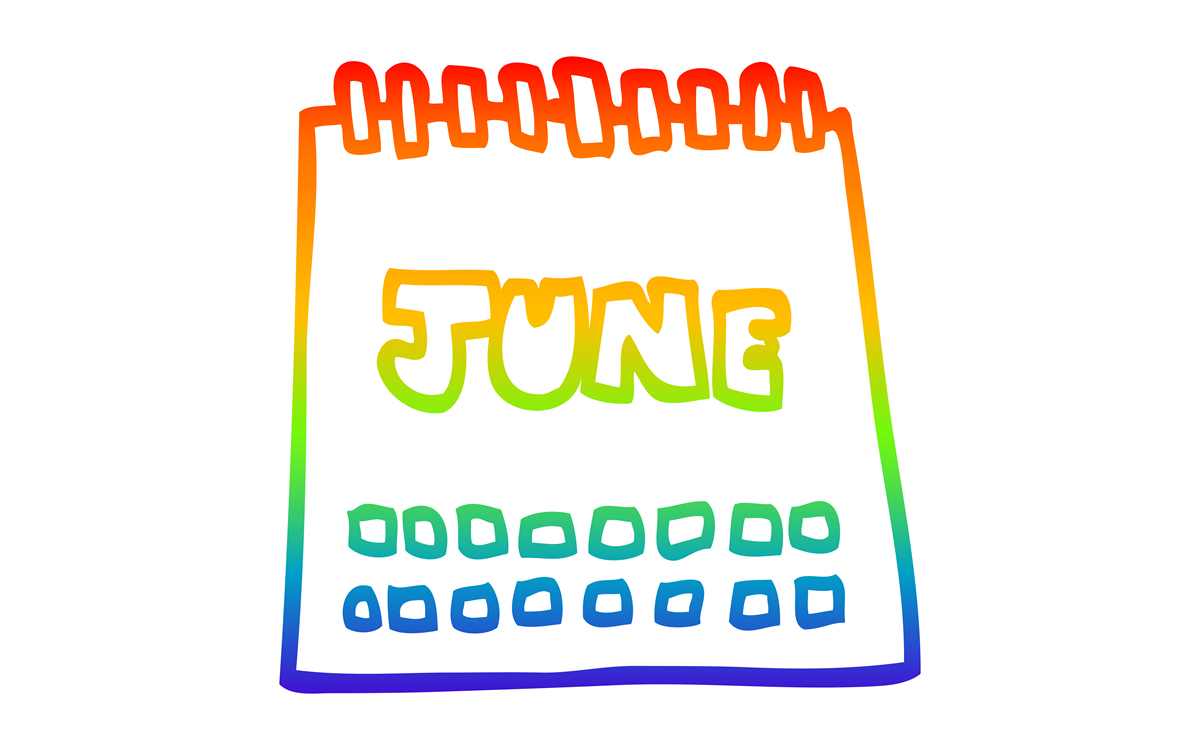 Friday, June 2
Center Aging: Friday Tea Time will be at 2 p.m. on Zoom. This event is a social hour for older LGBTQ+ adults. Guests can bring a beverage of choice. For more information, contact [email protected].
Go Gay DC will host "LGBTQ+ Pride Kickoff Social" at 7 p.m. at The Commentary. This event is ideal to make new friends in the LGBTQ community and enjoy the bottomless happy hour specials at Puro Gusto. Admission is free and more details are available on Eventbrite.
Saturday, June 3
Virtual Yoga Class with Jesse Z. will be at 12 p.m. online. This is a weekly class focusing on yoga, breath work, and meditation. Guests are encouraged to RSVP on the DC Center's website, providing your name, email address, and zip code, along with any questions you may have. A link to the event will be sent at 6 pm the day before.
LGBTQ People of Color Support Group will be at 1 p.m. on Zoom. LGBTQ People of Color can come together and talk about anything affecting them in a space that strives to be safe and judgment free. There are all sorts of activities like watching movies, poetry events, storytelling, and just hanging out with others. For more details, visit thedccenter.org/poc or facebook.com/centerpoc.
Project DC Events will host "DC Pride Crawl" at 2 p.m. at Dupont Circle's best bars. Guests are encouraged to put on their brightest and most colorful outfit, grab friends, and enjoy a day of drinks and celebration. Tickets start at $20 and can be purchased on Eventbrite. 
Sunday, June 4
AfroCode DC will be at 4 p.m. at Decades DC. This event will be an experience of non-stop music, dancing, and good vibes and a crossover of genres and a fusion of cultures. Tickets cost $40 and can be purchased on Eventbrite.
"Largest LGBTQIA+ Singles Flamingle" will be at 7 p.m. at THRoW Social DC. Guests can enjoy signature cocktail and wine specials, food, games, and live music while mingling with single people in the local LGBTQ community. This event is free and more details are available on Eventbrite.
Monday, June 5
Center Aging Monday Coffee and Conversation will be at 10 a.m. on Zoom. LGBT Older Adults — and friends — are invited to enjoy friendly conversations and to discuss any issues you might be dealing with. For more information, visit the Center Aging's Facebook or Twitter.
Capital Pride Interfaith Service Planning Meeting will be at 6 p.m. on Zoom. The Capital Pride Interfaith Service is an "integrated service" respectfully demonstrating the breadth, depth, and sincerity of our faith, exposing the lie that anti-gay fundamentalists have a monopoly on faith and religion. For more details, [email protected]. 
Tuesday, June 6
Go Gay DC will host "LGBTQ+ Pride Reception" at 5 p.m. at Turkish Coffee Lady. This event is to foster cross-cultural connectedness and make friends in the LGBTQ+ and allied community. Attendance is free and more details are available on Eventbrite.
Pride on the Patio Events will host "LGBTQ+ Social Mixer" at 5:30 p.m. at Showroom. Dress is casual, fancy, or comfortable and guests are encouraged to bring the most authentic you to chat, laugh, and get a little crazy. This event is free and more details are available on Eventbrite. 
Wednesday, June 7
Job Club will be at 6 p.m. on Zoom. This is a weekly job support program to help job entrants and seekers, including the long-term unemployed, improve self-confidence, motivation, resilience and productivity for effective job searches and networking — allowing participants to move away from being merely "applicants" toward being "candidates." For more information, email [email protected] or visit thedccenter.org/careers.
Center Aging Women's Social & Discussion Group will be at 6:00p.m. on Zoom. This group is a place where older LGBTQ+ women can meet and socialize with one another. To register, visit the DC Center's website. 
Thursday, June 8
KINETIC Presents will host "KINETIC Pride 2023 DC Weekend Pass" at 10 p.m. at four D.C. venues. This partnership with Capital Pride Alliance will feature a performance by global pop star Betty Who at Echostage, stunning visuals, and top talent. Tickets start at $149 and can be purchased on Eventbrite. 
Max brings history to the masses in entertaining 'Book of Queer'
Cervini's work not a typical queer documentary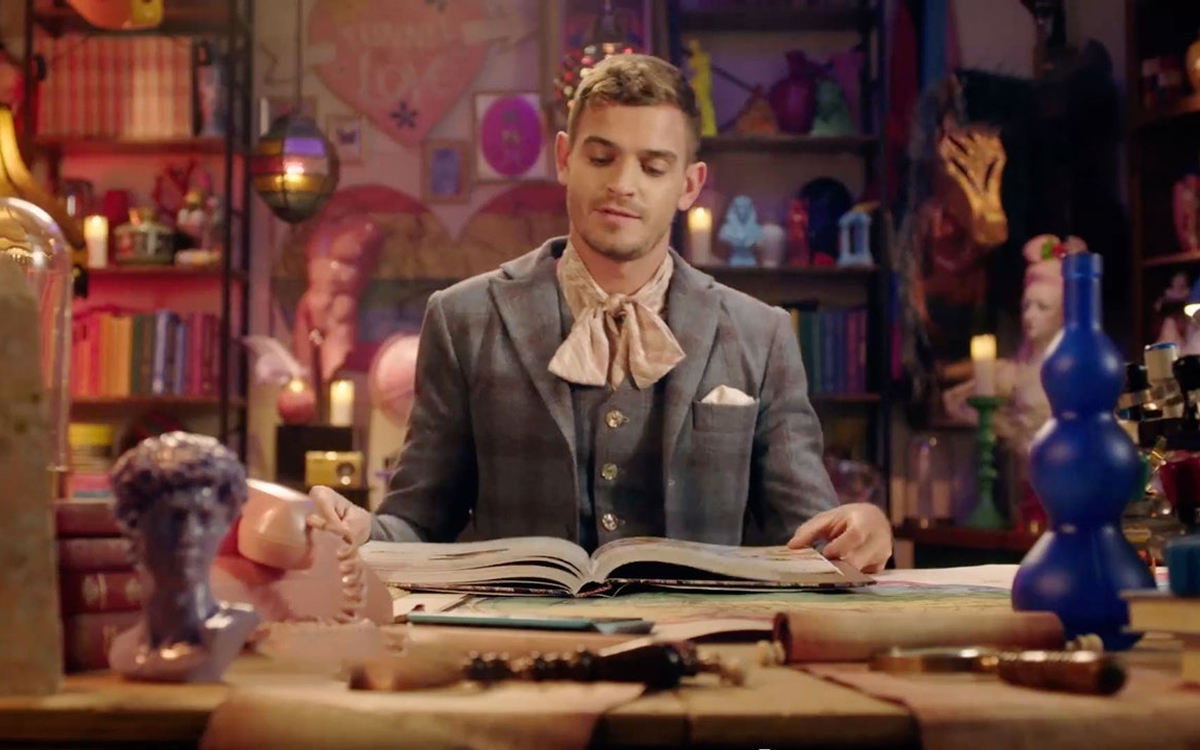 Pride month has officially arrived, and that means it's time again for all our TV providers to join the rest of the corporate world in falling over itself to show its support the only way it knows how – by marketing directly to us and letting us know that, yes, they want our money, too.
We can't resist a little glib snark, but truthfully, we're not complaining. After being ignored for decades by the mainstream, a little overcompensation once a year is fine by us. That's especially true when the content that rolls out on our screens is well-crafted, authentic, and entertaining without pandering to its audience – which, as anyone who has binge-watched through the "LGBTQ+" section of their streaming service of choice can easily tell you is not always the case.
That's why we chose to start our Pride month viewing with a series that's not even brand new. "The Book of Queer," which is part of the debut rollout on Max (the rebranded streaming service formerly known as HBO Max), originally aired on Discovery + for Pride 2022. Now, it's available to a wider audience just in time for Pride 2023, and coupled with its focus on queer history, the timing is too perfect not to bring it to your attention.
Created by Harvard-and-Cambridge-educated historian Dr. Eric Cervini – likely familiar to many of our readers via a popular social media presence built around his "Queer History 101" newsletter – "Book of Queer" is a five-episode crash course that tells the stories of significant queer (or purportedly queer) individuals who have made their mark on human civilization across the millennia through re-enactments by an all-queer ensemble cast, illuminating them with commentary from an array of expert "talking heads" who are both erudite and accessible. It's a familiar format, obviously, but this time it comes with a twist – the re-enactments take the form of comedic sketches, reimagining its famous historical subjects through a contemporary lens and turning them into campy (and absurdly anachronistic) avatars of defiantly queer empowerment.
Those accustomed to a more straightforward documentary approach might be put off by this approach, and we can't blame them; the irreverence of the very first episode, which explores queer leaders of government throughout history and depicts Abraham Lincoln as a flamboyantly sex-positive avatar for queer empowerment, is by itself enough to raise hackles. Considering the reverence with which most of these individuals are viewed today, it's inevitable that many viewers will find the show more than a little transgressive.
Yet even as it plays fast and loose with the accuracy of its portrayals – which, for the record, is a deliberate tactic, not a clumsy effort to contemporize and dumb them down for a modern audience – it is scrupulous about making sure we aren't fooled by its wacky style into thinking that it doesn't take any of this stuff seriously. Though it plays on all the familiar tropes and stereotypes of modern queer culture – to the point that we might be offended by some of its humor if it came in a show not conceived and executed by queer creators – it is always quick to set the record straight, not just with the savvy, well-researched insight of the commentators, but with clever visual aids like infographics and pop-up supplemental facts; like Cervini's online history lessons, there's a light tone to the whole affair, giving everything a fresh sense of fun that makes it all feel very much like a product tailored for the reputed shallowness and short attention span of the internet age — but that doesn't mean it's not dedicated to honoring the history it relates to us by remaining strictly aligned with the facts.
Indeed, in many ways it uses its cheeky burlesque of history to amplify and drive home some of its most convincing points. How better to underscore its arguments – the nonbinary identity of Egyptian monarch Ahkenaten, or Abe Lincoln's committed sexual relationships with the lengthy list of male "roommates" who shared his bed (yes, really) before becoming president, and those examples are just from the first installment – than by comically portraying them as if they were the modern equivalent of their "types" in the queer community? More than that, when we see these histories presented in this way, the arguments of "traditional" (i.e. heterosexual) historians that dismiss such theories as unsubstantiated speculation seem even more ludicrous than they did before – and that's saying a lot.
In truth it's more than a little thrilling to see the show's unequivocal assertions about the queerness of its subjects – all backed by rigorously cited sources and extensively researched anecdotal evidence – presented without the equivocating disclaimers that usually accompany that discussion. And while it may take most of the first episode for some viewers to warm up to its madcap approach (though more casual audiences may be comfortable with it from the start), it quickly reveals its value goes beyond simply keeping us entertained. By episode 2, not just in spite but because of its humor, it's able to evoke unexpected – and unexpectedly powerful – tears over the death of Alan Turing, and to remind us that Renaissance artists like Da Vinci and Michelangelo lived under constant threat of prosecution, punishment, and even execution for sodomy.
Indeed, if there's one common thread that runs through all these histories, it's the ever-present suppression, persecution, and worse that has been imposed upon queer people across the centuries; if "Book of Queer" makes us laugh, it does so in the spirit of all the pioneers who came before it, combating the cruelty and bigotry of our oppressors with the kind of fierce, subversive comedic artillery that easily pierces their ludicrous assumptions and attitudes about us.
That, as much as anything, drives home the importance of a show like "Book of Queer" in the here and now, as LGBTQ+ life and culture faces a resurgence of bigotry and legislation aimed at pushing us back into the closeted, underground life we've had to endure for millennia. That importance is clearly not lost on Cervini, who despite the involvement of high-profile guest narrators like Margaret Cho and the late Leslie Jordan emerges as the show's brightest star. Appearing in each episode to provide "footnotes" that give further historical context for each of the stories, his twink-ish youthful appearance and mischievously fey charm belie his status as a Pulitzer-nominated author and historian (for his 2020 book, "The Deviant's War: The Homosexual vs. The United States of America"), but the authority and comprehensive knowledge with which he speaks leave no doubt of his ability to lead a generation of young queer scholars and activists fighting into the future, armed with the certainty of facts and an understanding of a history that has been buried by our oppressors for far too long.
"Book of Queer" might not be your typical documentary, but really, do we want a queer documentary to be "typical"? It's clear that Dr. Eric Cervini does not, and after seeing this one, we are inclined to agree with him.