1950s documents highlight McCarthy-era anti-gay purges
Closeted gay columnist rejected Soviet blackmail attempt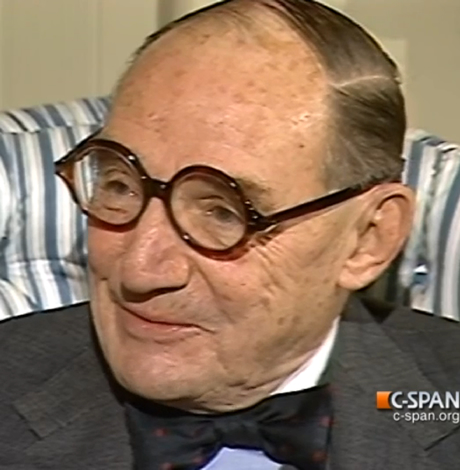 On July 14, 1950, the director of the then three-year-old U.S. Central Intelligence Agency, Roscoe H. Hillenkoetter, told a closed congressional hearing why he believed homosexuals should be fired from and never hired for federal government jobs of any kind.
The transcript of the hearing by the Senate Investigations Subcommittee, which remained sealed for more than 50 years, includes more than two-dozen pages of testimony by Hillenkoetter that gay archives activist Charles Francis says helped set the stage for purges of gays and lesbians from the federal workforce for at least the next 20 years.
"I think it is of interest for this committee to know," Hillenkoetter testified, "that the use of homosexuality for purposes of recruitment, blackmail, and control has been a frequent technique of the Soviet intelligence services."
Repeatedly referring to homosexuals as perverts, Hillenkoetter said "homosexuality frequently is accompanied by other exploitable weaknesses such as psychopathic tendencies which affect the soundness of their judgment, physical cowardice, susceptibility to pressure, and general instability."
As if that were not enough, he added, "They are often too stupid to realize it, or through inflation of their ego or through not letting themselves realize the truth, they are usually the center of gossip, rumor, derision, and so forth."
Hillenkoetter made it clear about how he believed the federal government should address the issue of homosexuals in government service, which was the subject of the closed Senate hearing.
"Finally, I would like to say that, in our opinion, the moral pervert is a security risk of so serious a nature that he must be weeded out of government employment wherever he is found," he said. "Failure to do this can only result in placing a weapon in the hands of our enemies and their intelligence service, and the point of that weapon would probably be aimed right at the heart of our national security."
Gay historian David K. Johnson has been credited with first reporting on the then just declassified transcript of the closed Senate hearing in his 2004 book, "The Lavender Scare: The Cold War Persecution of Gays and Lesbians in the Federal Government."
Francis, president of the Mattachine Society of Washington, D.C., which specializes in researching and pushing for the release of government documents chronicling the anti-gay persecution of the Cold War era, said Hillenkoetter's anti-gay views haven't received the attention they deserve since the Senate hearing transcript was unsealed.
Johnson is an associate professor of history at the University of South Florida. He points out in his book and subsequent lectures on the subject of the gay purges that there are no documented cases of a gay man or lesbian American citizen succumbing to blackmail by a foreign power.
According to Johnson, one of the best examples of how a gay person rejected a blackmail attempt was the case of the late syndicated newspaper columnist Joseph Alsop. Alsop, who died in 1989 at the age of 78, is credited with playing an important role in chronicling U.S. foreign policy from the 1940s to the early 1970s.
His biographers say he was a strong advocate of liberal domestic policies beginning with President Franklin Roosevelt's New Deal programs while at the same time pushing for conservative, anti-Communist views on foreign policy matters.
Although many friends and associates knew he was gay, Alsop never came out publicly, according to at least two biographies written after his death. These and other media reports published in recent years discuss a 1957 incident in which Soviet KGB operatives set a trap for Alsop during his first visit to the Soviet Union by arranging for him to have a sexual liaison in a Moscow hotel room with a young Russian man he met at a party.
After secretly photographing him having sex with the young man, the Russian operatives burst into the room and threatened to expose the nationally known columnist as a homosexual, various accounts have reported. The Russian operatives also threatened to arrest him unless he agreed to serve as an "agent of influence" for the Soviet Union when he returned to the U.S., a 2012 account by the Wall Street Journal says.
But a recently released FBI document, which includes a never before released nine-page memo that Alsop wrote to the FBI in which he came out as gay, provides a new, first-hand account of a situation that Alsop called "an act of very great folly" on his part.
Washington researcher and history buff Mark Allen said he obtained the FBI document and Alsop memo earlier this year from the John F. Kennedy Library in Boston after requesting that the library release the documents. He provided copies of the documents to the Washington Blade.
"It must begin with a personal confession," Alsop wrote in his memo, dated Feb. 23, 1957. "I have been an incurable homosexual since boyhood. Very early, I sought medical advice, especially from Doctor Adolph Mayer at Johns Hopkins, but the doctors I consulted only confirmed my own diagnosis," he wrote.
"It is a curious thing, but it is a fact, that the vast majority of homosexuals who have honestly faced the nature of their predicament, somehow end by accommodating themselves to it, shocking though that may seem," he continued. "Most simply say, as I have said, 'If I do no harm to anyone, if I am no trouble to anyone, I should not be too much troubled myself.'"
He then went on to explain how during his stay in Moscow he was cruised by young Russian men at least two or three times in unmistakable gestures in which they wanted him to know they were homosexual and were interested in him.
He said he spurned those overtures but foolishly succumbed to the courtship by a young "athletic blonde, pleasant-faced, pleasant-mannered fellow" introduced to him at a hotel dinner party organized by American diplomats and their Russian counterparts.
Shortly after the Russian KGB operatives accompanied by a hotel security officer entered the hotel room in the midst of his interaction with the young man, they arranged for the young man to be taken away and engaged Alsop in a polite but stern conversation that lasted nearly three hours, Alsop says in his memo.
"They got down to business without delay, saying I had of course committed a serious crime under the Russian code, that they did not want to make any trouble for me all the same…but that I must help them a little if they were going to help me," Alsop wrote.
"Not knowing what course to take, I simply told my new friends at this first meeting what was in fact the truth – that in my situation, I had had to decide many years earlier what I would do if I found myself exposed to blackmail, that I had long ago decided I would much prefer any other course, however unpleasant, to paying blackmail, and that I might kill myself or end my writing career, but that I would never allow myself to be blackmailed in any way," Alsop says in his memo.
"The older man, who led the conversation, merely laughed comfortably, repeated that he wanted to help me, and suggested that we move to pleasanter surroundings," Alsop continued.
At that point Alsop said he told the Russians he had an appointment at the American Embassy in an hour and would be missed if he didn't show up. "They replied that I was free to go, but that we three must meet again soon 'to try to find a way out of your problem,'" Alsop recounted.
Upon returning to his hotel Alsop said he initially considered writing a note explaining everything that happened, slipping it under the door of the news reporters living at the hotel, and commit suicide.
"I finally concluded, before I went to bed, that suicide was a cowardly alternative, at least at that moment, and that I ought to play the game a bit further to see where it would lead," he wrote. "I adopted the tentative plan, therefore, of pretending to be recruited by my two new friends in order to get out of the country and then, when I reached Paris, making a clean, public breast of the whole business, telling the story in detail to the whole world first as a warning and second as proof that I could not be blackmailed any longer."
He added, "As I have said, I have always been troubled by the concealment that homosexuals must practice, and the fact that the course I meant to adopt would surely mean the end of my present career hardly weighed in the balance against the prospect of telling the honest truth and so ridding myself of the incubus of my folly."
As it turned out, Alsop said then U.S. Ambassador to the Soviet Union, Charles E. Bohlen, learned of his predicament through an intermediary and made arrangements for him to leave the country on a flight bound for Paris. It was there that he met with FBI agents and handed over his memo.
"Bohlen notified the CIA, which debriefed Alsop on his return, and, through confidential channels, a report of the incident eventually reached President Eisenhower," an article about the incident in the Nov. 10, 2014 issue of The New Yorker reports.
The New Yorker article and at least one biography of Alsop report that friendly U.S. diplomats, including those stationed at the American Embassy in Moscow, helped Alsop keep the incident out of the public view, enabling him to continue his career as a columnist.
But a close call surfaced in 1970, according to the New Yorker, when people in Washington who knew Alsop began receiving nude photos of him and the young Russian with whom he had sex in the Moscow hotel room in 1957. The New Yorker article reported the photos were believed to be in retaliation for a series of columns Alsop wrote that were critical of the Soviet ambassador to the U.S.
"With the help of the CIA director, Richard Helms, a back-channel deal was brokered: the photographs stopped appearing, and Alsop ceased attacking," the New Yorker article reports.
None of the people who received the photos blew the whistle on Alsop, and he continued, as he did upon his return to the U.S. in 1957, to write columns condemning Russian Communism and later supporting the U.S. war in Vietnam.
"The lavender scare, which ruined the lives of so many gay men and lesbians, was premised on the notion that they were weak, psychologically disturbed individuals who were uniquely vulnerable to blackmail by foreign agents," gay historian Johnson said when asked to comment on Alsop's memo.
"The story of Joseph Alsop further exposes that as a lie," Johnson said. "It's a strong example of a gay person resisting blackmail, of which there were many examples in the fifties. In fact, there are no cases of a gay man or lesbian American citizen succumbing to blackmail by a foreign power – none," said Johnson.
"I was struck by his initial plan to go public and tell 'the whole world' about his homosexuality," Johnson said. "He seemed to relish the idea of finally telling the truth, of lifting his burden. It's interesting to think what would have happened if he had 'come out' in 1957."
Mixed reviews from transgender Republicans on Caitlyn Jenner's run
Remarks on kids in sport a sore point among LGBTQ advocacy groups
Caitlyn Jenner was quickly repudiated by LGBTQ advocates after she entered California's recall election as a gubernatorial candidate — and her fellow transgender Republicans are mixed over whether or not to back her up.
Transgender Republicans are few in number, but some are in high-profile positions and have been working with their party to change its approach and drop its attacks on transgender people, whether it be in the military, public bathrooms, or school sports.
Jordan Evans, a Charlton, Mass.-based transgender Republican who unsuccessfully last year ran to become a Massachusetts Republican State Committee Woman, told the Washington Blade she had high hopes for Jenner as a fellow transgender candidate, but they were quickly dashed after her campaign launched.
"My feelings changed quickly after Caitlyn made it clear that she was less interested in using this opportunity to present the Republican Party and conservative movements with an accessible and high-profile introduction to the trans community and simply wanted to be a trans woman who espoused the same destructive approaches that we just so happen to be seeing all over the country," Evans said.
Evans said the high hopes she had were based on the transgender advocacy she said Jenner was doing behind the scenes and the potential for two prominent LGBTQ Republicans to run for governor in California. After all, Jenner may soon be joined in the race by Richard Grenell, who was U.S. ambassador to Germany and acting director of national intelligence before becoming the face of LGBTQ outreach for Trump's failed re-election.
But Jenner's approach to the gubernatorial recall in California, Evans said, is "putting trans youth at risk for a campaign that isn't even transformative for Republicans during this volatile time."
"Even her current messaging is superficial and does nothing to help dispel claims that she's unqualified," Evans said. "The only positive thing that I've seen come from this is conservative mainstream media using her correct pronouns, but that is not worth the damage that she's inflicting."
Much of the disappointment over Jenner's campaign is the result of her essentially throwing transgender kids under the bus as part of her campaign at a time when state legislatures are advancing legislation against them, including the bills that would essentially bar transgender girls from participating in school sports.
Jenner, declining to push back on these measures and assert transgender kids have a place in sports, instead essentially endorsed the bills shortly after she announced her candidacy.
"If you're born as a biological boy, you shouldn't be allowed to compete in girls' sports," Jenner told TMZ, which asked her about the hot-button issue during a Sunday morning coffee run.
Jenner dug deeper into MAGA-world at the expense of solidarity with the transgender community. Last week, Jenner retweeted Jenna Ellis, who has a notoriously anti-LGBTQ background and was criticized just last year for refusing to use the personal pronouns of Rachel Levine, who's now assistant secretary of health and the first openly transgender presidential appointee to win Senate confirmation.
Jennifer Williams, a New Jersey-based transgender Republican who unsuccessfully ran for a seat in the New Jersey General Assembly last year, said via email Jenner "did much good for several years by educating millions of people around the world about transgender folks," but won't countenance the candidate's remarks on transgender kids in sports.
"In regard to her current run for California governor, her recent comments regarding transgender youth playing sports are confusing," Williams said. "Just last year, she said that she supported transgender female athletes. Caitlyn should consult with tennis great Billie Jean King, soccer star Megan Rapinoe or WNBA legend Candace Parker on the subject of transgender athletes in women's sports, as they are very well versed on the matter."
At a time when state legislatures are pushing through legislation targeting transgender youth, restricting their access to sports and transition-related care, Jenner's refusal to repudiate those measures has become a focal point for opposition to her candidacy from LGBTQ advocacy groups, who say she's "out of touch" (although none were supporting her even before she made those comments).
The LGBTQ Victory Fund, which supports LGBTQ political candidates and public officials, has signaled it wants nothing to do with Jenner.
Sean Meloy, vice president of political programs for LGBTQ Victory Fund, said Jenner hasn't applied for an endorsement from the Victory Fund "and she shouldn't bother to."
"Her opposition to full trans inclusion – particularly for trans kids in sports – makes her ineligible for the endorsement," Meloy said. "There are many great trans candidates running this cycle who are champions for equality."
To be sure, Jenner used her celebrity status as a former reality TV star and Olympic champion on behalf of transgender lobbyists, urging donations to groups like the National Center for Transgender Equality and going to Capitol Hill to lobby Republicans on transgender issues. Jenner has also given money for transgender kids to attend college, giving transgender advocate Blossom Brown a check for $20,000 on "The Ellen Show" in 2015.
Blaire White, a transgender conservative and YouTube personality, drew on these examples of Jenner helping transgender youth in a video earlier this month and said the two once had dinner together, but wasn't yet ready to make a endorsement.
"I will say that until she lays out all of her policy positions and until she's more on record in long form really talking about what she wants to do for the state of California, I can't say for sure I would vote for her and would not vote for her," White concluded in the video. "What I can say is: I'm interested. And also, being under Gavin Newson's governorship, I would literally vote for a triple-amputee frog over Gavin Newsom, so she already has that going for her."
Jenner's campaign couldn't be reached for comment for this article on the repudiation of her campaign from LGBTQ advocacy groups.
Gina Roberts, who's the first transgender Republican elected to public office in California and a member of the San Diego GOP Central Committee, said she's neutral for the time being as an elected Republican Party leader, but nonetheless had good things to say about Jenner's candidacy.
"I think it's awesome," Roberts said. "It's kind of indicative of how cool the Republican Party in California is because nobody really cares or it makes any difference. I mean, I was the first elected GOP transgender person in California and I think we're ready for No. 2."
Asked whether Jenner's comments about allowing transgender kids in sports was troubling, Roberts said that wasn't the case because she has her own reservations.
"I have pretty much the same opinion because … there's so many nuances in that," Roberts said. "If somebody transitions after they've gone through puberty, there is a big difference, especially in high school. If they transition beforehand, it's not a big deal."
A gun enthusiast and supporter of gun owner's rights, Roberts said she competes in women's events in shooting sports, but there's a difference because she doesn't "really have any advantages all those young, small ladies can pull a lot faster than I do and shoot faster than I do."
Roberts concluded she'll personally make a decision about whom she'll support in the California recall election after Grenell announces whether or not he'll enter the race, but can't say anything until the San Diego GOP Central Committee issues an endorsement.
"He's a good friend of mine, too," Roberts said. "I know both of them. I think they'd both be certainly better than Gavin Newsom, I have to stay neutral until the county party decides who they're going to endorse. I will support somebody or another in the endorsement process, but I can't publicly announce it."
Although LGBTQ groups want nothing to do with her campaign, Jenner's approach has garnered the attention of prominent conservatives, who are taking her seriously as a candidate. One of Jenner's first interviews was on Fox News' Sean Hannity, a Trump ally with considerable sway among his viewers. Hannity was able to find common ground with Jenner, including agreement on seeing California wildfires as a problem with forest management as opposed to climate change.
Kayleigh McEnany, who served as White House press secretary in Trump's final year in the White House and defended in the media his efforts to challenge his 2020 election loss in court, signaled her openness to Jenner's candidacy after the Hannity interview.
"I really enjoyed watching @Caitlyn_Jenner's interview with @seanhannity," McEnany tweeted. "I found Caitlyn to be well-informed, sincere, and laser-focused on undoing the socialist, radical, a-scientific policies of Biden & the left. Very good."
In theory, that support combined with Jenner's visibility might be enough to propel Jenner to victory. In the recall election, California will answer two questions, whether California Gov. Gavin Newsom should be recalled, and if so, which candidate should replace him. The contender with the plurality of votes would win the election, even if that's less than a majority vote, and become the next governor. There isn't a run-off if no candidate fails to obtain a majority.
With Jenner's name recognition as a celebrity, that achievement could be in her reach. After all, Arnold Schwarzenegger won the 2004 recall election in California as a Republican based on his celebrity status, and ended up becoming a popular governor.
But the modest inroads Jenner has made with the acceptance of conservatives and potential to win isn't enough for other transgender Republicans.
Evans, for example, said Jenner's candidacy is not only a disappointment, but threatening the potential candidacies of transgender hopefuls in the future.
"It's difficult to be in electoral politics, and that's even more true when you're a member of a marginalized community," Evans said. "Caitlyn's behavior is making it even more challenging for the trans community to be visible in a field where we desperately need to be seen. She's casting a tall shadow on our ability to have a voice and is giving credibility to lawmakers and local leaders simply unwilling to view us with decency and respect."
Williams said Jenner should avoid talking about transgender issues over the course of her gubernatorial run "and instead focus on the hard, critical policy issues facing California."
"It is a state in crisis and she has to run a very serious campaign and not rely on her celebrity or LGBTQ status to win over voters' hearts and minds — just like all other LGBTQ candidates around the country need to do when they run for public office," Williams said.
100th anniversary celebration of Dupont Circle fountain set for May 17
GWU student creates tribute video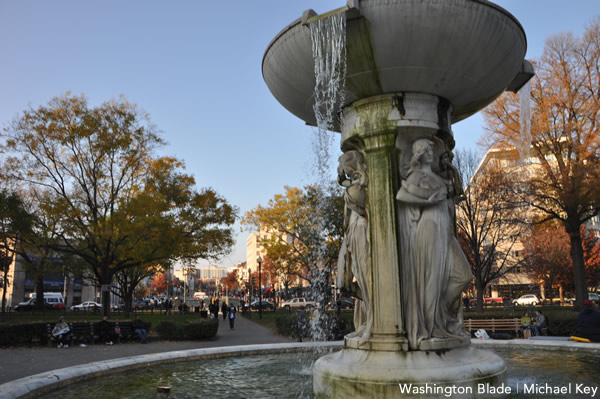 LGBTQ residents and longtime visitors to D.C.'s Dupont Circle neighborhood are expected to be among the participants in the 100th anniversary celebration of the installation of the Dupont Circle fountain scheduled to be held at the circle on Monday, May 17.
Aaron DeNu, president of Dupont Festival, a nonprofit arts and cultural programming group that's organizing the celebration, says it will take place from noon to at least sunset inside Dupont Circle.
The celebration will take place one week after the May 10 release of a YouTube video, "How Dupont Circle Evolved as a Hub for LGBTQ+ Life in the District," produced by George Washington University student Dante Schulz. Schulz is the video editor for the G.W. student newspaper The Hatchet.
Among those appearing in the documentary video are veteran LGBTQ rights activists Deacon Maccubbin and his husband Jim Bennett, who owned and operated the Dupont Circle LGBTQ bookstore Lambda Rising beginning in the 1970s, which is credited with contributing to Dupont Circle's reputation as the epicenter of D.C.'s LGBTQ community for many years.
Also appearing in the video is longtime D.C. gay activist and Dupont Circle area resident Craig Howell, a former president of the Gay and Lesbian Activists Alliance.
"At this point in time due to COVID restrictions we're not going to be doing any particular formal gathering of folks," DeNu told the Washington Blade in describing the May 17 celebration. "But we'll have a soundtrack that's playing throughout the day from that original ceremony – the same songs they used in the original dedication a hundred years ago," he said.
DeNu said the event will also feature "historic imagery" related to Dupont Circle and the people who have gathered there over the years.
"So, we're really just inviting people to come and have lunch, stop by the park after work, and just stop and reflect on 100 years of Dupont Circle fountain, take a look at the imagery and see some old friends and hopefully stop by and see the Dupont businesses that are around the area," DeNu said.
The LGBTQ video produced by Dante Schultz can be accessed here.
Trans woman sues D.C. Jail for placing her in men's unit
Lawsuit charges city with exposing inmates to 'risk of sexual violence'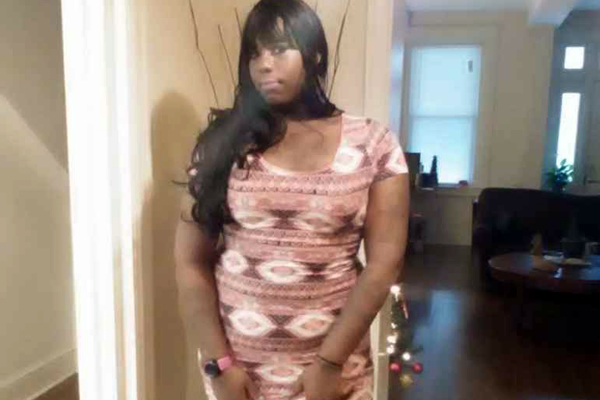 The American Civil Liberties Union of D.C. and the D.C. Public Defender Service filed a class action lawsuit on May 11 on behalf of a transgender woman being held in the D.C. Jail on grounds that the city violated its own Human Rights Act and the woman's constitutional rights by placing her in the men's housing facility at the jail.
The lawsuit charges that D.C. Department of Corrections officials violated local and federal law by placing D.C. resident Sunday Hinton in the men's unit at the D.C. Jail against her wishes without following a longstanding DOC policy of bringing the decision of where she should be placed before the DOC's Transgender Housing Committee.
The committee, which includes members of the public, including transgender members, makes recommendations on whether a transgender inmate should be placed in either the men's or the women's housing unit based on their gender identity along with other considerations, including whether a trans inmate's safety could be at risk. Under the policy, DOC officials must give strong consideration to the recommendations of the committee.
The lawsuit, which was filed in U.S. District Court for the District of Columbia, says the committee has not met or acted on any trans-related jail housing matter since January 2020.
It says Hinton was taken to the D.C. Jail on April 26 after a judge ordered her held following an arrest for an alleged unarmed burglary in which she attempted to take $20.
It notes that the Department of Corrections has a "default" policy of placing transgender inmates in either the male or female housing unit at the D.C. Jail and other city detention holding facilities based on the inmate's "anatomy." If a female transgender inmate is anatomically male, the inmate – barring other mitigating circumstances – is placed in the male housing facility under the default policy. Similarly, a male transgender inmate who is anatomically female is placed by default in the women's housing unit under the DOC policy.
"DOC's policy of focusing on anatomy rather than gender identity is both discriminatory and dangerous," the ACLU says in a statement released on the day it filed the lawsuit on Hinton's behalf. "It forces trans individuals, particularly trans women, to choose between a heightened risk of sexual violence and a near-certain mental health crisis," ACLU attorney Megan Yan said in the statement.
Yan was referring to yet another DOC policy that sometimes gives a transgender inmate placed in a housing unit contrary to their gender identity the option of being placed in "protective custody," which the lawsuit calls another name for solitary confinement. The ACLU and the Public Defender Service have said solitary confinement in prisons is known to result in serious psychological harm to inmates placed in such confinement.
"Because DOC's unconstitutional policy exposes every transgender individual in its custody to discrimination, degradation, and risk of sexual violence, Ms. Hinton seeks, on behalf of a class of similarly situated individuals, a court order that strikes down DOC's unlawful focus on anatomy as the touchstone for its housing decisions regarding transgender individuals," the lawsuit states.
It further calls on the DOC to use "gender identity, not anatomy, as the default basis for housing assignments" for transgender inmates and to provide all trans individuals a prompt hearing by the DOC Transgender Housing Committee.
It calls for the DOC to be required to implement the recommendations of the Housing Committee "so that each person is housed as safely as possible and without discrimination."
In addition to the lawsuit, Hinton's attorneys filed an application for a temporary restraining order to immediately require the DOC to transfer Hinton to the D.C. Jail's women's housing facility. The attorneys also filed a motion for a preliminary injunction to stop the DOC from using a transgender person's anatomy as the default or sole criteria in making housing assignments at the jail.
In response to a request from the Washington Blade, DOC spokesperson Dr. Keena Blackmon sent the Blade a DOC statement responding to the lawsuit.
"The Department of Corrections is dedicated to the safety and security of all residents in its care and custody," the statement says. "DOC is committed to following its policies and procedures relating to housing transgender residents," it says. "Ms. Hinton recently arrived in DOC custody and, per the agency's COVID-19 protocols, was placed into single-occupancy quarantine for 14 days."
The statement adds, "Once that quarantine ends, Ms. Hinton will go before the Transgender Housing Committee to determine her housing based on safety needs, housing availability, and gender identity. D.C. DOC is sensitive to Ms. Hinton's concerns and will continue to ensure that its residents' needs are met."
DOC spokesperson Blackmon didn't immediately respond to a follow-up question from the Blade asking why the Transgender Housing Committee has not met for over a year, which the ACLU has said resulted in all transgender female inmates being placed in the male housing facility.
Blackmon also couldn't immediately be reached for a second follow-up question asking for DOC's response to the lawsuit's claim that DOC officials told Hinton's lawyers that she was being placed in the men's housing facility because she was anatomically male.
The lawsuit says the DOC default policy of placing Hinton in the jail's male housing unit violates the D.C. Human Rights Act, which bans discrimination based on gender identity. The act has been interpreted to mean private businesses or the city government cannot prevent a transgender person from using facilities such as bathrooms or locker rooms that are in accordance with their gender identity.
D.C. Superior Court records show that Hinton has been arrested a total of 24 times in D.C. between 2006 and 2018. All except three of those arrests are listed as misdemeanor offenses, with just three listed as alleged felony offenses. One of the arrests is listed as a traffic offense.
In nearly all of the prior arrests, the court records identify Hinton by her birth first name, with her last name of Hinton used in all of the arrest records.
The burglary offense for which Hinton was charged on April 26 of this year and for which she is currently being held the D.C. Jail would  normally not result in a defendant being held in jail while awaiting trial. The fact that Hinton is being held rather than released pending trial suggests her prior arrest record may have prompted a judge to order her incarceration.
ACLU attorney Yan, who is among the attorneys representing Hinton in the lawsuit, said Hinton's prior arrest record should not be a factor in the lawsuit.
"We don't think any of the underlying things are relevant to her claim in this lawsuit, which is based on her identity and the fact that her constitutional and statutory rights to be free from discrimination are being violated," Yan said. "At the end of the day, Sunday is a transgender woman and she's a woman and she deserves to be held according to her gender identity as she desires."