GOP Montana congressman implies challenger a lesbian by choice
Rep. Zinke says he doesn't mind 'if you want to be a lesbian'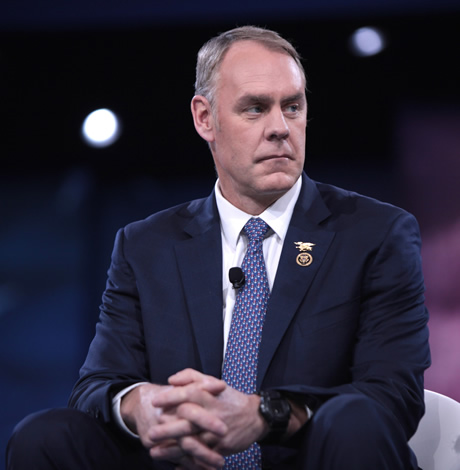 A Republican who represents Montana in the U.S. House told the lesbian Democrat challenging him for his seat he doesn't mind "if you want to be a lesbian," implying he believes being gay is a choice.
Rep. Ryan Zinke (R-Mont.) made the remarks Wednesday night during a debate in response to a question from an audience member about what the candidates would do to protect LGBT rights.
Denise Juneau, who's gay, quipped the question was an "awesome" one for her. The way she would accomplish that goal: "Number one, get elected."
Juneau, who's currently Montana's state superintendent of public instruction, also invoked the history of Montana, a state that elected a woman to Congress before women were guaranteed the right to vote in the United States, and her Native American heritage.
"We elected a woman before women had the right to vote," Juneau said. "A century later it's time for another woman to serve in congress. We also have never had an American Indian woman serve in Congress from anywhere in the country. That's what can happen this election cycle when you elect me. We also have not ever had an openly gay federal candidate. Those are all bonuses when Montanans elect me, and representation matters."
Based on her experience observing the state legislature, Juneau said "representation matters" because when different kinds of people are elected new policy is discussed and stereotypes are broken down.
"That's what I've done as state superintendent – is made sure every student who steps through the doors of a public school, and this is the work of our local school boards across the state too, are safe, protected and have safe learning spaces," Juneau said. "I'm an advocate for that and I'll continue to be an advocate for all Montanans when I get elected."
Zinke invoked the Constitution in his response and suggested he supports freedom of expression and religion.
"And so I do support you – if you want to be lesbian, you want to be Muslim, you want to be whatever," Zinke said. "It doesn't matter to me. It doesn't matter. It doesn't matter to me. And it doesn't matter in Montana and it doesn't really matter in this election because Montanans generally aren't that way."
The audience can be heard booing Zinke, although based on the audio it's not clear if that's for saying he supports the candidate or for erroneously implying being gay is choice.
"As a military officer it didn't matter to me the religious or political affiliation of the person next to me," Zinke continued. "What matters was the quality of the person – whether or not you were dedicated to the mission and whether you loved your country. That's what matters in America and that's what makes America so strong. Our diversity in message, our diversity in thought. But our unity as an American, because we are American first."
Also on stage was libertarian candidate Rick Breckenridge, who said Juneau's words means she would be welcome in his party, although "specialized rights" aren't necessary.
"The freedom of expression that we've had in this country has been remarkable, and the way that we've accepted ideas foreign to maybe our upbringing has helped make us who we are today," Breckenridge said. "So do we need a special law? No. The Constitution protects everybody's rights equally, not specialized rights."
Zinke's views are reflected in his abysmal record on LGBT rights in Congress. In the Human Rights Campaign's most recent congressional scorecard, which was issued Friday, Zinke scored "0." Among other things, he didn't vote in favor of amendments to protect President Obama's executive order against anti-LGBT workplace discrimination and isn't a co-sponsor of the Equality Act.
The U.S. House seat may be in play on Election Day. The Juneau campaign made public an internal Harstad Strategic Research poll this week finding her just three points behind Zinke. However, an internal survey from Moore Information made public by Zinke gave him a much wider 11-point lead in the race.
Brandon Lorenz, spokesperson for HRC, lambasted Zinke for his response.
"Ryan Zinke couldn't be more disconnected from reality to make the offensive suggestion that being LGBTQ is a choice," Lorenz said. "His comments are as out of touch as his voting record, given that he has repeatedly voted against protecting LGBTQ people from discrimination while in Congress."
Canadian Senate approves bill to ban conversion therapy
Measure will become law once it receives royal assent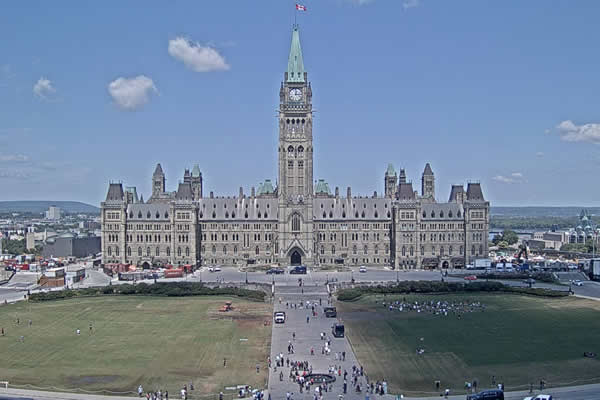 The Canadian Senate on Tuesday approved a bill that would ban so-called conversion therapy in the country.
Attorney General David Lametti and Women and Gender Equality and Youth Minister Marci Ien last week introduced the measure that would amend Canada's Criminal Code to ban the widely discredited practice. The Canadian House of Commons on Dec. 1 unanimously approved the bill.
"Our government's legislation to ban conversion therapy in Canada is one step closer to becoming law," tweeted Prime Minister Justin Trudeau on Tuesday. "To everyone who has made this possible, thank you. Let's keep building a country where everyone is free to be who they are and love who they love."
Lametti in his own tweet noted the bill will become law once it receives royal assent.
Update: Our government's legislation to ban conversion therapy in Canada is one step closer to becoming law. To everyone who has made this possible, thank you. Let's keep building a country where everyone is free to be who they are and love who they love. https://t.co/3s7GY0StmH

— Justin Trudeau (@JustinTrudeau) December 7, 2021
Canada would join Malta and a handful of countries that ban conversion therapy once the law takes effect.
Chile marriage equality bill receives final approval
South American country legalized civil unions in 2015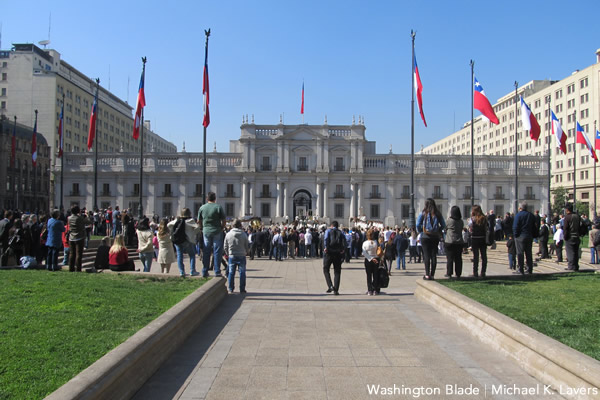 A bill that will extend marriage rights to same-sex couples in Chile received final approval on Tuesday.
The Chilean Senate and the Chilean House of Representatives approved the marriage equality bill that passed in the lower house of the country's Congress on Nov. 23. That vote took place two days after the first round of the country's presidential election took place.
A final vote on the bill was expected to have taken place last week, but senators unexpectedly opposed it.
A commission with members of both houses of the Chilean congress approved the bill on Monday.
Does a potential overturn of Roe imperil LGBTQ rights?
Some fear that Obergefell marriage decision could fall
The oral arguments before the justices of the United States Supreme Court had barely ended in the case brought by the state of Mississippi defending its law banning abortion after 15 weeks, Dobbs v. Jackson Women's Health Organization, when alarms were set off in legal circles as some argued that Obergefell v. Hodges — the same-sex marriage decision — would be in danger should the high court rule to overturn Roe v. Wade.
Florida State University law professor Mary Ziegler, appearing on NPR's 'Heard on All Things Considered,' told host Mary Louise Kelly that there was a basis for concern over whether the court would actually overrule its precedents in other cases based on the questions and statements raised during the hearing by the conservative members of the court.
Asked by Kelly if she saw a legal door opening Ziegler affirmed that she did. Kelly then asked her, "Them taking up cases to do with that. What about same-sex marriage?"
Ziegler answered, "Yeah, same-sex marriage is definitely a candidate. Justices Alito and Thomas have in passing mentioned in dicta that they think it might be worth revisiting Obergefell v. Hodges – the same-sex marriage decision.
"And I think it's fair to say that in the sort of panoply of culture war issues, that rights for same-sex couples and sexual orientation are still among the most contested, even though certainly same-sex marriage is more subtle than it was and than abortion was.
"I think that certainly the sort of balance between LGBTIQ rights and religious liberty writ large is a very much alive issue, and I think some states may try to test the boundaries with Obergefell, particularly knowing that they have a few justices potentially willing to go there with them."
As almost if to underscore the point raised by Ziegler during the hearing, Associate U.S. Supreme Court Justice Sonia M. Sotomayor pointed out that the high court has taken and "discerned" certain rights in cases from the Constitution.
Along with abortion, the court has "recognized them in terms of the religion parents will teach their children. We've recognized it in their ability to educate at home if they choose," Sotomayor said. "We have recognized that sense of privacy in people's choices about whether to use contraception or not. We've recognized it in their right to choose who they're going to marry."
In following up the cases cited by Justice Sotomayor, Associate U.S. Supreme Court Justice Amy Coney Barrett asked Mississippi Solicitor General Scott Stewart, who was defending the state's abortion law, whether a decision in his favor would affect the legal precedents in those cases cited by Justice Sotomayor.
In his answer to Justice Barrett, the state's Solicitor General said cases involving contraception, same-sex marriage and sodomy wouldn't be called into question because they involve "clear rules that have engendered strong reliance interests and that have not produced negative consequences or all the many other negative stare decisis considerations we pointed out."
However, Lambda Legal Chief Strategy Officer and Legal Director, Sharon McGowan had a different take and interpreted remarks by Associate U.S. Supreme Court Justice Brett Kavanaugh to mean that the decisions in Lawrence v. Texas, which decriminalized private sexual intimacy between same-sex couples, and Obergefell v. Hodges, which struck down remaining bans on the freedom of same-sex couples to marry, would actually justify overturning Roe v. Wade.
In a publicly released media statement McGowan noted: "During today's argument, Justice Kavanaugh suggested that two key Supreme Court decisions protecting LGBTQ civil rights—Lawrence v. Texas and Obergefell v. Hodges—support overruling Roe v. Wade and Planned Parenthood v. Casey.
'To that we say, NOT IN OUR NAME. LGBTQ people need abortions. Just as important, those landmark LGBTQ decisions EXPANDED individual liberty, not the opposite. They reflected the growing societal understanding of our common humanity and equality under law.
"Just as the Supreme Court in Brown v. Board of Education rejected the lie of 'separate but equal,' the Supreme Court's decisions in Lawrence and Obergefell appropriately overruled precedent where it was clear that, as was true with regard to race, our ancestors failed properly to acknowledge that gender and sexual orientation must not be barriers to our ability to live, love, and thrive free of governmental oppression. …
"These landmark LGBTQ cases, which Lambda Legal litigated and won, and on which we rely today to protect our community's civil rights, were built directly on the foundation of Casey and Roe. Our interests in equal dignity, autonomy, and liberty are shared, intertwined, and fundamental."
On Sunday, the Blade spoke with Shannon Minter, legal director for the National Center for Lesbian Rights, a national LGBTQ+ legal organization that represented three same-sex couples from Tennessee, whose case was heard by the U.S. Supreme Court along with Obergefell and two other cases.
Minter is urging caution in how people interpret the court arguments and remarks made by the justices.
"We should be cautious about taking the bait from anti-LGBTQ groups who falsely argue that if the Supreme Court reverses or undermines Roe v. Wade, they are likely to reverse or undermine Obergefell or Lawrence. In fact, that is highly unlikely, as the argument in Dobbs itself showed," he said.
"The only reason Justice Kavanaugh mentioned Obergefell and Lawrence, along with Brown v. Board of Education, was to cite them as examples of cases in which the Supreme Court clearly did the right thing. All of those decisions rely at least as strongly on equal protection as on fundamental rights, and even this extremely conservative Supreme Court has not questioned the foundational role of equal protection in our nation's constitutional law," Minter stressed.
During an interview with Bloomberg magazine, David Cortman, of the Scottsdale, Ariz.-based anti-LGBTQ legal group Alliance Defending Freedom, which has been listed by the Southern Poverty Law Center as an extremist hate group, said "two things in particular distinguish abortion from those other privacy rights: the right to life and the states' interest in protecting a child."
Cortman, whose group urged the justices to allow states to ban same-sex marriages, said those other rights may be just as wrong as the right to an abortion. "But the fundamental interest in life that's at issue in abortion means those other rights are probably not in any real danger of being overturned."
But Cortman is of the opinion that there is little impetus among the court's conservatives to take up challenges to those cases.
However, the fact that the six to three makeup of the high court with a conservative majority has progressives clamoring for the public to pay closer attention and be more proactively engaged.
Kierra Johnson, executive director of the National LGBTQ Task Force, in an emailed statement to the Blade underscored those concerns:
"Reports and analysis coming out of Wednesday's Supreme Court hearing on Dobbs v. Jackson Women's Health Organization are extremely disturbing and represent a threat to our individual constitutional rights to privacy and autonomy. There is no 'middle ground' on what the Constitution guarantees and what was decided decades ago with the Roe v Wade decision.
"This is about liberty, equality, and the rule of law, not the political or partisan views of those sitting on the bench. The unprecedented decision to remove a constitutional right recognized by the Supreme Court 50 years ago would set back civil rights by decades. ….
"Abortion access is essential, and a fundamental right under the U.S. Constitution. Bans on abortion are deeply racist and profoundly sexist – the harshest impacts fall on Black and Brown women and pregnant people and on our families and communities.
"If you think this decision will not affect you, think again: a wrong decision by the Supreme Court means you, too, will lose your bodily autonomy, your ability to own your own personal and community power. This is not just about abortion; it is about controlling bodies based on someone else determining your worthiness. This is a racial justice issue. This is a women's issue. It is an LGBTQ issue. It is a civil rights issue. These are our fundamental rights that are at stake."