Activism, the black athlete and supporting LGBT equality
Ali's legacy and why Kaepernick's critics are wrong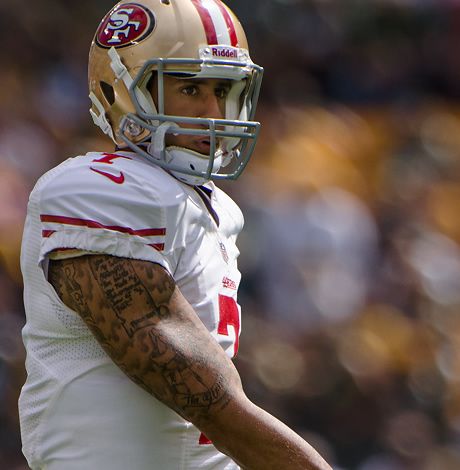 Why do so many African-American professional athletes today view Muhammad Ali as a hero, but fall short of even trying to live by the same code of ethics that made him a hero? Ali became a hero because he was never silent. He said things he knew would make people uncomfortable, even angry, but that he believed would help bring about awareness and change. Ali was, as a result, a controversial figure during his life. He angered countless people with his message and many people hated him.  It was only later that Ali was recognized for his impact on our country.
I remember that once as a boy I heard Ali call himself "pretty" on TV.  This was before Beyoncé made big booties sexy, before girls were pumping their lips full of fillers.  This was the 1970s. "Black" features were not considered pretty. I remember how powerful it was to see a man who looked like me categorize himself that way. I was nine years old, and I have never forgotten that moment. It was a small moment, but one that empowered me to feel good about myself. That is the power we possess as professional athletes: We have a platform to speak, and a way to give voice to so many voices that remain unheard. We have the ability, and I believe, the responsibility, to serve as a voice that will empower and engage others. But that platform, and the power it gives us, is an opportunity too many of us ignore.
When I started writing this piece, my intention was to draw attention to Black athletes who admire Ali for his activism, but remain silent as injustices continue to reveal the persistent inequity in this country. More specifically, I wanted to center that discussion on the fact that African-American heterosexual males have remained noticeably absent in the fight for equal rights for the LGBTQ community, being that we are all too familiar with what it feels like to be a disenfranchised and discriminated against minority. Before I finished the piece, however, I saw San Francisco 49ers quarterback Colin Kaepernick sit down for the national anthem — and I saw America stand up in protest. When asked why he didn't stand, Kaepernick said he was "not going to stand up to show pride in a flag for a country that oppresses Black people and people of color."
The way Kaepernick took a stand was exactly the type of activism I wanted to see among today's Black athletes, but before I had time to applaud him, the media crucified him. Worse yet, it wasn't just the mainstream media that was speaking out. Even fellow Black athletes were speaking out against him. It was bad enough that so many Black athletes were willing to be silent and let others stand up for our people, but now some were actually chastising him for standing up for us. Kaepernick wanted dialogue, but instead he got told that he had crossed a line. He wanted to spark conversation, but instead he was told to be quiet.  In fact, he was told to be grateful.
Ironically, one of the criticisms of Kaepernick came in the form of an argument that Kaepernick was not in a position to stand up for Black people because he was not Black. Forgetting about the fact that Kaepernick is in fact half Black, that position itself is nonsensical. If he were white, would it be wrong for him to stand up for Black people? Does that mean that white people cannot defend the rights of Blacks or other minority groups? That straight people cannot defend the rights of the LGBTQ community? Historically, no minority group has ever gained the equal rights they sought without the support of the majority.   
And it's true that Kaepernick does not necessarily feel the impact of racism or injustice day to day ⎯ he is not part of the disenfranchised Black community he is fighting to protect. The Civil Rights leaders of the 1950s, such as Martin Luther King Jr. and Malcolm X, were standing up for their own rights along with the rights of the Black community ⎯ King couldn't sit at the front of the bus either. Kaepernick is educated, and has a multi-million dollar contract as a quarterback in the NFL. But in my mind that makes his action even more powerful, not less. His silent protest was not driven by self-interest. He chose to speak for those who don't have a voice. As he put it, "This country stands for freedom, liberty, justice for all ⎯ and it's not happening for all right now."  That was reason enough for him to take action, despite any repercussion he might face.  That is what makes him a leader.
So why are so few athletes willing to stand up — or, in Kaepernick's case, sit down?  Many people do not realize that if a player has made it to the NFL, he has been playing since he was a child. From that time, he has been systematically trained to aspire to be in the NFL. Once a player makes it to the league, his impulse is, one, to fall in line, to do nothing that might jeopardize his team, a sacred brotherhood. Two, not to do anything to jeopardize his salary or endorsements. More than half of the players in the NFL come from poverty. For more than half the players in the league, football is the only way they see to take care of themselves and their families.
But the impulse and pressure to fall in line is what keeps so many players from standing up the way Kaepernick has — and keeps so many players silent when they could be voices of change. The unfortunate truth is that their fears are not unfounded. Broncos linebacker Brandon Marshall, who has chosen to take a knee for the anthem in light of Kaepernick's protest, has already lost two endorsements as a result of his actions. While too many of us still sit on the sidelines in the fight for justice, I am heartened that Kaepernick's activism has begun to gain momentum: more athletes take a knee, raise their firsts, link arms in support of him and his message. Even 49ers owner Jed York came out in full support of Kaepernick. Despite sacrificing two endorsements, Marshall remains steadfast in his commitment to the protest, and the conversation he hopes it will inspire.
I would love to see this momentum continue to build and have more professional Black athletes stand up publically for the larger Black community.  But what I would also love to see is that activism stretch beyond the reach of our own people and begin to try to help yet another marginalized group, the LGBTQ community.
There is an unmistakable power balance in this country, and we all know who wields that power. That being said, within the other groups that comprise our nation, there does exist a hierarchy of power. That hierarchy is what gave Kaepernick the opportunity to stand up for his beliefs in a way that a lot of other Black men never could. It is also what allowed the entire football team and the entire student body at University of Missouri to stand up for Michael Sam, and allow him to live his life openly as a gay man (which, by the way allowed him to play the best season of his entire collegiate career). And, two years later allowed the Missouri football team to stand together as a team against the racial discrimination that was occurring on their campus and boycott playing a single game until they got a public apology from the president of the university. Regardless of our race, as athletes, we do in fact wield power. The power to raise our voices for change is in our hands, but I see so much silence.
The LGBTQ community is another minority community in our country that is still fighting to be truly equal under the laws of our nation. And while I am by no means saying that the Black fight for equality is over, what I am saying is that there are many Black people in this country, such as professional athletes, that do in fact have a tremendous platform with which they can show support for the LBGTQ community. We have power to not only help ourselves, but to help another group who seeks fairness and equity.
If more professional athletes stood up for the LGBTQ community the same way Muhammad Ali and Colin Kaepernick did and the way others are beginning to do, think of the impact and the power that would have on the LGBTQ community and their fight for equality. Think about what would happen if two of my favorite athletes ⎯ Michael Jordan and LeBron James — went to Nike and said they wanted to film a PSA because they had a family member or close friend who is gay and wanted to publicly show their support. Because let's face it, we all have at least one family member or close friend that is a part of the LGBTQ community. But instead we allow ourselves to be told by the corporations what we can and cannot do. Why can't we realize that we have just as much if not more power than the students at University of Missouri?  If we stand together on the right side of history, then the power is ours. We need to be on the front line of history, not wait until it is cool to be in support of something that is not allowing friends and family members to feel safe and live their life to fullest.
In our community there is still a widespread fear that being an advocate for, or even just an ally of the LGBTQ community will call into question our own sexuality or masculinity as straight Black men. The base level of this fear is straight forward (albeit based on a false assumption) that supporting the LGBTQ community will lead people to think that we are gay or less of a man. As a result, many of us would rather say nothing than do something that would lead others to have that perception of us. There is also a financial fear associated with being a straight ally. That fear being that if people think that we are homosexual or an ally to the LGBTQ community, it will have a detrimental effect our brand, and in turn, our wallet.
I also want to address the argument that religious people cannot support the LGBTQ community due to the teachings of the Bible. First of all, I would like to remind all of my Black brothers and sisters that it was not too long ago that people used verses from the Bible to back up arguments to keep slavery legal. We, as African Americans cannot in good faith use the same teachings that were used to oppress us to suppress the rights of another group of people. Second, I would love someone to tell me when the laws in the Bible got ranked. In other words, what divine power came down and told us that the teachings that prohibit homosexuality are more important than the teachings that tell us to "love your neighbor as yourself?"   
We must begin to the dispel the ideas held by so many straight Black men that being an ally to the LGBTQ community will hurt them in some way. In order to do this, there are two major revelations to which these athletes must come. The first is that the stereotypes they grew up hearing are antiquated and untrue. We must all be a part of eliminating these stereotypes, and we can do that simply by letting our words and our actions defy them. The second is that becoming a straight ally for the LGBTQ community will actually broaden their brand and appeal.  The LGBTQ community accounts for more than $9 billion of buying power in this country. When Michael Sam came out as a gay man, his jersey shot straight to the No. 2 most purchased NFL jersey in the country. When Steve Jobs died, Tim Cook took over as CEO of Apple, and has subsequently come out as a gay man. We all still walk around with our iPhones tight in our clutches, but how many of us stop to think about the fact that the company that makes them — one of the most powerful companies in the country — is run by an openly gay man?
Muhammad Ali has, in the wake of his death, been mourned and celebrated in the media as an athlete who transcended sport and became an icon of activism and social justice. However, the same people who praise Ali for his activism and commitment to social justice can, almost in the same breath, condemn Colin Kaepernick for attempting to use his platform as an athlete to do the same. Ali paved the way for athletes like Kaepernick to speak out. If we celebrate Ali for creating the path, then how can we disapprove of athletes like Kaepernick for walking it?
It is time Black athletes realize our power and responsibility to bring change in America — and it is time for America to stop fearing what the change will look like. We must say and do the things that will spark conversation about important issues that we face because conversation is the first step toward resolution.
If we cannot speak about the issues, how can we hope to resolve them? More specifically, we, as heterosexual Black men with a voice need to get on the right side of history in the fight for LGBTQ equality. It is our responsibility to stand up for the underdog, the discriminated against, because we have been and still are discriminated against. We must stand up for communities other than our own just as we want others to stand up for us. We must be upstanders and not bystanders, we must stand up and use our voice for change, acknowledging that no group of human beings deserves to be treated as inferior.
We must applaud Kaeperrnick for his actions by acknowledging that great leaders have the strength and conviction to never mistake the easy choice for the right one. But applauding him is not enough. We must accept that once we identify a great leader such as him, we must have enough of our own strength and conviction to follow him.
Sean James is executive director of Sports & Entertainment for Hotaling Group Insurance Services and a former NFL player.
Opinion | Lovitz for Pennsylvania state representative
Accomplished gay candidate is longtime equality advocate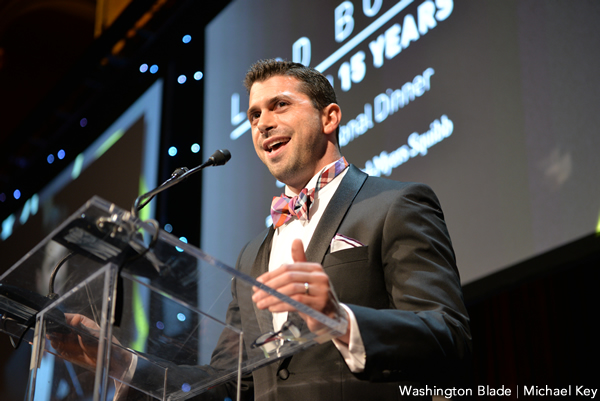 It's an embarrassment of riches for residents of center city Philadelphia, which includes the "gayborhood," as they prepare to vote for their next state representative.
The post has been held by Rep. Brian Sims, who's gay, since 2013. Sims is giving up the seat to run for Pennsylvania lieutenant governor. More on that later.
Two out LGBTQ candidates are among those competing in the 182nd District's Democratic primary to replace Sims — Jonathan Lovitz and Deja Alvarez. Lovitz, who's gay, has served as senior vice president of the National LGBT Chamber of Commerce for five years. If elected, it would be the first time a seat held by an LGBTQ state representative transitioned to another LGBTQ official and he would be the first LGBTQ Jewish elected official in Pennsylvania.
Alvarez, who's transgender, is director of community engagement at World Healthcare Infrastructures and serves as chair of the Philadelphia Police LGBT Liaison Committee. She would become the first out trans person to serve in the Pennsylvania Legislature if elected.
Both are excellent candidates who would make their own bit of history if elected, but Lovitz stands out as the strongest choice to replace Sims in the legislature, a change that local residents desperately need.
To paraphrase Oprah in her famous endorsement of Barack Obama over Hillary Clinton: Just because I am for Lovitz, doesn't mean I am against Alvarez. I am acquainted with Lovitz and know him to be an ethical, smart, hard-working professional who is deeply dedicated to his work and to the residents of Philadelphia. He would make a fearless and tireless advocate for Philly and for equality issues in Harrisburg.
At NGLCC, Lovitz has helped write and pass more than 25 state and local laws, including in Pennsylvania, extending economic opportunity to LGBTQ-owned businesses around the country. As the country struggles to emerge from pandemic restrictions, we need more legislators at all levels of government who understand the importance of small business. Lovitz has the experience in business and in his work on equality issues to deliver tangible results for Philadelphia.
Contrast his record with that of Sims and it's a no-brainer that the people of the 182nd District have nowhere to go but up. Sims has sponsored or introduced scores of bills in the past year, but only one has been enacted, according to BillTrack50. Sims has been criticized in the district for his endless media tour and social media self-promotion. He is more interested in thirst-trap selfies than in constituent service. He lacks the professionalism and temperament for elected office, favoring profane outbursts and juvenile insults over diplomatic compromise and legislative achievement. As Christopher Pinto wrote in the Philadelphia Gay News, "Almost a decade in the State House, and he has no legislative victories that he can claim as his own. He spent more time out of the district than inside it, flying from one speaking engagement to the next, while abusing his state issued travel budget and being shrouded in a lengthy ethics investigation."
Lovitz will not succumb to such vanities. He is a grounded professional who understands how to craft legislation and, more importantly, how to get it passed. He won't alienate colleagues as Sims has done.
On equality issues, Lovitz has worked on behalf of marginalized communities at NGLCC and last year he organized PhillyVoting.org, which works to boost turnout among Black and LGBTQ voters.
"The ongoing violence against our communities, especially against our trans siblings, is a stunning reminder that our work together continues," Lovitz wrote in an op-ed for the Philadelphia Gay News. "Once again the movement for long-overdue social change in America is being led by communities of color, especially right here in Philly," he wrote. "And the LGBTQ community must continue to stand in solidarity with them."
Lovitz understands the moment. He has a passion for business and for helping entrepreneurs to succeed, something cities desperately need after more than 200,000 small businesses have shuttered due to COVID, according to the Wall Street Journal; more than 1,000 Philly businesses closed in just the first five months of the pandemic, according to the Philadelphia Business Journal.
Voters, donors, and our national advocacy organizations should support his bold campaign and help retain an out LGBTQ voice in Harrisburg while improving constituent service for residents of the district.
Kevin Naff is editor of the Washington Blade. Reach him at [email protected].
Opinion | LGBTQ Virginians advocate D.C. statehood
The right of all Americans to be part of our democratic society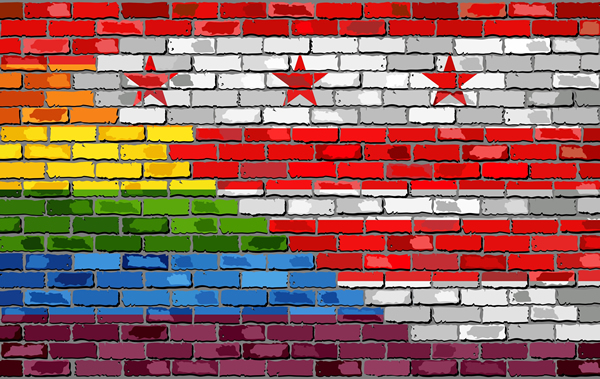 My hometown will always be Washington, D.C. It's the place where I was born and spent all of the first seven days of my life. As a lifelong Virginian however, where I live and attended schools, I straddle two communities important to me.
As a business owner of 30 years in Washington, D.C., I pay many of my taxes and payroll taxes to the Nation's Capital while I also pay income tax to Virginia where I'm a citizen.
Most important of all, as a gay Virginia voter, I can think of few lifelong political goals more important to me than achieving statehood for Washington, D.C. One of the compelling reasons I still make my home in Virginia and cross the Potomac River every day of my life, is because of my right as a Virginian to vote for two U.S. senators and for a member of the House of Representatives with the power to vote in Congress.
(It is still shocking to know that, with Washington, D.C. statehood still beyond grasp, the Honorable Eleanor Holmes Norton who represents D.C. in the U.S. House of Representatives, has never yet had the authority to vote on the floor of the House.)
At an early age, I was dumbfounded to know that D.C. then did not even have a local government. We lacked an elected mayor and city council, with almost all decisions for the District of Columbia made by the federal government. Yet today, even with a mayor and local government in place, it is breathtaking to know that my friends, neighbors and co-workers still have zero voice in the Capitol and no one to vote for them – and for us – in Congress.
Consider that one of the world's most diverse and educated cities has so often been bullied by extreme conservative leaders on Capitol Hill who – whenever possible – turn back the clock for D.C. citizens on voting rights, abortion rights, gun measures and our civil rights including LGBTQ equality. Not a single voter in D.C. has much, if any, say over any of those decisions.
The absence of statehood and the lack of real voting rights means that the unforgivable strains of racism and homophobia often held sway not just for Washington D.C., but in denying the United States a true progressive majority on Capitol Hill too.
Virginians get it. In the past decade, we've worked very hard in every county and city in the commonwealth to turn our regressive political past into a bright blue political majority. We have elected LGBTQ candidates to state and local offices in unprecedented numbers. Our vote is our power.
More significantly, through the work of Equality Virginia and its many allies, we are repealing scores of anti-LGBTQ measures and reforming our statutes and constitution to secure equal rights as LGBTQ voters, adoptive parents, married couples, students, and citizens. Doesn't Washington, D.C. deserve that future?
Virginia needs more states – like D.C. – to join forces and represent all Americans. To achieve this, and to defeat or neuter the anti-democratic Senate filibuster rule, we need our friends, allies and neighbors, the citizens of Washington, D.C. to share in our democratic ambitions.
Long ago, Washington, D.C. resident, abolitionist and civil rights leader, Frederick Douglass declared that "the District is the one spot where there is no government for the people, of the people, and by the people. Washington, D.C. residents pay taxes, just like residents of Nevada, California or any other state. Washington, D.C. residents have fought and died in every American war just like residents of Ohio, Kentucky or any other state. The District deserves statehood and Congress should act to grant it."
Speaking for LGBTQ Virginians, we agree. Conferring statehood is not a gift nor a blessing from the rest of us, but instead, it is the absolute right of all Americans to be part of our democratic society. As LGBTQ Americans, if we are to pass the Equality Act and other fundamental civil rights measures, we need the State of Washington, D.C. and its voters by our side.
Bob Witeck is a longtime LGBTQ civil rights advocate, entrepreneur, and Virginian, with long roots and longstanding ties to D.C.
Opinion | Representation matters: The gayest Olympics yet
From one out athlete to more than 160 in just 33 years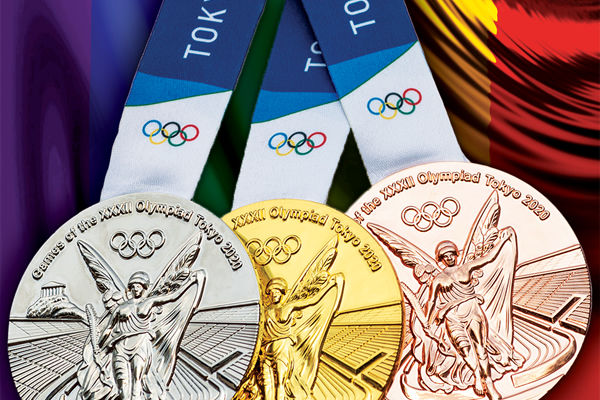 OK, I really want a Tom Daley cardigan. The now gold-medal Olympian told Britain's The Guardian that he took up crocheting during the pandemic. He even has an Instagram page dedicated to his knit creations, MadeWithLoveByTomDaley. It's all very adorable; it's all very Tom Daley.
All that aside, you'd have to be practically heartless to not feel something when Tom Daley and his diving partner Matty Lee won the gold on Monday in the men's synchronized 10-meter diving competition, placing just 1.23 points ahead of the Chinese. And then seeing him with tears in his eyes on the podium as "God Save the Queen" played. Later that week, he knitted a little bag featuring the Union Jack to hold and protect his medal. So very wholesome
Daley is certainly one of the highest profile LGBTQ athletes in these games. Besides the diver, the 2020 Summer Olympics, now in 2021 because of the pandemic, are hosting more than 160 out athletes. A record to be sure, but calling it a record does it somewhat of an injustice. The United States sent the first out athlete to the 1988 Summer Olympics, Robert Dover an equestrian rider competing in dressage. Dover remained the only out (sharing the title once in 1996 with Australian diver Craig Rogerson) for 10 years. Then, during the 2008 Summer Olympics in Beijing, the number of out athletes jumped to 15. London's 2012 Olympics saw the number increase to 23. The 2016 Summer Olympics in Rio de Janeiro saw the number jump to 68 out athletes. And now we're at over 160. 
So you get the trend building here. From one out athlete to more than 160. So very far, so very fast. And competing in everything from handball to sailing to golf to skateboarding. Also, noteworthy, New Zealand sent the first trans athlete, weightlifter Laurel Hubbard. These are but numbers and names, but to be sure, this sort of representation, this sort of visibility, is hugely important. Not just for athletes coming up behind them, but let's think too of those out there, not yet even out, maybe watching in their parents' living room. Seeing Tom Daley thank his husband, mention their son, this sort of queer normality being broadcast as if it is both groundbreaking and at the same time nothing at all — the importance of this cannot be overstated.
On top of that, growing up gay, how many times were we all told, whether outright or simply implied, that sports were more or less off limits to us. Meant to display the peaks of gender and ability, sports were not meant for those who couldn't fit neatly into that narrative. But it appears that that narrative is slowly becoming undone. Just look beyond the Olympics, to the wider world of sports. Earlier this summer, pro-football's Carl Nassib came out.
And maybe I'm just of a generation that marvels at the destruction of each and every boundary as they come down. We had so very little as far as representation back then. Now to see it all, and in so many different sports, you can't help but to wonder what the future will hold for us; and it really delights the imagination, doesn't it?
It is the gayest Olympics yet. And if the trend laid out above continues, it will only get gayer as the years go on. And if it's a barometer for anything, I think we will see a lot of things getting a bit gayer from now on.
Brock Thompson is a D.C.-based writer. He contributes regularly to the Blade.