Activism, the black athlete and supporting LGBT equality
Ali's legacy and why Kaepernick's critics are wrong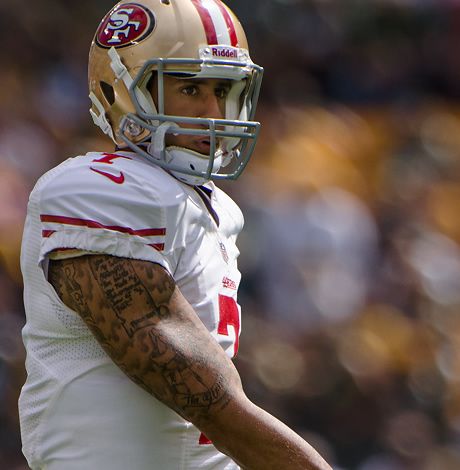 Why do so many African-American professional athletes today view Muhammad Ali as a hero, but fall short of even trying to live by the same code of ethics that made him a hero? Ali became a hero because he was never silent. He said things he knew would make people uncomfortable, even angry, but that he believed would help bring about awareness and change. Ali was, as a result, a controversial figure during his life. He angered countless people with his message and many people hated him.  It was only later that Ali was recognized for his impact on our country.
I remember that once as a boy I heard Ali call himself "pretty" on TV.  This was before Beyoncé made big booties sexy, before girls were pumping their lips full of fillers.  This was the 1970s. "Black" features were not considered pretty. I remember how powerful it was to see a man who looked like me categorize himself that way. I was nine years old, and I have never forgotten that moment. It was a small moment, but one that empowered me to feel good about myself. That is the power we possess as professional athletes: We have a platform to speak, and a way to give voice to so many voices that remain unheard. We have the ability, and I believe, the responsibility, to serve as a voice that will empower and engage others. But that platform, and the power it gives us, is an opportunity too many of us ignore.
When I started writing this piece, my intention was to draw attention to Black athletes who admire Ali for his activism, but remain silent as injustices continue to reveal the persistent inequity in this country. More specifically, I wanted to center that discussion on the fact that African-American heterosexual males have remained noticeably absent in the fight for equal rights for the LGBTQ community, being that we are all too familiar with what it feels like to be a disenfranchised and discriminated against minority. Before I finished the piece, however, I saw San Francisco 49ers quarterback Colin Kaepernick sit down for the national anthem — and I saw America stand up in protest. When asked why he didn't stand, Kaepernick said he was "not going to stand up to show pride in a flag for a country that oppresses Black people and people of color."
The way Kaepernick took a stand was exactly the type of activism I wanted to see among today's Black athletes, but before I had time to applaud him, the media crucified him. Worse yet, it wasn't just the mainstream media that was speaking out. Even fellow Black athletes were speaking out against him. It was bad enough that so many Black athletes were willing to be silent and let others stand up for our people, but now some were actually chastising him for standing up for us. Kaepernick wanted dialogue, but instead he got told that he had crossed a line. He wanted to spark conversation, but instead he was told to be quiet.  In fact, he was told to be grateful.
Ironically, one of the criticisms of Kaepernick came in the form of an argument that Kaepernick was not in a position to stand up for Black people because he was not Black. Forgetting about the fact that Kaepernick is in fact half Black, that position itself is nonsensical. If he were white, would it be wrong for him to stand up for Black people? Does that mean that white people cannot defend the rights of Blacks or other minority groups? That straight people cannot defend the rights of the LGBTQ community? Historically, no minority group has ever gained the equal rights they sought without the support of the majority.   
And it's true that Kaepernick does not necessarily feel the impact of racism or injustice day to day ⎯ he is not part of the disenfranchised Black community he is fighting to protect. The Civil Rights leaders of the 1950s, such as Martin Luther King Jr. and Malcolm X, were standing up for their own rights along with the rights of the Black community ⎯ King couldn't sit at the front of the bus either. Kaepernick is educated, and has a multi-million dollar contract as a quarterback in the NFL. But in my mind that makes his action even more powerful, not less. His silent protest was not driven by self-interest. He chose to speak for those who don't have a voice. As he put it, "This country stands for freedom, liberty, justice for all ⎯ and it's not happening for all right now."  That was reason enough for him to take action, despite any repercussion he might face.  That is what makes him a leader.
So why are so few athletes willing to stand up — or, in Kaepernick's case, sit down?  Many people do not realize that if a player has made it to the NFL, he has been playing since he was a child. From that time, he has been systematically trained to aspire to be in the NFL. Once a player makes it to the league, his impulse is, one, to fall in line, to do nothing that might jeopardize his team, a sacred brotherhood. Two, not to do anything to jeopardize his salary or endorsements. More than half of the players in the NFL come from poverty. For more than half the players in the league, football is the only way they see to take care of themselves and their families.
But the impulse and pressure to fall in line is what keeps so many players from standing up the way Kaepernick has — and keeps so many players silent when they could be voices of change. The unfortunate truth is that their fears are not unfounded. Broncos linebacker Brandon Marshall, who has chosen to take a knee for the anthem in light of Kaepernick's protest, has already lost two endorsements as a result of his actions. While too many of us still sit on the sidelines in the fight for justice, I am heartened that Kaepernick's activism has begun to gain momentum: more athletes take a knee, raise their firsts, link arms in support of him and his message. Even 49ers owner Jed York came out in full support of Kaepernick. Despite sacrificing two endorsements, Marshall remains steadfast in his commitment to the protest, and the conversation he hopes it will inspire.
I would love to see this momentum continue to build and have more professional Black athletes stand up publically for the larger Black community.  But what I would also love to see is that activism stretch beyond the reach of our own people and begin to try to help yet another marginalized group, the LGBTQ community.
There is an unmistakable power balance in this country, and we all know who wields that power. That being said, within the other groups that comprise our nation, there does exist a hierarchy of power. That hierarchy is what gave Kaepernick the opportunity to stand up for his beliefs in a way that a lot of other Black men never could. It is also what allowed the entire football team and the entire student body at University of Missouri to stand up for Michael Sam, and allow him to live his life openly as a gay man (which, by the way allowed him to play the best season of his entire collegiate career). And, two years later allowed the Missouri football team to stand together as a team against the racial discrimination that was occurring on their campus and boycott playing a single game until they got a public apology from the president of the university. Regardless of our race, as athletes, we do in fact wield power. The power to raise our voices for change is in our hands, but I see so much silence.
The LGBTQ community is another minority community in our country that is still fighting to be truly equal under the laws of our nation. And while I am by no means saying that the Black fight for equality is over, what I am saying is that there are many Black people in this country, such as professional athletes, that do in fact have a tremendous platform with which they can show support for the LBGTQ community. We have power to not only help ourselves, but to help another group who seeks fairness and equity.
If more professional athletes stood up for the LGBTQ community the same way Muhammad Ali and Colin Kaepernick did and the way others are beginning to do, think of the impact and the power that would have on the LGBTQ community and their fight for equality. Think about what would happen if two of my favorite athletes ⎯ Michael Jordan and LeBron James — went to Nike and said they wanted to film a PSA because they had a family member or close friend who is gay and wanted to publicly show their support. Because let's face it, we all have at least one family member or close friend that is a part of the LGBTQ community. But instead we allow ourselves to be told by the corporations what we can and cannot do. Why can't we realize that we have just as much if not more power than the students at University of Missouri?  If we stand together on the right side of history, then the power is ours. We need to be on the front line of history, not wait until it is cool to be in support of something that is not allowing friends and family members to feel safe and live their life to fullest.
In our community there is still a widespread fear that being an advocate for, or even just an ally of the LGBTQ community will call into question our own sexuality or masculinity as straight Black men. The base level of this fear is straight forward (albeit based on a false assumption) that supporting the LGBTQ community will lead people to think that we are gay or less of a man. As a result, many of us would rather say nothing than do something that would lead others to have that perception of us. There is also a financial fear associated with being a straight ally. That fear being that if people think that we are homosexual or an ally to the LGBTQ community, it will have a detrimental effect our brand, and in turn, our wallet.
I also want to address the argument that religious people cannot support the LGBTQ community due to the teachings of the Bible. First of all, I would like to remind all of my Black brothers and sisters that it was not too long ago that people used verses from the Bible to back up arguments to keep slavery legal. We, as African Americans cannot in good faith use the same teachings that were used to oppress us to suppress the rights of another group of people. Second, I would love someone to tell me when the laws in the Bible got ranked. In other words, what divine power came down and told us that the teachings that prohibit homosexuality are more important than the teachings that tell us to "love your neighbor as yourself?"   
We must begin to the dispel the ideas held by so many straight Black men that being an ally to the LGBTQ community will hurt them in some way. In order to do this, there are two major revelations to which these athletes must come. The first is that the stereotypes they grew up hearing are antiquated and untrue. We must all be a part of eliminating these stereotypes, and we can do that simply by letting our words and our actions defy them. The second is that becoming a straight ally for the LGBTQ community will actually broaden their brand and appeal.  The LGBTQ community accounts for more than $9 billion of buying power in this country. When Michael Sam came out as a gay man, his jersey shot straight to the No. 2 most purchased NFL jersey in the country. When Steve Jobs died, Tim Cook took over as CEO of Apple, and has subsequently come out as a gay man. We all still walk around with our iPhones tight in our clutches, but how many of us stop to think about the fact that the company that makes them — one of the most powerful companies in the country — is run by an openly gay man?
Muhammad Ali has, in the wake of his death, been mourned and celebrated in the media as an athlete who transcended sport and became an icon of activism and social justice. However, the same people who praise Ali for his activism and commitment to social justice can, almost in the same breath, condemn Colin Kaepernick for attempting to use his platform as an athlete to do the same. Ali paved the way for athletes like Kaepernick to speak out. If we celebrate Ali for creating the path, then how can we disapprove of athletes like Kaepernick for walking it?
It is time Black athletes realize our power and responsibility to bring change in America — and it is time for America to stop fearing what the change will look like. We must say and do the things that will spark conversation about important issues that we face because conversation is the first step toward resolution.
If we cannot speak about the issues, how can we hope to resolve them? More specifically, we, as heterosexual Black men with a voice need to get on the right side of history in the fight for LGBTQ equality. It is our responsibility to stand up for the underdog, the discriminated against, because we have been and still are discriminated against. We must stand up for communities other than our own just as we want others to stand up for us. We must be upstanders and not bystanders, we must stand up and use our voice for change, acknowledging that no group of human beings deserves to be treated as inferior.
We must applaud Kaeperrnick for his actions by acknowledging that great leaders have the strength and conviction to never mistake the easy choice for the right one. But applauding him is not enough. We must accept that once we identify a great leader such as him, we must have enough of our own strength and conviction to follow him.
Sean James is executive director of Sports & Entertainment for Hotaling Group Insurance Services and a former NFL player.
A rare misstep for the amazing Nancy Pelosi
Taiwan trip a distraction amid good news for Democrats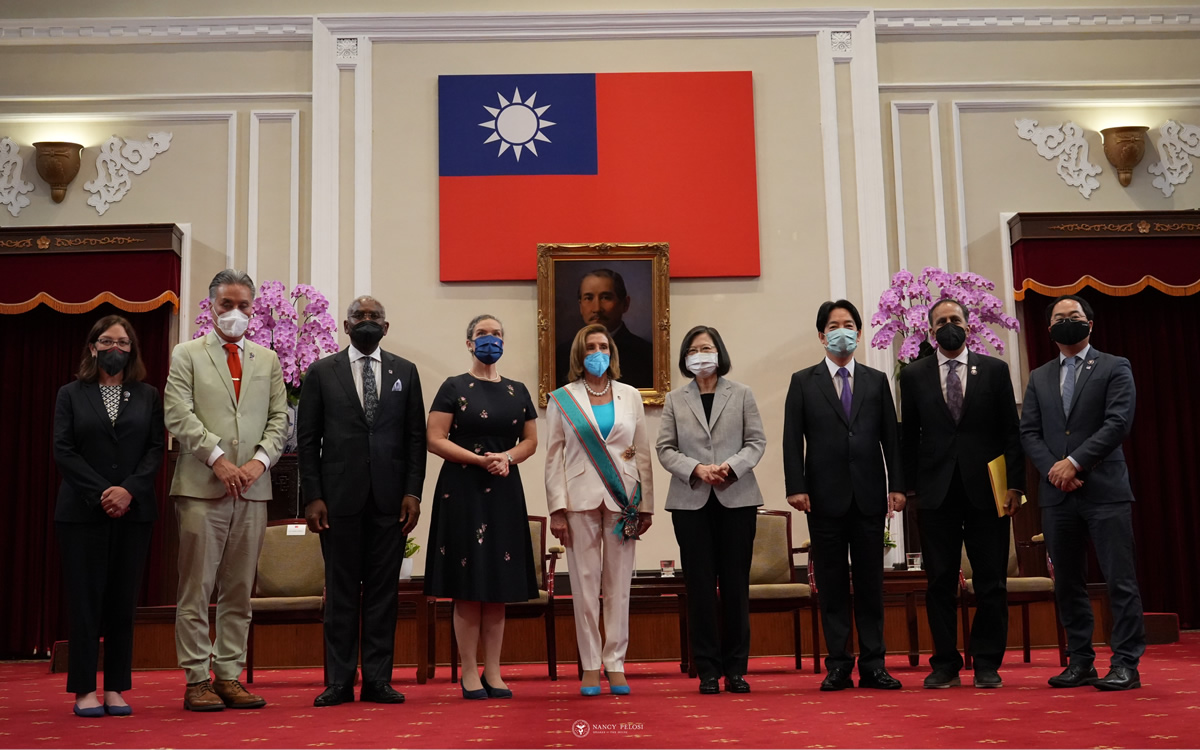 I have always supported House Speaker Nancy Pelosi and continue to do so. She is an amazing woman. She has championed women's rights, LGBTQ rights, the rights of all minorities, and the rights of people with disabilities. She has worked hard to make our country a better and more equal place for all.
So seeing the repercussions of her trip to Taiwan playing out, with even the South Korean president avoiding a meeting with her, she must now realize the visit may have been ill timed. Speaker Pelosi is a smart woman and politician. I assume her insistence on the trip may have been a response to some promises she made to the Chinese community in her district and around the nation. She has always been a strong supporter of human rights and has criticized the Chinese government in the past. She recently tweeted, "28 years ago, we traveled to Tiananmen Square to honor the courage & sacrifice of the students, workers & ordinary citizens who stood for the dignity & human rights that all people deserve. To this day, we remain committed to sharing their story with the world. #Tiananmen30." 
The question some are asking is did this trip do anything for the people of Taiwan or could it potentially hurt the people there and here if China decides to restrict trade and begin new sanctions?
As the Washington Post reported, "The visit lasted barely 19 hours. But Nancy Pelosi's contentious trip to Taiwan was a defining moment in the increasingly bitter rivalry between China and the United States. A fuller picture of the Chinese response will emerge over the coming weeks and months, and there are already signs it will encompass greater economic as well as military coercion. Whatever the final shape of Beijing's retaliation, Pelosi's visit heralds a new phase in China's efforts to control Taiwan's fate — and those measures are likely to increase the risk of conflict with U.S. forces in the western Pacific." The New York Times said,  "Ms. Pelosi's visit was ill timed" and called it "provocative."
I would never question the speaker's commitment to the human rights of the Chinese people. But at this time, as the third in line to the presidency, there may have been some unintended ramifications from what she did and what the implications could be. I think the very unusual may have occurred, and the speaker may not have considered everything. The trip was likely spurred on by her knowledge this is likely to be her last year as speaker and this was the last time she could arrange for such a trip having the clout she does. I think Speaker Pelosi may be thinking about what she did and if it was worth adding this to the international problems the White House is now facing.
We are living in interesting and difficult times. With the help of Speaker Pelosi for the first time in a while the Biden administration and Democrats are having an incredible run of successes here at home. Passing the first gun control bill in decades, the infrastructure bill, the chips bill, and now the Senate has passed the "Inflation Reduction Act of 2022" as a reconciliation package. The nation added 528,000 new jobs in July and unemployment is at the lowest it has been, matching pre-pandemic times, at 3.5%. Gas prices are steadily going down and inflation has likely peaked. Then there is the vote on the abortion amendment in Kansas, which the pro-choice side won by nearly 60/40 in a landslide definitely not predicted in that very red state. So, poking the Chinese at this time, generating negative headlines, doesn't make much sense. I hope it will be only a blip in time.
This week we will see Pelosi do what she does best. She will move the House of Representatives to pass impactful legislation. She will keep her small Democratic majority together to pass the 'Deficit Reduction Act of 2022' and send it on to the president to sign. In 2018, she cut a deal to become Speaker for two more terms. That time is now coming to an end. If the Democrats manage to hold the House of Representative much of the credit must go to her. Should she then actually leave the speakership, the next speaker will have the unenviable task of trying to fill those four-inch stiletto heels. 
Peter Rosenstein is a longtime LGBTQ rights and Democratic Party activist. He writes regularly for the Blade.
Monkeypox is a gay thing — we must say it
Will there be stigma, judgments, and homophobia? Of course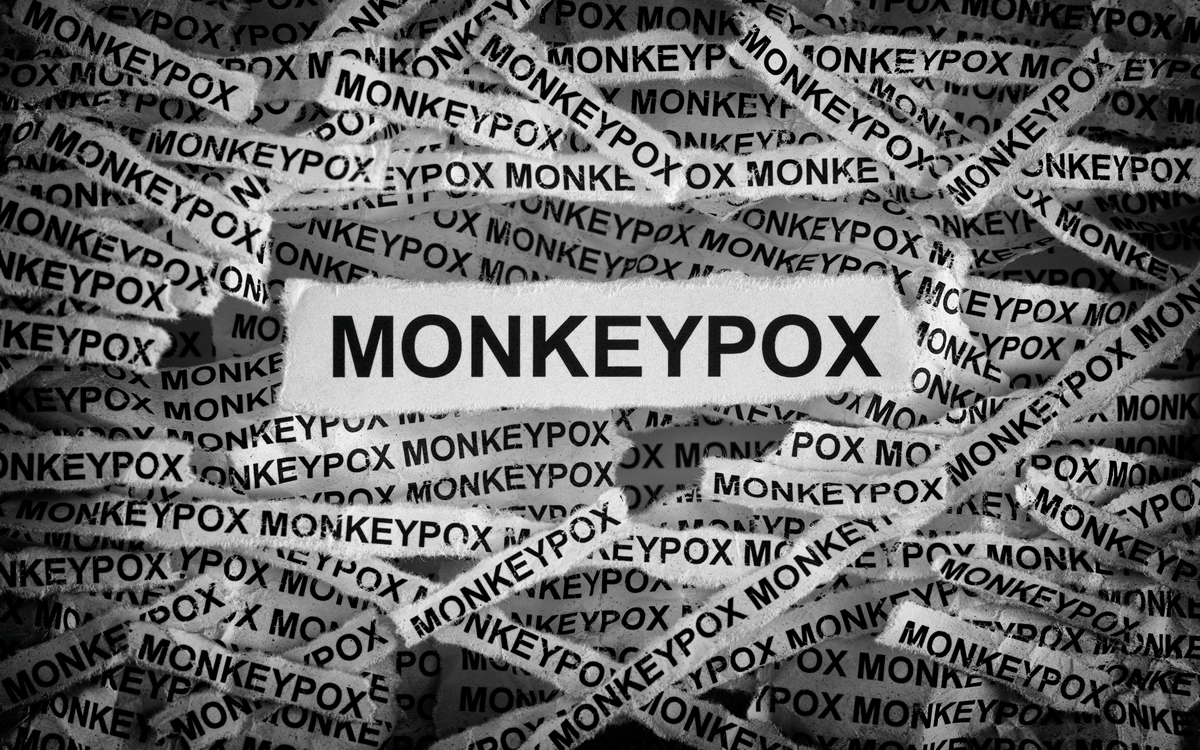 The mainstream media and public health officials are being so damn careful not to label monkeypox "a gay disease" that they're doing a disservice to the gay men who most need important information about the outbreak – while misleading everybody else.
In a July 28 New York Times story of the excruciating symptoms and lack of care available for those with monkeypox in that city, the sexuality of the men profiled isn't referenced until 11 paragraphs into the story, and even then it refers to them as "men who have sex with men," which is technically correct but dodgy. Moreover, the article, which supposedly addresses barriers to care, ignores the fact that gay men routinely experience apathy and even judgment from health providers.
Other media stories, and statements from the Centers for Disease Control and Prevention, have mentioned monkeypox cases in the context of "the LGBT community." Really? Should lesbians be lining up for a monkeypox vaccine, whenever the heck they become widely available? This is happening to gay men. Say it.
Journalist Benjamin Ryan, in his excellent Washington Post opinion piece, draws a hard line between attempts not to unnecessarily stigmatize gay men and the importance of telling the truth about monkeypox, writing that "public health officials cannot be expected to police the public's reactions to epidemiological facts."
Ryan lays out those facts plainly:
Here is what we can discern from data collected about monkeypox so far: This viral outbreak isn't just mostly occurring among men who have sex with men. The confirmed cases, at least to date, have consistently almost entirely occurred among this demographic, which accounts for 96 percent or more of diagnoses where data are available.
Per capita, the few monkeypox cases in women and children remain minuscule compared with the rate among gay and bisexual men. Of course, substantial transmission could always occur among such other groups. But researchers at the WHO and elsewhere have speculated that the monkeypox reproduction rate will likely remain significantly lower in such demographics — meaning the virus will more likely hit transmission dead ends among them than among gay and bisexual men.
An uncomfortable truth, one documented in peer-reviewed papers, is that sexual behaviors and networks specific to gay and bisexual men have long made them more likely to acquire various sexually transmitted infections compared with heterosexual people. This includes not only HIV, but also syphilis, gonorrhea, chlamydia, hepatitis B and sexually transmitted hepatitis C.
Global public health experts agree that skin-to-skin contact in the context of sexual activity between men has been the principal driver of the monkeypox outbreak, at least thus far.
Such experts have also asserted that the risk of monkeypox to the broader population not having multiple sex partners remains low — even "very low." This is hopeful news, and the wider public deserves to be reassured accordingly. Assuaging fears of contagion will help fight unhelpful hysteria and prevent gay and bisexual men from being subjected to even greater stigma should they be painted as culprits of the spread of virus to others.
Monkeypox didn't begin with gay men, that much is true. As Yale infectious disease expert Gregg Gonsalves explained to the New York Times, "This is not a gay disease; it has been circulating in West and Central Africa for many years… What likely happened, in this case, is that somebody who had monkeypox had a lesion and showed up at a gay rave in Europe, and it spread to those in that social and sexual network."
Whatever the origins, we're now dealing with an outbreak almost entirely limited to gay men in the United States and Europe. And that is worth saying explicitly.
Why? Because identifying those at risk and getting information to them is a basic public health strategy for containing an outbreak. Gay men are getting monkeypox and suffering greatly. When gay men understand the threat, we are more likely to take precautions, get vaccinated, or be informed about treatment.
Will there be stigma and judgements and homophobia? Of course. And we'll have to deal with that. But that doesn't mean we bury crucial facts in vague, evasive messaging.
Monkeypox is a gay thing. That's the truth.
Mark S. King is an award-winning blogger, author, speaker, and HIV/AIDS activist who has been involved in HIV causes since testing positive in 1985.
Casa Ruby folds — was money stolen?
The community deserves answers and accountability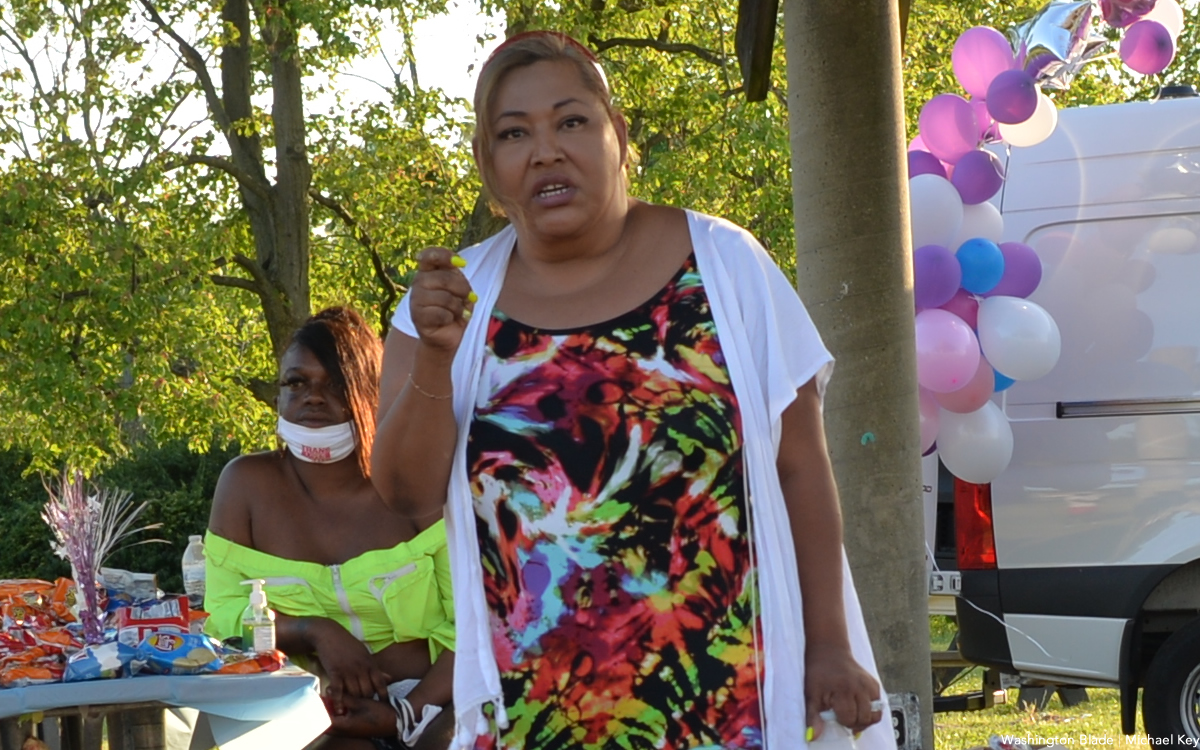 It is both sad and frustrating when what was once considered a great organization folds for what appear to be questionable reasons.
That is the case with Casa Ruby. It is sad for all the people who worked for and were served by the organization. It is my hope other organizations will take up the slack and the transgender community will continue to be well served in the District of Columbia.
Also sad are the questions people are asking about the founder of Casa Ruby, Ruby Corado. It has appeared for a while that she let her desire for publicity — and apparent desire for the good life — to lead her in a questionable direction. A number of years ago David Perruzza and I, both early supporters of Casa Ruby, met with Ruby for lunch. We talked with her about the apparent issues at Casa Ruby and urged her to take a good look at what she was doing. We asked her to remember the reason she founded Casa Ruby, and it wasn't about her. Her goal she said had been to help others in the transgender community.
We met with her because we cared about her and the organization and it seemed her ego was being fed by all the honors the community was affording her. Recently Dito Sevilla posted on Facebook that an associate of his found who they assumed is Corado on Facebook, under the name Jada Wilkins, now living in San Salvador. That Facebook page is very sad to see. 
It is important for the District and any other grantors to Casa Ruby to do a forensic audit to see where all the money went. I am pleased, according to the Blade, that is now happening with the D.C. Attorney General investigating and filing lawsuits. The result of the first hearing on one of the two lawsuits filed by the AG is the judge granted the freezing of all Casa Ruby bank accounts as reported in the follow-up Blade article. As a community we should know if any money was stolen. Aside from all the grants, a lot of money was donated by well-meaning individuals. If some of it was stolen, which sadly could be the case, those who stole it should be prosecuted to the fullest extent of the law. 
Casa Ruby is not the first organization this has happened to and it will not be the last. The LGBTQ community, which is a very generous community, must always be careful to ensure organizations we donate to, and support with our volunteer time, are well run. We should insist those organizations are not about any one person, because if they are they are more likely to fail. A solid organization is never built around one person, which is what seemed to happen at Casa Ruby.
I know the District requires financial reports for the grants they give and there was an accounting firm involved in looking at the financial functions of Casa Ruby. That accounting firm needs to be involved in looking at what happened to the money. There were 990s filed, but were they accurate? Again, I hope the AG will find all that out and if they find illegal activity will forward that to the DOJ for prosecution. The community needs to know what happened.
Again, if there was fraud and money stolen, the law and the community must hold the people responsible for the demise of this once valued organization, accountable. If by any chance, and I pray it's not the case, Ruby Corado is found to have participated in stealing money from the organization, people and organizations must take the time to publicly rescind the awards and honors she was given over the years. Again, I hope that is not the case. But if it is, then we owe that to the transgender community, which will suffer because Casa Ruby is closing. 
Peter Rosenstein is a longtime LGBTQ rights and Democratic Party activist. He writes regularly for the Blade.