December 1, 2016 at 4:53 pm EST | by Kathi Wolfe
Secretary Jewell, honor one of our unsung heroes
"I have been cast aside, but I sparkle in the darkness," Anna (a.k.a. Pauli) Murray, the queer, black activist-lawyer-scholar-writer-poet and National Organization for Women co-founder, and friend of Eleanor Roosevelt, who lived from 1910 to 1985, wrote in her poem "Prophecy." "I seek only discovery."
Few people are more important in the history of United States civil rights than Baltimore native Murray, who was raised by her maternal grandparents and aunts in Durham, N.C., after her parents died. Yet though Murray became the first African-American woman to be ordained as an Episcopal priest, until recently her legacy has been largely cast aside.
The Pauli Murray Center for History and Social Justice in Durham, N.C., is working to bring Murray's legacy out of the shadows and into the light. The group has launched a campaign to have U.S. Secretary of the Interior Sally Jewell designate Murray's Durham, N.C., childhood home as a National Historic Landmark. The Pauli Murray Project at the Duke Human Rights Center at the Franklin Humanities Institute, the National Trust for Historic Preservation and the National Collaborative for Women's History Sites are collaborating with the Center in this effort.
Thirty-five organizations and individuals, including leaders of the NAACP, ACLU and NOW, have endorsed the campaign. The Center is working to restore the Murray home so that it will be a place to honor Murray and for scholars and activists to work for social justice.
One way to mark the legacies of people who've indelibly impacted our history is to honor the places where they lived or grew up. The U.S Secretary of the Interior designates these "nationally significant" places as historic landmarks, the National Park Service website says, because "they possess exceptional value or quality in illustrating or interpreting the heritage of the United States."
"Today, just over 2,500 historic places bear this national distinction," the Park Service website adds. Though we're in the 21st century, only 3 percent of our National Historic Landmarks, according to the National Park Service, are associated with women, people of color or people from the LGBT community.
To be designated as a National Historic Landmark, a place has to be nominated by the National Park Service. If nominated, it is then submitted to the U.S. Secretary of the Interior.
"Designation of the Pauli Murray Home as a National Historic Landmark would be an important symbol of the honor and respect we as a country have for the ideals that Pauli Murray fought tirelessly for: human dignity and equal rights for all, regardless of color, gender, sexual orientation, wealth or class," says a petition with 2,500 signatures.
On Nov. 18, the National Park Service Advisory Board voted in favor of naming the Pauli Murray home a National Historic Landmark. If Secretary Jewell gives her approval, the Murray home will be designated as a NHL by the end of this year or early next year.
At the dawn of the Trump era, when the civil rights of women, people of color, LGBT people and other marginalized groups will likely be threatened, I can think of no one more timely or deserving of this honor than Murray. Murray, who battled Jim Crow and Jane Crow, had the mind needed to legally fight injustice. She made sure that sex discrimination was included in the Civil Rights Act. Murray had the heart to help and comfort those in need – from a black woman unfairly evicted from her apartment by her white landlord to people who were lonely or sick. Though Murray couldn't come out as queer, she had a long-term relationship with a woman and didn't try to hide her sexuality. If anyone could guide us through these tough times – it's Murray!
Secretary Jewell, help us honor one of our unsung heroes! Designate Pauli Murray's childhood home as an NHL.
Kathi Wolfe, a writer and a poet, is a regular contributor to the Blade.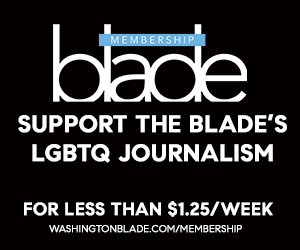 Sign Up for Blade eBlasts