We are in an abusive relationship with Trump
President-elect gaslighting the American public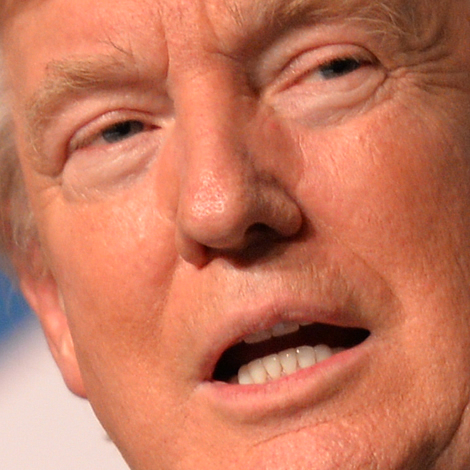 As a psychologist who works with struggling couples, I am struck by the behavior of our president-elect toward the American people. We've been "engaged" for barely two weeks and this is already feeling like an abusive relationship.
I had this realization a few days back while reading how Donald Trump gathered a group of television anchors and executives to tell them that they are "liars" for not reporting the "truth." The truth as he sees it, of course.
Gaslighting is the term that comes to mind here.
Popularized by the film about a woman whose husband attempts to drive her mad by telling her she's imagining things that are really happening, it is a classic move by abusers. "Trust me: I know what's going on and you're crazy." When the soon-to-be president with a long history of documented untruths lectures us that our version of reality is wrong, we're getting played in a big-league un-American way.
And it's not just that we're being gaslit. All the key hallmarks of abuse are present in this developing relationship.
Isolation: People in abusive relationships are often cut off from their loved ones, so they can't get support or a reality check. As a result of the Trump campaign (now incoming administration) working to divide Americans based on religion, ethnicity, and class, we have less support from each other and are more fearful and suspicious. Just like poor Ingrid Bergman in "Gaslight," cut off from the world by Charles Boyer, it becomes harder to trust even our own perceptions that something awful is happening to us.
Don't upset the abuser: Trump's demand that the Hamilton cast "Apologize!" for addressing Mike Pence, or Trump surrogate Kellyanne Conway's warning Senate Minority Leader Harry Reid to be "very careful," aims to scare us into fearing unnamed consequences if we speak up about actions and policies we don't like. The result: we become afraid to open our mouths, giving up our precious First Amendment right to free speech.
Mixed messages: Abusers often behave lovingly — at times — to those whom they abuse. This maneuver serves to create doubt in their partners' minds that abuse is really happening, and to build hope that the abuse will not continue.
When Trump posts a mild-mannered video on YouTube, talking about working with "everyone" to "make America great again," we start to question whether he really wants to diminish our freedoms, cut into LGBT rights, seek advice from bigots, and appoint foxes to guard very precious henhouses. Maybe he's really a nice guy who simply wants to help all of us.
And when he appears at the New York Times, affable, humorous, apparently thoughtful, and describing a paper he'd labeled "failing" a few hours earlier as "a world jewel," I'm certainly not the only person who wants to hope that his divisive moves are a thing of the past.
Distortion of Reality: The equivalent of holding up only two fingers and insisting there are three. "Reality" is built on falsehoods that touch the edge of semi-truths. Repeated over and over again, what is false comes to be accepted as true. "Locker room talk," anyone?
Vicious criticism: Need I elaborate? Those who criticize are attacked, not only by Trump and his direct surrogates but also by an ever-growing sinister army—online, in the streets, and even in D.C.'s Reagan Building—whom Trump has denounced far less vociferously than he did the cast of "Hamilton" or Alec Baldwin. Speaking up becomes dangerous.
Our National Anthem describes the United States as "the land of the free and the home of the brave." I never really understood the importance of this phrase until Nov. 9, when freedom suddenly became threatened and voicing a viewpoint, risky. Americans, we cannot permit ourselves to become silent victims in an abusive relationship with our leadership.
We will likely be locked into this relationship for the next four years. But we do not have to lose ourselves in confusion, fear and despair. As one people, let's unite to keep our eyes open, recognize when we're being played, hold onto our perceptions of reality, not allow ourselves to be trampled, and above all, speak out. Doing so is our only hope if we are to survive as a country that offers liberty and justice for all.
Michael Radkowsky is a D.C.-based writer. He writes regularly for the Blade.
Kenyan McDuffie for D.C. Council-at-Large
A voice of reason and progress in city government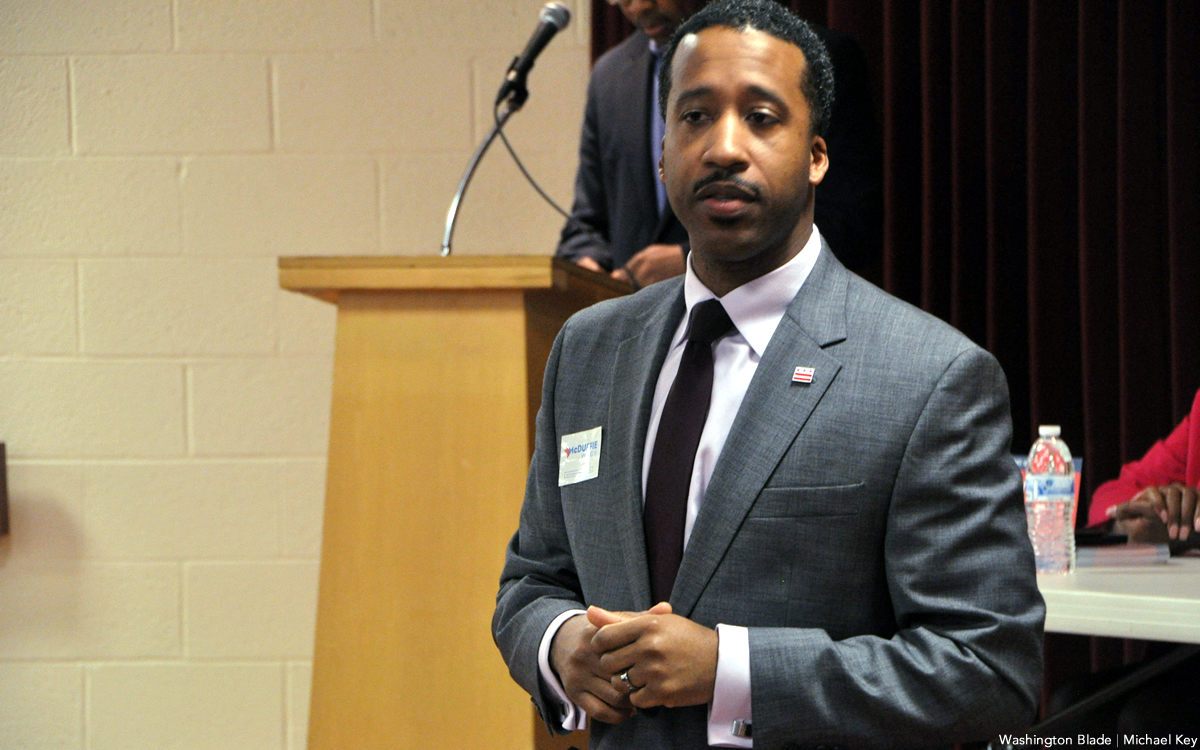 Kenyan McDuffie is a voice of reason, and a voice for progress, on the D.C. Council. He has been a voice for those without one, and for minority communities across the District.
Kenyan is a fourth-generation Washingtonian raised in a working-class family of six. He attended Shaed Elementary in Edgewood, St. Anthony Grade School in Brookland, and graduated from Woodrow Wilson Jackson-Reed high school, having played varsity basketball. He has been a union member working as a mail carrier for the U.S. Postal Service. His college career began at the University of the District of Columbia, which he continues to strongly support. He transferred and graduated summa cum laude from Howard University with a bachelor's degree in Political Science and Community Development and then joined the staff of Congresswoman Eleanor Holmes Norton. He left there to attend the University of Maryland School of Law, where he was an editor of the law school's Journal of Race, Religion, Gender and Class.
After law school he clerked for an associate judge on the 7th Judicial Circuit of Maryland and then became an Assistant State's Attorney in Prince George's County. He then joined the Civil Rights Division of the U.S. Department of Justice, where, as a trial attorney, he enforced key federal civil rights laws in cases throughout the country. His caseload at the DOJ included defending the civil rights of the mentally ill, nursing home residents, persons with disabilities, and other vulnerable populations.
At that point in his career, Kenyan added community activist to his resume becoming president of his local civic association and taking a job as a policy adviser with the Deputy Mayor for Public Safety and Justice. In that position he worked with Council members to shape policy and legislation for the District of Columbia.
In 2012, with this wealth of experience, he was elected to the D.C. Council. At that time Lateefah Williams, president of the Stein Democratic Club, wrote in the Blade, "Kenyan McDuffie is the type of leader that Ward 5 needs. He is intelligent, he has key experience in diverse matters from public safety to public policy, and he is a staunch supporter of the LGBT community. These are some of the reasons the Gertrude Stein Democratic Club, D.C.'s largest LGBT political organization, endorsed Kenyan McDuffie for Ward 5 Council.  … and why I personally support Kenyan McDuffie." Her confidence in Kenyan was well placed. For 10 years he has worked to build coalitions and create solutions, tackling D.C.'s most significant challenges. In his first year on the Council, he was elected to serve as Chairman Pro Tempore (Vice Chair), a position he continues to hold. 
Kenyan is what those of us looking at legislators call a work-horse, not a show-horse. He has put in the work to bring consensus and pass legislation, which he did with sweeping updates to D.C.'s criminal justice laws when he became chair of the Judiciary Committee in 2017. With that committee he oversaw the implementation of D.C.'s police body-worn camera program, including ensuring the public has fair access to the video footage from encounters with officers.
Kenyan has a view of public safety that includes both a strong MPD, with appropriate community oversight, and recognition of the need to fully fund community organizations working to reduce crime. Kenyan, like the mayor, believes we need to do both of these things, not one or the other. He recently said, "One of my proudest moments on the Council is passing the Neighborhood Engagement Achieves Results (NEAR) Act. The law takes a holistic approach to preventing crime in the first instance and floods communities disproportionately impacted by violence with resources – including violence interrupters and behavioral and mental health services – in addition to more innovative, data-driven policing."
For the past five years, Kenyan has chaired the Council's Business and Economic Development Committee. His focus has been on helping grow the local economy with a stronger focus on supporting small and minority-owned businesses. He fought to put millions of dollars in the Commercial Acquisition Fund to allow socially disadvantaged business owners to apply for grants to purchase commercial properties here in D.C. Kenyan spearheaded an emergency relief package of $100 million to help the hospitality, entertainment, and retail industries – some of D.C.'s largest employers of immigrants and minority workers – weather the pandemic and keep District employees on the payroll.
For these reasons, and many more, we cannot afford to lose Kenyan's voice on the Council. I urge everyone to cast their vote for Kenyan McDuffie for Council-at-large. 
Peter Rosenstein is a longtime LGBTQ rights and Democratic Party activist. He writes regularly for the Blade.
Bisexual activists cautiously excited after White House meeting
Sept. 20 gathering took place during Bisexual Visibility Week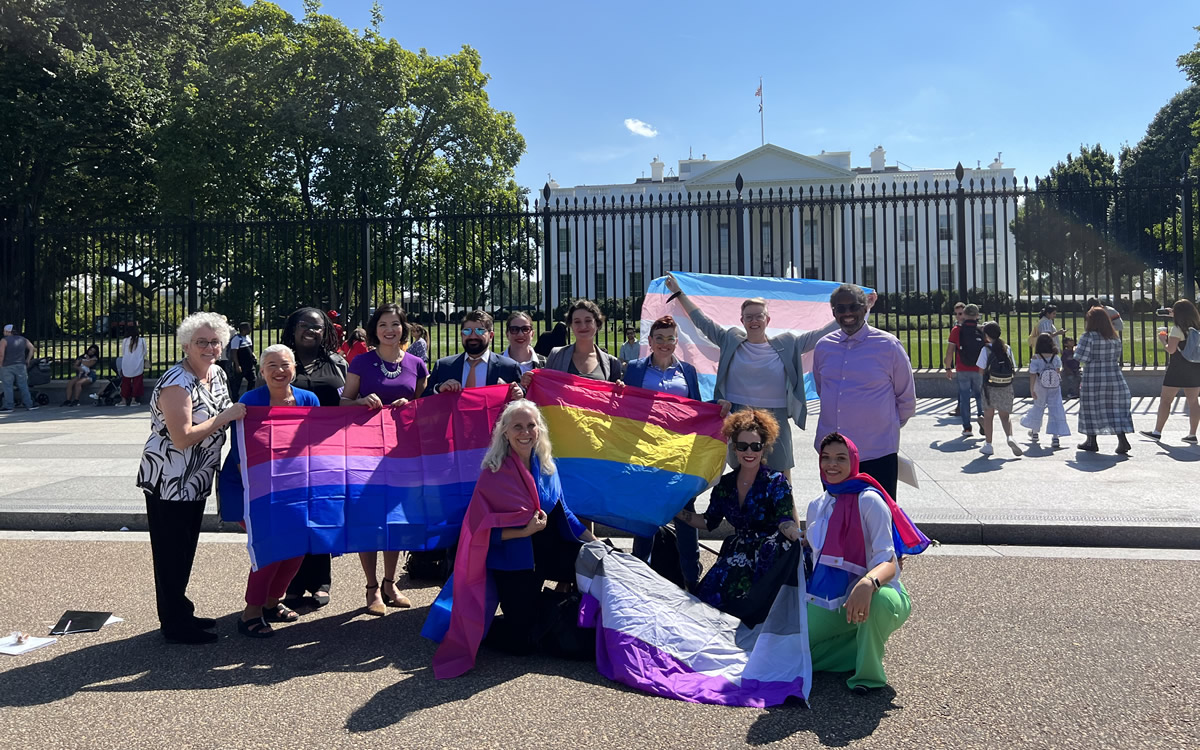 On Tuesday, Sept. 20, just in time for Bisexual Visibility Week, a diverse group of 15 bisexual and pansexual activists met with officials from the White House and the Department of Health and Human Services (HHS), including Melanie Fontes Rainer, the director of the Office of Civil Rights at HHS.
The 15 advocates comprised a wide cross-section of the bisexual community, including nonbinary, transgender, female, young, older, Black, Asian and Muslim advocates, people with disabilities and parents. We came from many walks of life: Academia, education, research, health care, advocacy, law, media and community activism. This isn't unusual: Bisexual people comprise more than half of all LGBT people, totally approximately 12.5 million bisexual adults in the U.S. Strikingly, 15 percent of all GenZ adults — nearly 1 in 6 — identify as bisexual. People of color are more likely to identify as bisexual, as are cisegender women and transgender people in general. 
It has been a painful six years since the Executive Branch last met with bisexual activists (you do the math.) Those meetings, like this one, were the product of tireless advocacy from a population with zero paid organizational staff and less than one percent of all philanthropic dollars earmarked for the LGBT community. It was these stats and others that we shared at HHS on Sept. 20.
Bisexual and pansexual people face specific disparities in mental and physical health, intimate partner violence and monkeypox prevention, treatment and care. Did you know, for example, that nearly half of bisexual women report having been raped? And did you know that federal reporting on monkeypox doesn't disaggregate between gay and bisexual men and men who have sex with men, despite evidence that bisexual men are uniquely vulnerable to MPX and other infectious diseases.
Khafre Abif is a Black bisexual educator, father and person living with HIV. At the meeting with agency officials, Abif shared the story of how staff at his HIV-care clinic initially denied him the monkeypox vaccine, despite Abif being bisexual and thus in a population of special focus for the vaccine.
"This meeting has been a long time coming for the bi+ community," said Abif. "I'm looking forward to a dialogue with federal officials about solving some of the health issues we face."
In order to begin remedying these disparities and more, we presented the administration with a set of benchmarks, including the creation of a Federal Interagency Bisexual Liaison and a Federal Interagency Bisexual Working Group. Other benchmarks included training for HHS staff on bisexual disparities and remedies thereof, funding streams for bisexual-specific funding and interventions, and the disaggregation of data on specific health disparities.
Robyn Ochs is a pillar of bisexual and pansexual community organizing. At HHS, Ochs shared more about her specific expertise. "Research has made clear our health disparities and invisibility. It's time for federal interventions to catch up with what we already know through research and lived experience."
Frustrated by years of inaction by the federal government to release bisexual-specific data, target the bisexual and pansexual community with tailored interventions, or recognize the importance of bi+ health in general, we are cautiously excited by this opportunity to share critical data and remedies.
Heron Greenesmith is the Senior Research Analyst for LGBTQI+ Justice at Political Research Associates, and the co-founder of BiLaw and the Polyamory Legal Advocacy Coalition. Find Greenesmith on Twitter @herong.
Larry's Lounge transformed pandemic into an opportunity
A vibrant neighborhood bar that reflects owner's passion for animals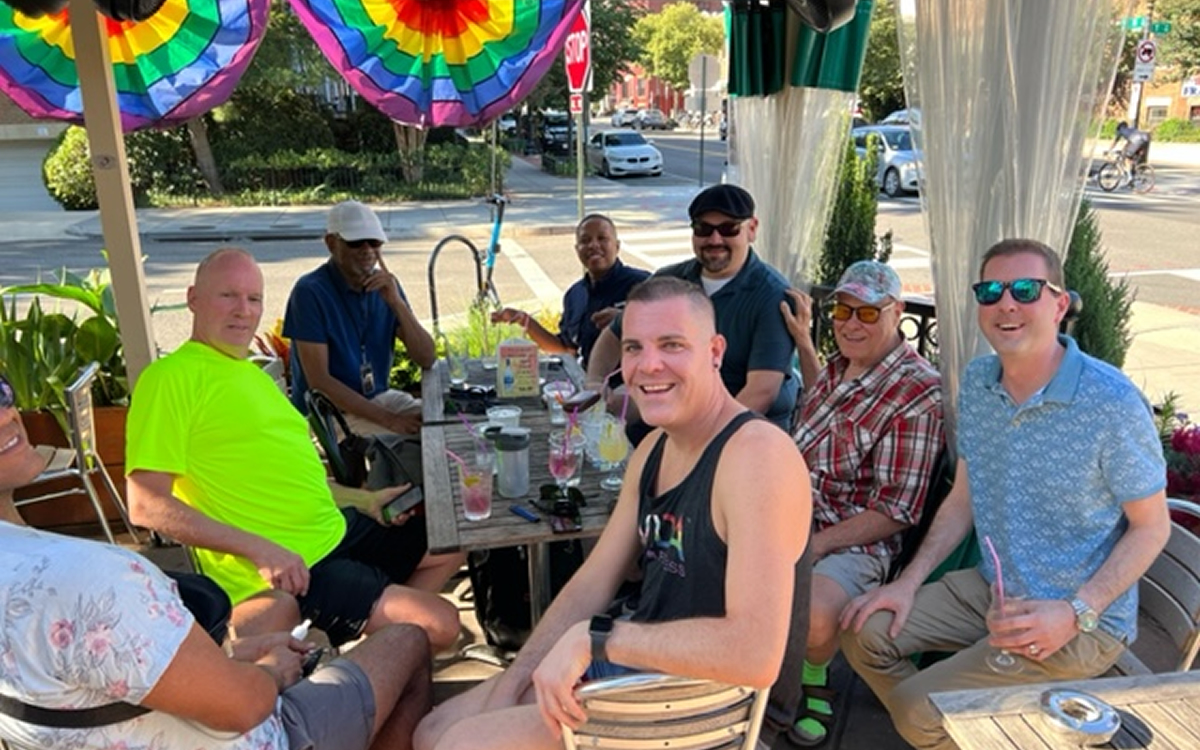 In a Blade article (9/2/22) Larry's Lounge (LL) customer Brett Howard fondly called Larry's Lounge "a dive bar." Yes, it is and so much more.
D.C. native, veteran businessperson and LL owner Ron Robinson transformed the COVID lockdown and pandemic into an opportunity. When D.C. ordered all alcohol establishments to serve food, Ron did with popcorn and wings out of his kitchen. With the assistance of customers, Ron built outdoor structures with fans, heaters, lights, and even plastic walls (lovingly referred to as "shower curtains").
This opportunistic spirit dates back to 1987 and the founding of LL by then owners and neighbors Larry Tan and Ken Megill. They dreamed of opening the first full-service Malaysian and Singaporean restaurant on the East Coast. Chef Lawrence Tan and Dr. Kenneth A. Megill (philosophy from Yale University) formed an excellent partnership.
Back then, the ANC Commissioner created the 18th Neighborhood and Business Association. The number of businesses along this busy 18th Street corridor between S Street and Florida Avenue, N.W., surprised the neighbors. These more than 100 businesses included accountants, attorneys, restaurants, and retail. Neighbors bonded around "community policing" to ensure safety. Chief of Police Robert Contee even served as this area's community police.
Larry and Ken consulted with the neighbors and by the time they applied for their restaurant liquor license for Straits of Malaya, the neighbors cheered. The Dupont Circle ANC and D.C. Alcohol Board were shocked that there were no objections. Neighborhood involvement from the very beginning was the key to success. Several years later in 1993, they applied for their CT liquor license for Larry's Lounge again to the delight of the neighbors. Straits closed in 1991 since Tan needed to return home to take care of an ailing family member. (He did reopen for a bit.) Sadly, Ken passed at age 82. Larry resides in D.C.
Today, Larry's Lounge is a vibrant indoor/outdoor neighborhood bar. It reflects owner Ron's passion for animals. Sometimes there are more dogs than people. Most neighborhood dogs pull over their guardians (aka owners) to take a drink from the bowls and receive love from LL staff and customers.
Larry Ray is former ANC 2B 01 Dupont Circle Commissioner. He is a mediator who teaches at The George Washington University School of Law.