December 8, 2016 at 6:00 am EST | by Peter Rosenstein
We are living in Trump's alternate universe
We are clearly living in the alternate universe of Donald Trump. He is handling the formation of his government like a segment of "Celebrity Apprentice," throwing out suggested names for various positions in his Cabinet and saying to the world "only he knows who gets the job." He holds a rally in Cincinnati, eggs on the crowd about how he campaigned against Hillary Clinton until they start chanting "lock her up." Then he grins at the podium. He jokes about what should be a serious announcement of his Secretary of Defense using Ret. Marine General James N. Mattis's nickname 'Mad Dog.' Then he goes on to say he surprised his aides by making the announcement asking all to keep it a secret till Monday when he was going to make it. Someone has to explain to Trump being president isn't a joke, even if the world thinks Americans electing him is one.
Trump goes to Indiana touting saving 1,000 jobs at a Carrier plant with a $7 million state tax credit and promises to lower the corporate tax rate to 15 percent. According to reliable reports that won't help United Technologies, Carrier's owner, since it currently only pays at a 6 percent tax rate. Despite his bragging, Carrier and United Technologies are still moving 1,400 jobs to Mexico and have built a new plant there. Trump touts Carrier and suggests people should buy their air conditioners as a way to thank them. Maybe his orange tinted face will appear in their next ads.
Then there are Trump's appointees — a collection of anti-LGBT people who are in lock-step with the beliefs of his transition chair, presumptive VP-elect Mike Pence who is notoriously anti-gay. Pence wanted to take money from HIV/AIDS education and healthcare and instead use it to pay for conversion therapy.
Trump's choice for the Department of Education is Betsy DeVos. DeVos is from the family that founded Amway and has funded every anti-gay initiative across the nation. DeVos doesn't believe in public education and would rather see public funds used for vouchers to private and religious schools. She is anti-union. You have to wonder if she ever set foot in a traditional public school.
Then there's Rep. Tom Price (R-Ga.), Trump's choice for Health and Human Services.  A doctor with six terms in the House and the leading opponent of Obamacare even suggesting the IRS immediately be prohibited from giving tax credits to help those who need to offset the cost of insurance. He wants to privatize Medicare and turn Medicaid into a block grant. Does anyone including Trump remember he campaigned on protecting Medicare and Social Security?
After spending the entire campaign attacking Hillary Clinton for her private emails, Trump meets with General David Petraeus, who was convicted of passing state secrets and is now on probation. Trump attacked Clinton for giving paid speeches to Goldman Sachs and attacked hedge fund managers. He now announces his Secretary of the Treasury will be a Goldman Sachs former partner who managed a hedge fund and owned a bank.
If all this isn't an alternate universe I don't know what is. Trump has shown he has little understanding of how government works saying "marriage equality is a settled issue so it no longer matters what he thinks" and then saying he is for overturning Roe v. Wade. Clearly having no understanding once he nominates a Supreme Court Justice he no longer controls what they do and both those decisions have an equal chance of being overturned if the right cases come before the court. Then there is the phone call with the Taiwanese leader, his children in meetings with leaders of countries where he has business interests, Ben Carson (enough said) and avoiding security briefings.
Trump is not an ideologue. He is a megalomaniac and narcissist who cares only about himself and winning. The nation will have to wait to see whether he takes an active interest in governing beyond a headline or will simply let his appointees make decisions for him. Either way we have much to fear from the Trump administration.
It can only be hoped those who stayed home, or voted for third-party candidates as a protest vote and are largely responsible for electing Trump, will come to their senses. The only way to stop Trump from destroying America is to elect a Democratic Congress in 2018. That needs to be our focus as we fight to stop the worst of what Trump can do in his first two years with a Republican Congress.
Peter Rosenstein is a longtime LGBT rights and Democratic Party activist. He writes regularly for the Blade.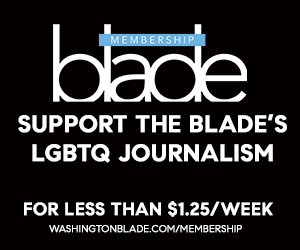 Sign Up for Blade eBlasts