June 8, 2017 at 4:12 pm EDT | by Mark Lee
DC Allen and Ken Flick: Partners in life, business and LGBT community growth
As the Washington region celebrates the annual Capital Pride parade and festival this weekend, the contribution that D.C. businessmen and Crew Club founders DC Allen and Ken Flick have made to the growth and development of the LGBT community in the nation's capital is particularly noteworthy.
Flick and Allen, partners in life and business, highlight through their exemplary leading role a legacy of gay business owners who have fueled local advocacy groups, community-building initiatives, and direct service projects.
The entrepreneurial duo, a longtime couple that married at the District courthouse in 2012, has quietly and consistently contributed to the development and growth of a broad and diverse range of local and national LGBT groups of all types and sizes.
During the past two decades, the continuing financial benefactions of Allen and Flick – on behalf of multiple business ventures – have totaled nearly $650,000 in direct funding.
Co-owners of the Crew Club, a gay-oriented gym and spa located in the bustling Logan Circle neighborhood at 1321 14th St., N.W., south of P Street, Allen and Flick launched the business in 1995. At the time, the now-bustling commercial area was a desolate strip of largely vacant and underutilized buildings with scant enterprise destinations. Allen recalls a local resident stating at a community meeting during the early days of operation, "I've never seen so many men in suits in the neighborhood."
Also distinguishing the venue from its inception and reflected in a major recent refurbishment is the attractive interior design, high-end appointments, comfortable ambience, signature attention to detail, and patron service standards at the well-run and award-winning facility. The Crew Club has earned a national distinction for offering a full-range of amenities and representing the highest hallmarks of quality within the industry.
Flick, who primarily manages the administrative aspects of the business and other enterprise engagements from the couple's Fort Lauderdale home when not at their D.C. residence, shares the warm gregariousness and easygoing manner for which the couple is known.
A Washington-born native who grew up in suburban Maryland, Flick earned an undergraduate degree at Georgetown University and master's of Urban Planning from the University of Virginia. He worked at the Maryland Department of Transportation for more than 20 years and served as state liaison to the Washington Metropolitan Area Transit Authority beginning with the creation of Metrorail in the 1970s, also working with the region's Council of Governments.
Allen, who cuts an outsized stature with an even bigger personality, grew up in the Boston suburbs, where he studied hotel management. He worked in the restaurant and bar industry in both Boston and Manhattan, the latter while achieving success – and prominent theater, musical and movie roles – as a New York actor, singer and dancer.
After subsequently opening a coffee shop with friends in Boston, a series of brutal gay bashings in the Fenway cruising area angered Allen and led him to open a social club with a gym and spa. Inspired by attending a Quentin Crisp lecture regarding his being gay at a time in history when it was dangerous to be so, Allen discerned a community need for a social place and a center for community HIV education, as he had seen throughout Europe. "I wasn't going to let anyone stop me," Allen recalls, "We needed a place to go."
It was this motivation, and a move to D.C., that prompted the Crew Club development as "an activist and community supported space with a mission to build a positive view of gay men and their sexuality," Allen says.
The Crew Club has long been committed to working for a safer and healthier local gay community, providing on-site testing for HIV, syphilis and other sexually transmitted infections since opening. The business funded, and was instrumental in initiating, a $40,000 advertising campaign in local LGBT media promoting awareness of a resurgence of syphilis. That effort was widely credited with reducing the rate of infections among gay men in the metropolitan area, alongside financing safer-sex Tool Kit distribution expenses.
The Crew Club also supported the formation and development of the award-winning Gay and Lesbian Liaison Unit (GLLU) of the D.C. Metropolitan Police Department, and has forged strong ties with GLLU personnel.
Other beneficiaries represent a comprehensive list of entities engaging broad swaths of community life.
Four years ago, the Crew Club donated $25,000 to the then-expanding and relocating D.C. Center – the Washington area's LGBT community center – to help build out new offices and meeting space at the Reeves Center a few blocks north of the Crew Club at 14th and U streets. The Center is a project for which Allen, in particular, remains passionate. He is quick to encourage older LGBT residents to include the organization when planning for estate distributions.
In each of the past two years, Casa Ruby has been the recipient of $10,000 donations for its work offering life-saving services and programs to the most vulnerable members of the LGBT community and providing support for transgender individuals. Two months ago, 14 Crew Club staff members toured Casa Ruby when delivering a check to support the facility.
Allen is adamant and articulate regarding what motivates the couple's charitable giving-back. "It's an illusion that we have all of our rights and don't have to fight for them anymore," he points out, adding that this is the reason that he and Flick have "split our philanthropic activities between service and activism."
Other recipients have included Food and Friends, the Gay and Lesbian Activists Alliance (GLAA), Us Helping Us, the D.C. government's Office of GLBT Affairs, and Whitman-Walker Health. They have also lent their support to Team D.C., D.C. Sentinels Basketball Team, Federal Triangles Soccer Club, We Are Everywhere Bowling League, D.C. Gay Flag Football League, Gertrude Stein Democratic Club, Reel Affirmations, Miss Adams Morgan Pageant, Centaur Motorcycle Club, Federation for All D.C. Families, and the Imperial Court of Washington, D.C.
Their munificence also extends to national LGBT organizations such as the NAMES Project and AIDS Memorial Quilt, Lambda Legal, CenterLink, Stonewall Museum and Library, National LGBTQ Task Force, and SAGE Advocacy and Services for LGBT Elders. Allen and Flick also support organizations in the Fort Lauderdale area, where they maintain a home, including SunServe, Equality Florida, the Gay Men's Chorus of South Florida, Our Fund, and the Pride Center of South Florida.
Allen has been presented the Distinguished Service Award by the Gay and Lesbian Activists Alliance, the Distinguished Service Award by the D.C. Center, and an Outstanding Volunteer Service Award by Brother, Help Thyself
Allen was the recipient of the Capital Area Gay and Lesbian Chamber of Commerce Business Leadership Award in 2012. He received the Washington Blade "Best Business Person" designation in 2014.
Crew Club was also named "Best Place to Meet Men Other Than Grindr" two years ago. "We're retro in that regard," notes Allen, "seeking human interaction, battling to be sex positive and promoting healthy behaviors."
Additional information on the Crew Club is available online at CrewClub.net.
Mark Lee is a long-time entrepreneur and community business advocate. Follow on Twitter: @MarkLeeDC. Reach him at OurBusinessMatters@gmail.com.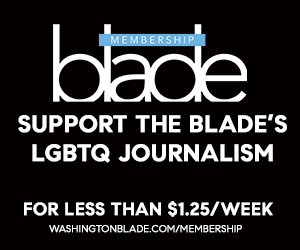 Sign Up for Blade eBlasts