June 30, 2017 at 12:22 pm EDT | by Ian Sugar
Dyke March aims for safe space for all — unless you're Jewish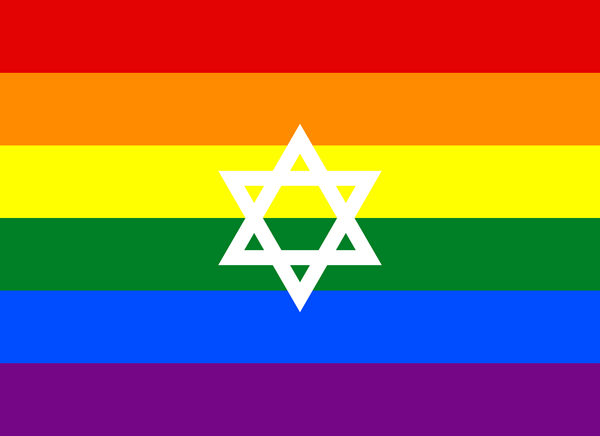 Pride weekend is a celebration unlike any other. For LGBTQ activists like myself, it is an opportunity to bring our diverse community together. To celebrate how far we have come. And to honor the lives of those brave men and women whose shoulders we stand on, who fought tirelessly for equal rights for all people. Oh, and to have just a little bit of fun.
And so it was profoundly disappointing to read reports from the recent Dyke March, a separate but confluent event with Chicago's traditional annual Pride parade. The Dyke March was supposed to be intersectional, sold by its organizers as "more inclusive" and "more social justice-oriented." Just that their inclusiveness and justice-oriented world stopped with the Jews. At the event, three queer women were asked to leave the march because they were holding a rainbow flag adorned with the Jewish Star of David. The women were bullied by being asked if they were Zionists. When they answered in the affirmative, this was so upsetting to marchers and organizers that they were "triggered" and made to "feel unsafe."
The Star of David, of course, has only recently been used to identify with Zionism and the State of Israel, and it is indeed used today as a symbol of modern Jewish identity and Judaism. Despite its recent renaissance and prominence on the Israeli flag, the first archeological example of the symbol can be found in Israel, appearing in a stone from a 3rd or 4th century synagogue. The star continues to appear through the historical record into the Middle Ages and into the 20th century.
The history turns darker before and during World War II, when Jews in Nazi Germany and across occupied Europe were severely punished for not identifying themselves clearly with the star on their clothing. Later, Jews were forced to wear the star on their uniforms in the death camps before being murdered in gas chambers. All in all, more than six million Jews were exterminated during the Holocaust.
But before history's greatest criminal enterprise, righteous gentiles around Europe stood with their Jewish compatriots by wearing the star in the streets. This act of meaningful resistance helped defy the Nazi invaders and was a powerful show of solidarity with their Jewish friends and compatriots.
Like the brave European gentiles who proudly wore their Star of David under Nazi dictatorship, the Dyke March organizers had an opportunity to embrace the symbol in the spirit of resistance. Instead, the organizers accomplished something very different and sinister.
They acted so that any openly Jewish person does not have a place under the rainbow flag unless they denounce Israel. While one can and should speak out against Israeli government policies when their conscience demands it, this act clearly not only crossed, but also demolished any line Israel's enemies claim exists between anti-Zionism and anti-Semitism.
The most meaningful part of Pride each year is beholding the immense diversity of the people who just show up: cis people and trans people, straight allies, Muslims, Christians, Jews, atheists, conservatives, liberals, people of color and whites, and everyone in between. We rally under the rainbow flag to show our support for all LGBTQ people, including the many millions around the world struggling for basic equality. From Syria to Russia, from Nigeria to Iran, and from Jamaica to Palestine, LGBTQ people cannot be who they are. They must hide in the shadows or risk arrest, torture, and execution by barbaric regimes whose intolerance knows no bounds.
The Dyke March organizers have a standing invitation to join me in Israel for next year's Pride to see for themselves the thriving pluralistic democracy that exists in a region filled with intolerance and hate, including Palestine where LGBTQ people are routinely harassed.
If they really are what they claim to be, they should join me and many others in demanding equal rights for Palestinians in the West Bank and Gaza, where homosexuality is still illegal. They should support the thousands of LGBTQ Palestinians who seek and receive refuge in Israel, who fear that returning home would lead to certain violence and likely death.
One day, if we stick together, we can all march together in Ramallah or Gaza City to celebrate what brings us together, and not what drives us apart. Sadly, this is not possible today.
American Jews have been on the forefront of every civil rights movement in American history — from supporting better working conditions for workers during the industrial revolution, to the fight for women's suffrage, to the bloody civil rights movement for people of color, to the right for marriage equality.
Jews have consistently fought for the rights of the marginalized and oppressed. And yet the Jewish community faces new dangers from the far-right and the far-left. Hate crimes against Jews are on the rise. Our cemeteries are being defaced, and our students are being bullied on college campuses.
Laying the seeds of peace and tolerance isn't easy. Advancing the rights of all marginalized people across the world will require hard work from everyone. Even if you're openly Jewish.
Ian Sugar is the chief of staff of The Israel Project (TIP), and a member of the Gay & Lesbian Victory Fund's Campaign Board of Directors.