FALL ARTS PREVIEW 2017: Galleries
Unclear how LGBT issues will be addressed at Mall's new Bible museum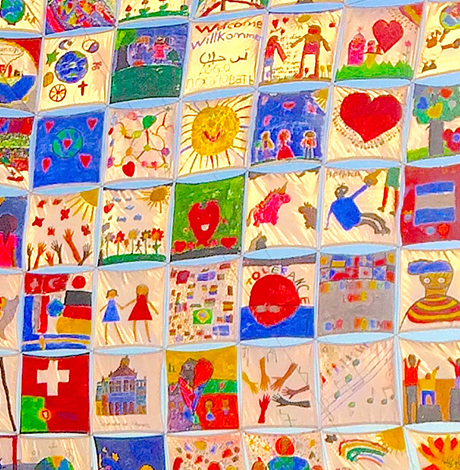 Touchstone Gallery (901 New York Ave., N.W.) presents "About Face: Reversals and Undoings" in Gallery A, "Ordered Complexities" by Patricia Williams in Gallery B and "Physiognomy" by Tim Johnson on display through Monday, Oct. 1. "About Face: Reversals and Undoings" features work from Touchstone Gallery members will explore reversals in points of view, position or attitude through the use of prints, paintings, sculpture and more. Williams' exhibit will combines science, math and creativity into paintings. Johnson's exhibit will display a collection of recent small scale portraits. Admission is free. For details, visit touchstonegallery.com.
Vivid Solutions Gallery (1231 Good Hope Rd., S.E.) displays "Black Dolls" by Mirtho Linguet through Saturday, Oct. 7. The exhibit examines white supremacy in French Guiana through photographs featuring women standing and sitting in lingerie in both man-made and natural environments. Free admission. For more details, visit anacostiaartscenter.com/vivid.
Black Rock Center for the Arts (12901 Town Commons Dr., Germantown, Md.) presents "Farm to Gallery: the Countryside Artisans" Sept. 16-Oct. 28. The artwork will reflect on farming heritage and the rural landscape from their studios, workshops and farms. Featured artists include Lori Baker, Tina Thieme Brown, Dalis Davidson, among others. Community Art Day: From the Countryside will be on Saturday, Sept. 23 from 11 a.m.-2 p.m. There will art making activities, tours of the exhibit and artist demonstrations. For more information, visit blackrockcenter.org.
The National Gallery of Art (Sixth and Constitution Ave., N.W.) showcases "Posing for the Camera: Gifts from Robert B. Menschel" on Sunday, Sept. 17-Jan. 28. The collection of 60 photographs explores how the act of posing for a portrait shifted from the time photography was first invented in the early 1840s through the 1990s. For details, visit nga.gov.
Art All Night, a free overnight arts festival, takes place across Congress Heights, Dupont Circle, H Street, North Capitol and Shaw on Saturday, Sept. 23 from 7 p.m.-3 a.m. The local arts scene will be on display in the forms of painting, photography, dance, theater, film, poetry and more. LGBT artists Michael Crossett, Charlie Gaynor, Branddave, Stephen Benedicto, Betto Ortiz and Colin Winterbottom will have their work displayed as part of the Mid City Artists showcase at 1911 9th St., N.W. LGBT artist Lisa Marie Thalhammer will also display her rainbow-panel "Love" mural at Blagden Alley in the Shaw neighborhood. For a complete list of displayed artwork and activities. For more details, visit artallnightdc.com.
Newseum (555 Pennsylvania Ave., N.W.) brings back its popular exhibit, "Creating Camelot: the Kennedy Photography of Jacques Lowe," Sept. 29–Jan. 7. More than 70 selected images, taken by Kennedy's personal photographer, displays John F. Kennedy, first lady Jacqueline Kennedy and their children, Caroline and John, in private and public life. Adult tickets, from ages 19-64, are $24.95, senior tickets for 65 and older are $19.95, youth tickets for ages seven-18 are $14.95 and children 6 and younger are free. For more information, visit newseum.org.
The George Washington University Museum and the Textile Museum (701 21st St., N.W.) presents "Fashion Show: Scraps on the Runway," on Thursday, Oct. 5 at 6 p.m. Student designers will present their fashion creations from upcyling materials. Museum member tickets are $25 and non-museum member tickets are $25. For more details, visit museum.gwu.edu/programs.
Renwick Gallery of the Smithsonian American Art Museum (1661 Pennsylvania Ave., N.W.) displays "Murder Is Her Hobby: Frances Glessner Lee and The Nutshell Studies of Unexplained Death" Oct. 20-Jan. 28. The doll-sized reimaginings of true crime scenes from the first half of the 20th century are still used in forensic science training today. While the scenes are based on real cases, Lee added some imaginative details. Free admission. For more information, visit americanart.si.edu/exhibitions.
Museum of the Bible (409 Third St., S.W.) holds its grand opening on Friday, Nov. 17. "Passages," a 30,000-square-foot, interactive exhibit that includes more than 400 rare biblical texts and artifacts, will be featured. Artifacts included in the exhibit will be first editions of the King James Bible, Torah scrolls that survived the Holocaust, the world's smallest Bible and more.
No word yet on how LGBT issues may or may not be addressed. The Green family of Hobby Lobby fame is behind it though museum personnel say it will be apolitical and will not proselytize. Admission is free, but timed tickets are required for entry. For more information visit museumofthebible.org.
National Building Museum (401 F St., N.W.) showcases "Making Room: Housing for a Changing America" from Nov. 18-Sept. 16, 2018. The exhibit pulls inspiration from the changing lifestyle of American households including a rise in shared living, an affordable housing crisis and an increase in multi-generational households. A micro unit living space will be redesigned to accommodate an extended family, a retired couple and roommates. For more information, visit nbm.org.
Hirshhorn Museum and Sculpture Garden (Independence Ave., and Seventh St., N.W.) presents  "The Utopian Projects" by Ilya and Emilia Kabakov through March 4, 2018. Inspired by living in the Soviet Union, their installations span between 1985 until present day. Monuments, commissioned outdoor works, architectural structures and more are featured combined with lights, motors, text and music. For more details, visit hirshhorn.si.edu.
Zenith Gallery showcases "Black Artists of Today: Reinventing Tomorrow," a collection of contemporary African and African American art, at the Sculpture Space (1111 Pennsylvania Ave., N.W.) through Jan. 6. Doba Afolabi, Akili Ron Anderson, Mason Archie and more will be featured. There will be a "meet-the-artists" reception on Wednesday, Sept. 20 from 5-8 p.m. For more information, visit zenithgallery.com.
Have to pee? Check out new John Waters Restrooms
BMA introduces gender-neutral facilities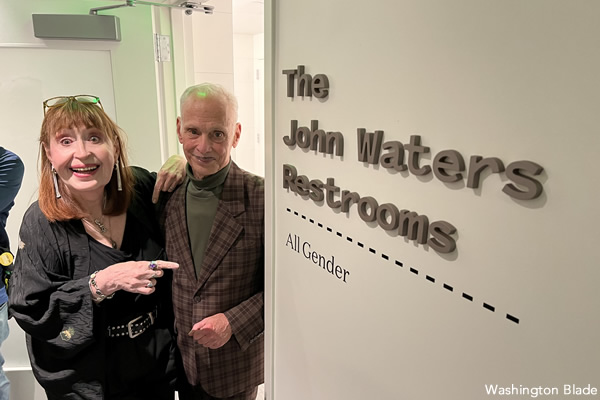 The Baltimore Museum of Art unveiled its latest addition on Wednesday: the John Waters Restrooms, named for the iconic filmmaker who is a trustee of the museum.
There were plenty of snickers and jokes about who would be the No. 1 and No. 2 patrons of the new facilities, but beneath the potty humor was an important message about access to the most fundamental spaces in society.
Joining Waters at a BMA event Wednesday to officially dedicate the gender-neutral restrooms was Elizabeth Coffey, a transgender actress and longtime friend and collaborator of Waters'. Coffey noted the importance of access to public spaces to the trans community. Preceding her at the lectern was Christopher Bedford, the Dorothy Wagner Wallis director of the BMA, who noted that adding the gender-neutral restrooms was the right thing to do.
After brief remarks, Coffey and Waters led a group of museum supporters and reporters downstairs to see the new space and Coffey cheekily took the inaugural trip into one of four private stalls. The stalls and adjoining communal washroom were designed by Quinn Evans Architects and feature white tile with bright red tile in the stalls. The idea for naming the restrooms came from Waters when he bequeathed his fine art collection to the BMA, according to a museum statement. 
The John Waters Restrooms will open to the public on Sunday, Dec. 12, in conjunction with the adjacent Nancy Dorman and Stanley Mazaroff Center for the Study of Prints, Drawings and Photographs and Ruth R. Marder Center for Matisse Studies. Waters is about to embark on a national tour of spoken-word performances.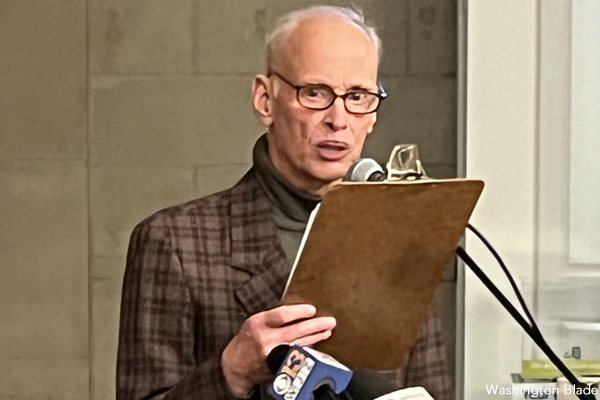 BMA exhibit traces friendship between Matisse and Etta Cone
Baltimore collector helped build world's preeminent repository of French master's work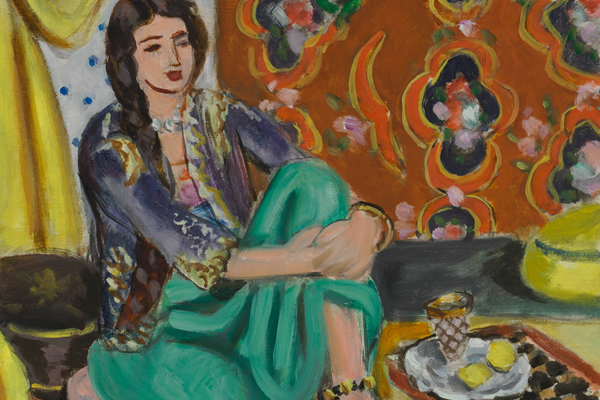 The Baltimore Museum of Art is the world's most important repository of French modern master Henri Matisse's work and this fall, a new exhibition will explore the friendship between the artist and Etta Cone, the Baltimore collector who befriended Matisse in 1906.
The two maintained a close 43-year friendship, during which time Matisse traveled to Baltimore and created works with Etta and the BMA in mind. Etta and her sister Claribel ultimately collected about 700 of Matisse's works, according to the BMA, including Blue Nude (1907), The Yellow Dress (1929-31), and Large Reclining Nude (1935).
This new exhibit, "A Modern Influence: Henri Matisse, Etta Cone, and Baltimore" will trace their friendship through letters they exchanged and includes more than 160 paintings, sculptures, prints, drawings, and illustrated books.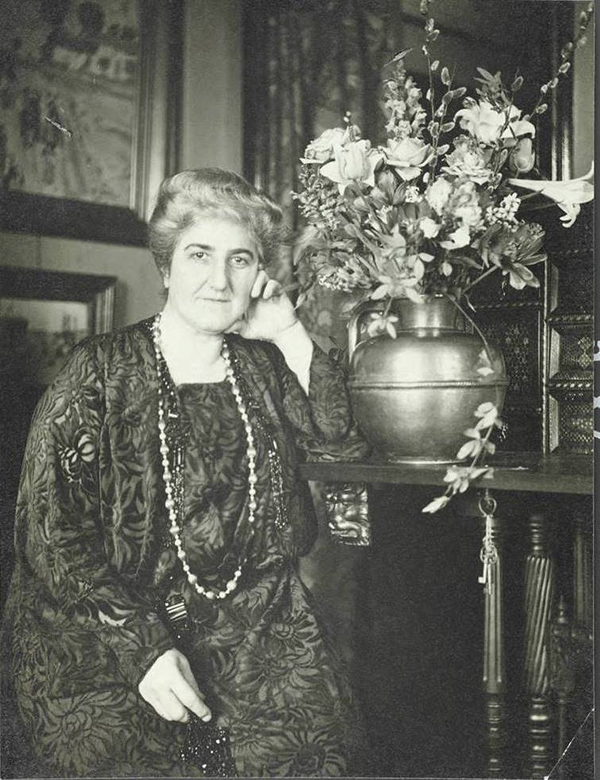 "For years, scholars have debated the purchases made by both Cone sisters, with much more credit given to the important acquisitions of major paintings by older sister Claribel," the BMA said in a statement. "'Modern Influence: Henri Matisse, Etta Cone, and Baltimore' will for the first time fully recognize Etta's achievements as a collector and acknowledge her role in building the majority of the sisters' Matisse collection, particularly the sculpture, drawings, and prints."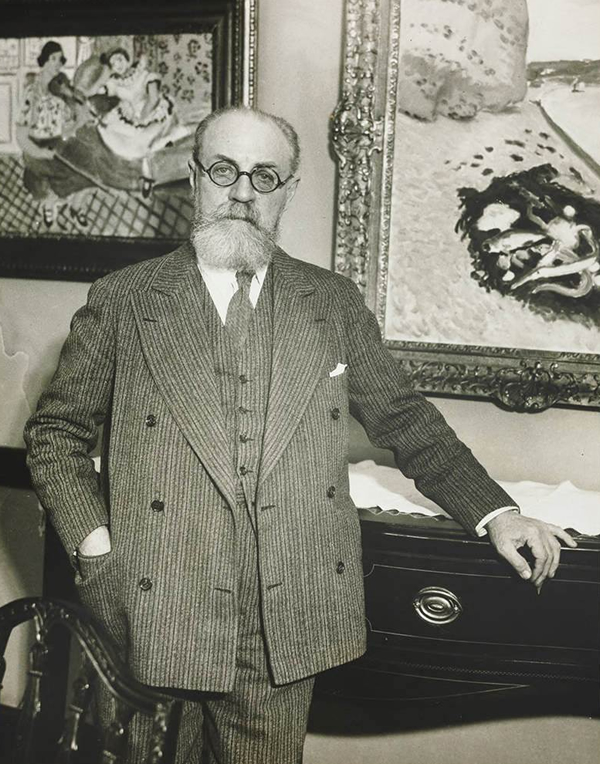 "Etta Cone and Matisse shared a love of gesture and the female form, expressed not only through her collection of his major paintings, but through an early and sustained interest in his print making and drawing practices. The exhibition begins with work on paper and ends there as well," said Leslie Cozzi, BMA associate curator of prints, drawings, and photographs.
The exhibition will feature a large selection of drawings, including masterpieces that are rarely on view due to light exposure restrictions, the BMA announced.
"Etta Cone's dedication to art, and to Matisse's work in particular, has had a profound impact on the BMA and the focused and studied ways in which the museum continues to develop its collection. The forthcoming exhibition captures the exciting possibilities that can be achieved when artists, collectors, and public institutions join in a shared vision and commitment. We are delighted to present visitors with the incredible story of Etta Cone and the significant works of art that she brought to our museum, and to have this exhibition serve as a prelude to the presentations, programs, and publications that we'll be able to create through our soon to be opened Ruth R. Marder Center for Matisse Studies," said Christopher Bedford, the BMA's Dorothy Wagner Wallis Director.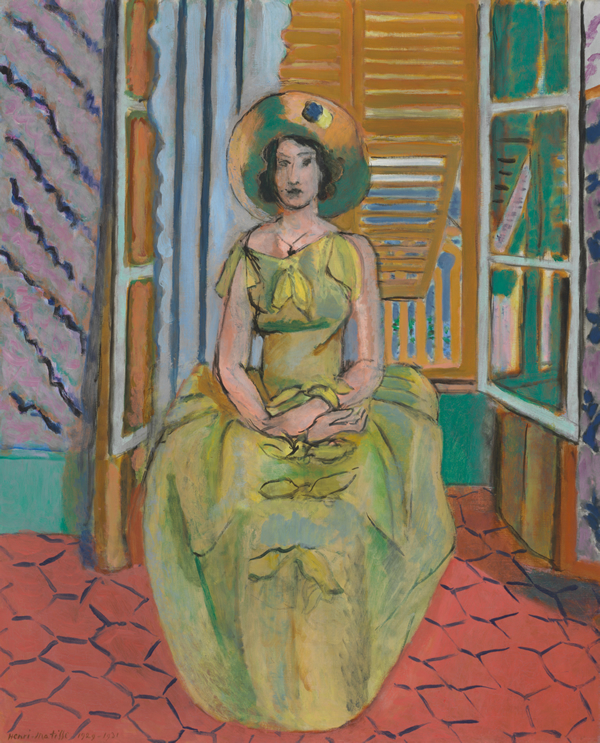 The Marder Center, which is scheduled to open in December, will present the breadth of the BMA's Matisse holdings, while supporting the development of new scholarly publications that advance discussions on the trajectory of modern art, according to a statement.
"A Modern Influence: Henri Matisse, Etta Cone, and Baltimore" opens Oct. 3 and will be on view until Jan. 2, 2022. Tickets are available through artbma.org. Prices are $15 for adults, $13 for seniors, $12 for groups of 7 or more, $5 for students with ID, and $5 for youth ages 7-18. BMA Members, children ages 6 and under, and student groups are admitted free. For more information, call 443-573-1701.
A slow return to normal for area museums
National Gallery remains closed, but others have reopened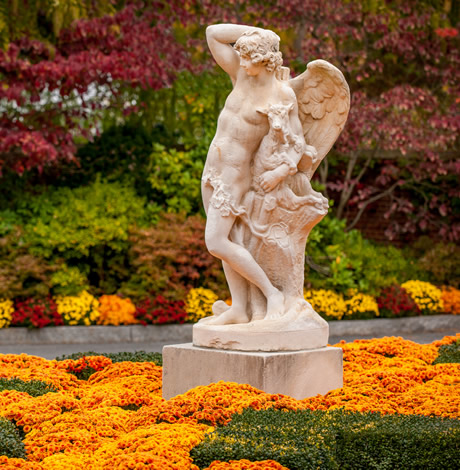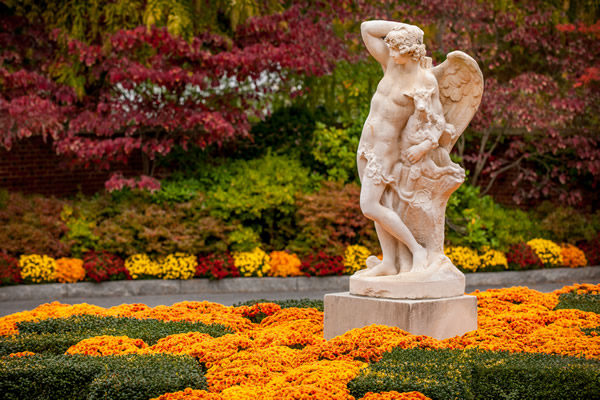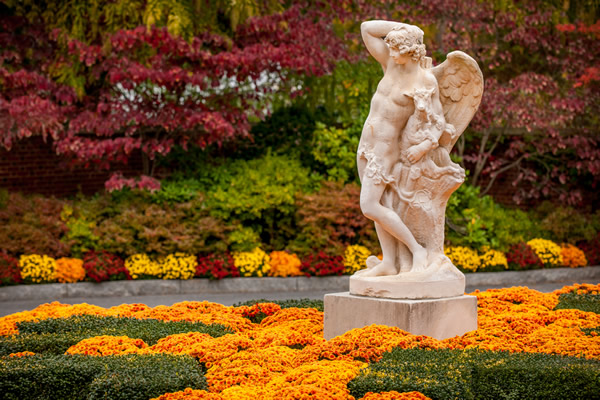 The Smithsonian Museums remain closed and the National Gallery of Art recently announced it would not open in time to commemorate its 80th anniversary. But the good news is that with COVID restrictions slowly lifting, some area museums are looking at reopening events while others have already opened their doors .
Below is a smattering of area museums that have reopened. Be sure to check with each museum directly before making plans.
• The National Zoo and the National Air and Space Museum's Steven F. Udvar-Hazy Center in Chantilly reopened on July 24.
• The Smithsonian American Art Museum, the National Portrait Gallery, the National Museum of African American History and Culture, the Renwick Gallery, The National Museum of American History and the National Museum of the American Indian reopened back in September.
• The National Gallery of Art's sculpture garden reopened last month.
• Hillwood Estate, Museum and Gardens reopened last week.
• The National Museum of Women in the Arts has also reopened.
• The International Spy Museum reopened in January.