Reporting abroad with an embarrassment in the White House
Trump is a morally bankrupt man who makes the world unsafe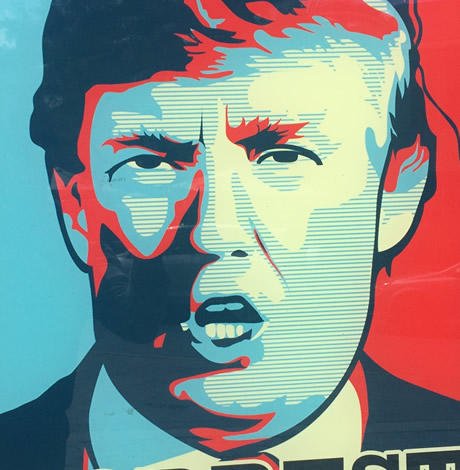 SANTIAGO, Chile — The weather in the Chilean capital on Saturday morning was cold and rainy when I started reading the day's headlines from around the world on my iPhone. I opened my Twitter account and saw President Trump had begun to attack Carmen Yulín Cruz, the mayor of the Puerto Rican capital of San Juan who is working tirelessly to help the citizens of her city that Hurricane Maria ravaged on Sept. 20.
"The mayor of San Juan, who was very complimentary only a few days ago, has now been told by the Democrats that you must be nasty to Trump," tweeted Trump from his New Jersey golf course.
To say that I was in disbelief when I took a screenshot of the tweet and sent it to a long-time contact in San Juan is a gross understatement. His response was almost immediate — describing Trump as a pendejo ("idiot" in Puerto Rican Spanish) and sending me screenshots of two additional tweets in which the president criticized Yulín for her "poor leadership ability" and accused her and other Puerto Ricans of wanting "everything to be done for them when it should be a community effort."
The president who claims to speak on behalf of all Americans — including the more than 3 million U.S. citizens who live in Puerto Rico — is a morally bankrupt man with no sense of basic dignity or compassion. His outrageous attacks against the mayor of an American city who is doing everything possible to help her citizens survive are the latest in a long list of actions (or inactions) that have left this gay American journalist who routinely reports overseas embarrassed. I am also increasingly ashamed to identify myself as an American while this man occupies the White House.
Here are a few of the myriad examples of what this president has done since he took office on Jan. 20.
Trump has effectively banned the citizens of five predominantly Muslim countries — Iran, Libya, Syria, Yemen and Somalia — from entering the U.S. He has also begun to refer to North Korean President Kim Jong-un — whose government conducted its sixth nuclear test last month and has launched two missiles that flew over Japan in recent weeks — as "Rocket Man."
Attorney General Jeff Sessions last month announced the Trump administration would end the Deferred Action for Childhood Arrivals (DACA) program that has allowed roughly 800,000 young undocumented immigrants to remain in the U.S. Trump in June announced the reinstatement of travel and trade restrictions with Cuba during a campaign-style event in Miami that can only be described as a disgusting spectacle.
Trump is an embarrassment to his country, to the people he claims to represent and to the office that he occupies. The world is watching the tragedy that is the Trump presidency continue to unfold.
Pedro Santos, the gay nephew of Colombian President Juan Manuel Santos who lives part-time in New York City, told me on Sept. 28 during an interview at a coffee shop in the Colombian capital of Bogotá that everyone in Colombia "hates" Trump. Pedro Santos also said the U.S. has become weaker since Trump took office.
Iván Chanis Barahona, a gay Panamanian lawyer who lived in the U.S. for a decade and is now spearheading his country's same-sex marriage movement, told me on Sept. 26 during an interview in Panama City the U.S. is "becoming irrelevant for people." Andrea Ayala, executive director of Espacio de Mujeres Lesbianas por la Diversidad, an LGBT advocacy group in El Salvador known by the acronym ESMULES, said the day before in the Salvadoran capital of San Salvador that any decision the Trump administration makes to cut aid to her Central American country is "going to have an impact."
I yearn for the day when Trump will get off Twitter and start acting like someone who resembles how an American president should conduct themselves. I also yearn for the day when pigs will fly over the Andes mountains that loom over the Chilean capital.
Neither of these scenarios will likely come to pass.
Trump is a morally bankrupt man who is putting his country and the world at risk. Those who enable him — including the Log Cabin Republicans who held their annual dinner at the Trump International Hotel in D.C. last week — are complicit.
Americans of good will and conscience must do everything they can to ensure that such a man never occupies the White House again. The future of the U.S. and the world hangs in the balance.
Safe Place International to take National Coming Out Day global
Group to spotlight LGBTQ refugees around the world at D.C. event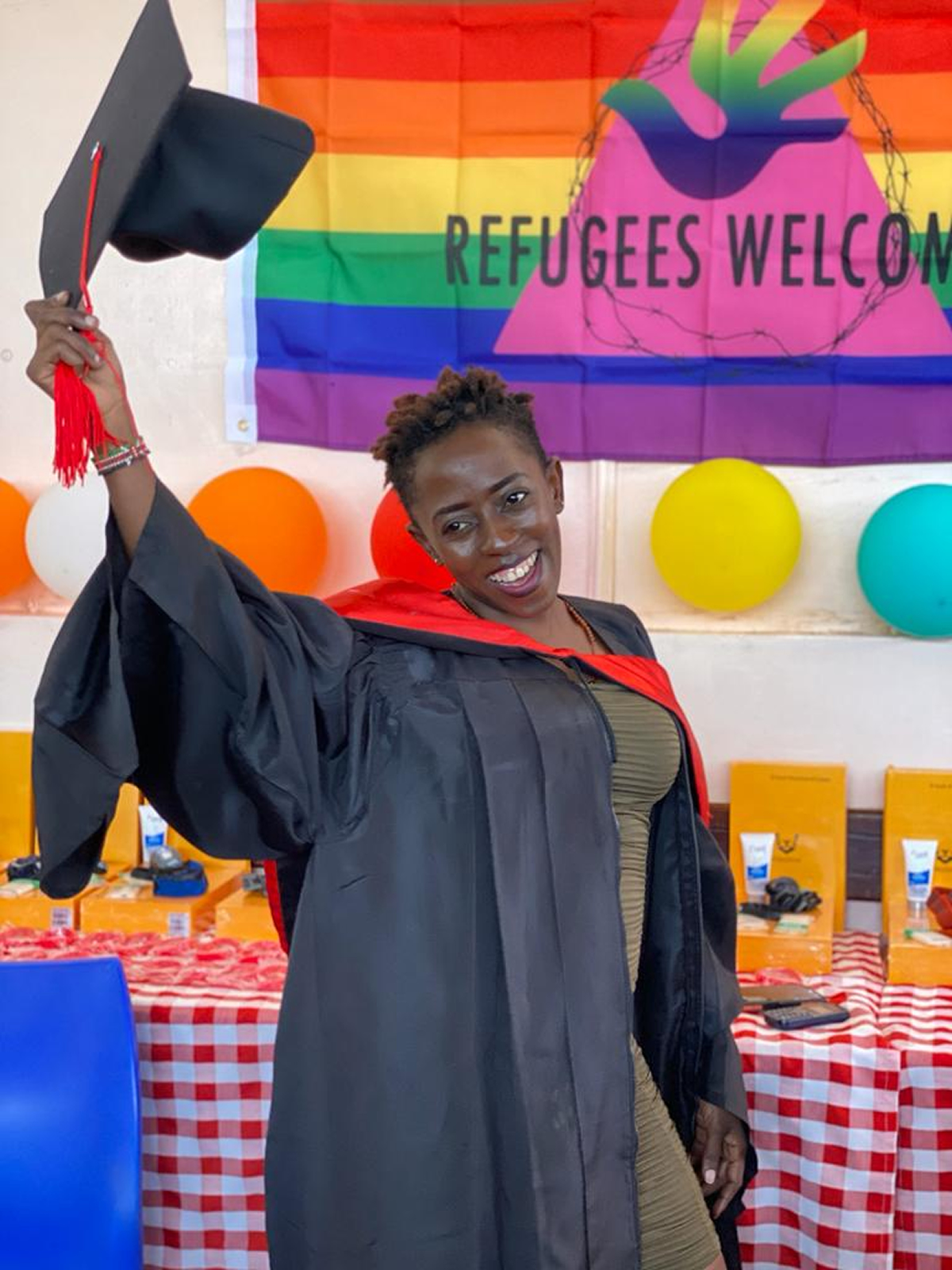 Tuesday, Oct. 11, Safe Place International will celebrate National Coming Out Day by spotlighting the journeys and achievements of its LGBTQIA+ refugee leaders around the world.
Safe Place International is a holistic leadership development organization for displaced LGBTQIA+ individuals. As the lived experiences of the LGBTQIA+ community are often trivialized and overlooked, we endeavor to create pathways for a sustainable and fulfilled life that celebrates the unique qualities that their lives hold. LGBTQIA+ refugees and asylum seekers are at a unique intersection of identity, where they have to face both xenophobia for their migrant status and prejudice for their sexual orientation and/or gender identity. In approximately 70 countries, LGBTQIA+ individuals experience violence and discrimination due to their sexual orientation or gender identity. This is caused by oppressive government policies and legislation that criminalizes same-sex relationships. It is also caused by negative religious and societal beliefs. As a result, LGBTQIA+ individuals flee their countries and families in search of a safe place to call their home.
After leaving behind their lives; many refugees find themselves without food, shelter, safety or support for their future. Asylum seekers and refugees that identify as LGBTQIA+ are ignored or unseen by the refugee protection system and facing increased marginalization due to their status as refugees and their sexual orientation or gender identity.
In only a few years, Safe Place International has reached over 15 countries and served over 1,000 LGBTQIA+ refugees and asylum seekers, who we consider "community members." Our belief in these community members is why we can proudly say that we are a refugee-led, person of color-led, women-led and LGBTQIA+-led organization!
National Coming Out Day is a significant day for the LGBTQIA+ community, as it is a day when so many find the courage to proclaim their truth and join the Pride family. The day is also special to those of us who have already "come out" as we reflect on becoming who we are and the evolution to who we were meant to be. While some journeys were filled with warmth, affirmation and liberation, many have experienced rejection, pain, loss and even death. Regardless of one's experiences on this spectrum, National Coming Out Day has become a time when the LGBTQIA+ community comes together to ensure that our new community members are met with the encouragement and acceptance that we all deserve. It is also a time to reflect on the countless queer bodies who face persecution, violence and oppression around the globe.
Safe Place International's Coming Out Day Celebration will do just that. The event marks a significant new chapter as the organization officially "comes out" to the D.C. community. We will be introducing our new executive director, as well as celebrating the successes of our interventions by exploring how Safe Place International is impacting the lives of our global LGBTQIA+ community and what makes them so resilient, compassionate and ready to change the world! 
So, if you want to be inspired, perhaps explore meaningful ways to impact and change the lives of oppressed queer people whose only crime is love and authenticity, then please join us! Hold us as we boldly come out to D.C. We promise you a fun, colorful celebration that will be grounded in meaning, connectedness, and the relentless spirit of love and acceptance.
For more details, feel free to contact Matt Maxwell, our director of development at [email protected]. You can purchase your ticket here.
We hope to see you there!
Bisexual activists cautiously excited after White House meeting
Sept. 20 gathering took place during Bisexual Visibility Week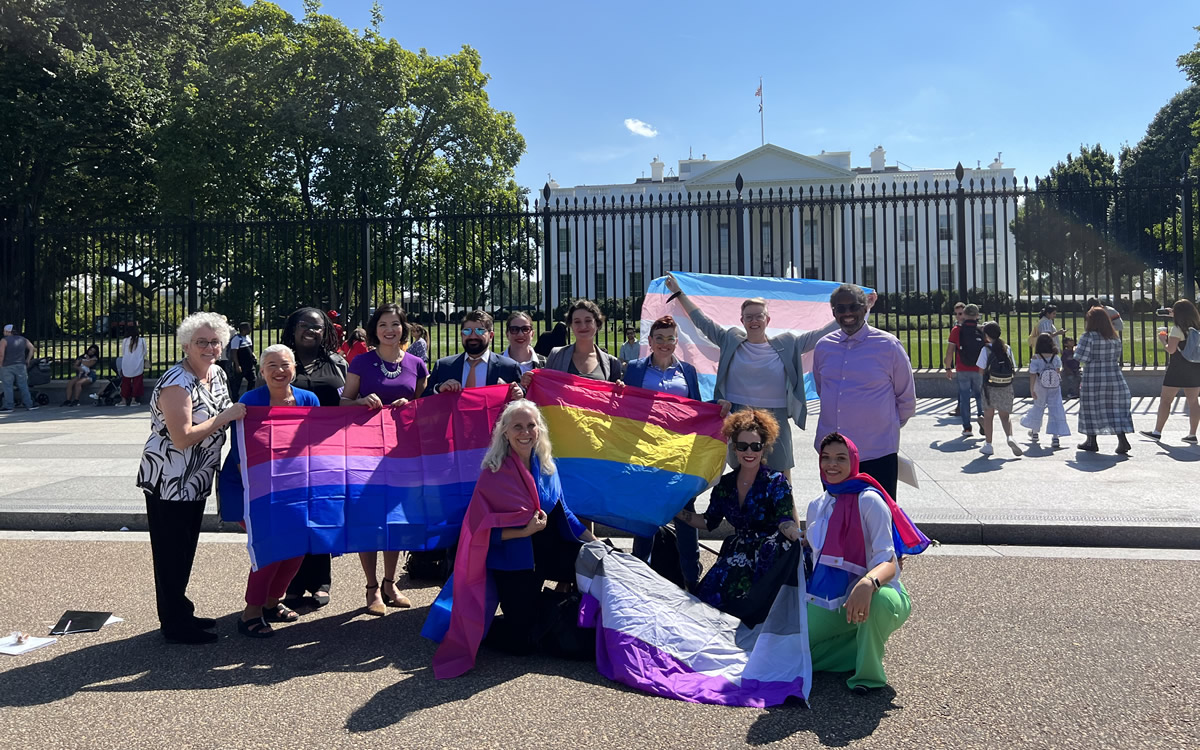 On Tuesday, Sept. 20, just in time for Bisexual Visibility Week, a diverse group of 15 bisexual and pansexual activists met with officials from the White House and the Department of Health and Human Services (HHS), including Melanie Fontes Rainer, the director of the Office of Civil Rights at HHS.
The 15 advocates comprised a wide cross-section of the bisexual community, including nonbinary, transgender, female, young, older, Black, Asian and Muslim advocates, people with disabilities and parents. We came from many walks of life: Academia, education, research, health care, advocacy, law, media and community activism. This isn't unusual: Bisexual people comprise more than half of all LGBT people, totally approximately 12.5 million bisexual adults in the U.S. Strikingly, 15 percent of all GenZ adults — nearly 1 in 6 — identify as bisexual. People of color are more likely to identify as bisexual, as are cisegender women and transgender people in general. 
It has been a painful six years since the Executive Branch last met with bisexual activists (you do the math.) Those meetings, like this one, were the product of tireless advocacy from a population with zero paid organizational staff and less than one percent of all philanthropic dollars earmarked for the LGBT community. It was these stats and others that we shared at HHS on Sept. 20.
Bisexual and pansexual people face specific disparities in mental and physical health, intimate partner violence and monkeypox prevention, treatment and care. Did you know, for example, that nearly half of bisexual women report having been raped? And did you know that federal reporting on monkeypox doesn't disaggregate between gay and bisexual men and men who have sex with men, despite evidence that bisexual men are uniquely vulnerable to MPX and other infectious diseases.
Khafre Abif is a Black bisexual educator, father and person living with HIV. At the meeting with agency officials, Abif shared the story of how staff at his HIV-care clinic initially denied him the monkeypox vaccine, despite Abif being bisexual and thus in a population of special focus for the vaccine.
"This meeting has been a long time coming for the bi+ community," said Abif. "I'm looking forward to a dialogue with federal officials about solving some of the health issues we face."
In order to begin remedying these disparities and more, we presented the administration with a set of benchmarks, including the creation of a Federal Interagency Bisexual Liaison and a Federal Interagency Bisexual Working Group. Other benchmarks included training for HHS staff on bisexual disparities and remedies thereof, funding streams for bisexual-specific funding and interventions, and the disaggregation of data on specific health disparities.
Robyn Ochs is a pillar of bisexual and pansexual community organizing. At HHS, Ochs shared more about her specific expertise. "Research has made clear our health disparities and invisibility. It's time for federal interventions to catch up with what we already know through research and lived experience."
Frustrated by years of inaction by the federal government to release bisexual-specific data, target the bisexual and pansexual community with tailored interventions, or recognize the importance of bi+ health in general, we are cautiously excited by this opportunity to share critical data and remedies.
Heron Greenesmith is the Senior Research Analyst for LGBTQI+ Justice at Political Research Associates, and the co-founder of BiLaw and the Polyamory Legal Advocacy Coalition. Find Greenesmith on Twitter @herong.
Turkey Pride crackdowns only strengthen LGBTQ resistance
Hundreds arrested in Istanbul on Sunday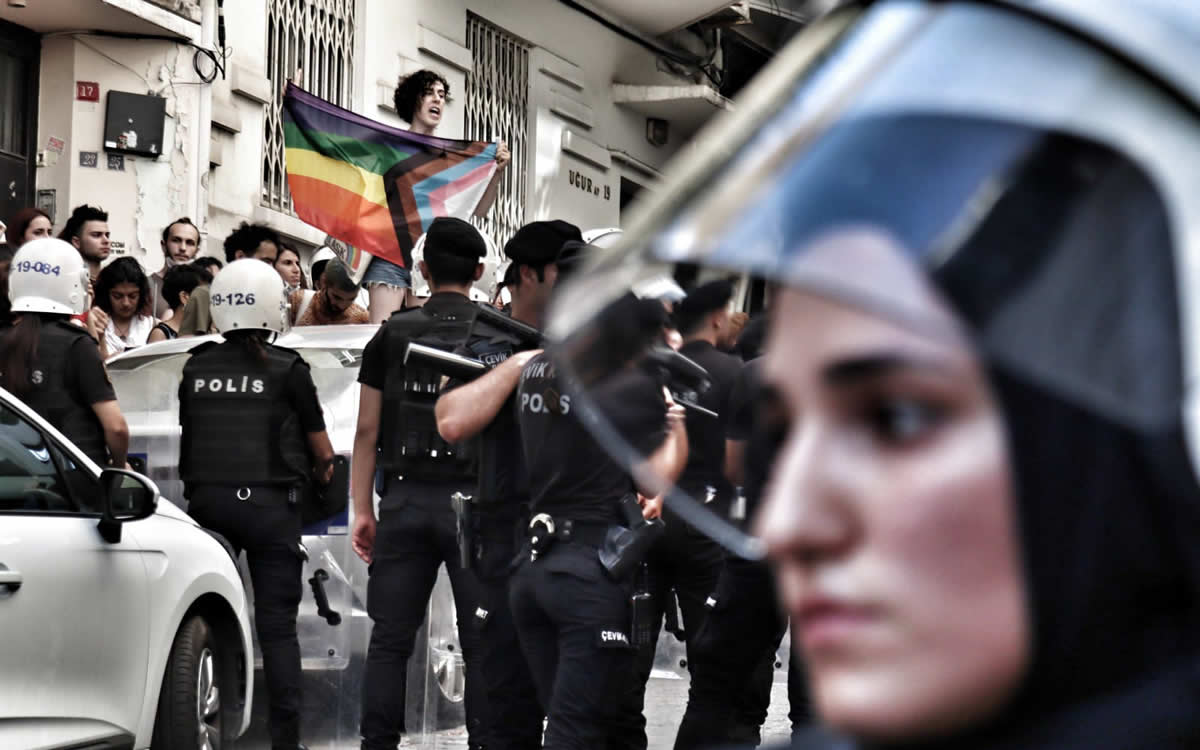 The waving colors of the thousand shades inside of a rainbow,
The sparkling joy from the pride and honor of self-declaration,
The echoing sounds of the steps for solidarity in the cobblestone streets of İstanbul, 
To unite for equality, for justice, for solely our right to be.
This was our goal, our expectation and our hope for Pride Turkey 2022. It has, however, been overshadowed by the government's vicious attempts to repress the colors of the LGBTQI+ community.
First, it started with the ban of Pride speeches and panels that many district governors and other local authorities across Turkey announced. Local police officers raided the many event venues as if "illegal" activities were being conducted.
As in the last couple of years, it was already expected the government would ban the Pride marches in many cities. It was, however, the first time the government officially tried to prevent even face-to-face community gatherings of LGBTQI+ organizations. It was a type of intervention reflecting the level of fear and intolerance of the government regarding the growing connection, solidarity and public visibility of LGBTQI+ community.
Nevertheless, oppression often brings out the most creative means. As such, Pride committees have carried all the activities on digital platforms. Many activists and civil society representatives have shown support by participating in live broadcasts from event venues, and the voice of LGBTQI+ solidarity still reached a wide audience.
Subsequently, the most drastic pressure by the government has manifested itself during the Pride marches. The police violently intervened and used unproportionate force against marchers in many cities, which resulted in a radical number of unwarranted detentions.
While 530 LGBTQI+ activists were taken into custody over the last 37 days across Turkey, 373 of them were arrested during the Istanbul Pride march on June 26. This constitutes a first, since the Istanbul Pride arrests constituted the largest number of people taken into custody during a street march since the Gezi protests.
Will these enormous efforts to pressure win the day? The answer is "definitely no." On the contrary, it sparked a backlash by triggering strong solidarity among Turkey's queer community. The outstanding resistance of LGBTQI+ marchers gained public recognition on social media, while persistent legal support of LGBTQI+ initiatives canceled all the detentions. In the end, the exhaustive pressures of the government could not manage to fade the multicolor of LGBTQI+ identity. In fact, it helped our rainbow flag to shine even more glamorous and visible.
We, as members of the LGBTQI+ community, have once again proved through this entire experience that solidarity, togetherness and collective resistance are the most powerful facilitators in our fight to exist equally.
In honor of the unbreakable resistance of Turkey Pride 2022 supporters,
Thanks to you, the cobblestones of Istanbul and every street in Turkey echoed with the steps of LGBTQI+ solidarity.
Dilek İçten is a journalist, researcher and civil society expert with a demonstrated history of working in interdisciplinary and investigative research projects examining the socio-cultural dynamics of media, gender and migration. The focus of her work varies from freedom of expression, media censorship and journalistic independence to gender based-discrimination and hate speech against disadvantaged groups and minorities.