Senate Dems take series of actions to assist LGBT youth, elders
Lawmakers call for reinstatement of survey questions, introduce LGBT elder legislation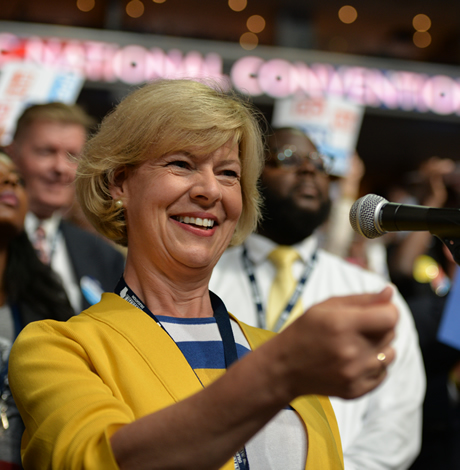 Senate Democrats took a series of actions Tuesday seeking to assist the LGBT community — one action for the LGBT youth, two others for LGBT elders — both of which are subgroups that have a history of unique challenges.
In a pair of letters dated Nov. 7, U.S. Sens. Robert Casey (D-Pa.), Tammy Baldwin (D-Wis.) and Patty Murray (D-Wash.) led 21 senators in calling on the Trump administration to ensure programs designed to combat youth homelessness reach LGBT people and include LGBT elders in health surveys.
Meanwhile, U.S. Sen. Michael Bennet (D-Colo.) — along with Sen. Jeff Merkley (D-Ore.), Edward Markey (D-Mass.) and Al Franken (D-Minn.) — introduced the LGBT Elder Americans Act, which seeks to improve services available for LGBT elders.
The letters, sent to both the U.S. Justice Department and the U.S. Department of Health & Human Services, bases its call to action on President Trump's promise during his 2016 campaign to be a friend to LGBT people.
"During the campaign, President Trump said that he would 'do everything in [his] power to protect LGBTQ citizens.'  We write to you because the administration is not living up to the president's promise," the senators wrote. "We urge you to reverse course on actions that will make it more challenging for programs you oversee to serve LGBTQ Americans."
Specifically, the letter to the Justice Department expresses concern two federal grant programs that combat homelessness — DOJ's Mentoring for Child Victims of Commercial Sexual Exploitation & Domestic Sex Trafficking Initiative and HHS' Street Outreach Program — will no longer focus on LGBT youth because this year's funding requirement "removed that requirement as well as all mentions of LGBTQ youth."
"As LGBTQ youth are at a higher risk for running away and becoming homeless compared to their peers, and therefore more likely to be victimized, we are concerned about the effect these administration decisions would have on these vulnerable youth," the letter says.
Meanwhile, the letter to the Department of Health & Human Services calls for restoration of questions allowing respondents to identify as transgender in the National Survey of Older Americans Act Participants as well as LGBT on the Centers for Independent Living Annual Program Performance Report. (HHS has previously removed the sexual-orientation question from the NSOAPP, but reinstated it under public pressure.)
"In order to ensure that key programs for older adults and people with disabilities are meeting the needs of the entire LGBTQ community, we once again reiterate our call for HHS to restore the gender-identity question to the NSOAPP and to collect information on sexual orientation and gender identity on the CILPPR," the letter says.
Additionally, the letter expresses concern about the withdrawal of a proposed HHS rule that would have clarified same-sex spouses should are afforded equal rights in nursing homes that receive Medicare and Medicaid. That rule was widely seen as redundant after the U.S. Supreme Court ruling for marriage equality nationwide.
Neither the Justice Department, not the Department of Health & Human Services, responded to the Washington Blade's request to comment on the letter.
Meanwhile, the LGBT Elder Americans Act, reintroduced by Bennet, would build on the Older Americans Act to include LGBT seniors as a vulnerable population and permanently establish the National Resource Center on LGBT Aging.
"Our laws and research are not current in addressing the unique needs of the aging generation of baby boomers," Bennet said in a statement. "This legislation would provide LGBT seniors, who often face significant barriers to accessing health care, with targeted services and resources. By helping aging service organizations assist older LGBT adults and permanently establishing a National Resource Center, we will better meet the needs of the LGBT community."

Baldwin, who's running for re-election in the U.S. Senate next year and remains the only out lesbian in Congress, also emphasized the importance of the LGBT Elder Americans Act in a statement.
"We should guarantee all of our seniors access to the care that truly meets their needs and so I am proud to advance this legislation that will improve services and support for LGBT older adults," Baldwin said. "Too many LGBT older adults carry the harmful physical and emotional health effects of having lived through a lifetime of discrimination. It is past time we do something about it and strengthen the Older Americans Act to better support our LGBT seniors."
Last week, Rep. Suzanne Bonamici (D-Ore.) — along with Rep. Ted Deutch (D-Fla.) and Charlie Crist (D-Fla.) — introduced companion legislation in the U.S. House known as the Ruthie & Connie LGBT Elder Americans Act, named for two LGBT elders who continue to fight for LGBT equality.
Michael Adams, CEO of the LGBT elder group SAGE USA, commended the lawmakers for introducing the legislation in a statement.
"LGBT elders, whose courage in the face of danger and adversity paved the way for progress on LGBT equality in recent years, deserve to be taken care of as they age, no matter where in the United States they live," Adams said. "Our LGBT elder pioneers did not lead the movement birthed at Stonewall by being silent. We at SAGE follow their example by raising our voices in support of the Ruthie & Connie LGBT Elder Americans Act of 2017 and to demand justice for this growing population."
Puerto Rico activists condemn police raid on LGBTQ-friendly bar
More than 20 officers descended on Loverbar near the University of Puerto Rico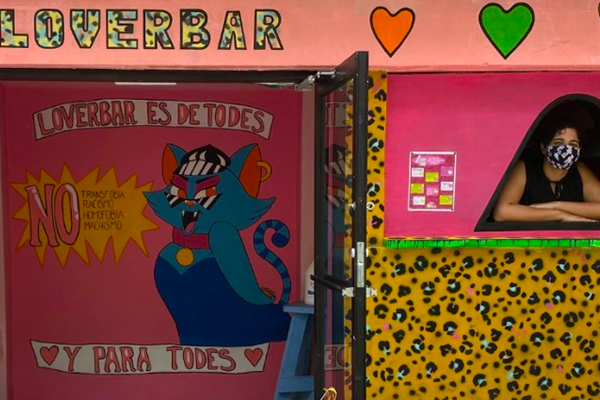 Activists in Puerto Rico have condemned a police raid on an LGBTQ-friendly bar that took place on Thursday night.
Local media reports indicate more than 20 officers with the San Juan Municipal Police Department entered Loverbar, which is near the campus of the University of Puerto Rico, at around 11 p.m.
A video posted to social media shows that some of the officers who entered the bar were armed with what appear to be shot guns.
Media reports cite local authorities who said Loverbar did not have the necessary permits to operate as a bar, and the officers arrived there to fine them. San Juan Mayor Miguel Romero in a statement said officers fined Loverbar and seven other businesses in the city on Thursday for either not having the necessary permits or excessive noise.
"The Municipal Police of San Juan led by Miguel Romero intervened last night with a queer bar," tweeted Pedro Julio Serrano, founder of Puerto Rico Para [email protected], a Puerto Rican LGBTQ advocacy group. "This reminds us of a time when LGBTQI+ people were prosecuted, criminalized and villified."
"We won't tolerate homophobia and transphobia in San Juan," added Serrano.

Comité Amplio Para la Búsqueda de Equidad (CABE), another Puerto Rican LGBTQ advocacy group, has called for an "exhaustive and independent investigation into the excessive use of force and intimidation by the Municipal Police of San Juan last night" at Loverbar.
Two injured in gunfire outside crowded 14th Street restaurants
Witnesses say 20 shots fired near Blade, Whitman-Walker offices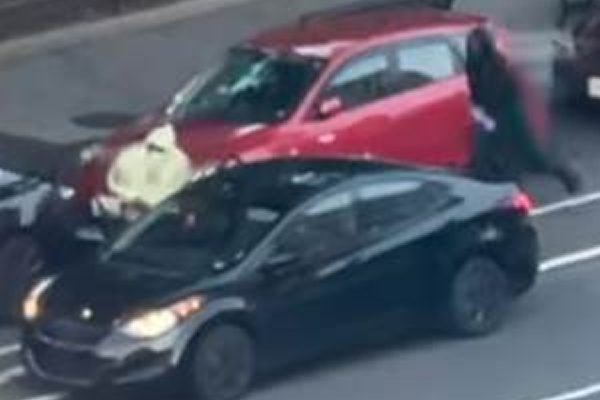 D.C. police are seeking the public's help in identifying at least three suspects involved in a shooting in which two men were wounded shortly after 8 p.m. on Thursday, July 22, on the 1700 block of 14th Street, N.W. where the offices of the Washington Blade and Whitman-Walker Health, the LGBTQ supportive health center, are located.
The shooting occurred while dozens of people were dining at restaurants along the bustling street in the heart of the city's Logan Circle nightlife area.
Police released a video showing two men – one wearing a white hooded sweater or sweatshirt and the other wearing a dark colored similar hooded shirt running along the street and entering the front and rear passenger doors of a black car double parked on the street that police described as an older model Honda Civic with D.C. license plates.
The video shows the car driving away at a fast speed with a third person driving the vehicle.
"Detectives from the Metropolitan Police Department's Third District seek the public's assistance in locating suspects and a vehicle in reference to an Assault with Intent to Kill (Gun) offense," a statement released by D.C. police says.
"At approximately 8:20 p.m., members of the Third District heard the sounds of gunshots and responded to the listed location," the statement says. "Upon arrival, members located two adult male victims, both conscious and breathing, suffering from gunshot wounds," according to the statement. "DC Fire and Emergency Medical Services responded to the scene and transported the victims to area hospitals for treatment of non-life-threatening injuries."
The shooting incident took place at a time when many city residents and police were on edge following the fatal shooting of a 6-year-old girl on July 16 in Southeast D.C. and the firing of gunshots last Saturday outside Washington Nationals Stadium during a game, which prompted people inside the stadium, who heard the gunshots, to duck for cover.
D.C. Police Chief Robert Contee, who was accompanied by D.C. Mayor Muriel Bowser at a news conference at the scene of the shooting on Thursday night, said investigators believe one of the two men wounded by the gunfire was a target of the shooting. Contee said police believe the second victim was hit in the crossfire.
"We've got to make sure we're doing everything we can as an entire system here in the District of Columbia to hold offenders accountable when these things happen in our community," Contee said. "This is unacceptable. That's the bottom line. It is totally unacceptable behavior," he said.
"I'm asking the community to take a look at these videos," he told reporters at the press conference. "If you know the person or the vehicle or somebody who is in that – there is one individual with a very distinctive hoody that he was wearing – please look at that very closely," he said. "We're asking for the community's help."
When asked by a reporter to comment on expressions of outrage by members of the community over the widespread outbreak of gun violence in the city, Bowser said she shares that concern.
"Well, I'm outraged. The chief is outraged. And the community should be outraged," the mayor said. "What we saw tonight and unfortunately what we saw over the last several days is an illegal firearm brazenly used on D.C. streets," Bowser said.
"And we know that our investigators and detectives are going to track down every lead. Our citizens have already been helpful in supplying leads and video and anything else that they saw so that we can get these individuals off the street and hold them accountable," the mayor said.
Witnesses have said the Thursday night shooting on 14th Street reportedly occurred at the intersection of Riggs Street outside the Mexicue Restaurant, which is located at 1720 14th Street, N.W. The Blade office is located just a few doors down and Whitman-Walker's Elizabeth Taylor building is a short distance away across the street at 14th and R Street, N.W.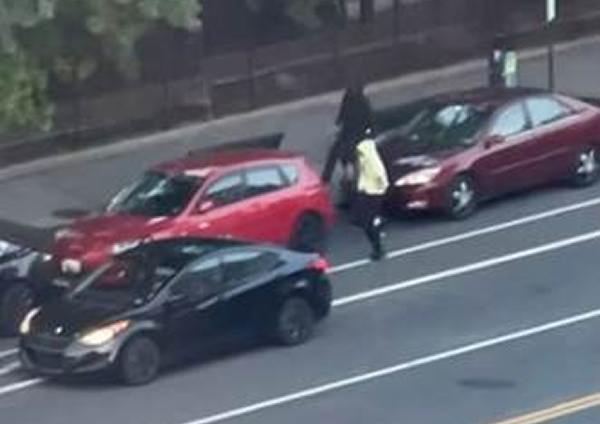 Senate confirms lesbian, trans nominees to high-profile defense roles
Skelly is second out transgender appointee to obtain confirmation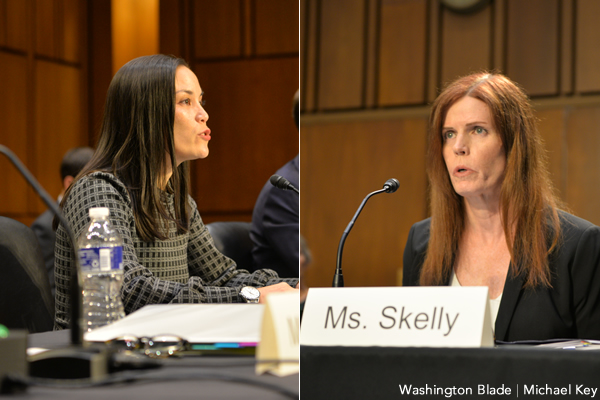 The U.S. Senate confirmed on Tuesday two Biden nominees — one lesbian, another transgender — for high-profile positions at the Defense Department by unanimous consent.
Gina Ortiz Jones, a lesbian former Air Force pilot and Texas congressional candidate, was confirmed as under secretary of the Air Force, and Shawn Skelly, a transgender 20-year U.S. Navy veteran and a defense appointee in the Obama administration, was confirmed as assistant secretary of defense for readiness.
For the second time in U.S. history, the Senate has confirmed an openly transgender person as a presidential appointee — and did so without controversy by unanimous consent.
Just months ago, Rachel Levine was confirmed as assistant secretary of health on a party-line basis after enduring rude, invasive questioning from Sen. Rand Paul (R-Ky.) during her confirmation hearing on transgender health care.
Jones has also made an achievement through Senate approval: She's the first out lesbian to win confirmation to serve in a high-level defense position.
The Senate confirmation of the nominees by unanimous consent is consistent with their confirmation hearing, which both Jones and Skelly breezed through without hostility.
Annise Parker, president of the LGBTQ Victory Institute, pointed out in a statement the two newly confirmed presidential appointees both served in the U.S. military under bans against LGBTQ people in the armed forces.
"Gina and Shawn served their country when living openly could result in discharge and a lost career, so their ascension to key leadership positions is a powerful moment for those servicemembers who served or continue to serve in silence," Parker said. "Their confirmation will transform perceptions of LGBTQ people within the ranks of the U.S. military, but also among the leaders of militaries we work with around the world."
Another out LGBTQ person nominated by Biden for a high-profile defense role is Brenda Sue Fulton, whom Biden nominated to become assistant secretary of defense for manpower and reserve affairs. Her nomination, however, has not even had a hearing in the Senate Armed Services Committee. It's unclear why her nomination hasn't moved forward.