Franken should stay, Moore should be defeated
Assessing consequences for the men accused of abuse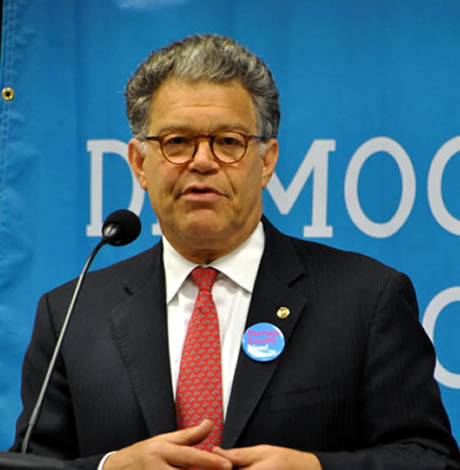 I have great respect for the women who are now coming forth and accusing various men of inappropriate behavior. We know men can be pigs. Many of these women have suffered for years in silence and it has impacted their lives in many ways.
But it is also time for us to determine how we differentiate what the consequences should be for the men being accused. They must be based on what they did. Not all their actions and transgressions are the same. Each incident, and each man, should be viewed separately. There are some men who have been serial abusers and others who did something wrong once. Even if all the actions a man has been accused of may have been wrong the repercussions may be different. It may be appropriate to give some of the men a chance to make apologies and not have their lives destroyed.
In the case of Sen. Al Franken (D-Minn.) some suggest we don't know the full story. What we know is from a picture as well as from what the woman involved said. So we can respect her and also respect the senator's apology when combining it with the fact she has said she accepts his apology. Why wouldn't that be enough for the rest of us to accept it?
Then there is the case of Judge Roy Moore running for the Senate in Alabama. Among other offenses he is accused of is pedophilia and people say they believe his victim. According to the law pedophilia is not only an offense to the individual victim but an offense to society. There are some heinous acts that fall into that category, including rape or attempted rape and I am sure there are others.
The point I'm trying to make is there are differences in some of the offences and inappropriate actions men have been accused of toward women. Recently, Sen. Kirsten Gillibrand (D-N.Y.) in a New York Times interview said she thought Bill Clinton should have resigned over the Lewinsky scandal. But as many pointed out, while what Bill Clinton did with Lewinsky was wrong, Lewinsky was a 22-year-old woman who has often said her relationship with him was consensual. Let's also remember Clinton was punished. He was impeached, though not convicted, and was stripped of his license to practice law. He has also been appropriately labeled a sleaze for the rest of his life.
So some legitimately question why Gillibrand brought this up now and was she the right person to do it. To many it seems she made a political calculation as the writer of the column also reports, "In previous years Ms. Gillibrand has also noted Mr. Clinton's support for her own run for office. "I was lucky enough to receive guidance and mentorship from Hillary during that run, and was truly honored that President Bill Clinton campaigned for me in my first run for Congress in 2006."
If it was for political reasons I think it might have backfired on her. Attacking someone you claimed to respect and used to help advance your career can only make your motives questioned. The senator claims it was to make a point on what is happening today. But she is a very smart woman and there are many other ways to make the points she tried to make.   
What is clear are the allegations against Harvey Weinstein and others including those against our current president have opened up a floodgate of memories for many women. Many of the men accused had the power to impact their lives and careers. If this new courage women are showing finally brings us to a more equal playing field it will be a great step forward for our society.
Maybe this new recognition of women's power will finally give us the impetus needed to pass the Equal Rights Amendment. It is past time to include women officially in the Constitution, which is something the American people have been unwilling to do up to now.
Peter Rosenstein is a longtime LGBT rights and Democratic Party activist. He writes regularly for the Blade.
Cruel court decision makes it harder to prevent AIDS
Disease gets a boost from federal judge in Texas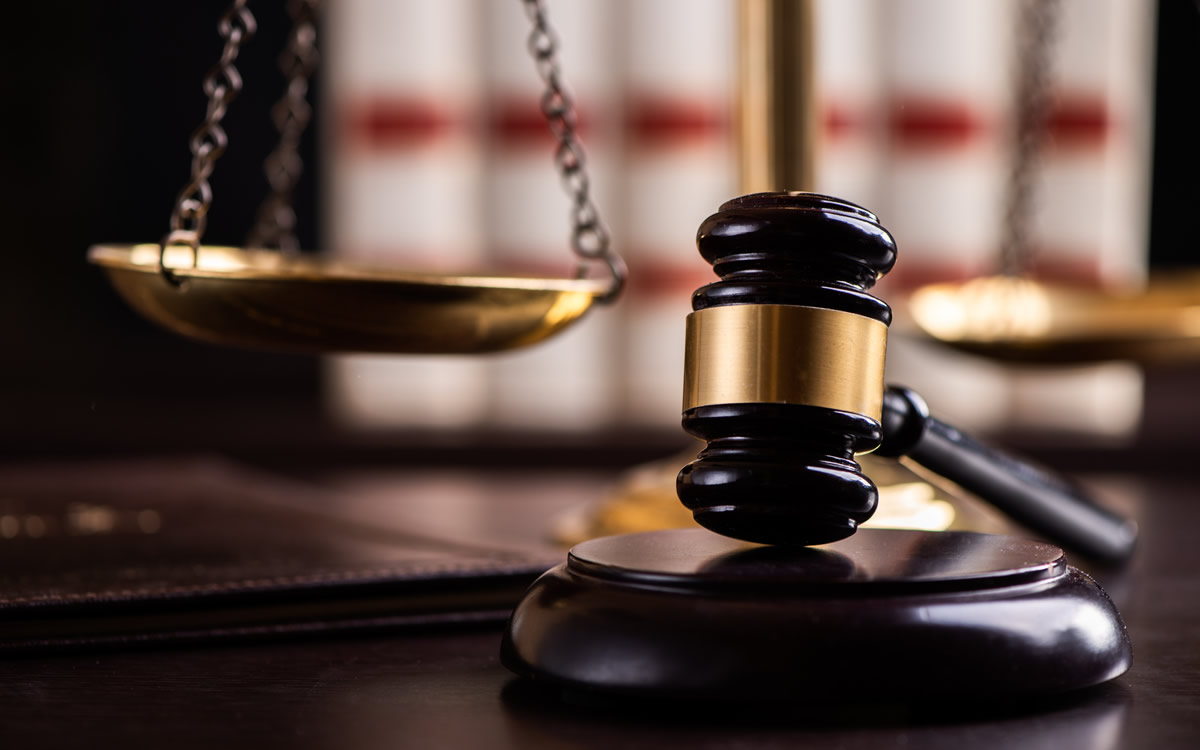 Just as the disease was on a glide path to extinction thanks to new drugs, HIV/AIDS got a boost from a federal court in Texas.
On Sept. 7, U.S. District Judge Reed O'Connor ruled that the government can't require an employer-sponsored health care plan to cover a therapy that prevents the spread of a disease that has already killed more than 700,000 Americans. The decision in Braidwood Management Inc. v. Becerra is not just poorly argued; it is flat-out cruel.
Perhaps the best feature of the Affordable Care Act (ACA) of 2010, nicknamed Obamacare, was a requirement that insurance offer coverage of specified preventive care procedures and therapies, such as colon cancer screening and influenza immunizations.
In June 2019, the U.S. Preventive Services Task Force, an advisory panel of experts, issued a "Grade A" recommendation for pre-exposure prophylaxis, or PrEP, a medicine that is 99% effective in preventing HIV transmission during sex. The first PrEP drug, Truvada, had been approved seven years earlier by the Food & Drug Administration. On Jan. 1, 2021, the federal government required plans to cover PrEP with no copay, coinsurance, or deductible.
Even before the mandate, the Centers for Disease Control and Prevention (CDC) credited PrEP with helping reduce new HIV infections in the U.S. by 8% between 2015 and 2019 "after a period of general stability." The CDC now calls PrEP "a key prevention strategy for ending the HIV epidemic in the U.S.," a goal for 2030 set by both the Trump and Biden administrations.
The way to end AIDS once and for all is to get PrEP to those who need it most. Researchers are developing intravaginal rings, implants, antibodies, and long-lasting injectables. Although PrEP use has risen by a factor of eight in just five years, three-quarters of those most at risk are not using the therapy.
The success of the lawsuit by a group of self-described Christian business owners and employees will make access even more difficult. The plaintiffs argued that the preventive care mandate for PrEP violated their constitutional right to religious freedom. In the complaint, Dr. Steven Hotze said that he was unwilling to pay for a health plan covering PrEP "because these drugs facilitate or encourage homosexual behavior, which is contrary to [his] sincere religious beliefs."
Hotze, whose vitamin company ran afoul of the FDA for COVID-19 claims, was indicted in April on aggravated assault charges involving a bizarre search for ballots after the 2020 election.
In the PrEP case, Hotze's objection went beyond gay sex. He complained that providing coverage of the drugs facilitates and encourages "sexual activity outside of marriage between one man and one woman" as well as illegal drug use.
Judge O'Connor agreed. He went even further, ruling that members of the Preventive Services Task Force were "unconstitutionally appointed."
In a previous case, O'Connor had ruled that the entire ACA was unconstitutional, but the Supreme Court reversed that decision last year. The current ruling draws on the Religious Freedom Restoration Act (RFRA) of 1993, which was enacted by Congress after the Supreme Court ruled in Employment Division v. Smith that the protection of the free exercise of religion in the First Amendment does not entitle anyone to a religion-based exception from a general law.
In recent years, writes Michael Dorf of the Cornell University Law School, "conservative Christians have increasingly relied on [RFRA] to obtain exceptions from laws involving insurance coverage for contraception and abortion."
For example, in Burwell v. Hobby Lobby, a 2014 case, the Supreme Court held that a company owned by religious Christians could be excused from an obligation to pay for health insurance that covered "forms of contraception that the owners regarded as tantamount to abortion."
But the ruling in the Braidwood case is far more sweeping. The Hobby Lobby plaintiffs considered abortion itself immoral. In this case, it's not PrEP that Braidwood considers immoral; it's certain kinds of sexual activities. By substantially lowering the risk of contracting HIV/AIDS, this twisted logic goes, PrEP is a facilitator of what Hotze considers immoral. And by offering insurance that covers PrEP, Braidwood says it becomes complicit.
There is a serious cost to this attenuated argument. By decreasing access to PrEP, people will needlessly become ill and, in some cases, die. The economy will also be burdened with the cost of treating a disease that can be prevented.
Modern science has developed therapies that are ending the spread of a dangerous, mortal virus. Easing access to these medicines is clearly a legitimate function of government — undoubtedly, a compelling interest. What can be more selfish and foolish than to erect needless obstacles for those who want to protect themselves and people around them?
James K. Glassman, a former Under Secretary of State in the George W. Bush administration, is an adviser to health care companies and non-profits.
Trump family had a tough week — may it only be the beginning
Let's hope he's headed to prison instead of back to White House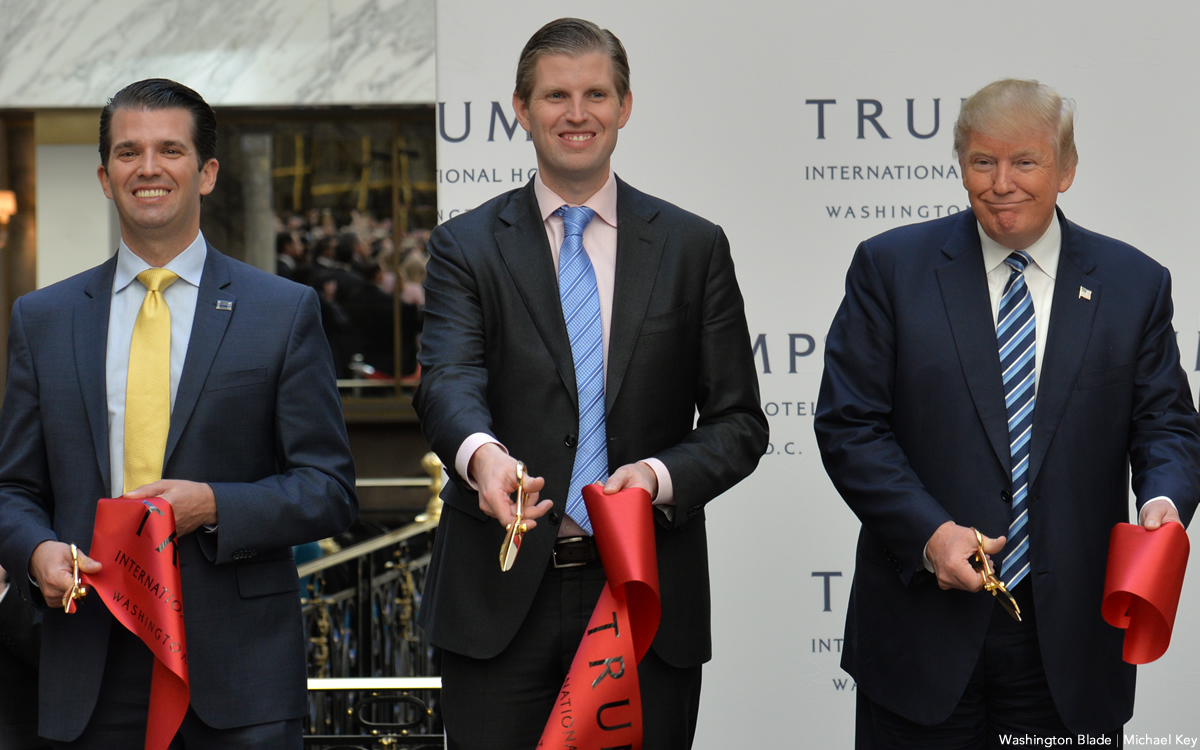 For the first time I actually think Donald Trump and his family may get what they deserve. They have been screwing the country for so long it seemed no one could get to them. Donald Trump is like a mafia don, with his family, and others like Rudy Giuliani, being his soldiers. Like many mafia don's we have seen, while not going down for the deaths he caused, he will likely go down for his financial shenanigans.
As reported in the Washington Post, "The legal dangers facing former president Donald Trump rose this week, after the New York attorney general filed a fraud lawsuit that could effectively shutter the Trump Organization and the U.S. Court of Appeals for the 11th Circuit allowed federal investigators to continue their probe into classified documents found at Mar-a-Lago." In addition, "other setbacks for Trump come as at least a half-dozen additional legal efforts proceed against him and his allies. Federal prosecutors have subpoenaed dozens of his former advisers, and many others, as part of a sprawling investigation into efforts to obstruct the transfer of power after the 2020 election. Separately, a Georgia grand jury has been looking at allegations that he tried to obstruct that state's electoral count by pressuring Secretary of State Brad Raffensperger (R) to 'find' enough votes to overturn the election."
While the New York State investigation is civil, New York AG Letitia James has referred her findings to the Manhattan DA, to U.S. Attorney for the Southern District of New York, as well as to the IRS, for possible criminal proceedings. Many of us are keeping our fingers crossed one of these many investigations will finally see Donald Trump where he belongs; not in the White House, but as a more permanent resident in other federal housing, a jail cell.
While it is important to hold Trump and his acolytes accountable for all the legal issues, we must also hold him responsible for the cultural wars he inspired and promoted. We have always known there are racists, homophobes, transphobes, sexists and misogynists in our midst. However, through hard work and many years of progress, we had seemingly reached a time in this country when people who harbored those hideous feelings couldn't stand openly in the public square and voice them, no less act on them, without repercussions. The four years of Trump's presidency changed that. What he did through his words and actions gave people tacit permission to spout these thoughts and even to act on them. He did this because people understood he was all of those things himself, and in most instances never really tried to hide it. He openly courted and defended white nationalists and neo-Nazis. He bragged about mistreating women. Because of Trump many members of minority groups including the LGBTQ community, African Americans, Asians and women have actually lost their lives to violence. If not losing their lives, many lost the chance to live their lives openly, freely and in safety. With all his misguided policies, lies and obfuscations, it is the cultural wars he unleashed that will take the longest, maybe decades, to counter.
We once had two relatively sane political parties, both advocating differing policies but both standing up for democracy. They seemed to understand our government was founded on the need for compromise to move forward their particular ideas. I may have disagreed with most Republican policies, and their national platforms, but I knew that if they won the Congress and the presidency, I could still fight another day to have Democrats win the next time and change the direction of the country more to my liking. But either way our democracy was going to stand. Today, if Republicans take over, I am not so sure of that.
Yet for some reason I still have confidence in most of the American people. I believe they will fight for our democracy by voting this November to give the Democrats continued control of Congress. By doing so they will let us continue to work to shore up our democracy and to make progress on issues from climate change, to immigration, updating our tax code, and ensuring no person in our country goes without a roof over their head, food in their stomach, and adequate healthcare. I believe we can defeat both Trump and Trumpism if we can convince enough people the road to a better life for them, their children, and grandchildren, is to reject Trump's evil and defend our democracy.
Peter Rosenstein is a longtime LGBTQ rights and Democratic Party activist. He writes regularly for the Blade.
Kenyan McDuffie for D.C. Council-at-Large
A voice of reason and progress in city government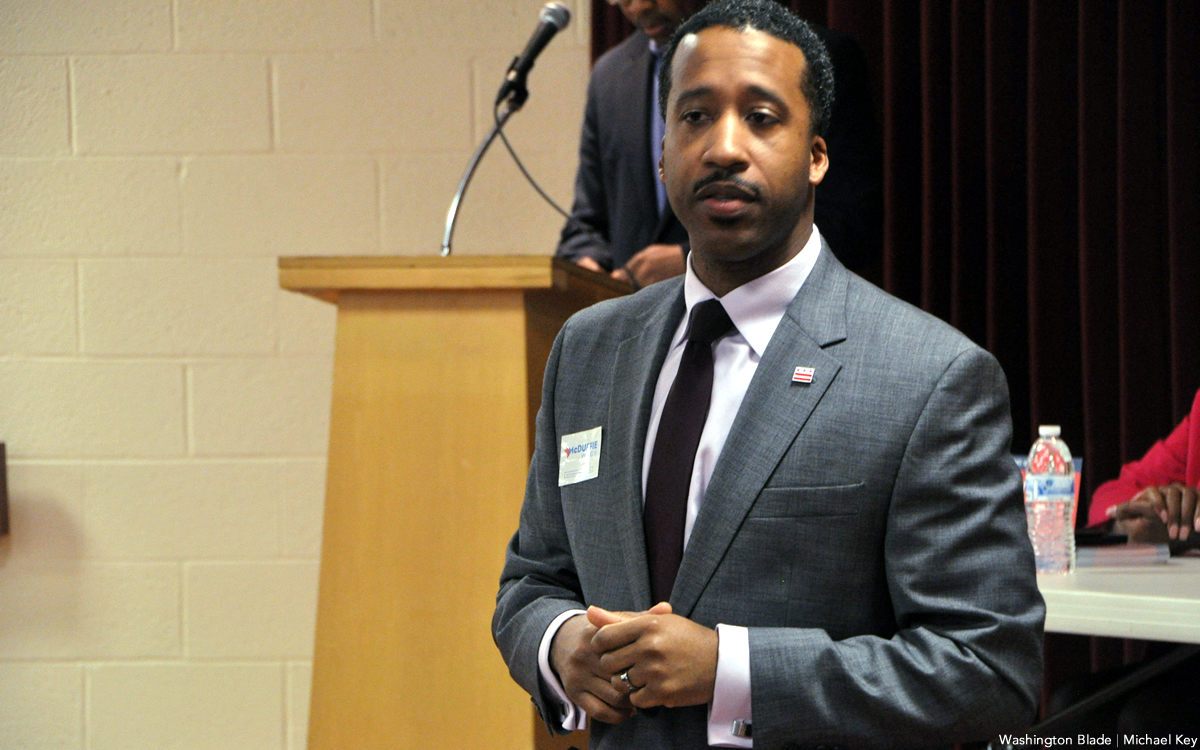 Kenyan McDuffie is a voice of reason, and a voice for progress, on the D.C. Council. He has been a voice for those without one, and for minority communities across the District.
Kenyan is a fourth-generation Washingtonian raised in a working-class family of six. He attended Shaed Elementary in Edgewood, St. Anthony Grade School in Brookland, and graduated from Woodrow Wilson Jackson-Reed high school, having played varsity basketball. He has been a union member working as a mail carrier for the U.S. Postal Service. His college career began at the University of the District of Columbia, which he continues to strongly support. He transferred and graduated summa cum laude from Howard University with a bachelor's degree in Political Science and Community Development and then joined the staff of Congresswoman Eleanor Holmes Norton. He left there to attend the University of Maryland School of Law, where he was an editor of the law school's Journal of Race, Religion, Gender and Class.
After law school he clerked for an associate judge on the 7th Judicial Circuit of Maryland and then became an Assistant State's Attorney in Prince George's County. He then joined the Civil Rights Division of the U.S. Department of Justice, where, as a trial attorney, he enforced key federal civil rights laws in cases throughout the country. His caseload at the DOJ included defending the civil rights of the mentally ill, nursing home residents, persons with disabilities, and other vulnerable populations.
At that point in his career, Kenyan added community activist to his resume becoming president of his local civic association and taking a job as a policy adviser with the Deputy Mayor for Public Safety and Justice. In that position he worked with Council members to shape policy and legislation for the District of Columbia.
In 2012, with this wealth of experience, he was elected to the D.C. Council. At that time Lateefah Williams, president of the Stein Democratic Club, wrote in the Blade, "Kenyan McDuffie is the type of leader that Ward 5 needs. He is intelligent, he has key experience in diverse matters from public safety to public policy, and he is a staunch supporter of the LGBT community. These are some of the reasons the Gertrude Stein Democratic Club, D.C.'s largest LGBT political organization, endorsed Kenyan McDuffie for Ward 5 Council.  … and why I personally support Kenyan McDuffie." Her confidence in Kenyan was well placed. For 10 years he has worked to build coalitions and create solutions, tackling D.C.'s most significant challenges. In his first year on the Council, he was elected to serve as Chairman Pro Tempore (Vice Chair), a position he continues to hold. 
Kenyan is what those of us looking at legislators call a work-horse, not a show-horse. He has put in the work to bring consensus and pass legislation, which he did with sweeping updates to D.C.'s criminal justice laws when he became chair of the Judiciary Committee in 2017. With that committee he oversaw the implementation of D.C.'s police body-worn camera program, including ensuring the public has fair access to the video footage from encounters with officers.
Kenyan has a view of public safety that includes both a strong MPD, with appropriate community oversight, and recognition of the need to fully fund community organizations working to reduce crime. Kenyan, like the mayor, believes we need to do both of these things, not one or the other. He recently said, "One of my proudest moments on the Council is passing the Neighborhood Engagement Achieves Results (NEAR) Act. The law takes a holistic approach to preventing crime in the first instance and floods communities disproportionately impacted by violence with resources – including violence interrupters and behavioral and mental health services – in addition to more innovative, data-driven policing."
For the past five years, Kenyan has chaired the Council's Business and Economic Development Committee. His focus has been on helping grow the local economy with a stronger focus on supporting small and minority-owned businesses. He fought to put millions of dollars in the Commercial Acquisition Fund to allow socially disadvantaged business owners to apply for grants to purchase commercial properties here in D.C. Kenyan spearheaded an emergency relief package of $100 million to help the hospitality, entertainment, and retail industries – some of D.C.'s largest employers of immigrants and minority workers – weather the pandemic and keep District employees on the payroll.
For these reasons, and many more, we cannot afford to lose Kenyan's voice on the Council. I urge everyone to cast their vote for Kenyan McDuffie for Council-at-large. 
Peter Rosenstein is a longtime LGBTQ rights and Democratic Party activist. He writes regularly for the Blade.