Biden Foundation sets up advisory councils for women, LGBT rights
Initiative launched amid speculation of 2020 run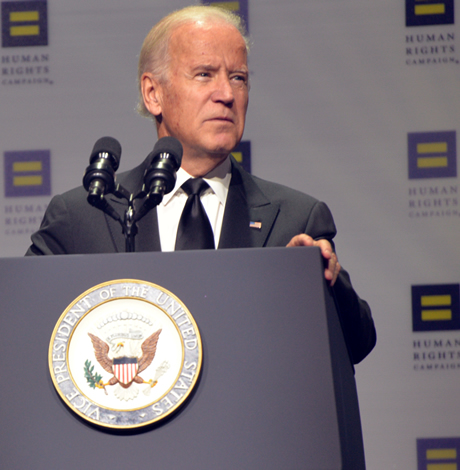 Former Vice President Joseph Biden, among the potential Democratic candidates for the 2020 presidential election, announced on Monday the creation of two new advisory councils for his foundation: One to advance LGBT rights, the other to end violence against women.
Members of both councils are made up of prominent advocates on women's and LGBT issues, many of whom are supporters of the Democratic Party.
Individuals named to the LGBTQ Equality Advisory Council include singer Cyndi Lauper, former NBA player Jason Collins, transgender activist Sarah McBride, Judy Shepard, marriage equality advocate Evan Wolfson and former U.S. ambassador to Romania Michael Guest.
Biden said in a statement members of the councils "have devoted their lives to that creed, and we're lucky to have them lend their expertise to this mission."
"By working together, we can do more to protect the rights of all people, expand access to opportunity and give every American a chance at a middle-class life," Biden said. "I am eager for what we will accomplish together."
According to a statement from the Biden Foundation, the advisory councils will recognize the power of public-private initiatives, serve as ambassadors for the Biden Foundation and guide strategic partnerships to create societal change.
Louisa Terrell, executive director of the Biden Foundation, said in a statement each council member "has made it their life's work to protect and advance the rights of the most vulnerable."
"We're honored to have them volunteer their knowledge to the Foundation as we work together to build a more just society," Terrell added.
Biden has a record of highlighting the issue of violence against women. As a U.S. senator, he was author of the Violence Against Women Act, a law that was reauthorized in 2013 when he was vice president to include LGBT-specific protections.
On LGBT issues, Biden was also at the forefront. The vice president famously came out for same-sex marriage days before former President Obama and called transgender issues the "civil rights issue of our time" and was active in championing international LGBT human rights.
Lauper, co-founder of the True Colors Fund, highlighted the issue of LGBT youth homelessness in a statement on her membership of the LGBT council.
"In America, up to 1.6 million youth experience homelessness each year. 40 percent of them identify as LGBTQ, compared to the seven percent of the general youth population that is LGBTQ. The True Colors Fund is working hard to change that," Lauper said. "As a lifelong ally and advocate, Vice President Biden gets it — and today, I'm proud to join the Biden Foundation as we work to make equality a reality."
The full roster of both advisory councils follows.
LGBTQ Equality Advisory Council
Cyndi Lauper, Singer, Songwriter, Actress, Activist; Founder, True Colors Fund
Sara Ramírez, Tony Award–winning Actress and Activist
Jason Collins, Professional Basketball Player (retired), National Basketball Association
Sarah McBride, National Press Secretary, Human Rights Campaign
Phillip Picardi, Chief Content Officer, Them and Teen Vogue
Judy Shepard, President, Matthew Shepard Foundation
Evan Wolfson, Founder and Former President, Freedom to Marry
Marsha Aizumi, Author, Speaker, Educator, Advocate Member, PFLAG National Board of Directors
Dr. Eliza Byard, Executive Director, Gay, Lesbian, and Straight Education Network
Ambassador Michael Guest, Former U.S. Ambassador to Romania
Mara Keisling, Founder and Executive director, National Center for Transgender Equality
Dr. Caitlin Ryan, Director and Co-Founder, Family Acceptance Project
Rev. Jasmine Beach-Ferrara, Founding Executive Director, Campaign for Southern Equality; Minister, United Church of Christ
Jacob Tobia, Writer, Producer, Author
Amit Paley, Chief Executive Officer and Executive Director, Trevor Project Precious Davis, Activist, Educator, Public Speaker
Ending Violence Against Women Advisory Council
Justin Baldoni, Actor, filmmaker and activist
Karma Cottman, Founder, Ujima: The National Center on Violence Against Black Women; Executive Director, DC Coalition Against Domestic Violence
Jess Davidson, Managing Director, End Rape on Campus
Venkayla Haynes, Regional Advisor, It's On Us
Rosie Hidalgo, Senior Director of Policy, Casa de Esperanza; Senior Advisor, National Resource Center on Domestic Violence
Olivia Hinerfeld, Activist
Vivian Huelgo, Chief Counsel, Task Force on Human Trafficking and Commission on Domestic & Sexual Violence of the American Bar Association
Neil Irvin, Executive Director, Men Can Stop Rape
Demetra Lambros, Appellate attorney, U.S. Department of Justice
Zerlina Maxwell, Director of Progressive Programming, SiriusXM
Victoria Nourse, Professor, Georgetown Law School
Nancy Schwartzman, Director, Producer, Mobile App Developer; CEO, Tech 4 Good
Patti Seger, Executive Director, End Domestic Abuse Wisconsin
Susan Sorenson, Professor, University of Pennsylvania
Andrew Sta. Ana, Director of Legal Services, Day One
Ebony Tucker, Advocacy Director, National Alliance to End Sexual Violence
Anti-LGBTQ conservative Christian activist Pat Robertson is dead at 93
Televangelist was infamous for making outrageous and offensive statements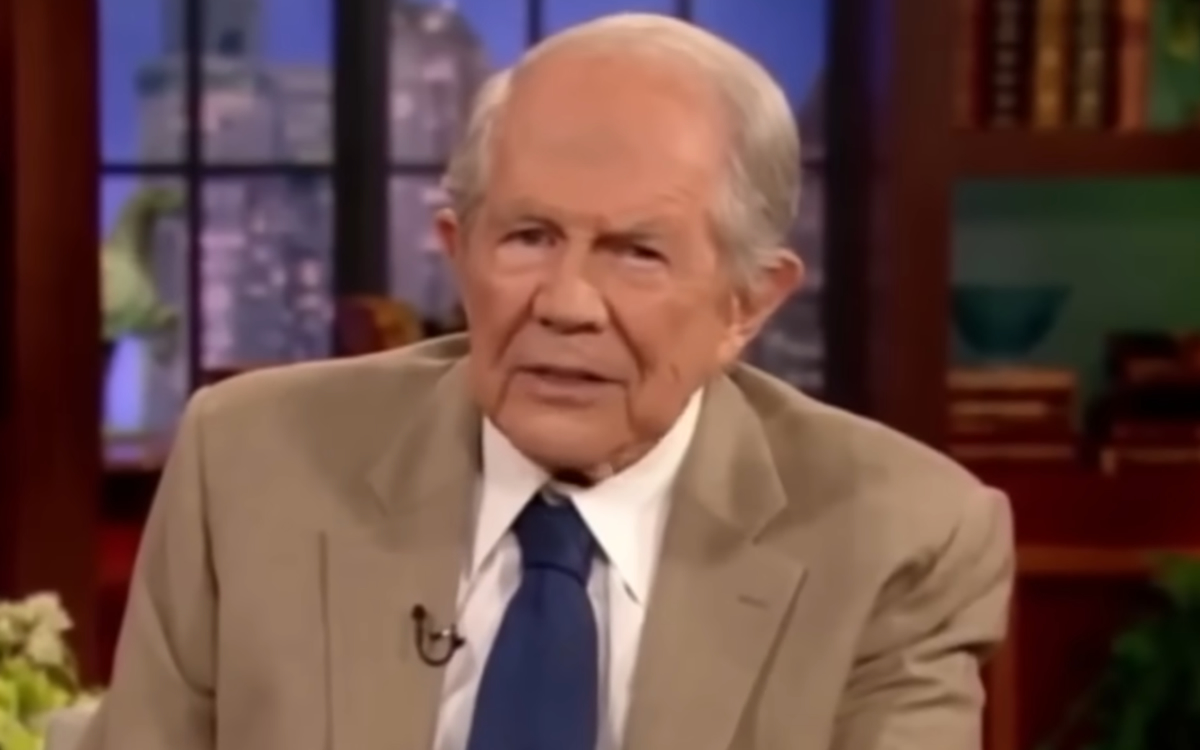 Anti-LGBTQ Christian-media mogul, televangelist, conservative political activist, and evangelical Southern Baptist minister Pat Robertson died at 93, representatives from his Christian Broadcasting Network confirmed on Thursday.
A public figure who was active in American politics since the 1960s, Robertson became as known for making Christianity central to the Republican Party as he was for his outrageously offensive comments targeting LGBTQ people as well as Haitians, Black People, Muslims, Jewish people, Buddhists, and many others.
When fellow anti-LGBTQ evangelical televangelist and erstwhile rival Jerry Falwell appeared on his flagship television program The 700 Club on the week of September 11, 2001, Robertson replied "I totally concur" when Falwell laid blame for the terror attacks on "the ACLU" along with "the pagans and the abortionists, and the feminists, and the gays, and the lesbians."
In 2020, Robertson falsely predicted that "without question Trump is going to win the election," going on to support efforts to keep Trump in office and vowing that "God himself would intervene" on the former president's behalf.
"These people are crazed fanatics," Robertson said on the 700 Club, talking about Muslims, "and I want to say it now: I believe it's motivated by demonic power. It is Satanic and it's time we recognize what we're dealing with."
Three years later, in 2009, he said, "Islam is a violent – I was going to say, 'religion', but it's not a religion; it's a political system. It's a violent political system bent on the overthrow of the governments of the world, and world domination."
Feminism, Robertson famously wrote in a 1992 fundraising letter, "is about a socialist, anti-family political movement that encourages women to leave their husbands, kill their children, practice witchcraft, destroy capitalism and become lesbians."
After the U.S. Supreme Court's 2015 ruling in Obergefell v. Hodges, which established the constitutional right to same-sex marriage, Robertson warned Christian business that gay customers will "make you conform to them": "You're gonna say that you like anal sex, you like oral sex, you like bestiality," he said. "Sooner or later, you're going to have to conform your religious beliefs to the group of some abhorrent thing. It won't stop at homosexuality."
In 1998, Robertson said divine retribution would soon ensnare the city of Orlando as punishment for Disney World's Gay Days, in the form of "earthquakes, tornadoes and possibly a meteor."
"This is a devastating blow to religious freedom and to the sanctity of America," he said in 2019 in response to the U.S. House's passage of the Equality Act, which would codify nondiscrimination protections for LGBTQ people. He continued, "If you want to bring the judgment of God on this nation, you just keep this stuff up. You know, I was reading in Leviticus where it said, 'Because of these things, the land will vomit you out.' Vomit you out. I think God will say, 'I've had it with America, if you do this kind of stuff, I'm going to get rid of you as a nation.'" Robertson then warned of "the potential of atomic war" and the possibility of an attack on the country's electric grid.
In 2006, on his website Robertson began claiming that he could leg-press 2,000 pounds through training and an "Age-Defying energy shake."
The following year, commenting on people who have had too much plastic surgery, Robertson said "they got the eyes like they're Oriental" and manually stretched his eyelids.
Another of his more infamous rants came in 2010, when Robertson claimed on The 700 Club that the earthquake in Haiti that year — which killed hundreds of thousands and impacted millions — was caused because Haitians made a deal with the devil when the country won independence from French colonial rule in 1791.
When a viewer called in to The 700 Club in 2012 to request advice, complaining that his wife did not respect him, Robertson said the caller could move to Saudi Arabia and become a Muslim so he could beat her.
Discussing AIDS in 2013, Robertson said, "You know what they do in San Francisco, some in the gay community there they want to get people so if they got the stuff they'll have a ring, you shake hands, and the ring's got a little thing where you cut your finger," Robertson said. "Really. It's that kind of vicious stuff, which would be the equivalent of murder."
In 2021, Robertson said critical race theory will give people of color "the whip handle" over white people.
When a gunman killed 60 people and wounded hundreds more in Las Vegas in 2017, Robertson blamed "disrespect" for then-President Donald Trump and the practice among professional football players and others of taking the knee during the national anthem to protest racial injustice.
In February of 2022, Robertson said Russian President Vladimir Putin was "compelled by God" to invade Ukraine to fulfill the "end times prophecy" in Israel.
Likely one of the ugliest hate-mongering statements he made, and which especial condemnation was leveled at him, occurred in the aftermath of the June 12, 2016, massacre when 49 LGBTQ+ people were killed at Pulse, an LGBTQ+ nightclub in Orlando, Florida, by a shooter who'd pledged allegiance to a radical form of Islam.
Robertson told viewers on his religious 700 Club broadcast the following day that Americans should just let LGBTQ+ people and Muslims kill each other:
"The left is having a dilemma of major proportions, and I think for those of us who disagree with some of their policies, the best thing to do is to sit on the sidelines and let them kill themselves," he said.
DC Front Runners Pride 5K to take place as scheduled
Air quality improved overnight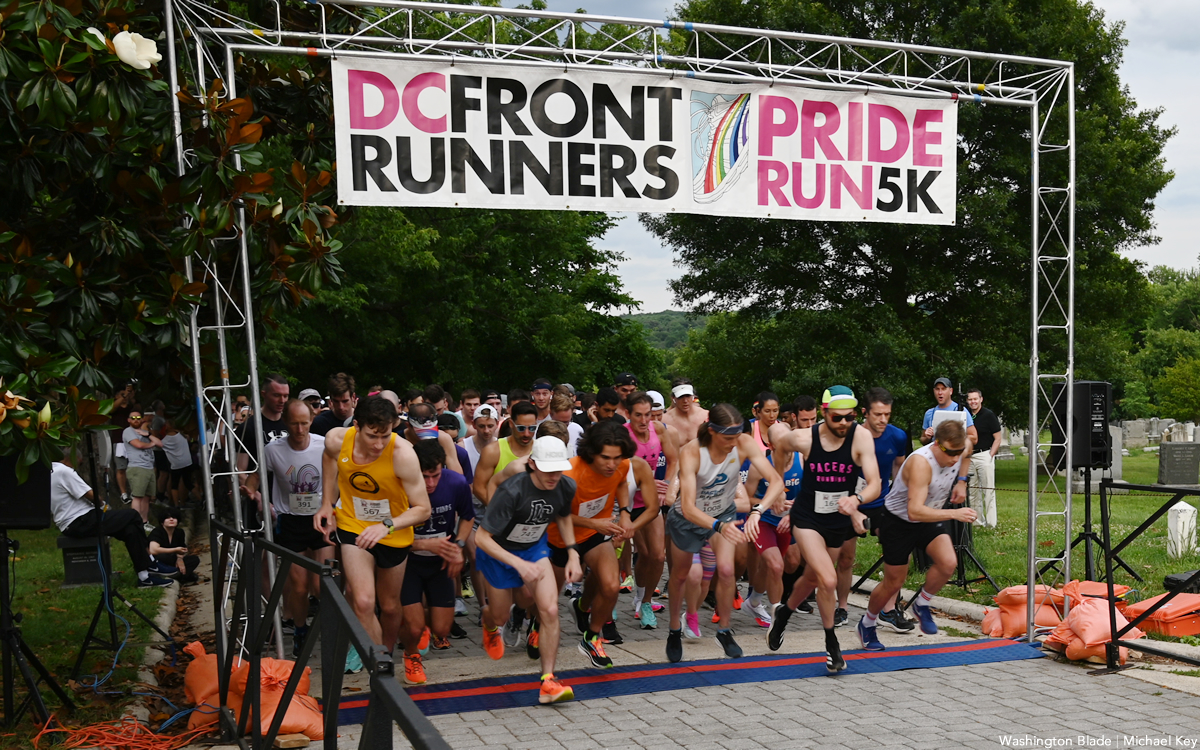 The D.C. Front Runners' annual Pride Run 5K will take place as scheduled at Congressional Cemetery on Friday.
The Blade Foundation, SMYAL, the Wanda Alston Foundation, Team DC, Teens Run DC, Pride 365 and Ainsley's Angels of America are among the race's beneficiaries. Wegmans, Shake Shack, Knead Hospitality and Design, Choice Hotels and Capital One Café are among the sponsors.
South Africa retail giant supports Pride month despite customer backlash
Woolworths South Africa to continue selling LGBTQ-specific merchandize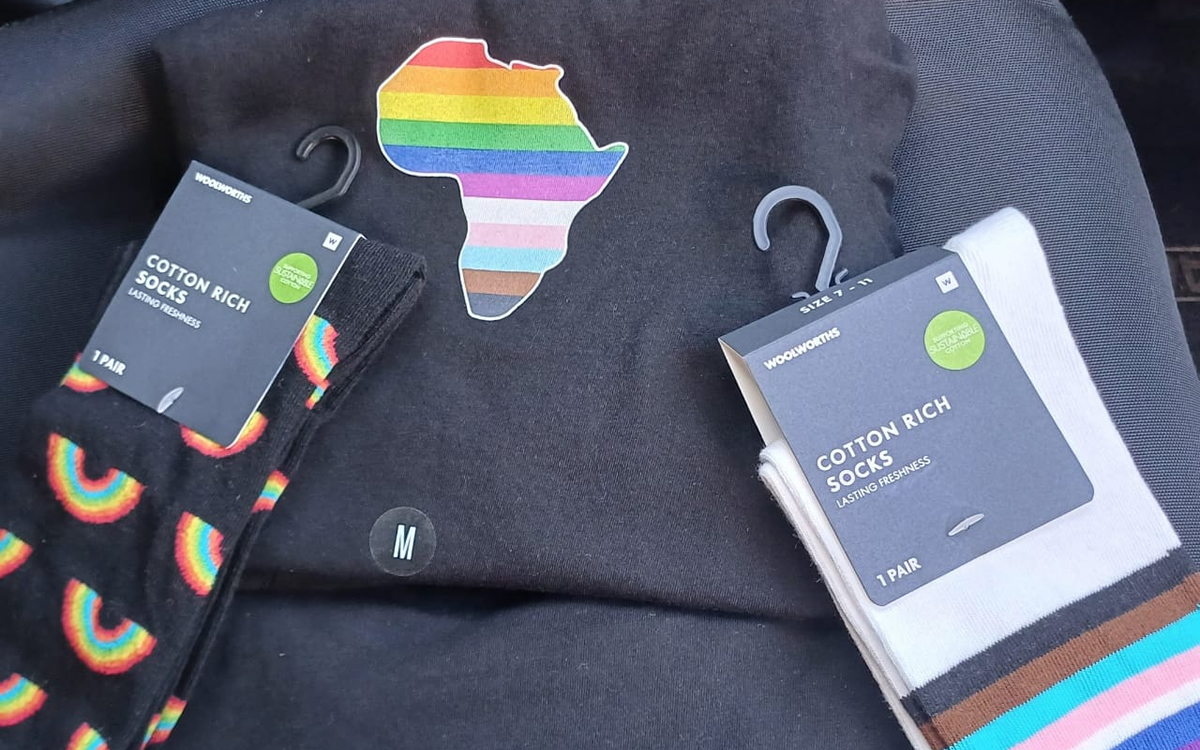 A South Africa retail giant has vowed to continue celebrating Pride month and LGBTQ and intersex people despite backlash from some customers.
Woolworths South Africa said will continue offering its Pride regalia to its staff and selling merchandize that recognizes the LGBTQ and intersex community. Woolworths South Africa also said it has established a Woolworths Pride (W.Pride) team, citing its values are firmly in favor of kindness and inclusivity.
"We have established an internal W.Pride task team to give voice to and address issues faced by the LGBTQIA+ community. We have adapted our working wardrobe policy to recognize everyone's unique preferences to style, cultural or religious needs and gender identity or expression. We have created a range of Pride merchandise and are donating funds to LGBTQIA+ support organizations," said Woolworths South Africa. "However, we know that there is always more to be done; and we will keep looking for ways to enable, uplift and celebrate the LGTBQIA+ community. Our community guidelines don't allow for hate speech or discrimination. Our values are firmly in favor of kindness and inclusivity."
OUT, an LGBTQ and intersex rights organization that is based in South Africa, commended Woolworths South Africa and criticized the backlash it received from some of its customers.
"Woolworths' public affirmation of LGBTQIA+ allyship aligns with South Africa's vision of a society that guarantees equality, safety and dignity for all. It's also clear that Woolworths recognizes the importance of celebrating diversity in the LGBTQIA+ community, rather than merely tolerating it," said OUT Human Rights Coordinator Sibonelo Ncanana. "However, the level of hateful discourse we have seen on social media in response to Woolworths' Pride campaign is disheartening and shameful. We urge the company and other LGBTQIA+ allies within the corporate sector to stand firm against fear and hate. They should remain steadfast in the knowledge that they are on the right side of history and our constitutional values."
Activists hope to use Pride to raise awareness of anti-LGBTQ violence, discrimination
Although South Africa is the only African country on the continent that constitutionally recognizes LGBTQ and intersex people, sporadic attacks and hate speech remain common. One of the reasons is South African society remains oriented around cultural and religious beliefs that denounce LGBTQ and intersex people.
Violence against LGBTQ and intersex South Africans that includes rape, murder and mutilation also remains a problem.
Tankisho Tawanyana, a 34-year-old lesbian woman from Kimberly, last October was raped and killed by three men who later doused her with paraffin and set her on fire. Two women in April 2021 killed Khulekani Gomazi, a transgender woman from Mpophomeni.
Some LGBTQ and intersex rights organizations have therefore taken it upon themselves to try and ensure South African students are taught to accept people from different gender identities in order to curb attacks based on gender identity.
The Uthingo Network and 23 other civil society organizations have already raised a series of concerns about the ongoing queerphobic bullying and discrimination against queer students in South African schools and called on Basic Education Minister Angie Motshekga, to hold teachers accountable and create queer-affirming school environments.
"It does not matter who you are or whom you love, everyone has a constitutional right to be themselves. Uthingo Network promotes equal rights for LGBTQI+ South Africans," said Uthingo Network.
Despite these problems, a number of LGBTQ and intersex rights organizations will host Pride events throughout South Africa in the coming months with the hope of raising awareness and end the discrimination and attacks against the community.