March 1, 2018 at 2:08 pm EST | by Mariah Cooper
Kim Davis chronicles fight against 'fist-pounding homosexuals' in memoir
Kim Davis, the Kentucky county clerk who refused to issue marriage licenses to same-sex couples in 2015, has written a memoir that details her fight against "fist-pounding homosexuals."
"Kim chronicles her dramatic encounters with furious, fist-pounding, homosexual men and the hate mail that flooded her office. Kim takes you behind-the-scenes of the unlikely saga that took America by storm in 2015. She tells how God transformed her life in 2011, why she almost retired in 2014, and how she knew–six months before the U.S. Supreme Court's disastrous 2015 same-sex 'marriage' opinion–she was headed for jail," Liberty Counsel, the book's distributor, originally described "Under God's Authority: The Kim Davis Story."
The description has since been altered to remove the words "fist-pounding, homosexual men." Proceeds from the book will benefit Liberty Counsel.
The book is co-authored by John Aman, director of creative services for Liberty Counsel, and Mat Staver, founder and chairman of Liberty Counsel, who represented Davis in her legal battle.
Davis, who served five days in jail for refusing to comply with the Supreme Court's ruling on Obergefell v. Hodges, is up for reelection in Rowan County this year. Her opponent will be Democrat David Ermold. Davis denied Ermold and his husband a marriage license in 2015.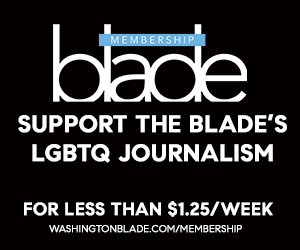 Sign Up for Blade eBlasts