SPRING ARTS 2018 CLASSICAL: A new spin on Durufle's 'Requiem'
Gay Men's Chorus director revoices famous work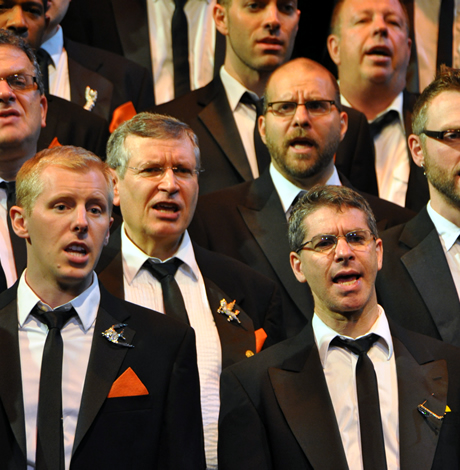 Classical music is funny when it comes to LGBT stuff — on one hand, it's no big deal. Nobody cares if the talent is there. Yet sometimes it's taken to such an absurd degree that it feels disingenuous. Or the artists sometimes feel talking about their personal lives will cheapen their art or dilute its impact in an arena where it's not supposed to matter.
All that to say — comb through the classical spring concerts coming up and there's very few LGBT themes or personnel to point to. And yet many folks active in that world say our regional orchestras, opera companies and choirs are just as healthily outfitted with gays as the rest of the city. Maybe not quite as high in number as, say, the uber-queer D.C. theater community, but not off by much. It's anecdotal so yeah, take it with a grain of salt, but that's what you go by when there are no hard numbers available.
The gayest classical concert this season by far comes from an unlikely source — our Gay Men's Chorus. While their musical chops have never been questioned — they're enjoying a rich new era under the direction of Artistic Director Thea Kano — the fact that they do so much Broadway, camp, music-with-a-message, pop covers, you name it really, folks who love the classical canon around here tend to gravitate to local choirs (and there are many) that stick to the traditional repertoire.
It's even a "thing" in the chorus. Kano, with a chuckle, refers to the "SMQs" (i.e. "serious music queens") in the massive choir. Those SMQs, she says, were giddy with delight when she told them one of their 2018 concerts was a new tenor/bass arrangement of Maurice Durufle's "Requiem." The Chorus performs it this weekend (Saturday, March 3) at 8 p.m. at the Church of the Epiphany (1317 G St., N.W.). Tickets are $60. Full details at gmcw.org.
Kano, as big an ally as it gets, was in her third year of graduate school at UCLA in 2003 working on an advanced conducting degree when she first became aware of the famous "Requiem," or "Mass for the dead." She and her mentoring professor were considering ideas for what she might do her dissertation on and he suggested the "Requiem."
"He said the Durufle 'Requiem' and I was like, 'The who, the what?,'" Kano says. "He said, 'Shame on you,' and sent me home with a bunch of CDs. I put the first one in and was just moved to tears. There's something just glorious about it."
It did become her dissertation piece and longtime chorus accompanist Teddy Guerrant suggested she adapt it for tenor-and-bass chorus.
"He actually kept bugging me about it over the years," Kano says.
She had contacts with the Durufle Association (the composer, who was straight, died in 1986; the "Requiem" premiered in 1947) and went to Paris last summer to do the work of actually transcribing the nine-movement, about 40-minute piece, a process she says was, yes, tedious at times, but a process akin to working on a crossword puzzle that she came to love.
Composed for soprano-alto-tenor-bass (SATB) chorus with occasional divisi, Kano adapted it for tenor 1, tenor 2, baritone and bass (TTBB) a process that in many cases was as simple as taking the soprano and alto parts down an octave, although that wasn't feasible in all places. It's in the same key as the original; the same orchestral and organ accompaniments Durufle wrote are being used. Soprano Breanna Sinclaire (a trans Baltimore native who's making a name for herself as an opera soloist) will perform the fifth movement, "Pie Jesu."
"There are some passages where the sopranos (in the original) have the melody and they're up in the rafters but now it's been assigned to the baritones and it's … kind of more smushed in there so we had to really bring the other sections' volumes down and bring the other up to make sure it's voiced so that what is prominent stands out to the ear of the audience," Kano says. "The first few times I heard it live in the TTBB, I was like, 'Wow, this sounds like Durufle but different.' We've been working on it about seven or eight weeks and I think it's just glorious. The audience is in for a real treat."
Kano was delighted that about 140 of the chorus's 300 (give or take) members signed on for the concert (they're not required to). She was concerned some members who enjoy the more camp/pop stuff might not be up for such a major work from the classical canon, although the chorus has in previous years done adaptations of major works such as the Faure "Requiem" and "Carmina Burana."
Because the "Requiem" was written in a style based on Gregorian plainchant (traditionally sung by male singers), the TTBB version required no great musicological backflips. And Kano says the majesty of the piece transcends its Christian text. If it seems an odd choice for the chorus, which specializes in more rah-rah-gay-type contemporary repertoire (although they've always done classical works as well), Kano says it's its own statement of equality.
"Just the fact that we're out as an LGBT chorus standing there and singing anything, you know, the stereotype of what the classical snobby choruses can do, just shows that we can raise our voices any way we feel is appropriate for our abilities. It puts us on the map that yes, we can sing anything and hopefully the audience will agree."
Chorus member Tim Gillham, a tenor who joined the group in 2014, had previously sung the "Requiem" in the traditional voicing and said it's been "truly a joy" to rediscover it in Kano's version.
"Thea's treatment brings an added depth and warmth to the work, which is especially appropriate for a 'Requiem,'" he says.
"It's been a total treat to have Thea work us through the music sections and share and feel her true passion for the music," says Ed Oseroff, a bass who's been with the Chorus since 2000. "I hope the audience will sit back, relax and let the emotion and power of the music take them away."
As usual, it's a busy spring for the Chorus. Its "Make America Gay Again" concert is Saturday, March 17; small ensembles' "Extravaganza" is Saturday, April 14 at the Barns at Wolf Trap and "Transamerica," a show about trans issues that will also feature Sinclaire, is June 2-3. Full details at gmcw.org.
PHOTOS: Not Another Drag Show
'Blackout Edition' celebrates musical artists of the 1990s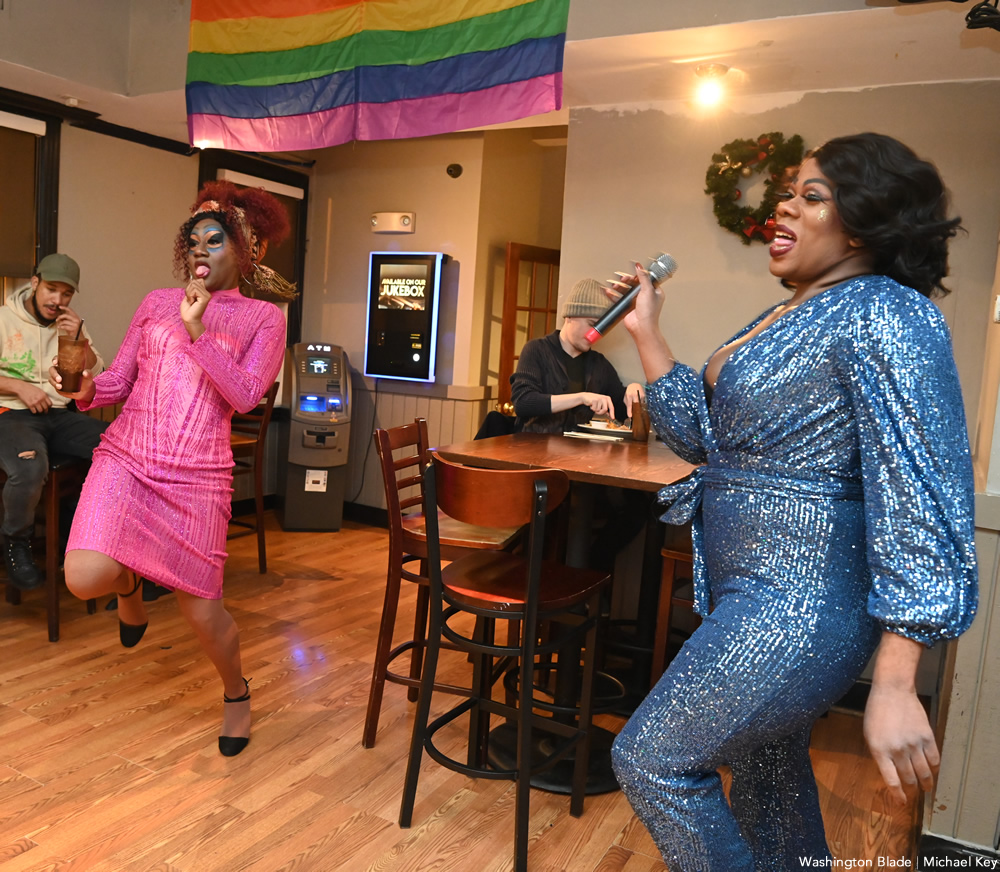 Drag performer Tiffany D. Carter hosted "Not Another Drag Show: Blackout Edition" at Dupont Italian Kitchen Bar on Monday. Performers included Carter, Nubia Love-Jackson, Uju Betta and Echinacea. The show featured the songs of Black artists popular in the 1990s.
(Washington Blade photos by Michael Key)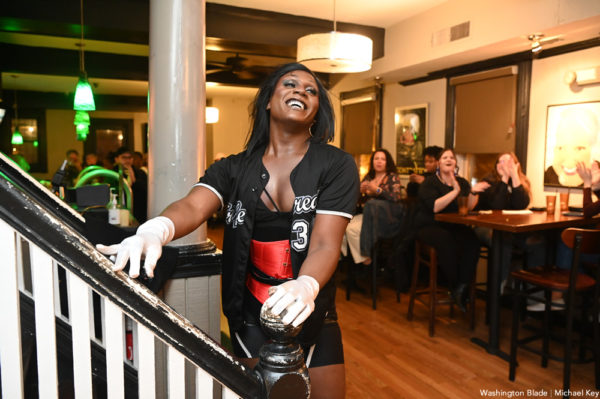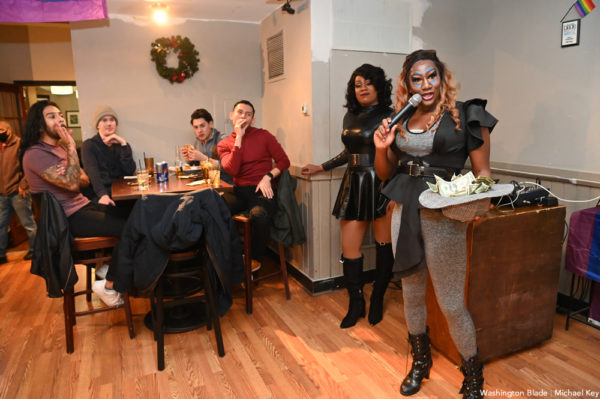 Janet Jackson doc premieres this weekend
Remembering 10 times iconic singer was there for LGBTQ community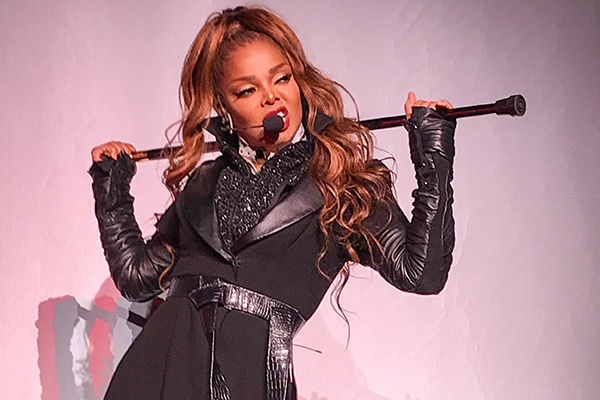 Iconic singer Janet Jackson, a longtime LGBTQ ally, unveils her long-awaited documentary simply titled "Janet" on Friday, Jan. 28. It concludes the following night; each installment is two hours long.
Jackson has said she spent five years compiling footage and creating the documentary, which airs at 8 p.m. both nights on A&E and Lifetime networks. It was produced by Jackson and her brother Randy Jackson and it's timed to commemorate the 40th anniversary of her 1982 debut album.
An extended trailer for the film reveals Jackson will talk candidly about her brother Michael and the 2004 Super Bowl incident, including the news that Justin Timberlake reached out and asked her to join him during his widely panned 2018 Super Bowl return performance.
Prior to the pandemic, Jackson announced a new studio album and tour titled "Black Diamond," but both were postponed due to COVID. No official word about the status of either, but speculation is rampant that she will finally release the new album once the documentary airs.
"Musically, what I've done, like doing 'Rhythm Nation' or doing 'New Agenda' or doing 'Skin Game,' creating those bodies of work with Jimmy and Terry, I feel like I've laid a certain foundation," Jackson tells Allure magazine in a new cover story this month. "I would hope that I'd be able to continue if I choose to. You know what I mean? But only time will tell."
As Jackson's legion of queer fans awaits this weekend's premiere, the Blade takes a look back at 10 times Janet was there for the LGBTQ community.
1. "The Velvet Rope" project. In 1997, Jackson released her critically acclaimed sixth studio album "The Velvet Rope," an introspective and deeply personal collection of songs that touched on her depression, but also tackled LGBTQ issues. On the track "Free Xone," she spoke out forcefully against anti-LGBT bias. She also covered Rod Stewart's "Tonight's the Night," without changing the pronouns in the love song, prompting speculation about her sexual orientation. But it was her international No. 1 hit "Together Again" that continues to resonate with LGBTQ fans. An upbeat, joyful dance song, it was conceived as a tribute to Jackson's friends who died of AIDS.
2. GLAAD award. In 2008, Ellen DeGeneres presented Jackson with the Vanguard Award at the 19th annual GLAAD Media Awards. GLAAD's president said, "We are delighted to honor Janet Jackson at the 19th annual GLAAD Media Awards in Los Angeles as such a visible, welcoming and inclusive ally of the lesbian, gay, bisexual and transgender community. Ms. Jackson has a tremendous following inside the LGBT community and out, and having her stand with us against the defamation that LGBT people still face in our country is extremely significant."
3. Ebony magazine interview about her sexuality. In 2001, Jackson gave an interview to Ebony magazine in which she was asked about her sexual orientation. "I don't mind people thinking that I'm gay or calling me gay," she said. "People are going to believe whatever they want. Yes, I hang out at gay clubs … I go where the music is good. I love people regardless of sexual preference, regardless of race. No, I am not bisexual. I have been linked with dancers in our group because we are so close. I grew up in a big family. I love being affectionate. I love intimacy and I am not afraid to show it."
4. Video support for It Gets Better, Trevor Project. In 2010, Jackson recorded a video for the Trevor Project and later appeared on CNN's "Larry King Live" to promote awareness of youth suicide. "If you're LGBT you're probably thinking you're all alone, but you're not," she said in the video. "I can relate because I was one of those kids who internalized everything."
5. "State of the World Tour." Jackson's LGBTQ support continued in 2017. Her tour's opening sequence highlighted a range of problems facing the world, from famine and war to police brutality and included a call for justice and for LGBTQ rights.
6. "The Kids." Jackson has always employed a diverse crew of professional dancers for her videos and tours. Some of her closest friends and collaborators over the years have been prominent out gay and lesbian choreographers, singers, dancers, makeup artists and designers. She lovingly refers to her backup dancers as "the Kids."
7. NYC Pride performance. In 2004, Jackson performed for a packed audience at Pride Dance NYC at Pier 54.
8. "Will & Grace" cameo. In 2004, Jackson made a memorable cameo on "Will & Grace," judging a dance-off between Jack and another dancer.
9. HRC, AIDS Project Los Angeles awards. In 2005, Jackson was honored by both the Human Rights Campaign and AIDS Project Los Angeles for her work raising money for AIDS charities.
10. Janet's Blade interview. In 2006, Jackson granted an exclusive interview to the Washington Blade. It was one of the rare times she touched on the Super Bowl controversy and her brother Michael's acquittal on child molestation charges, telling Blade Editor Kevin Naff, "I got all of that out of my system, that's not what I'm feeling right now. I wrote about [those controversies] but I didn't choose to put it out there on the album." In the interview, Jackson also reiterated her support for marriage equality, said she'd never had a sexual relationship with a woman and revealed that she'd never met Madonna.
International Women Club set for Jan. 24
Event at National Harbor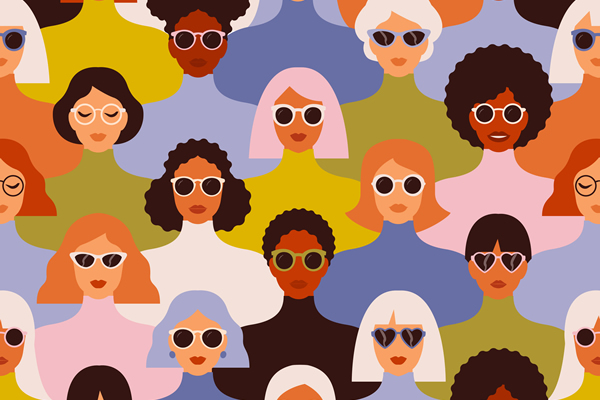 International Women United Organizer will host "Multicultural International Women Club" on Monday, Jan. 24 at 7 p.m. at National Harbor.
The goal of this event is to bring together women from different countries and cultures for friendship, support and community. Guests will get to share interesting facts about their country, talk about their culture, values, styles, and differences with others while learning from others and making friends from all over the globe. Those who speak English as a second language are welcome to attend.
This event is free and more details are available on Eventbrite.