SPRING ARTS 2018 TV: Small screen delights
'Rise,' 'Roseanne' reboot, 'Handmaids' return pepper TV season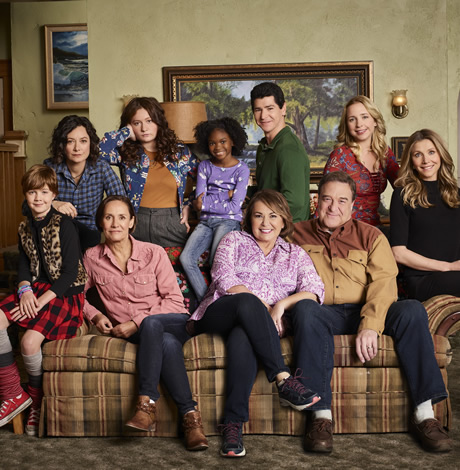 The spring 2018 television season may lack some of the sparkle of last year's schedule, but there are still some new offerings and returning favorites that LGBT TV fans may want to watch.
On March 27, the outspoken Roseanne Barr returns to network television in a continuation (season 10) of the ground-breaking show that bears her name. Most of the original cast will be back. John Goodman returns as Dan Connor (one of the show's early promos made fun of his return from the dead). Lecy Goranson, Sara Gilbert and Michael Fishman return as the Conner children. In an interesting twist, Sarah Chalke, who briefly replaced Goranson as Becky, will return to the series as a middle-class woman who hires Becky to be her surrogate.
Many of the guest stars will also return, including Roseanne's lesbian friend Nancy Bartlett (Sandra Bernhard), Roseanne's African-American neighbors, Natalie West as Crystal and Johnny Galecki as David Healy. The new cast will also be rounded out by several grandchildren. It is not clear if Martin Mull and Fred Willard, whose characters were married on the show, will return.
Early reports from the set say that the series will address the support of both Roseanne Barr and Roseanne Conner for Donald Trump; the death of Becky's husband Mark Healy — actor Glenn Quinn died in 2002; and that Roseanne's youngest son Jerry Garcia Conner will not appear because he is "out on a fishing boat."
"Rise" on NBC has caused controversy even before its premiere on March 13. The series is loosely based on the nonfiction book "Drama High" by Michael Sokolove which tells the true story of high school drama teacher Lou Volpe, who came as gay later in life. Some media outlets have accused producer Jeff Katims with "straight-washing" Sokolove's book, but the Writers Guild of America has ruled that Katims should be listed as the creator of the television series, instead of saying he "developed" the show from Sokolove's book.
The show does focus on the drama teacher, played by Jordan Roth, as a straight family man, but Katims adds several LGBT characters, including Michael (played by trans actor Ellie Desautels), a transgender student at the high school; Simon (Ted Sutherland), who is exploring his own sexuality after being cast as a gay character in the school's production of "Spring Awakening;" and, Volpe's married lesbian sister-in-law. The cast also includes Rosie Perez as a fellow teacher Volpe and Auli'I Cravalho (the voice of Moana) as a student.
Meanwhile on Paramount, "Heathers" will premiere on March 7. Based on the iconic 1988 movie starring Wynona Ryder, the "pitch-perfect black comedy anthology series" is set in the present day. The story still focuses on "good girl" Veronica Sawyer, along with her boyfriend JD and "the Heathers," a vicious clique who ruthlessly control life at Westerburg High. This time, however, one of the Heathers is played by a man. Shannon Doherty, one of the cinematic Heathers, will make a guest appearance.
On April 25, a year after the first episode of season one aired, season two of "The Handmaid's Tale" will premiere on Hulu. The entire main cast will return, including Elisabeth Moss as June/Offred, Ann Dowd as the terrifying Aunt Lydia, openly lesbian actress Samira Wiley as June's best friend Moira and Alexis Bledsel as the lesbian Handmaid Ofglen, who was formerly known as Emily. New cast members include Clea DuVall as Emily's wife, openly lesbian actress Cherry Jones as June's mother, Bradley Whitford as Commander Joseph Lawrence and Marisa Tomei.
Working closely with novelist Margaret Atwood, writer Bruce Miller has continued to expand the world of Gilead, a dystopian vision of the United States after a theocratic regime has taken power. Fertile women, known as Handmaidens, are forced to be surrogates for the Commanders and their infertile wives; women who resist are forced to clean up toxic waste dumps known as "the Colonies." Details about season two are sparse, but it is known that there is a large state funeral and that some scenes are set in the horrific Colonies.
And, on April 13, Netflix will reboot a classic sci-fi series, but without an iconic character generally assumed to be gay. In the original "Lost In Space," Dr. Zachary Smith was played by Jonathan Harris with a delicious campy flair. In a fascinating gender swap, Parker Posey take over the role of the nefarious stowaway. In another interesting casting move, Ignacio Serricchio will claim the role of Major Don West created by Mark Goddard.
In addition, several returning or continuing shows continue to include LGBT characters, although generally in supporting roles.
Season two of "Jessica Jones" returns to Netflix on March 8 (International Women's Day). Part of the Marvel Comic Universe, the series is grounded in a feminist sensibility with strong women on both sides of the camera. The series stars Krysten Ritter, who was nominated for a Dorian Award from the LGBT critic's group GALECA, and Carrie Anne Moss as Jones' lesbian boss Jeri Hogarth.
"Black Lightning," which premiered on the CW in January, is based on the DC comic about a family of African-American superheroes. Cress Williams plays the title character and Nafessa Williams plays his daughter Anissa Pierce, a crime-fighter who is developing her superpowers under the name of Thunder.
Fox's airline comedy "LA to Vegas" debuted in January to weak reviews and strong ratings, but it has made a star of Nathan Lee Graham who plays gay flight attendant Bernard. The openly gay actor played Miss Understanding in the original Broadway cast of "Priscilla, Queen of the Desert" and was recently presented with the Jose Esteban Munoz Award from CLAGS: the Center for LGBTQ Studies at the Graduate Center, CUNY. The award is given to an LGBT activist who promotes queer studies outside of academia.
Some of the other shows that continue to feature members of the LGBT community include "Dynasty" with Nicollette Sheridan joining the cast as Alexis; Tig Nataro on Amazon's "One Mississippi"; the rebooted "Queer Eye for the Straight Guy"; "The Bold and The Beautiful" where Kayla Mosley heats up the set as transgender woman Maya Avant; "Supergirl"; Lena Waithe's "Chi"; the popular ABC comedy "Modern Family" which was recently renewed for a 10th and final season (although there are talks of a spinoff); and "Grown-ish," a spin-off of ABC's "Black-ish."
There's also "Call the Midwife" (PBS), "Valor" (the CW), "Madam Secretary" (CBS), "The Fosters" (Freeform), "Riverdale" (the CW), "Portlandia" (IFC), "Grey's Anatomy" (ABC), "How To Get Away With Murder" (ABC), "Arrow" (the CW) "One Day At A Time" (Netflix) and "Jane the Virgin" (the CW).
Out Olympian Kenworthy & Paralympian Dunkin on Tokyo & LGBTQ Sports
"The fact that LGBTQ youth drop out of sports at twice the rate of their heterosexual & gender counterparts, it doesn't have to be that way."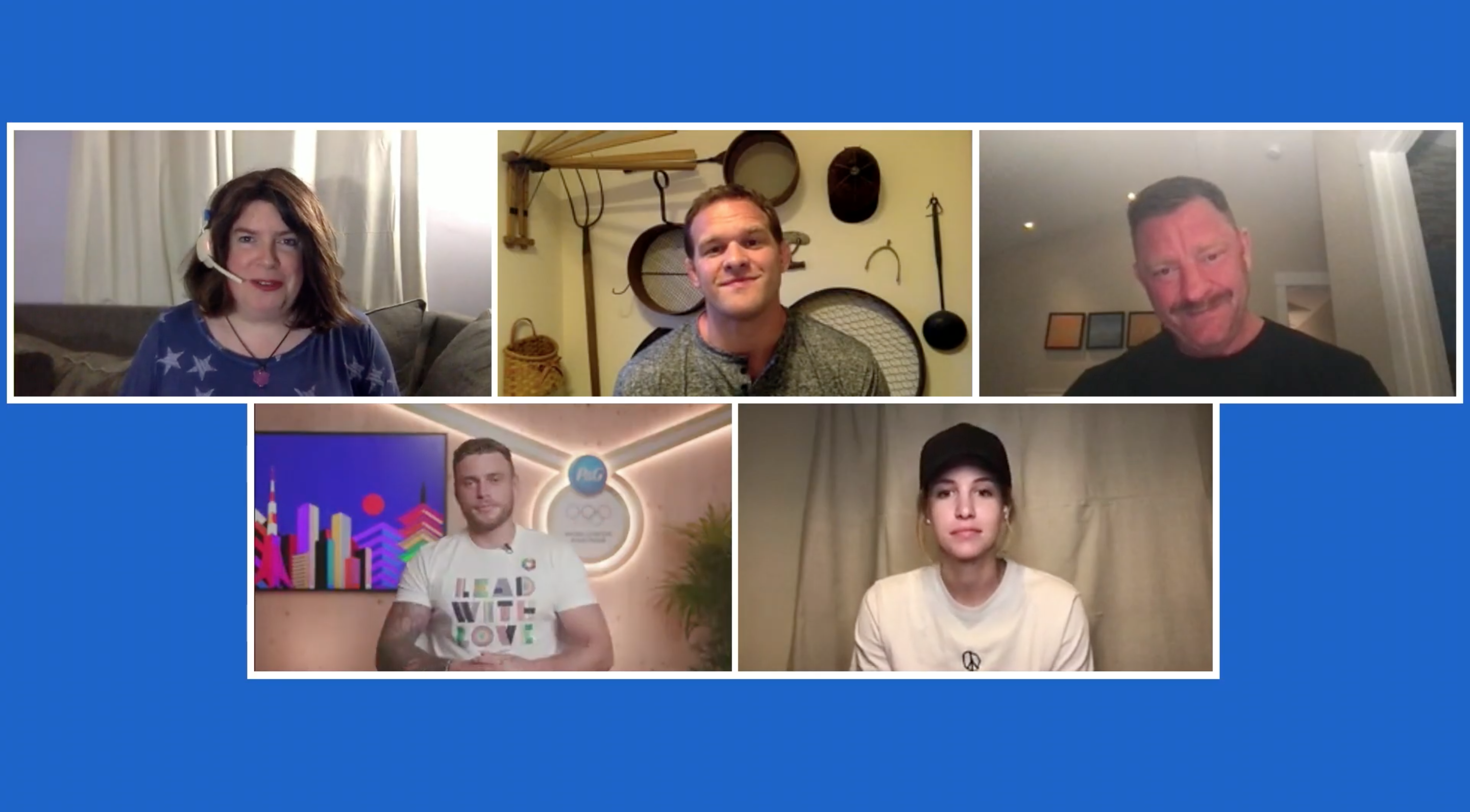 TOKYO – Gus Kenworthy is in Tokyo for the Summer Games, but not to compete. The Olympic Gold Medalist recently joined Paralympian Gold Medalist Abby Dunkin in a Zoom conversation with Athlete Ally founder and executive director Hudson Taylor and the head of LGBTQ+ equality and inclusion for Procter & Gamble, Brent Miller.
"I felt like I knew that if I came out, there must be someone else," Kenworthy said. "I was like, there's someone else in skiing or an action sports or another kid who is going to resonate with my story. And if I can even help one person, then it will be worth it."
This group of athletes and allies tackled the difficult issues of coming out in sports, fears of rejection, suicide attempts and competing authentically as well as the controversy over transgender inclusion in sports, both at the Olympics and in high schools and colleges across the U.S.
"Only 24% of LGBTQ youth participate in sports," noted Taylor. "The fact that LGBTQ youth drop out of sports at twice the rate of their heterosexual and gender counterparts, it doesn't have to be that way."
Dunkin credited Paralympian gold medalist Stephanie Wheeler as an inspiration both on the court and in everyday life as an out lesbian.
"Stephanie really creates such a great environment for me and other athletes and also our staff, too, that were out at the time," said Dunkin. "And that really impacted me to come out and be myself." Wheeler is also head coach of the Univ. of Illinois women's wheelchair basketball team.
As the Los Angeles Blade has reported, there are more than 142 out LGBTQ athletes competing in Tokyo, a record for any Olympic Games. And with trans nonbinary soccer player Quinn on their way to a potential gold medal, making history with out trans woman Laurel Hubbard and out trans BMX competitor Chelsea Wolfe in Tokyo, Miller says their first steps are inspiring to people all around the world, no matter what their gender identity or sexual orientation is.
"It's about bringing people together, supporting people, creating mutual understanding, and really celebrating all of humanity," Miller said. "And now for us, bringing those LGBTQ+ stories forward is critically important because we see the value of what sport can bring."
Watch their conversation with sports editor Dawn Ennis by clicking here.
Equal Representation in Sports: Why LGBTQ+ Visibility Matters
Rapper DaBaby pulled by Lollapalooza over homophobic comments
"Lollapalooza was founded on diversity, inclusivity, respect, and love. With that in mind, DaBaby will no longer be performing."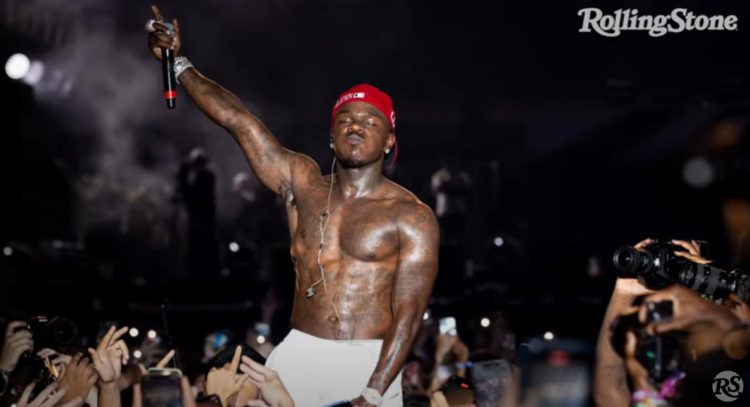 CHICAGO – In an announcement Sunday morning, the organizers of Chicago's Lollapalooza Music Festival said they had pulled artist DaBaby from tonight's closing show after a series of public homophobic remarks by the rapper last weekend in Miami at the Rolling Loud music festival.
On Twitter Lollapalooza officials wrote; "Lollapalooza was founded on diversity, inclusivity, respect, and love. With that in mind, DaBaby will no longer be performing at Grant Park tonight. Young Thug will now perform at 9:00pm on the Bud Light Seltzer Stage, and G Herbo will perform at 4:00pm on the T-Mobile Stage."
Lollapalooza was founded on diversity, inclusivity, respect, and love. With that in mind, DaBaby will no longer be performing at Grant Park tonight. Young Thug will now perform at 9:00pm on the Bud Light Seltzer Stage, and G Herbo will perform at 4:00pm on the T-Mobile Stage. pic.twitter.com/Mx4UiAi4FW

— Lollapalooza (@lollapalooza) August 1, 2021
The Grammy-nominated rapper's comments onstage at the Miami festival last weekend brought swift condemnation from other artists in the music industry including British Rockstar Elton John and Madonna among many others.
In the middle of his set last weekend in Miami the rapper told the crowd, "If you didn't show up today with HIV/AIDS, or any of them deadly sexually transmitted diseases, that'll make you die in two to three weeks, then put your cellphone lighter up! Ladies, if your pussy smell like water, put your cellphone lighter up! Fellas, if you ain't sucking dick in the parking lot, put your cellphone lighter up!"
DaBaby later issued an apology via Twitter that read, "Anybody who done ever been effected by AIDS/HIV y'all got the right to be upset, what I said was insensitive even though I have no intentions on offending anybody. So my apologies" However, the addendum in the same tweet of; "But the LGBT community… I ain't trippin on y'all, do you. y'all business is y'all business." was immediately decried as further proof of the rapper's intolerance of the LGBTQ community.
Anybody who done ever been effected by AIDS/HIV y'all got the right to be upset, what I said was insensitive even though I have no intentions on offending anybody. So my apologies 🙏🏾

But the LGBT community… I ain't trippin on y'all, do you. y'all business is y'all business.

— DaBaby (@DaBabyDaBaby) July 27, 2021
Michael J. Stern, a Los Angeles attorney and a former federal prosecutor who is now a noted featured columnist for USA Today blasted DaBaby's 'apology;'
Yeah, we've got the right to be upset.

We've also got the right to refuse to accept an apology that was prompted by public outcry and not a genuine understanding of, and remorse for, the horrific things you said.

— Michael J. Stern (@MichaelJStern1) July 28, 2021
In his response to Dababy's remarks Elton John, who founded the Elton John AIDS Foundation in 1992, a nonprofit organization which funds frontline partners to prevent infections, fight stigma and provide care for the most vulnerable groups affected by HIV, responded in a lengthy series of tweets:
(2/5)

👉 HIV has affected over 70 million people globally: men, women, children and the most vulnerable people in our communities.

— Elton John (@eltonofficial) July 28, 2021
(4/5)

👉 You can live a long and healthy life with HIV. Treatment is so advanced that with one pill a day, HIV can become undetectable in your body so you can't pass it onto other people.

— Elton John (@eltonofficial) July 28, 2021
(5/5)

👉 Homophobic and HIV mistruths have no place in our society and industry and as musicians, we must spread compassion and love for the most marginalised people in our communities.

A musician's job is to bring people together.

— Elton John (@eltonofficial) July 28, 2021
Madonna took to her Instagram telling the rapper to "know your facts," before spreading misinformation.
"AIDs is not transmitted by standing next to someone in a crowd," she wrote on Instagram. "I want to put my cellphone lighter up and pray for your ignorance, No one dies of AIDS in 2 or 3 weeks anymore. Thank God."
This year's Lollapalooza festival, which is one of the first major festivals to return in full force since the start of the coronavirus pandemic in the United States, concludes Sunday with headlining performances by musical acts Brockhampton, the Foo Fighters, and Modest Mouse.
Dua Lipa 'Horrified' at DaBaby's Homophobic Remarks at Rolling Loud | RS News 7/28/21
IOC: 'Trans Women Are Women' Laurel Hubbard set to make sports history
Laurel Hubbard is set to make sports history on Monday and the International Olympic Committee clearly has her back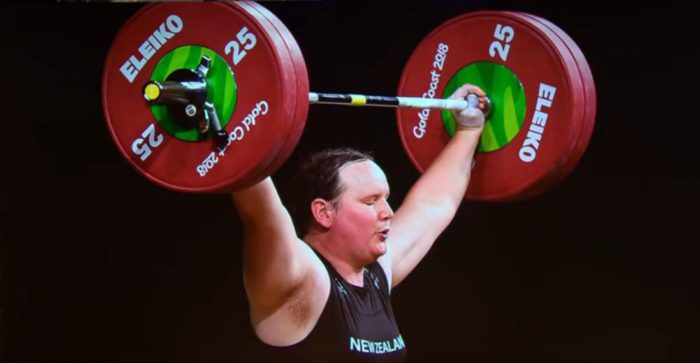 TOKYO – The director of medicine and science for the International Olympic Committee praised weightlifter Laurel Hubbard's "courage and tenacity" as she prepares for her upcoming competition as the world's first out transgender woman Olympian.
In speaking to reporters in Tokyo Thursday, Dr. Richard Budgett directly addressed those who have attacked and mocked the 43-year-old New Zealander and claimed she shouldn't be competing with cisgender women, saying "everyone agrees that trans women are women."
"To put it in a nutshell," he said, "the IOC had a scientific consensus back in 2015. There are no IOC rules or regulations around transgender participation. That depends on each international federation. So Laurel Hubbard is a woman, is competing under the rules of her federation and we have to pay tribute to her courage and tenacity in actually competing and qualifying for the Games."
Hubbard herself has not made any public comments except for a statement following her qualifying for the Summer Games, saying she was "humbled" by the support which had helped her "through the darkness" following a near career-ending injury in Australia in 2018.
Reports around the world have claimed Hubbard is the first trans Olympic athlete, which is actually not the case. As the Los Angeles Blade has reported, Quinn, a trans nonbinary soccer midfielder for Team Canada, last Wednesday became the first out trans athlete ever to complete in the Olympic Games. They posted about it on Instagram, saying, "I feel proud seeing 'Quinn' up on the lineup and on my accreditation. I feel sad knowing there were Olympians before me unable to live their truth because of the world."
The IOC is expected to review and likely revise its policies on transgender participation following Tokyo. Trans athlete and researcher Joanna Harper, who has advised the organization and other sports policy groups, told the Los Angeles Blade her recommendation will be for the IOC to continue to regulate trans athletes sport-by-sport. "There shouldn't be a one-size fits all policy," said Harper.
She also noted how the mainstream cisgender media is consumed with coverage of Hubbard and missing out on the bigger picture, and what it will mean for the next generation watching on TV and online.
"The lack of attention paid to Quinn and to Chelsea Wolfe has been interesting," said Harper.
"A few news outlets have commented on their presence in Tokyo and in Quinn's case the comments have been mostly favorable. On the other hand, the storm of mostly negative press heaped on Laurel Hubbard has been disappointing, although predictable. I hope that the negative press that Laurel has gotten won't dissuade young trans athletes from following their dreams. I think that the next trans woman to compete in the games will get less negative press, and eventually (although probably not in my life) there will come a time when trans women in sport generate little or no controversy."
Hubbard issued a statement Friday via the New Zealand Olympic Committee in which she said: "The Olympic Games are a global celebration of our hopes, our ideals and our values. I commend the IOC for its commitment to making sport inclusive and accessible."
According to a French news outlet, NZOC spokesperson Ashley Abbott told reporters the committee had seen a "particularly high level of interest" in Hubbard's Olympic debut, and much of it has been negative.
"Certainly we have seen a groundswell of comment about it and a lot of it is inappropriate," Abbott said. "Our view is that we've got a culture of manaaki (inclusion) and it's our role to support all eligible athletes on our team. In terms of social media, we won't be engaging in any kind of negative debate."
Abbott reminded the media that the NZOC's job was to support its athletes, including Hubbard. "We all need to remember that there's a person behind all these technical questions," she said. "As an organization we would look to shield our athlete, or any athlete, from anything negative in the social media space. We don't condone cyberbullying in any way."
RELATED: CBS This Morning from 22 Jun 2021