SPRING ARTS 2018 CONCERTS: Todrick, Meshell, Lorde, k.d. oh — and Britney this summer
Region teeming with queer acts at the Anthem, Fillmore, Jiffy and more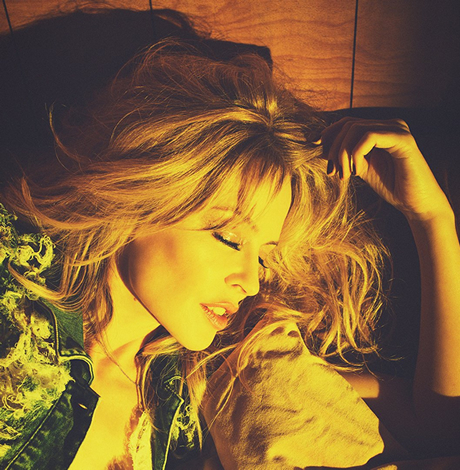 Washington boasts some of the best music venues in the country and there's no shortage of fabulous concerts to see at them this spring.
DJ Snake, the French producer and DJ responsible for massive hits like "Turn Down for What" and "Let Me Love You," spins at Echostage (2135 Queens Chapel Rd., N.E.) on Saturday, March 3. 
Bisexual feminist icon, Ani DiFranco, plays the 9:30 Club (815 V St., N.W.) on Saturday, March 5. The show will be opened by chamber pop duo Gracie and Rachel. 
Master pianist and Wolf Trap favorite, John Eaton, presents "Indiana On Our Minds: the Music of Cole Porter & Hoagy Carmichael" on Friday, March 9 at the Barns at Wolf Trap (1635 Trap Rd., Vienna, Va.). 
The original Wonder Woman herself, Lynda Carter, returns to the Kennedy Center (2700 F St., N.W.) for her "Red, Rock N' Blues" show on Saturday, March 17. 
The Gay Men's Chorus of Washington presents "Make America Gay Again" at the Lincoln Theatre (1215 U St., N.W.) on Saturday, March 17. 
Perennial pop titan and veteran gender bender, P!nk, brings her "Beautiful Trauma World Tour" to Capital One Arena (601 F St., N.W.) on Tuesday, March 17. 
Justin Timberlake may have received tepid reviews for his Super Bowl performance, but his stop on the "Man of the Woods Tour" at Capital One Arena (601 F St., N.W.) on Sunday, March 18 is sure to be a spectacle. 
If you're feeling wistful for her stellar 2014 Capital Pride performance, Betty Who plays the 9:30 Club (815 V St., N.W.) on Wednesday, March 21. Pretty Sister and Spencer Ludwig open the show. 
Porches, a New York-based synth pop band, play the Black Cat (1811 14th St., N.W.) on Thursday, March 22. The group's lead vocalist, Aaron Maine, identifies as straight but has earned himself a queer following with his painted nails and spaghetti strap tops. 
Queer-fronted Baltimore Indie band, Snail Mail, play Ottobar (2549 N. Howard St., Baltimore) with British rock group Shame on Thursday, March 22. 
R&B pioneer and everyone's favorite Cinderella, Brandy, performs at the Howard Theatre (620 T St., N.W.) on Thursday, March 22. 
Vocal LGBT ally LeeAnn Womack hopes you dance at the Birchmere (3701 Mount Vernon Ave., Alexandria, Va.) on Friday, March 23. The country crooner will perform her latest album, "All The Trouble," as well as old hits. 
Openly bisexual pop princess Demi Lovato performs alongside the ever-popular DJ Khaled at the Capital One Arena (601 F St., N.W.) on Saturday, March 24.
k.d. lang brings the 25th anniversary tour of her breakthrough album "Ingénue" to the Music Center at Strathmore (5301 Tuckerman Ln., North Bethesda, Md.) on Sunday, March 25. 
Yo La Tengo play their Indie cult classics at the 9:30 Club (815 V St., N.W.) on Wednesday, April 4. 
Meshell Ndegeocello, a Native Washingtonian and queer critical darling since the early '90s, is back to perform her latest album "Ventriloquism" at the Kennedy Center (2700 F St., N.W.) on Thursday, April 6. 
Legendary soul singer and timeless gay icon Patti LaBelle performs at the Warner Theatre (513 13th St., N.W.) on Saturday, April 7. 
Lorde brings her "Melodrama World Tour" to the Anthem (901 Wharf St., S.W.) on Sunday, April 8. Hip-hop duo Run the Jewels and indie rocker Mitski open the show. 
The Washington Symphony Players host a spring benefit concert for the Maryland Heroin Awareness Advocates on Tuesday, April 17 at the Music Center at Strathmore (5301 Tuckerman Ln., North Bethesda, Md.).
Pritam, an Indian composer and singer famous for his Bollywood records, performs live at DAR Constitution Hall (1776 D St., N.W.) on Friday, April 20. 
Todrick Hall, the multitalented singer, drag queen, Broadway star and choreographer to none other than Beyoncé, appears at the Fillmore (8656 Colesville Rd., Silver Spring, Md.) on Thursday, April 26. 
Nancy and Beth, featuring "Will & Grace's" Megan Mullally and "Friday Night Lights'" Stephanie Hunt, bring their eponymous "punk show-biz" tour to the Sixth & I Historic Synagogue (600 I St., N.W.) on Sunday, April 29. 
HAIM perform at the Anthem (901 Wharf St., N.W.) on May 1, opened by rising feminist rapper and singer, Lizzo. 
Michael Feinstein, an openly gay singer and pianist, headlines the Strathmore Annual Spring Gala at the Music Center at Strathmore (5301 Tuckerman Ln., North Bethesda, Md.) on May 12. 
Lesbian alt-country queen Brandi Carlile performs her latest album "By The Way, I Forgive You" and old favorites at the Anthem (901 Wharf St., S.W.) on Saturday, May 19. 
Soul powerhouse, Bettye LaVette, performs her latest record, all Bob Dylan interpretations, "Things Have Changed," at the Hamilton (600 14th St., N.W.) on Saturday, May 19. 
Rising pop sensation Hayley Kiyoko, whose devout fans refer to her as "Lesbian Jesus," performs at the Fillmore (8656 Colesville Rd., Silver Spring, Md.) on Friday, June 1. 
Twelve-time Grammy winner, Kendrick Lamar performs with Sza and Schoolboy Q at Jiffy Lube Live (7800 Cellar Door Dr, Bristow, Va.) on Friday, June 1. 
It's a ways off, but always better to plan ahead for Britney Spears, who makes her East Coast return at MGM National Harbor (101 MGM National Ave, Oxon Hill, Md.) on Thursday, July 12. The zeitgeisty gay icon will whip out choreo to all her classics from her "Piece of Me" Vegas residency. 
From Monáe to Madonna, fall will rock in D.C.
Local venues hosting array of queer artists in coming months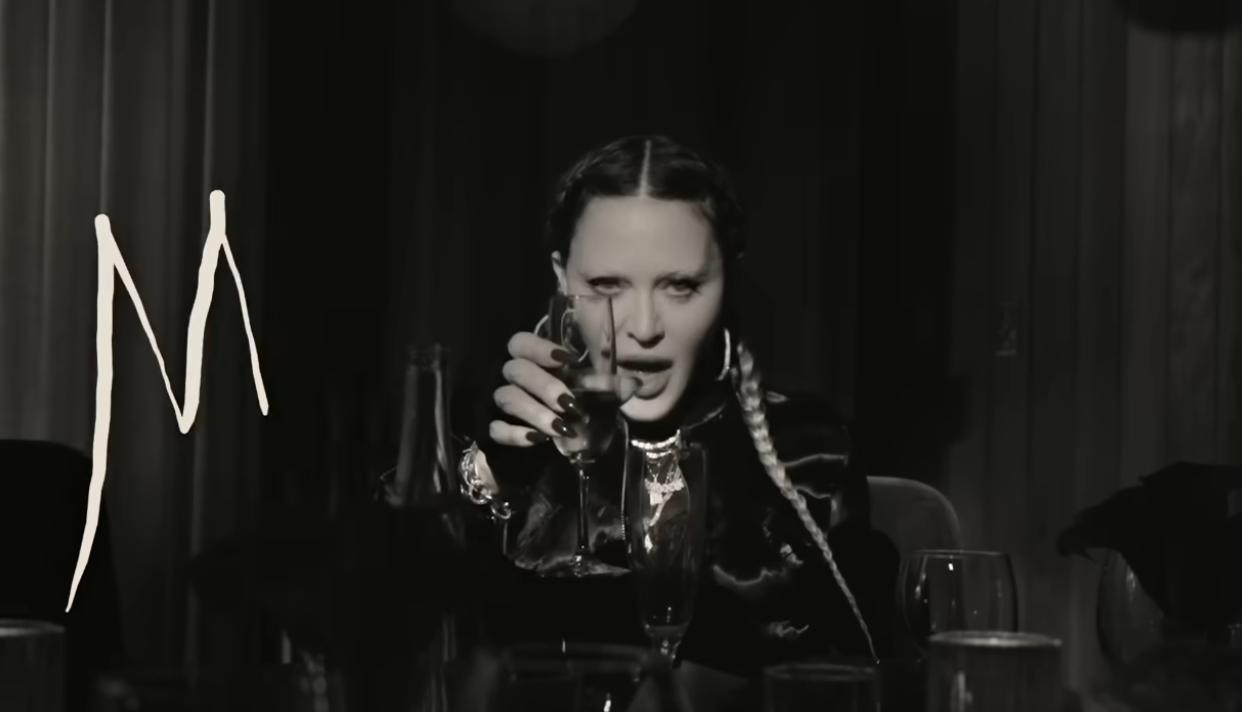 The D.C. area has many LGBTQ musical acts to look forward to this fall. Starting with pansexual and nonbinary actor and R&B singer Janelle Monáe, performing at the Anthem on Sept. 24-25 with ticket prices ranging from $135 to $301 on StubHub.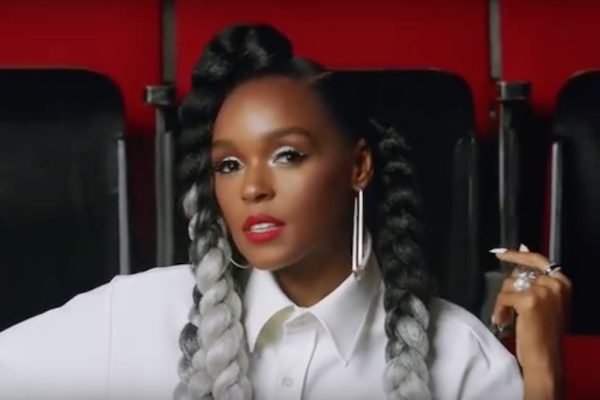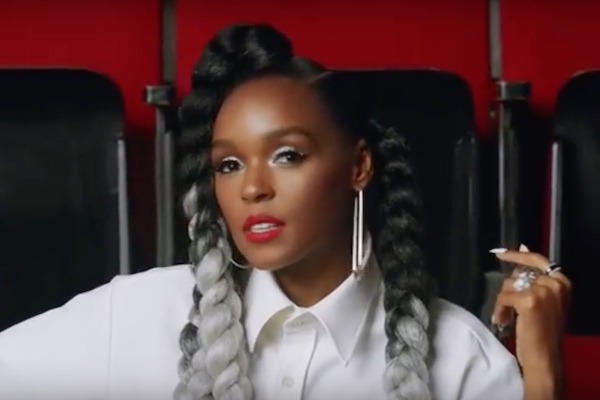 Singer Hozier's "Unreal Unearth Tour" is coming to the Anthem on Sept. 26-27. Tickets are available on StubHub starting at $324.
On Sept. 28 the CFG Bank Arena in Baltimore will see lesbian pop artist SZA's "SOS Tour" with tickets starting at $165 on Ticketmaster.
Queer indie pop singer Ashnikko is coming to the Anthem on Sept. 29 to perform their "Weedkiller Tour." Tickets available on StubHub range from $49 to $279.
Coming to Merriweather Post Pavilion in Columbia, Md., is the All Things Go Festival. Performing are lesbian singers Tegan and Sara, alt-pop singer Lana Del Rey, pop singer Carly Rae Jepson, and more. The festival will take place Sept. 30-Oct. 1 with two day passes starting at $397 on SeatGeek.
Rock band Queen will perform "The Rhapsody Tour" at the CFG Bank Arena along with Adam Lambert on Oct. 4-5. Tickets are starting at $181 on Ticketmaster.
Pop star and trans woman Kim Petras' "Feed the Beast World Tour" will reach the Anthem on Oct 12. Tickets range from $72 to $817 on StubHub.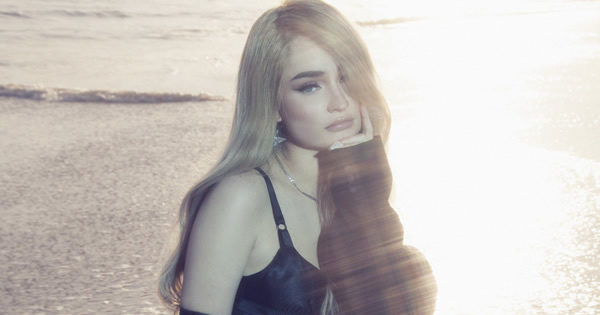 Queer pop singer Kesha is coming to the Anthem on Oct. 29 to support her new album, "Gag Order." Tickets go from $86 to $261 on Event Ticket Center.
Queer pop rapper Shygirl is co-headlining with bisexual singer Tinashe for the "Nymph" tour at the Anthem on Nov. 5. Tickets range from $45 to $145 on Ticketmaster.
Indie band Men I Trust is performing at Echostage on Nov. 15. Tickets are available on Ticketmaster for $30.
Nonbinary rapper Lil Uzi Vert's "PINK TAPE TOUR" will be at the Anthem on Nov. 21. Tickets start at $90 on StubHub.
Doja Cat's "The Scarlett Tour" will reach Capital One Arena on Nov. 27. Tickets start at $100 on Ticketmaster.
Madonna will bring her highly anticipated and delayed "The Celebration Tour" to the Capital One Arena Dec. 18 and 19. Tickets are available on Ticketmaster starting at $110.
Tom Goss to perform at Rehoboth Beach Bear Weekend
Out singer entertains at the Sands Hotel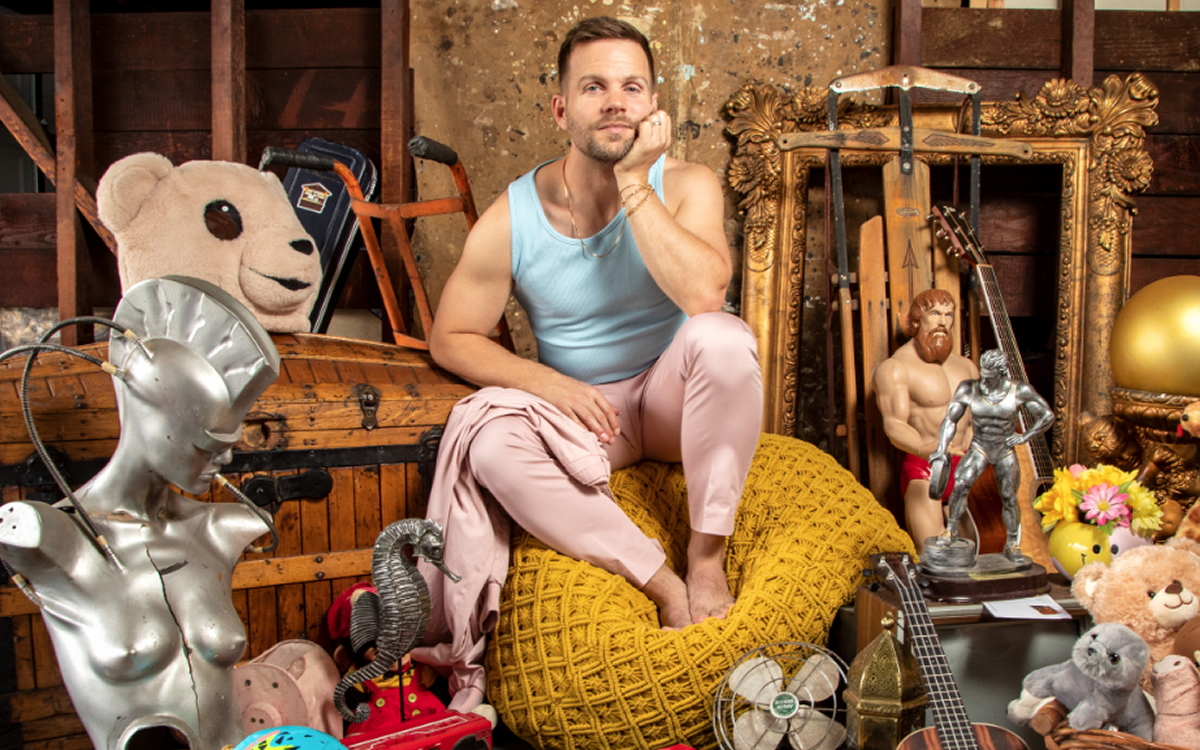 Out singer Tom Goss will perform at the Rehoboth Beach Bear Weekend on Saturday, Sept. 16 at 7 and 9 p.m. at the Sands Hotel.
He will sing his memorable songs like "Son of a Preacher Man" and "Bears," as well as tracks from his new album, "Remember What It Feels Like," where he sings about being a 42-year-old gay man still reeling from his husband's infidelity who was recently conned by a lover with a secret life now serving time in prison.
Tickets to Rehoboth Beach Bear Weekend start at $20 and can be purchased on Eventbrite. 
Beyoncé shines at FedEx Field, despite venue complications
Thunder and lightning couldn't stop Queen Bey from going all out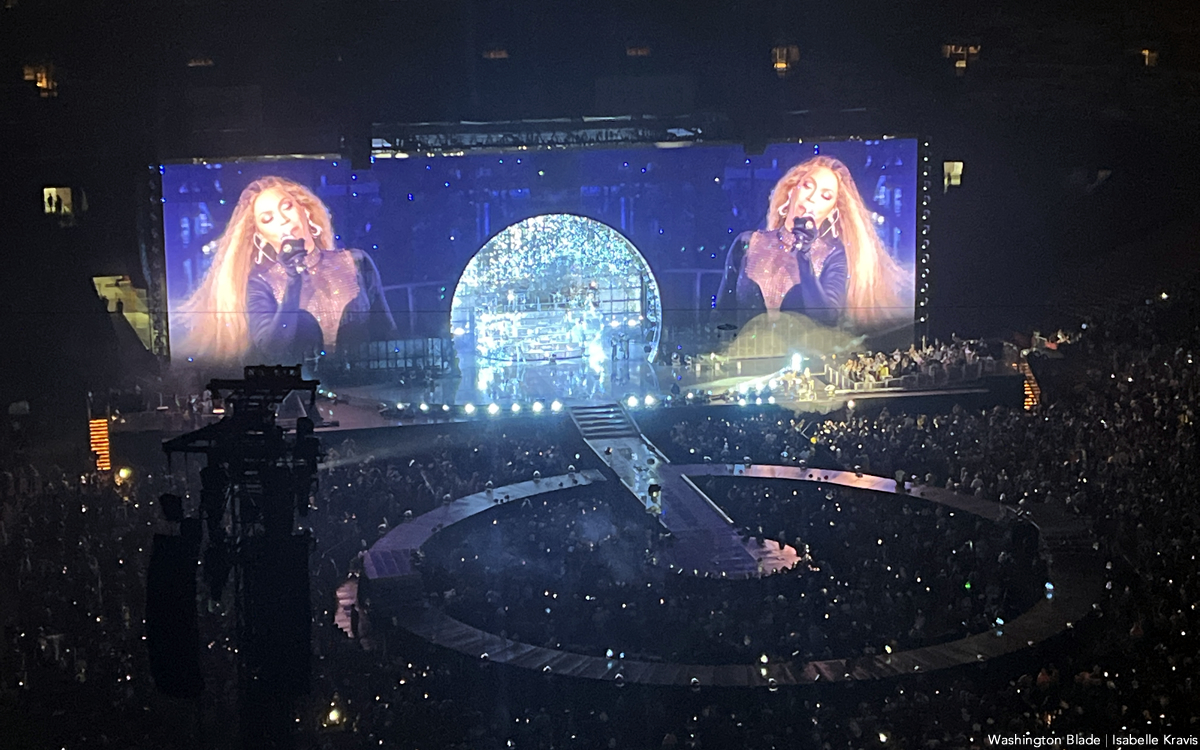 Since Beyoncé's "Renaissance" dropped in July 2022, fans from across the DMV have been waiting in anticipation for her to grace FedEx Field for the first time since 2018. Set to perform two nights, the tour has received rave reviews from critics and die-hard fans alike since she took the stage at the first stop in Stockholm.
I tried — and failed — to get tickets for a decent price during the original presale for the Renaissance World Tour in February, and have watched for months as resale prices climbed into the thousands for lower bowl and nosebleed seats. Following the advice of other fans on TikTok, I logged onto Ticketmaster the Friday before she touched down in D.C. to check for last minute tickets. I managed to score two tickets, for myself and my roommate, in section 443, directly facing the stage.
By now you've likely heard the ongoing story of Ticketmaster's general awfulness. When Taylor Swift announced her Eras Tour, fans from across the country — including myself — broke the platform trying to get tickets. After waiting in the queue for seven hours, I managed to get nosebleeds at MetLife Stadium in New Jersey.
For Renaissance, getting tickets was an equally challenging task. If you didn't get tickets during the original sale, you had to sit and watch as tickets that sold for $100 during pre-sale were listed for $500 by resellers. This is before Ticketmaster's fees, which can sometimes be more than the price of the ticket itself. Somehow, with a combination of Birthday money and a recent paycheck, I managed to get our seats for around $250 with fees.
With tickets for Sunday night's concert secured, the next thing to do was to secure transportation. Neither my roommate or myself have a car, and the walk from the Metro was an accessibility nightmare considering the heat and humidity. We booked an Uber in advance, about $60 with a tip.
If you've never been to FedEx Field, it's a journey. The nearest Metro station is a half hour walk away, and the stadium is in the middle of a residential area with only four two-lane roads in and out. The trip to the stadium took about an hour, and we arrived at 6:30 p.m. I had read advice from attendees of Saturday's concert that Beyoncé didn't go on until 9 p.m., when the sun set. This gave us about two and a half hours to get merch, food, drinks and find our seats.
No sooner had we gotten to the top level of the stadium when we were told by crew members to go back down to the bottom floor due to lightning. We already knew there would be rain, and had packed ponchos, so we made our way back down to the bottom floor, assuming we would be free to get food and merch. We were very wrong.
Crews at the stadium were holding people where they were when the announcement was made. Nobody was allowed to enter the main concourse from the walkways, and people were not allowed to leave to go sit in their cars. Thankfully, we were held in one of the walkways, where it wasn't crowded.
Fans who weren't in the walkways were packed into the main concourse with little to no room to breathe. There were reports of fans passing out, and we watched as paramedics rushed past to different parts of the stadium.
The shelter in place was lifted at around 8 p.m., and we rushed to the top of the stadium. Still, we were told to wait, and that we couldn't go to our seats. Every 20 minutes the speakers would broadcast a message telling us to go back downstairs, while staff were telling us to stay where we were.
When we were finally allowed to go to our seats, around 9 p.m., almost our whole section had lost steam. Everyone was drenched, and we sat patiently as we watched the crew mop the rainwater off the stage.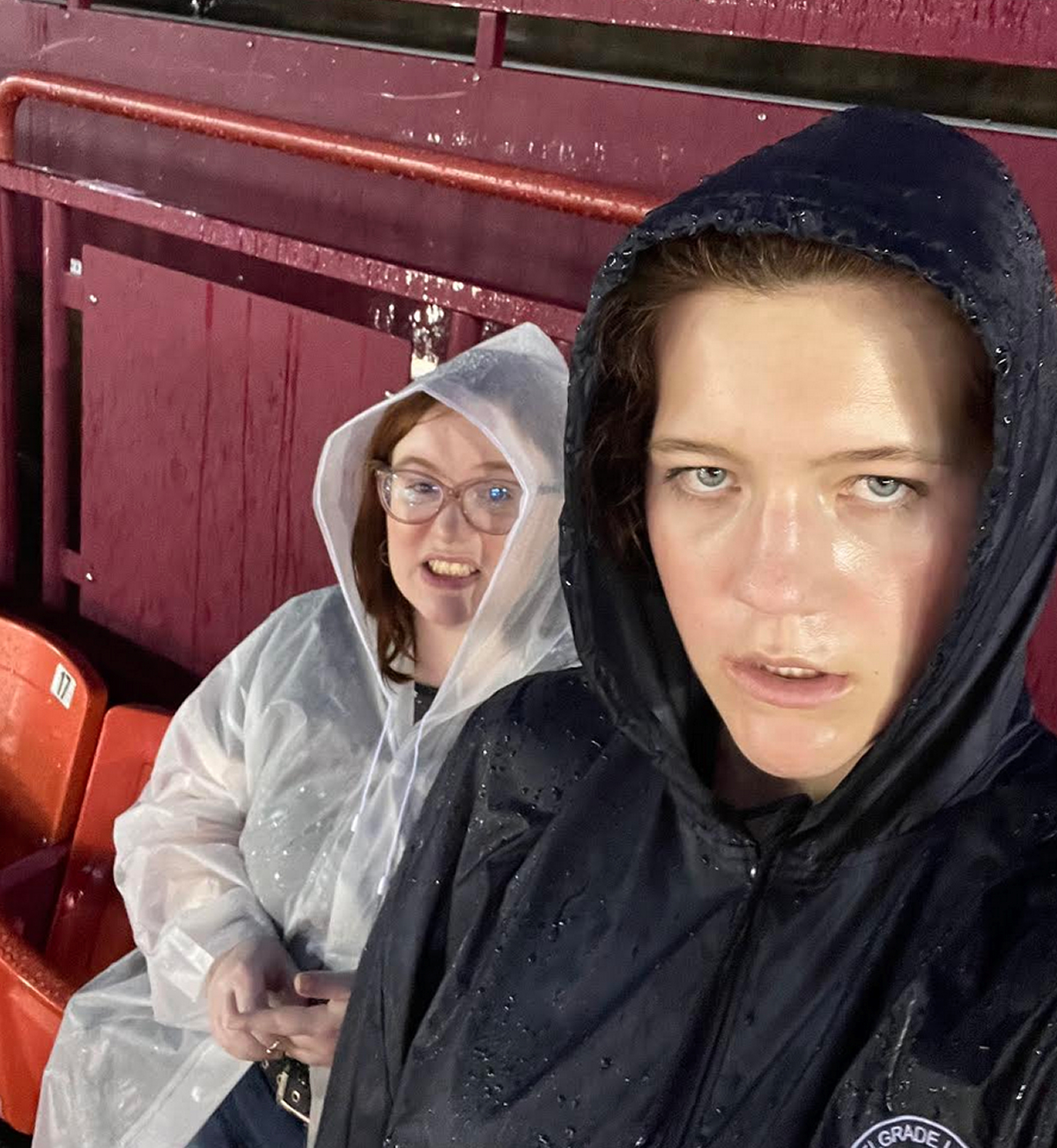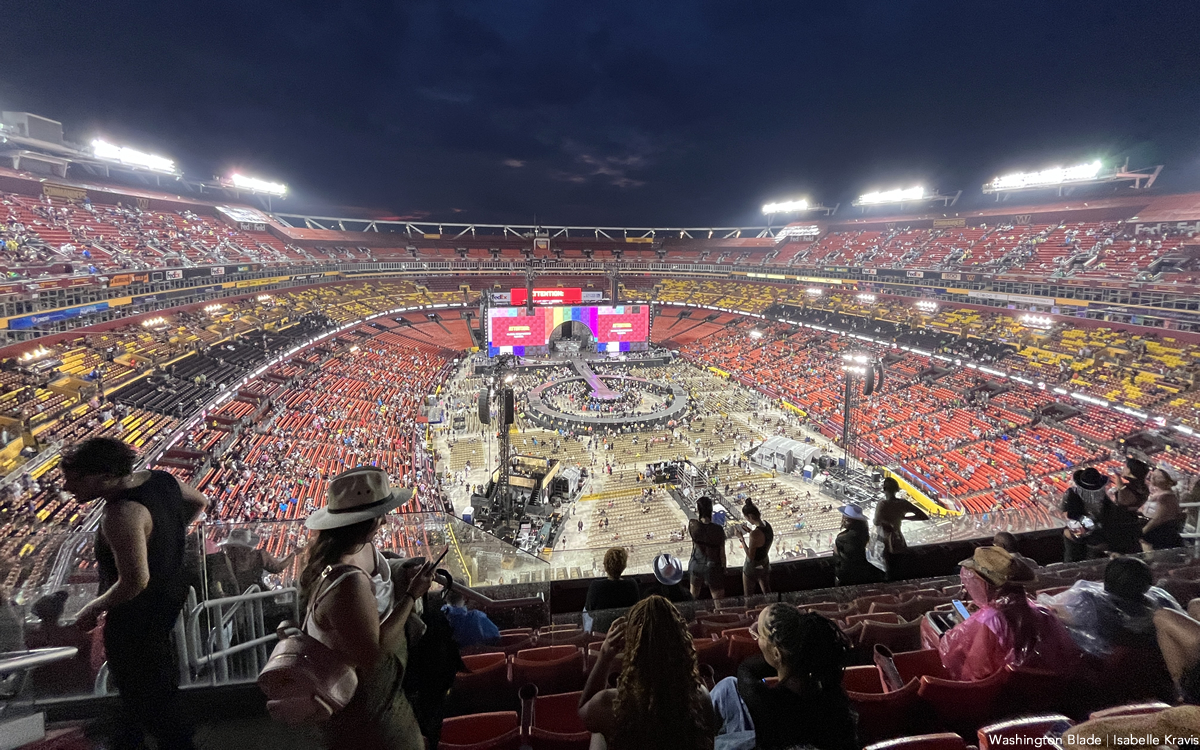 Beyoncé finally came on at 10 p.m. on the dot, and the entire stadium erupted.
Beyoncé is one of few artists that can open for herself, and she did. The opening act of the show was equivalent to a church service, featuring ballads such as "Dangerously in Love," "1+1" and a tribute to Tina Turner with "River Deep, Mountain High." Hearing "Flaws and All" live was most definitely a religious experience.
The show then quickly takes a turn, as the stage turns into a movie screen broadcasting the most bizarre sci-fi short film you've ever seen and we transitioned into the "Renaissance" section of the show.
"I'm that Girl," "Alien Superstar" and "Cozy" are three powerhouse songs. The entire "Renaissance" album is a tribute to the Black and queer pioneers of House music, and the tour is an ardent celebration of that.
The "Renaissance" section of the show is a display of self-love, as Beyoncé sings lyrics like "I'm too classy for this world / Forever I'm that girl" with some of the best choreography I've seen at a concert.
By the close of the section, the hours in the never-ending rain had hit the audience. About half of our section were checking weather updates or local news by the time Les Twins started their dance break.
We then moved into the "Motherboard" section of the concert. Featuring "Cuff It," "Energy" and "Break My Soul," this section was the most high-stakes. During "Energy," Bey commands the crowd to go mute, and not a single stop had yet to live up to the task. D.C.'s first night had done well, but night two did even better, possibly due to exhaustion.
The section ends with a sample of Madonna's "Vogue," in "Break My Soul (Queen's Remix)," paying homage to Black queens of music like Nina Simone, Janet Jackson, Diana Ross and more.
It was at this point in the concert that the crowd was tired. Myself and maybe 10 other people were the only ones left standing to do the choreography for the "Opulence" section.
"Opulence" pays attention to Bey's anthems of Black women's empowerment. The section kicks off with "Formation," and goes through songs like "Diva" and "Run the World (Girls)". The most anticipated song of the night "My Power" did not disappoint as Blue Ivy Carter rose from the stage to do her viral choreography with her mom. Her dance break was cut short, however, likely a casualty of the rain.
We then moved on to "Anointed," which arguably took the biggest hit because of the rain. Typically, during this section, Bey does a total of six songs, but it was cut to four. I'm still mourning the chance to scream-sing "Love on Top."
Next comes "Anointed Pt. 2," my favorite section. Not only does Beyoncé wear the most stunning bodysuit, the section contains my favorite songs from "Renaissance," "Move" and "Virgo's Groove." It did not disappoint. Being able to shout "Uncle Johnny made my dress / that cheap Spandex she looks a mess" is a right of passage for any member of the hive. 
The show closes with the "Mind Control" section, which made headlines when Bey first stepped out in her now-iconic bee costume. By this point, the stadium was a quarter empty, as people either gave up on standing in the rain or wanted to beat traffic. This did not stop Beyoncé or her dancers from going all-out during the ballroom section, as ChaCha Balenciaga wiped the floor during their solo.
The final act, "Summer Renaissance," is simply stunning. Bey flies over the crowd in a shining silver dress as she thanks us and her crew. The moment was dampened, however, by the amount of people running to leave the stadium. You could barely hear her over the frantic footsteps of people running to make it out before traffic or to catch the metro.
This brings up a key problem with FedEx Field. It's completely inaccessible for events of this size. Beyoncé graciously paid $100,000 to keep the Metro open until 1 a.m., but that was only half an hour after the show ended. 
We had reserved an Uber to pick us up at 1 a.m. at an apartment complex a 15-minute walk from the stadium. After waiting for half an hour, our driver called to let us know that Uber was trying to cancel our ride because there was so much traffic, and that we'd have to meet him at the gas station a mile away because he couldn't go anywhere. Meanwhile, there is absolutely no cell service in the area surrounding FedEx, so communicating with him via the app was near impossible.
We made it back to our apartment at about 2:30 a.m., two hours after the concert ended.
All of this to say, the Renaissance World Tour is still the concert of a lifetime, and shouldn't be missed. But next time Beyoncé wants to come to the DMV, let's hope she hits Baltimore, or you'll catch me on the train to MetLife again.