March 26, 2018 at 2:49 pm EDT | by Lou Chibbaro Jr.
Sex trafficking bill prompts Craigslist to drop personal ads
The U.S. Senate last week voted 97-2 to approve an anti-sex trafficking bill that would subject websites to criminal prosecution and civil litigation if they accept advertising, knowingly or unknowingly, linked to both coerced sex-trafficking as well as sex work engaged in by consenting adults.
The Senate's lopsided passage of the bill, the Fight Online Sex Trafficking Act, or FOSTA, came one month after the House passed an identical version of the measure. The White House has said President Trump will sign the bill.
The Senate's action assuring the bill would become law prompted Craigslist to immediately drop its personals ads, including its widely read "men seeking men" personals site. It cited potentially harmful legal fallout from the FOSTA bill as its reason for doing so.
"U.S. Congress just passed HR 1865, 'FOSTA,' seeking to subject websites to criminal and civil liability when third parties (users) misuse online personals unlawfully," Craigslist states in a message posted on its site.
"Any tool or service can be misused," the message says. "We can't take such risk without jeopardizing all our other services, so we are regretfully taking Craigslist personals offline. Hopefully we can bring them back some day," says its message.
"To the millions of spouses, partners, and couples who met through Craigslist, we wish you every happiness!" Craigslist says in its message.
The action by Craigslist raised questions about whether other online sites that include sexually oriented content, including sex or dating hook-up sites like the gay site Grindr, would follow Craigslist and shut down their sites.
Grindr did not respond to a Washington Blade inquiry seeking Grindr's thoughts on the FOSTA bill and how it might impact its operations.
The popular Reddit site, which includes links and postings by its members on a wide range of subjects, shut down its sex work "subreddits" sections, according to the Free Speech Coalition.
Several advocacy organizations representing Internet service providers and civil liberties groups, including the ACLU, expressed strong opposition to the FOSTA bill prior to the votes by the House and Senate to approve it.
They argued that the legislation would be a threat to free speech and limit the free flow of content on the Internet. Opponents say existing federal law already allows state and federal prosecutors to go after criminal activity on the Internet such as sex trafficking and that the FOSTA bill would hinder rather than help in efforts to crack down on trafficking.
They also expressed concern that the bill's provision amending the 1996 Communications Decency Act, which has exempted website operators from liability for third party content in which the website has no involvement, could result in widespread censorship and curtail the growth of online commerce.
That 1996 law has been credited with enabling the Internet to grow and flourish without excessive restrictions that could have prevented its exponential growth over the past 20 years.
Supporters of the bill, however, have argued that FOSTA is needed to remove what they say has been uncertainty over whether prosecutors have legal authority to go after the growing use of online sites by criminals to promote sex trafficking. Supporters point to court rulings that prevented prosecutors from pursuing websites linked to trafficking on grounds that the Communications Decency Act would not allow them to penalize the sites.
"The bill amends the federal criminal code to specify that the violation for benefiting from 'participation in a venture' engaged in sex trafficking of children, or sex trafficking by force, fraud, or coercion, including knowingly assisting, supporting, or facilitation of the violation," according to a report on the bill released by the Senate Committee on Commerce, Science, and Transportation, which worked on the bill.
The committee report says the bill also gives state attorneys general authority to bring a civil action in federal court against an Internet operator found to have "knowingly" participated in sex trafficking or that aided or abetted sex trafficking.
Many of the bill's supporters, including senators and House members supportive of LGBT rights, have cited an investigation by the Senate committee into the website Backpage.com and its alleged complicity in accepting sex trafficking ads as their reason for supporting FOSTA.
Backpage had become known as a site where sex workers advertised their services. Sex worker advocacy groups have said the overwhelming majority of the ads were for sex between consenting adults, which enabled sex workers to operate safely at indoor locations and avoid having to ply their trade on the streets.
But Senate investigators reported finding that some Backpage employees coached people involved in sex trafficking of both adults and minors how to write their ads to avoid suspicion that they were engaging in sex trafficking. A number of senators monitoring the investigation said the findings show that websites such as Backpage put profits from the sale of their ads ahead of the dangers and harm brought about by sex trafficking.
Backpage denied it did such things and insisted it had been working with authorities to identity any sex trafficking operators attempting to use its site.
In a joint statement released on the day the Senate passed FOSTA, Sen. John Thune (R-S.D.), who chairs the committee and Sen. Bill Nelson (D-Fla.) the ranking Democrat on the committee, expressed their strong support for the bill.
"We simply cannot sit idly by any longer while websites aid and abet child sex traffickers," Nelson said. "The cost of further inaction is far too high."
Thune thanked the many witnesses that testified in favor of the bill by telling their stories about being victimized by sex trafficking. "Today's vote pushes back against the growth of illegal sex trafficking on the Internet," he said.
A coalition of civil liberties groups, including the ACLU, voiced their opposition to FOSTA and the House version of the bill, the Stop Enabling Sex Traffickers Act, or SESTA, in an Aug. 4, 2017 letter.
"We appreciate and support the bill sponsors' deep commitment to fighting human trafficking," the letter states. "But the approach of SESTA, to create substantial new federal and state criminal and civil liability for the Internet intermediaries that host third-party speech, will lead to increased censorship across the web and will discourage proactive efforts by intermediaries to identify and remove trafficking material from their services," the letter says.
In a separate letter it sent to senators on March 19, shortly before the Senate voted on the FOSTA bill, the Human Rights Campaign expressed concern that the bill would have a negative impact on "the most marginalized members of the LGBTQ community, including members of the transgender community and people of color."
The letter, written by David Stacy, HRC's government affairs director, says many of the websites likely to be targeted under the FOSTA and SESTA legislation "serve as a critical tool for distributing comprehensive health and safety information, such as HIV prevention and treatment information as well as access to community support services."
Stacy adds in the letter that, "As written, both bills in their current form are likely to compromise both anti-trafficking efforts and harm reduction goals."
"The Human Rights Campaign has long supported efforts to combat sex trafficking, including the Violence Against Women Reauthorization Act of 2013, which enhanced the federal government's authority to address this problem," the letter says.
Mike Stabile, a spokesperson for the Free Speech Coalition, a California-based group that represents the adult film industry, said the FOSTA bill approved by Congress could have a profound impact on LGBT websites involved in dating or hookups.
"We are expecting a widespread crackdown on all sorts of sex spaces, from dating sites to webcams," he said. "The law does not differentiate between consensual sex work and sex trafficking, and creates major liabilities for any online platform, from an escort site to Twitter, where people interact directly," Stabile said.
Asked if he thought sites like Grindr could be held legally liable under the legislation, he said the Free Speech Coalition believes they can.
"Under FOSTA, dating sites and apps would be legally liable if someone were to use the site in a way that's construed as sex trafficking," he said. "This law was written so broadly and poorly that we expect that we'll see the widespread closure of any forum that could potentially be used in a trafficking case."
Stabile said he's certain that civil liberties advocates will challenge the law's constitutionality in court, but that will take a while to happen and in the meantime many sites will likely censor anything that hints of commercial sex regardless of whether it's between consenting adults.
Lou Chibbaro Jr. has reported on the LGBT civil rights movement and the LGBT community for more than 30 years, beginning as a freelance writer and later as a staff reporter and currently as Senior News Reporter for the Washington Blade. He has chronicled LGBT-related developments as they have touched on a wide range of social, religious, and governmental institutions, including the White House, Congress, the U.S. Supreme Court, the military, local and national law enforcement agencies and the Catholic Church. Chibbaro has reported on LGBT issues and LGBT participation in local and national elections since 1976. He has covered the AIDS epidemic since it first surfaced in the early 1980s. Follow Lou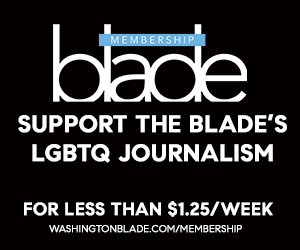 Sign Up for Blade eBlasts