'Top and Bottom' playwright tackles bondage, kink in Rainbow production
Gay-themed comedy runs through April 29 at D.C. Arts Center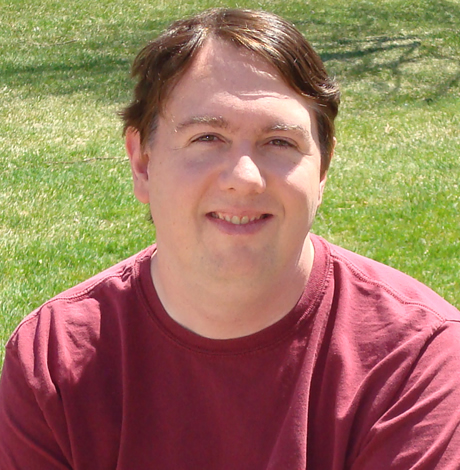 'Top and Bottom'

Through April 29

District of Columbia Arts Center

2438 18th St., N.W.

$35
After successful runs in L.A., Provincetown and New York, out playwright Kevin Michael West's gay comedy "Top and Bottom" has come to D.C.
Now at the LGBT-centric Rainbow Theatre Project in a full production directed by Christopher Janson and featuring actors Dmitri Gann and Ryan Townsend, the provocatively titled two-hander asks audiences to imagine an awkward nerd as a gay dominant leather top and see where that leads.
WASHINGTON BLADE: What inspired you to write "Top and Bottom"?
KEVIN MICHAEL WEST: As a playwright, I'm always on the lookout for an interesting premise that involves two people in a room trying to figure something out. It makes good theater. When I was much younger, long before I met my husband, I met a guy and went to his place. When we got there he wanted me to tie him up. I wasn't really into it and I was really bad at it. It was really funny. As a playwright I thought I should recreate it as a play, so I wrote a more comically extreme version of the experience. But the first draft wasn't really working. The top character didn't really care. So maybe we should raise the stakes? He wants to be good, but wasn't. And that's where the play came alive.
BLADE: Was any further research involved?
WEST: I did some poking around online, and I placed an ad on Craigslist looking for gay guys into bondage and S&M. I explained it wasn't about meeting up, and that I just wanted to talk on the phone about their interest in kink for a project I was doing. I talked to a couple of tops and bottoms. I didn't know a lot about that world. One of the bottoms called from a Starbucks and he was talking quite openly and audibly, explaining how he liked to be spanked and tied up, utterly without any self-consciousness at all. It was very new to someone like me who grew up in repressed Catholic household, so I made it part of the character. The play goes into the psychology of the encounter. Part of the irony is that you'd expect the top to be the vocally dominant, experienced one and the bottom to be more insecure and ambivalent. But it's actually the other way around. The bottom is the boss where he works and the top is more of corporate drone.
BLADE: I suppose I must ask. Are you a top or bottom?
WEST: That would be very boring to your readers, I'm sure.
BLADE: Well then, I'll ask are you more screenwriter or playwright?
WEST: I'm half and half. After attending Emerson College in Boston where I got my BFA, I lived in L.A. for 10 years.  There I got an MFA from the University of Southern California Film School and pursued screenwriting. But it seems it's the plays that really get produced. Ideally, I'd like to have a David Mamet-type career where I do plays and screenplays.
BLADE: And how did you become connected with Rainbow Theatre Project?
WEST: My LGBT-themed play about DOMA (the defense of marriage act), "The DOMA Diaries," had a successful run in the Capital Fringe Festival in the summer of 2016.  That December, the production was remounted by Rainbow Theatre Project. After success of that production I submitted a couple scripts, one of which was "Top and Bottom."
BLADE: What's "Top and Bottom" about exactly?
WEST: In the play, a cute gay twink named Tommy responds to a personals ad and hooks up with James, an insecure, socially awkward bondage top. They meet in a hotel room to explore a role-play fantasy where Tommy will be the submissive slave and James will play the dominant leather master. James' insecurities and inexperience makes him a hilariously inadequate bondage master. As the attempt to make their fantasy work, their initial defenses come down and they get to know each other simply as people. By the end of the play, the two strangers have formed a special bond.
BLADE: Why see "Top and Bottom" now?
WEST: For the interesting characters and the play's broad appeal. I had assumed that it would only appeal to gay men, particularly those interested in alternative sexual themes, but the play has been embraced by many audiences, both gay and straight, kinky and vanilla, male and female. In the end, we all want to be loved for the people we are, and that's a message with a universal resonance.
Gay actor went after role in 'Angels in America' like a bloodhound
Nick Westrate on the importance of remembering AIDS in the '80s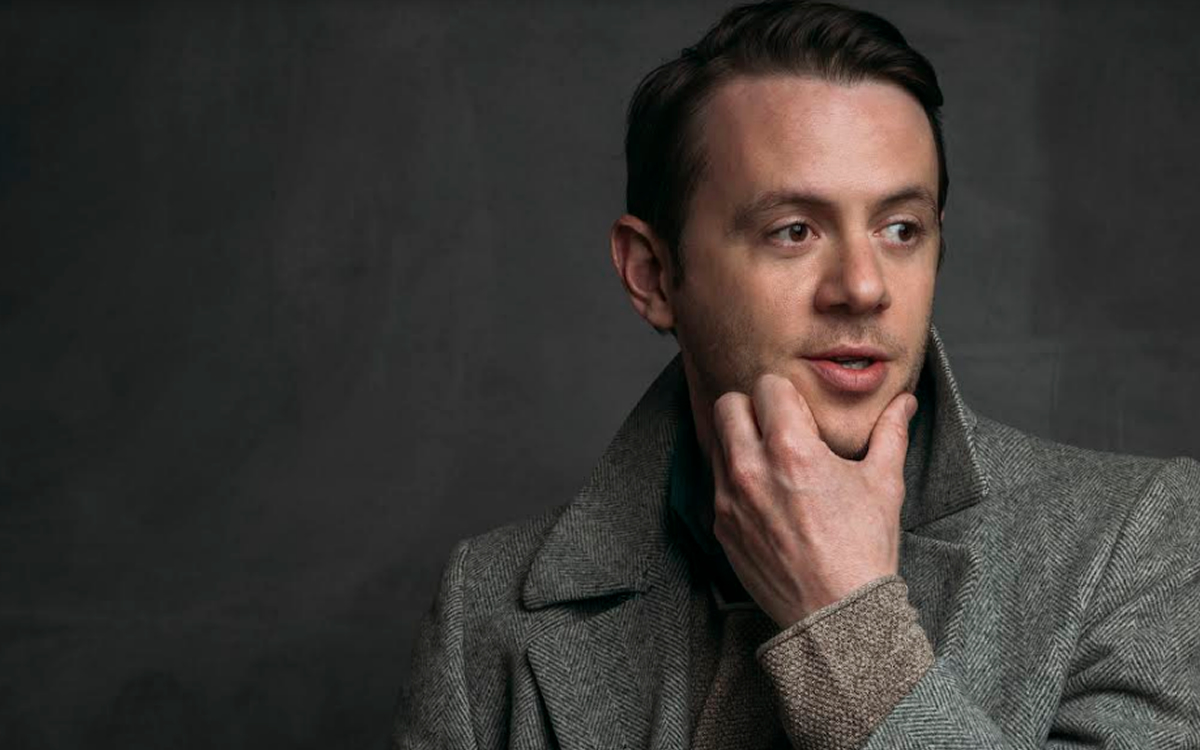 'Angels in America, Part One: Millennium Approaches'
Through April 23
Arena Stage
1101 Sixth St., S.W.
$56– $95
Arenastage.org
By playing Prior Walter in Tony Kushner's "Angels in America, Part One: Millennium Approaches" at Arena Stage, New York actor Nick Westrate is hitting a professional milestone. The part of Prior, a young gay New Yorker besieged by AIDS and abandonment, is a role he's long wanted to do, and almost did several times, but somehow it never worked out until now with Arena's staged-in-the-round production helmed by Hungarian director János Szász. 
Set in mid-80s New York City, the 1993 Pulitzer and Tony and Pulitzer-winning epic is an American tragedy tempered by humor. After Prior is diagnosed with AIDS, his partner Louis leaves him for Joe, an ex-Mormon conservative whose wife Harper is having a Valium-fueled nervous breakdown. Thrown into the mix are – among others—loathsome lawyer Roy Cohn (a vicious, closeted conservative who died of AIDS in 1986), the ghost of Ethel Rosenberg, and an angel who appears to Prior and decrees his role as a prophet, a mantle Prior struggles with donning.
For the out actor, saying the playwright's words is both a thrill and responsibility: "Tony Kushner is the most remarkable living playwright we have. His words are poetry, and he makes poetry practical and the political personal. He's second to none in that way."
Westrate grew up on a Christmas tree farm in southern Michigan. At 17, he left his home state for New York to study acting at the Juilliard School. After a busy but rough start, an eclectic and successful career ensued.
His ample stage credits include originating roles for Harvey Fierstein's "Casa Valentina" and Theresa Rebeck's comedy "Bernhardt/Hamlet." He toured in "The King's Speech" as Bertie (the monarch who overcame a debilitating stutter to inspire a nation), played feckless young Leo in Ivo van Hove's "The Little Foxes" and the depressed Donald in the 2010 off-Broadway revival of "The Boys in the Band." On television, he was Robert Townsend for three seasons on AMC's "Turn: Washington's Spies," and on film, he starred in William Sullivan's "American Insurrection."
When asked how the part of Prior came to him, Westrate replies without hesitation, "I sought after it like a bloodhound." Short version is Westrate heard Szász was doing "Angels" at Arena. He liked his work but didn't know how to contact him, so he reached out to an Eastern European contact who put them in touch. They met in New York in October and hit it off. After a few hours of reading sections of the play together, director and actor decided to join forces.
"It was a fit, and I knew that Arena had the resources and integrity to do it well," he adds.
WASHINGTON BLADE: You're too young to remember the early days of AIDS. How do you tap into the terror?
NICK WESTRATE: A lot of reading, things like Randy Shilts' "And the Band Played On" and Paul Monette's great memoir "Borrowed Time." And the more you learn about people and how cases of the virus ravaged their bodies, the more terrifying it becomes. You can only take in so much at a time and luckily, I've had a long runway to prepare for this.
Terror is also knowing the joy and liberation before the fall. How free gay life was becoming and how much fun everyone was having. If this had never happened, we'd be so much further along. We would have discovered 400 genders by now and wouldn't have Ron DeSantis braying about it. AIDS was such a huge missile into the soul of our community.
BLADE: And the physicality of the role? Prior becomes increasingly ill throughout the play.
WESTRATE: A lot of things. Again, there's reading including media material and actual accounts – there's a great book called "From A Burning House," a nonliterary compilation of short letters from people living with the virus. There's artistic preparation involving the movement director and costume and wig and makeup designers as well, and figuring out how to express all that.
Also, I lost 30 pounds to play the part. Because of the long run up to the play, I was able to do it gradually.
BLADE: Tell us about the cast.
WESTRATE: Half the cast are queer people. It's so amazing to do this play with gay people — the references and understanding is there. You don't have to apologize; the kissing isn't weird. There's an almost immediate intimacy of doing this play together that's very beautiful.
I've worked with straight actors in gay plays who've asked "OK, why Judy Garland?" Or they tell me how they've researched to be gay. It's borderline offensive. But when you're with gorgeous queer people it just happens so naturally so easily. [Castmates] Billie Krishawn, Justin Weaks, Michael Kevin Darnall and I have such a shorthand with each other. We have a text chain and send it each other weird GIFs. It's a lot of fun.
BLADE: You had an auspicious meeting with János Szász in October. How's working with him?
WESTRATE: He's a marvel. Not only does he direct without an agenda but he brings a unique perspective: János was driven out of Hungary by fascist leader Viktor Orbán for being Jewish and leftist. He and his wife and children are refugees in this country. An interesting viewpoint, especially at this time when refugees are streaming across borders in Europe, America, the Middle East, and Africa.
BLADE: In this moment of trans and drag persecution do you think about that?
WESTRATE: All the time. Prior and Belize [Prior's best friend played by Justin Weaks] are former drag queens.
BLADE: Talk about the sand.
WESTRATE: Yes, there's a lot of sand [28,000 pounds of sand to fill a 30-foot diameter circle at six inches deep]. János was very moved and inspired by footage from "How to Survive a Plague" that shows people throwing the ashes of loved ones over the fence and on to the White House lawn. It's important for János that we're doing this play in the ashes of the dead.
BLADE: For some gay theatergoers "Angels" is a tough show. They're hesitant to revisit that time.
WESTRATE: I understand if you don't want to see it on a specific day but gird your loins and put on your grownup panties and come to the theater, it needs to be witnessed and attention must be paid.
The crisis filled the tanks of the bigoted and the hateful and shifted us politically and personally in ways we still can't fathom. And that's why it's so important why we're doing this play and keep doing this play and never stop talking about it.
I have my aunts (gay men who've survived the crisis) coming to see the show, and I'm here for those who aren't here. I get emotional just talking about it. It's a huge responsibility that none of us are taking lightly.
BLADE: It's timely?
WESTRATE: Not long ago we had a president who was barking "bring me my Roy Cohn." Looking around America, you might wonder how the fuck did we get here. Why are we persecuting our most vulnerable people? Why are so many so greedy, specious, and blind? Come see this play. This is where so much of it started.
BLADE: Clearly it means a lot to you.
WESTRATE: I've loved the play since I started to love plays. And I've seen many productions: the most recent Broadway version, Michael Greif's on Broadway, Ivo van Hove's at BAM. Mike Nichols' film. Doing a full production is very important to me.
I've worked with a lot of the great gay writers like Mart Crowley and Harvey Fierstein and Edmund White and now my friend Tony Kushner. It's meaningful for me to do these pieces from not only the American theatrical canon but also the gay canon.
BLADE: Thanks for taking time.
WESTRATE: Nothing makes me happier than talking about this play and this production.
New play explores bringing a partner home to meet traditional Indian parents
Olney's 'A Nice Indian Boy' contains multiple surprises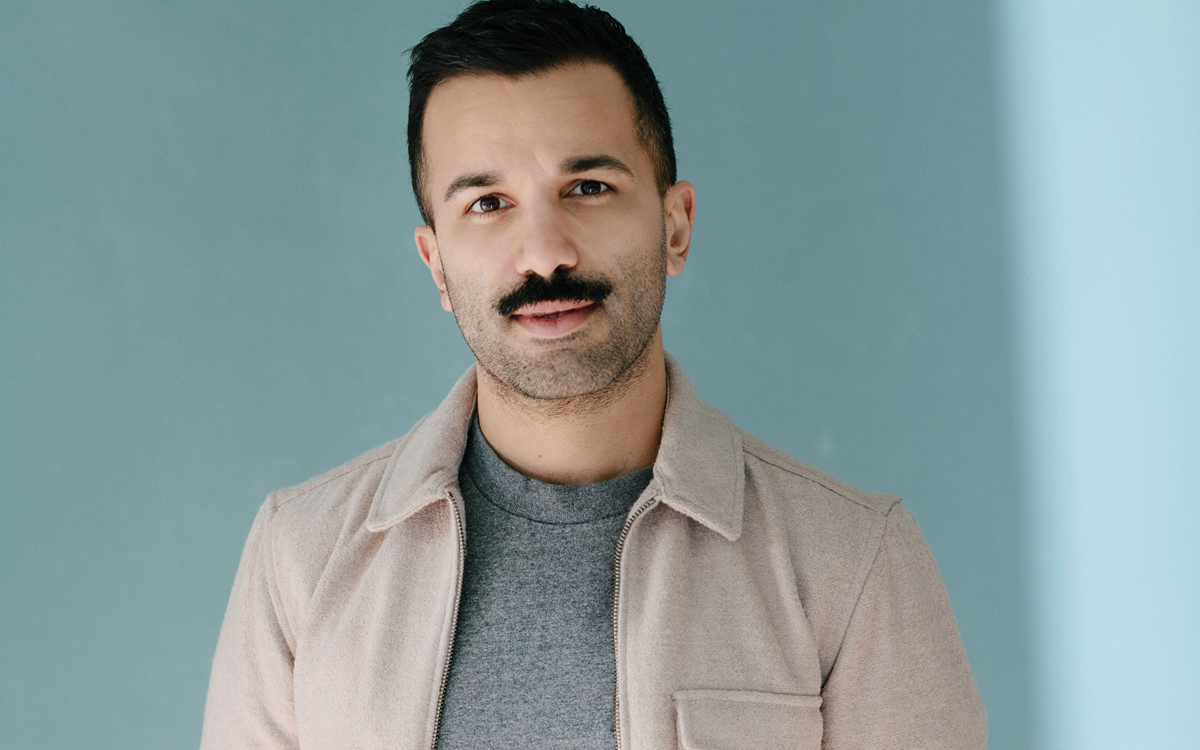 'A Nice Indian Boy'
Through April 9
Olney Theatre Center
2001 Olney-Sandy Spring Road, Olney, MD 20832
$54 -$79
Olneytheatre.org
Zi Alikhan is queer, first-generation South Asian-American, and culturally Muslim. He's also an accomplished rising director whose background lends a unique insight into his latest gig, staging Madhuri Shekar's "A Nice Indian Boy," currently playing at Olney Theatre Center.
"I've never worked on anything that's felt more personal," says Alikhan, who turns 36 next week. "It's a tender, funny, layered story about Naveen, a queer first generation South Asian American who for the first time is bringing a partner home to meet his traditional Indian parents who live in the Bay Area. It's also about what that means inside the culture and the community."
Like Naveen (Carol Mazhuvancheril), the boyfriend Keshav (Noah Israel) is a Marathi-speaking Hindu conversant with Indian culture. If Naveen's parents were ever going to accept a boyfriend for their son, he'd be the one. But there's a glitch. Keshav is white, the adopted son of an Indian family. And his whiteness isn't the play's only surprise.
As director, Alikhan took a large role in casting the production. He recalls how Carol and Noah walked in the audition room "wearing these characters like their own clothes," adding that "they're funny, anxious, knocked over by love, when they're meant to feel those ways. There's a close proximity between the spirits of the characters and the actors playing them."
During rehearsals, he was thrilled to enter a room filled with Indian actors who are Hindu, Muslim, Jain, Catholic, and Christian and together spoke four of India's almost 300 spoken languages, proving the notion that a monolithic India is patently absurd.
Coming into the project as both friend and collaborator with playwright Madhuri Shaker, he felt an odd sense of homecoming. He says, "The conversations of queer identity that feel lifted from my own life. And conversations about the constant work that goes into understanding my parents and them understanding me, written with an extremely effortless, light touch in the way that only Madhuri can do, all felt familiar too."
Growing up in the suburbs of Sacramento, young Alikhan was told he could go to college for anything he wanted except theater. Not an unusual stance for most immigrant parents, he says. An order he obeyed until he no longer could.
So, he studied sociology for two years at UC Berkely and did summer stock during breaks. No longer able to resist his true calling, he transferred to New York University and earned a degree in Musical Theatre Performance. But the years following graduation were tough: "I'm 5'7" and queer and brown. It was hard to be in an industry that didn't know what to do with me."
Frustrated and eager to work, Alikhan transitioned from actor to director largely to carve out a space for himself and other creatives like him. Now he counts "being able to create safe and generative space for people who might otherwise not be able to find it inside larger institutions" as his favorite part of the job.
Now it's not unusual for the New York-based director to find himself working in 100-year-old, established theaters where he's the first South Asian American who's ever directed in its history. His presence alone assists in creating an inviting space for community that hasn't historically seen themselves as part of that theater's history.
Surprising to some, the relatively young, brown director's dream projects lie in the American canon, especially Rodgers and Hammerstein whose midcentury works ask and redefine what it means to be an American. He enjoys looking at plays from the past and reframing them around those who were there but never allowed to be in the center of the story, and making those works feel very new without changing a line.
He adds, "Creatives of color in the theater community will agree there are many unconscious ways that we've been told our stories and families don't belong and if we do it's only in a very specific way. That's changing a lot."
And have the parents come around? He says they have. In the fall of 2022, he took them to the opening night of "Sanctuary City," an important work about refugees that he directed for the esteemed Pasadena Playhouse in California.
"They'd come to other things, but this was different: a special performance with step and repeat and media and hundreds of people. I think they got some comfort from that."
Spring theater in D.C. offers something old and new
Celebrate Gloria Steinem, revisit 'Angels in America'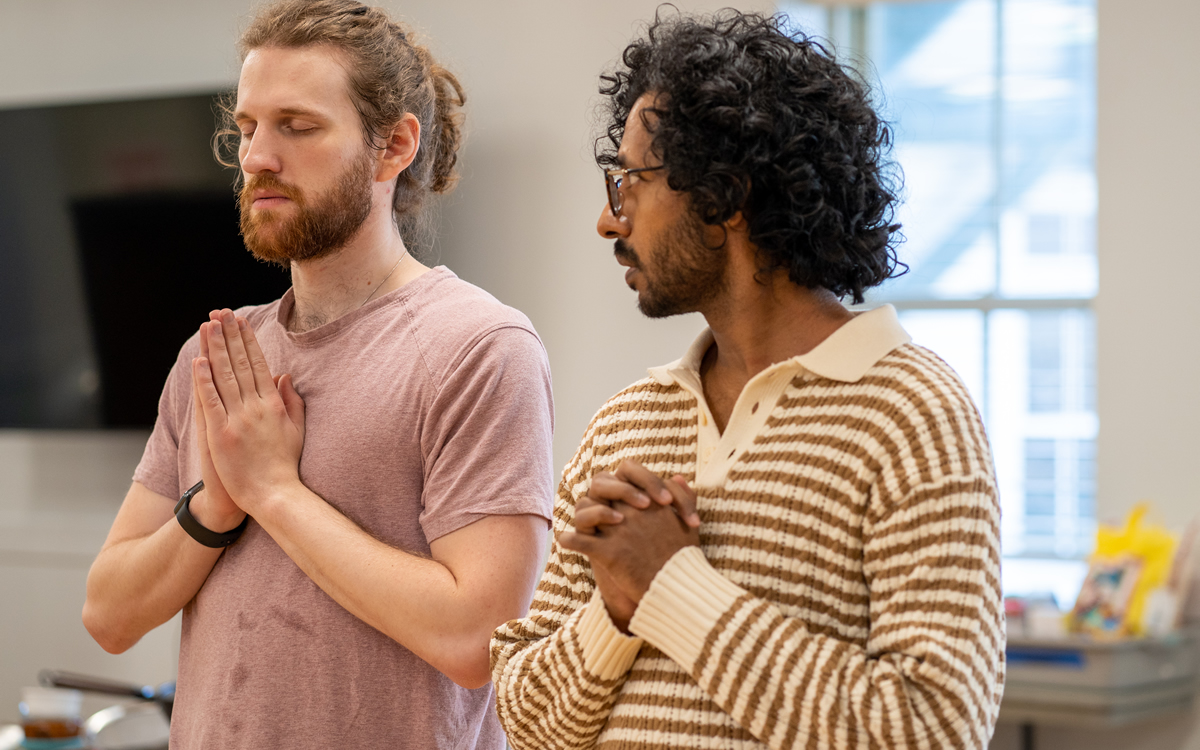 Though recent blooms might suggest otherwise, spring doesn't officially begin until late March. And with the upcoming season comes a showering of exciting theater, both new and some more familiar.
At Olney Theatre Center, out South Asian-American director, Zi Alikhan is staging Madhuri Shekar's "A Nice Indian Boy" (through April 9). In the touching, surprise-filled, intercultural comedy, Naveen, a gay South Asian-American meets Keshav, the Hindu boy of his dreams. But what might seem almost acceptable to Naveen's traditional parents is further complicated when they learn Keshav is a white boy adopted by Indian parents. Olneytheatre.org
Running through April 2 in Arlington is Synetic Theater's movement-based fantasy "Beauty and the Beast." Their version draws on the darkness and sensuality of the original French novel, "La Belle et la Bête," and the 1946 Cocteau film of the same name. Co-directed by Ben Cunis & Vato Tsikurishvili and choreographed by the insanely imaginative Irina Tsikurishvili. Synetictheater.org
At Theater J, Susan Lynskey is Gloria Steinem in Emily Mann's "Gloria: A Life" (through April 2), an exploration of the iconic feminist's brilliant legacy and the women who inspired her. In the first act, she tells her story, and the second invites the audience to share their own. Out director/actor Holly Twyford directs. Theatrej.org
Studio Theatre is moving into spring with Lynn Nottage's poignantly entertaining "Clyde's" (through April 9). It's the story of a small group of parolees working as line cooks who find redemption making sandwiches in a truck stop diner despite difficult circumstances and an abusive boss played by Dee Dee Batteast. The appealing workers are played by Quinn M. Johnson, Brandon Ocasio, Kashayna Johnson, and Lamont Thompson. Candis C. Jones directs. Studiotheatre.org
Signature Theatre in Arlington presents Stephen Sondheim's gorgeous and rarely produced "Pacific Overtures" (through April 9). Set in mid-19th century Japan, it's the compelling tale of an American expedition determined to open the then-isolated island to trade. Signature's associate artistic director Ethan Heard directs a largely Asian cast including Jason Ma, Johnny Lee Jr., and Eymard Menenes Cabling. Sigtheatre.org
At Shakespeare Theatre Company, it's artistic director Simon Godwin's hot ticket production of "King Lear" (through April 16) starring Patrick Page as the once revered head of arguably the Bard's most dysfunctional royal family (and that's saying a lot). Shakespearetheatre.org
At Ford's Theatre, Carrie Compere stars in "SHOUT SISTER SHOUT!" (March 15 – May 13). It's the musical bio of trailblazer Sister Rosetta Tharpe (1915-1973), the guitar playing, queer black woman who pioneered rock-and-roll in the 1940s. Before Elvis and Little Richard, there was Rosetta. Fords.org.
Written and directed by Awa Ogawa, "The Nosebleed" (March 31- April 23) is poised to make its regional premiere at Woolly Mammoth. Through a series of absurd autobiographical vignettes, Ogawa "delves into the sh*t show of parenthood, as both a parent and a child – and what it takes to forgive." Woollymammoth.net.
Over by the Wharf, Arena Stage presents Tony Kushner's truly awesome "Angels in America, Part One: Millennium Approaches" (March 21 – April 23). Talented out actor Nick Westrate plays prophetic protagonist Prior Walter, a smart gay New Yorker who contracts AIDS in the 1980s, before there was effective treatment. Other members of an exciting cast include Justin Weaks, Michael Kevin Darnall, and Susan Rome. Edward Gero plays the loathsome Roy Cohn. János Szász directs. Arenastage.org
Later this month, Round House Theatre brings back the National Capital New Play Festival, an annual event celebrating new work by some of the country's leading playwrights and newer voices. One of its two fully staged premiere productions is Morgan Gould's "Jennifer Who Is Leaving" (March 30 – May 7), a dark comedy inspired by both the playwright's sassy gay grandfather and a world of women caretakers. Roundhousetheatre.org
And at GALA Hispanic Theatre, out director José Zayas is staging Spanish playwright Alfredo Sanzol's "La "Valentía/ Valor" (April 20 – May 14). Performed in Spanish with English surtitles, this finely constructed comedy tells the story Trini and Guada, two sisters battling over whether to sell their beloved family summer home that sits next to a bustling highway. Galatheatre.org
For Broadway at the National Theatre, spring means more music. First up is "Jagged Little Pill" (March 14-26), a Tony Award winning play with music by Alanis Morissette and book by Diablo Cody. Then it's Lincoln Center's glorious production of Lerner & Loewe's beloved classic "My Fair Lady" (April 6-9), an instructive tale centering on Cockney flower girl Eliza Doolittle who's transformed into a proper posh lady by unfeeling linguistics professor Henry Higgins. The score includes standards like "I Could Have Danced All Night," "The Rain in Spain," "Wouldn't it be Loverly," and "On the Street Where You Live." Broadwayatthenational.com
At Atlas Performing Arts Center on H Street, N.E., Mosaic Theater is premiering Mona Mansour's "Unseen" (March 30 – April 23), the story of an American conflict photographer who wakes up in her ex-girlfriend's Istanbul apartment with no idea of how she got there. Kate Kleiger, Dina Soltan, and Emily Townley comprise the three-woman cast. Johanna Gruenhut directs. Mosaictheater.org
For two nights only, the Strathmore in North Bethesda presents "A Simple Space" (April 26 and 27). Here's the promo: "Witness seven acrobats pushed to their physical limits without reserve in a disarmingly intimate setting. Propelled by the driving sound of live percussion, this performance is simultaneously raw, frantic, and delicate." Strathmore.org
This spring at Lincoln Theatre, the Gay Men's Chorus of Washington D.C. pays tribute to two divas. First with "Whitney" (March 11 and12), a concert celebrating the best of Miss Houston's music. Songs include "I Wanna Dance With Somebody," "How Will I Know," "I Will Always Love You," and "The Greatest Love of All." And then it's "Dolly" (June 3 and 4), a salute to the music of living legend Dolly Parton, featuring an exciting selection of hits including "Here You Come Again," "Islands in the Stream," "Jolene," and "My Tennessee Mountain Home." Gmcw.org