National Cannabis Festival returns for 4/20 weekend
Annual concert/summit offers LGBT-inclusive education, music and more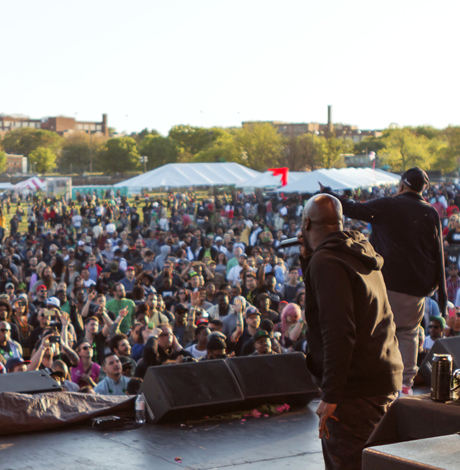 National Cannabis Festival

Saturday, April 21

Noon-8 p.m.

RFK Stadium

2400 E Capitol St., S.E.

$42-90
The National Cannabis Festival plans to bring music, education and good vibes to RFK Stadium with plenty of LGBT support.
The festival was the brainchild of Caroline Phillips who envisioned a cannabis event that was more affordable than the typical cannabis trade show. Phillips also wanted a space for people to learn about advocacy groups that have worked toward the legalization of cannabis nationwide for decades. In 2015, the inaugural National Cannabis Festival, founded and executive produced by Phillips, welcomed an estimated 5,000 attendees for its all-day event that included a concert from De La Soul.
This year marks the festival's third annual event, which is expected to bring in an estimated 10,000 attendees for music, games, contests, food and education sessions.
Legendary hip hop group Cypress Hill will headline the all-day concert, which will include performances from reggae artist See-I and newcomer Beau Young Prince. Local artists will also take the stage including go-go band Backyard Band, DJ Ayes Cold, indie-soul band Oh He Dead, Names and Marlee. Samy K and Reesa Renee will host the concert.
For attendees more interested in policy, the festival also hosts the National Cannabis Policy Summit on Friday, April 20 at the Newseum (555 Pennsylvania Ave., N.W.). There will be speakers and panels such as "All the Buzz: How Does Media Portrayal Impact the Future of Cannabis?," "The Exit Drug: Can Medical Cannabis End the Narcotics Epidemic?" and more. Registration is free.
Laila Makled was running the D.C. chapter of Women Grow, a women's business cannabis networking organization, when she was introduced to Phillips. Interested in further pursuing a career in cannabis advocacy, Makled came on board as co-chair of the National Cannabis Festival Advocacy Committee. Makled says that throughout the festival there will be speeches from activists and leaders including Congresswoman Eleanor Holmes Norton (D-District of Columbia), D.C. Council member At-Large Robert C. White Jr., Maryland Del. David Moon and Congresswoman Tulsi Gabbard (D-Hawaii).
For Makled, mixing education throughout the concert is an ideal way to let attendees have fun but still learn cannabis policy.
"We want those people who are just coming to chill, smoke and listen to music to come in and see that we have an education pavilion where we're having policy talks all day. We have an advocacy pavilion where they can go talk to the advocacy groups, sign up for email lists and get involved on a local level," Makled says. "With all of those things they really have no choice but to walk out with a little extra knowledge than they had before. It's ingrained into the festival."
The Weedmaps Educational Pavilion will give some of that knowledge with lessons on cannabis legalization and the cannabis industry. Guests can also peruse the Bulb Wellness Pavilion where they can speak with medical professionals, holistic medicine practitioners, yoga instructors, dispensary owners and more.
When attendees aren't learning about cannabis health, policy or listening to music, they can wander through the Exhibitor Fair, which features more than 70 exhibitors from around the United states. The D.C. Glass Gallery General Admission Lounge will have high-end pipes, accessories and activities throughout the day.
Guests can stop by the Hempworx Munchine Zone for snacks, beverages and free water. Other on-site activities will include lawn games, a photo booth and game zone.
The LGBT community will be well represented at the festival with LGBT-identifying speakers and LGBT-friendly vendors.
Statistically, the LGBT community has been more accepting of cannabis usage than heterosexuals. According to a 2014 study conducted by the Colorado Department of Public Health and Environment, 30 percent of LGBT Coloradans had consumed cannabis in the past month compared to 12.9 percent of heterosexuals. And 64.4 percent of LGBT respondents surveyed also said that they had consumed cannabis in their lifetime compared to 48.7 percent of straight respondents.
A study conducted by the General Social Survey also reports that in 2016, 80 percent of LGBT Americans supported the legalization of cannabis compared to 58 percent of heterosexuals.
Makled, who identifies as queer, says that for her the LGBT community and the cannabis community share a common stigma by society.
"I think there's a natural connection between the cannabis movement and the LGBTQ movement. I had come out at a very young age," Makled says. "I was 16. I realized I wanted to pursue a career in advocacy and business within cannabis. It was a whole other coming-out process. Because both the cultures have been living on the fringe of society and have been forced to celebrate behind closed doors. Not only are you having to come out saying, 'I'm gay' but also coming out saying, 'I support consuming and legalizing cannabis and criminal justice reform.'"
LGBT participants this year include D.C. Vote's Barbara Hemlick; Get Hemp Butter's Kyla Hill; Marijuana Policy Project's Kate Bell; Hemp Kettle Tea Company, a queer-owned indy tea company; Jenn Michelle Pedini from Virginia NORML; and Drug Policy Alliance's Queen Adesuyi.
Makled hopes that more widespread cannabis legalization and criminal reform will lead to people becoming more open about cannabis usage.
"I think like any group of people or culture there's a need and desire to celebrate that culture. That's exactly what the National Cannabis Festival is. It's the perfect intersection of culture, advocacy, arts and music. More people would come out of the green closet, which people compare coming out of the LGBTQ closest, to coming out of the cannabis closest. The more people are comfortable, the more people realize the medicinal and social benefits of cannabis, the more people will start to come out," Makled says.
PHOTOS: International LGBTQ Leaders Conference opening reception
Politicians and activists from around the world met and mingled at the JW Marriott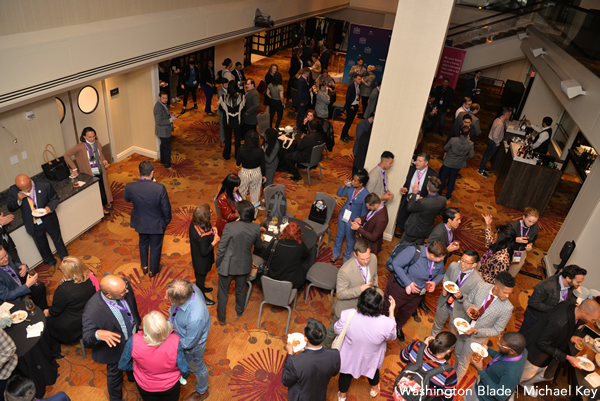 The LGBTQ Victory Institute held an opening reception for the 2021 International LGBTQ Leaders Conference at the JW Marriott on Thursday.
(Washington Blade photos by Michael Key)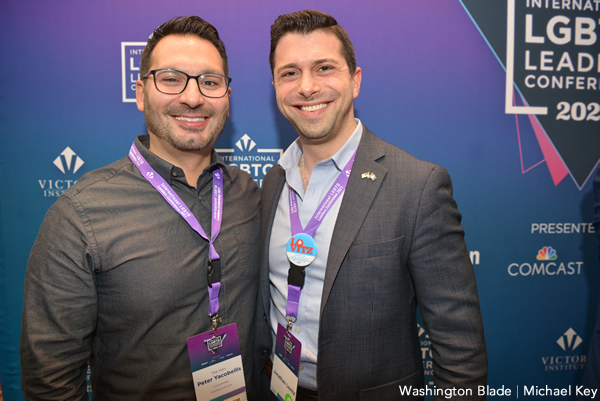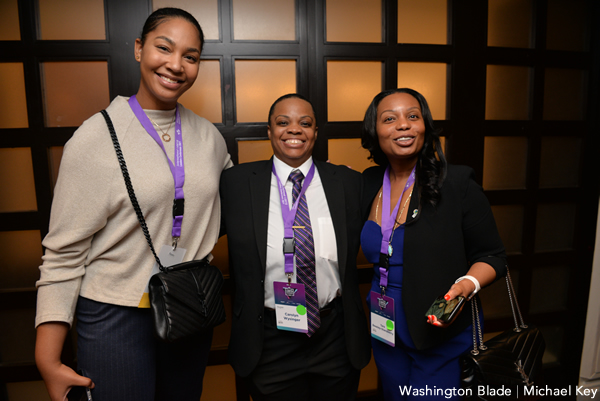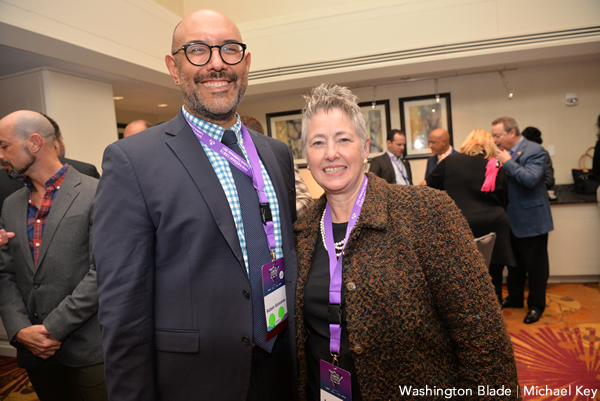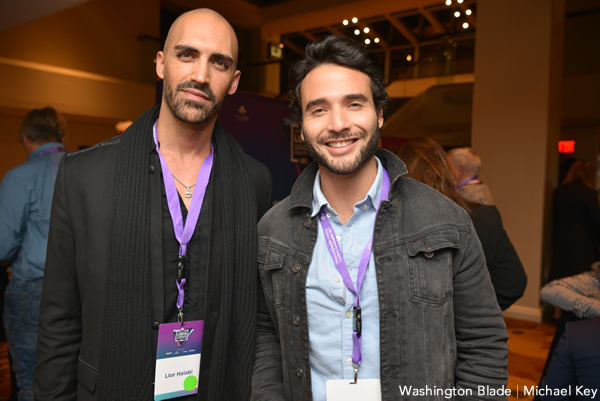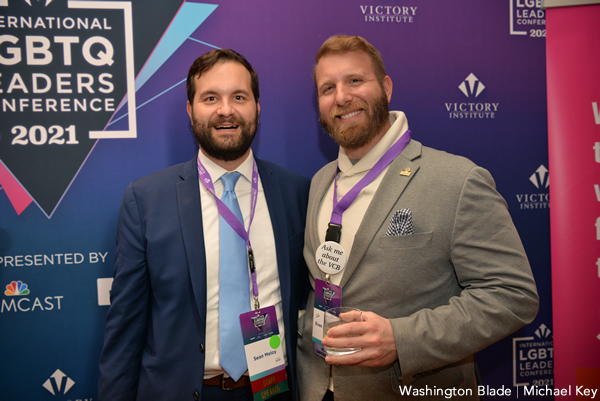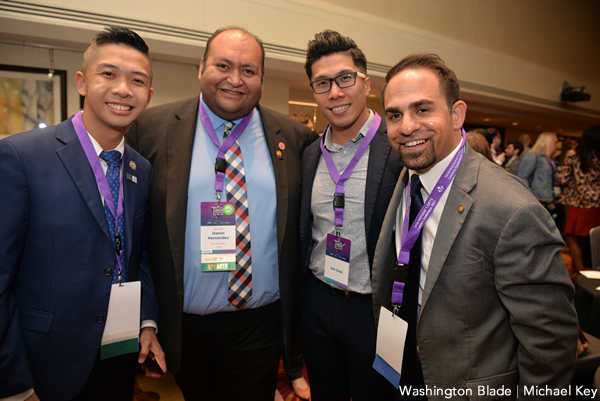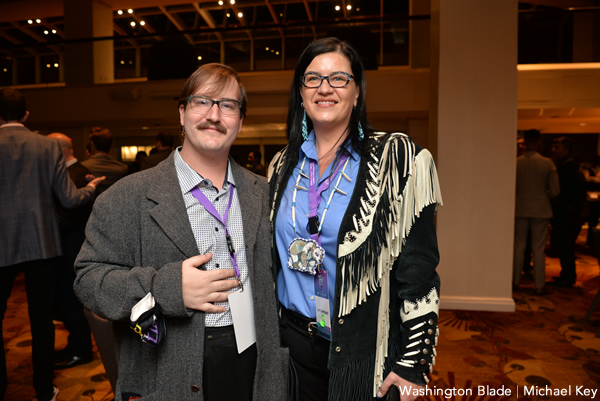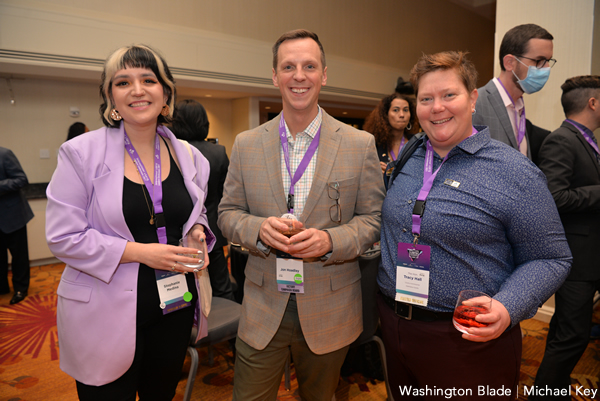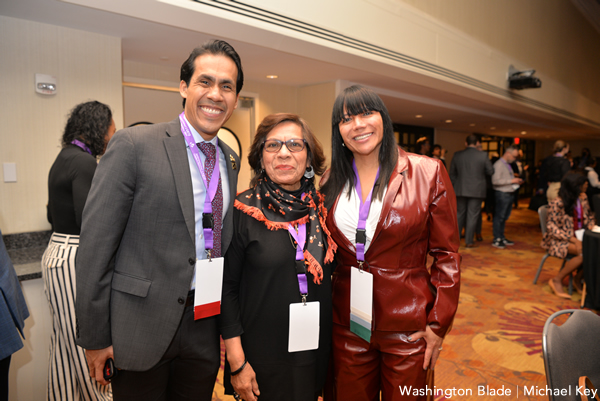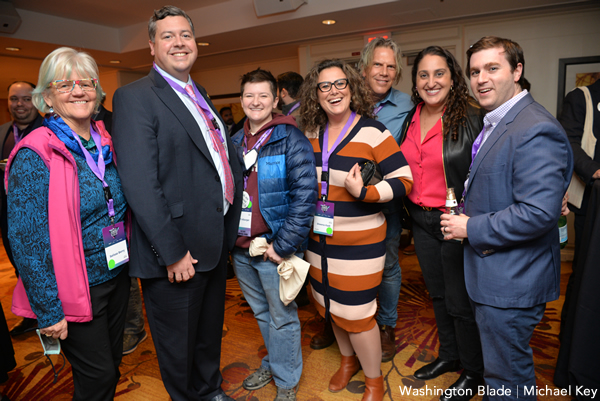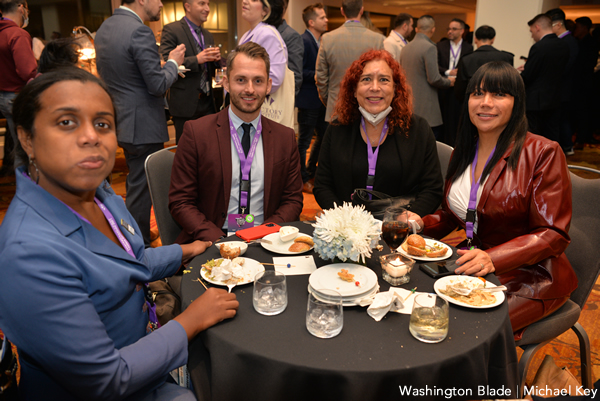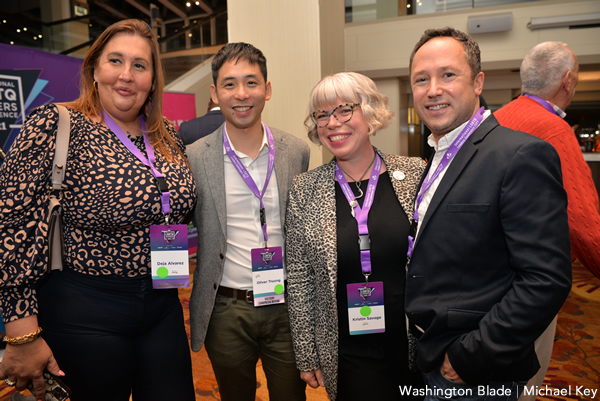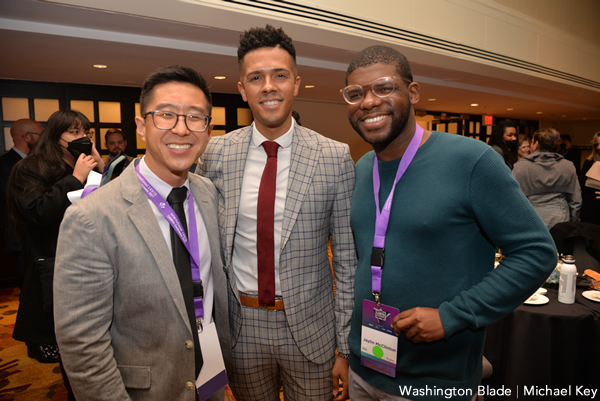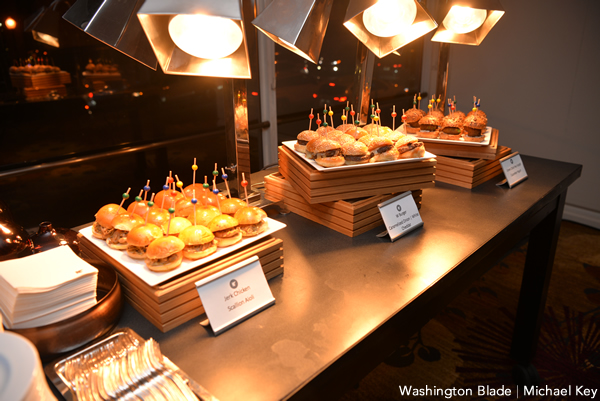 Meet the husbands and creative partners behind 'Christmas Angel'
A funny, redemptive world premiere with a diverse cast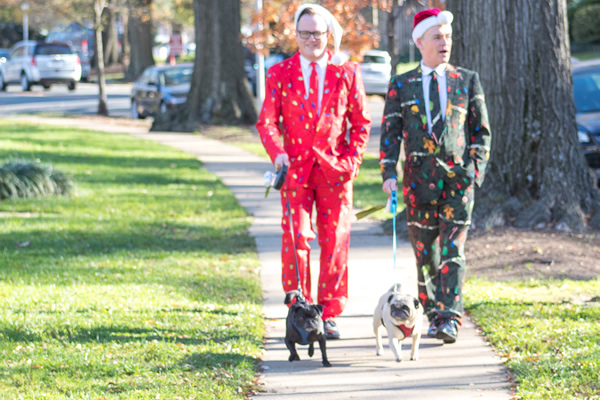 'The Christmas Angel'
Dec. 9-19
Creative Cauldron
410 South Maple Avenue
Falls Church, VA 22046
Tickets:  $35. Students $20.
Masks and proof of vaccination are required
creativecauldron.org
"Ours is like a lava lamp," says composer Matt Conner describing the collaborative creative process he shares with musical writing partner and husband Stephen Gregory Smith. "We move together in motion in a continual ebb and flow."
A couple for 23 years, married for eight, and making musicals together for 11, the talented pair's current offering is "The Christmas Angel," opening on Dec. 9 at Creative Cauldron in Fairfax.
A musical adaptation of the same-named 1910 novel by Abbie Farwell Brown, it's the story of Angelina Terry (Kanysha Williams), a wealthy embittered recluse who learns the lessons of Christmas from a box of old toys that she casts into the street. Also featured in the hour-long one-act are Ryan Sellers as Horton, Angelina's butler, and Carl Williams who plays her brother. The angel and toys are brought to life by an ensemble of a dozen teens plucked from the company's musical theater training program.
Via phone from their home in Arlington, Smith and Conner shared thoughts on their new show and working style. In attendance are pug dogs Edgar Allan Pug and Lord Byron, whom they call Eddie and Byron in public – otherwise "it's just too much," says Conner whose ultimate fantasy involves living on a pug farm where he'd write music and present the occasional show.
Rather than finish each other's sentences, the duo (both Helen Hayes Award winners – Smith for acting and Conner for directing) expound on one another's thoughts.
While Conner composes the music, Smith writes the book and lyrics, and together they co-direct. "But there's no end and beginning where my job ends and his begins," says Smith. "What we do complements each other's work."
Still, there are differences. Smith's approach is focused. He writes pages at night and edits in the morning. Conner's method is more relaxed, preferring to sit at the keyboard and talk rather than writing things down. But throughout the creative process, there's never a moment when the project isn't on their mind. They can be watching TV or buying milk when an exciting idea pops up, says Conner.
A clever nod to Dickens, the novel is more than just a female "Christmas Carol," says Smith. And in some spots, he's beefed up the 55-page book, fleshing out both storyline and characters including the toys whose shabby appearance belies a youthful confidence.
He adds, "Every holiday season you go to the attic and pull down the box, or boxes in my case, of holiday decorations and it's all old but it's new. That's the nostalgic feeling of toys from the attic that we're trying to find through the show."
The music is a combination of traditional carols performed by a hand bell chorus, and original Christmas songs that intentionally sound very familiar. The score includes songs "Don't Hide Your Light," "The Sweetest Gift," and "Yestermore" – the moment when the past, present, and future come together.
Also, there's Angelina's Bah! Humbug! number "Fiddlesticks," her great renunciation of the holidays. She believes the world a disappointing place to be, and the sooner realized the better.
Conner and Smith aren't new to Creative Cauldron. Through the company's Bold New Works project, the team was commissioned to write five world premiere musicals in just five years. The result was "The Turn of the Screw," "Monsters of the Villa Diodati," "Kaleidoscope," "Witch" and "On Air."
Judging from some of the titles and their slightly macabre content, it seems the duo was better poised to write for Halloween than Christmas, but nonetheless, they were commissioned. Creative Cauldron's producing director Laura Connors Hull brought them the obscure yet charming book that surprisingly had never before been reworked for stage or celluloid, and the pair got to work last spring.
Conner and Smith agree, "The show is a lot of things rolled up into one."
Not only is it a funny, redemptive world premiere with a diverse cast, but it's also a story largely unknown to today's audiences. Additionally, the show boasts intergenerational appeal while holding messages about Christmas, family, and finding light when you're in a darker place.
More information about Conner and Smith, including links to their music and popular podcast "The Conner & Smith Show," can be found on their terrific website at connersmithmusicals.com.
'Capote's Women' is catnip to older pop culture fans
Revisiting iconic author's seven 'swans'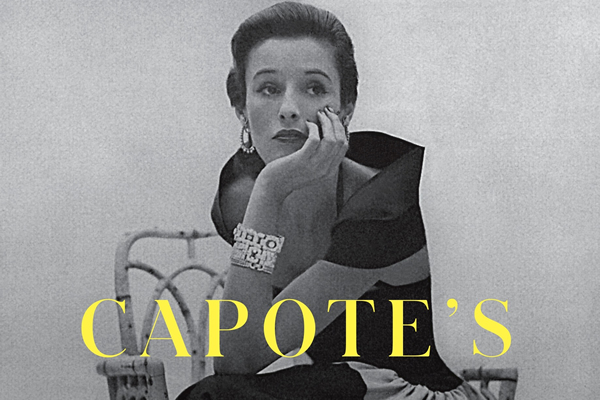 'Capote's Women'
By Laurence Leamer
C.2021, Putnam $28/356 pages
Her lips are locked tight.
Your best friend knows all your secrets, and she's keeping them; you told her things you had to tell somebody, and she's telling nobody. You always knew you could trust her; if you couldn't, she wouldn't be your BFF. But as in the new book "Capote's Women" by Laurence Leamer, what kind of a friend are you?
For months, Truman Capote had been promising a blockbuster.
Following his success with "Breakfast at Tiffany's" and "In Cold Blood," he was "one of the most famous authors in the world" but he needed a career-booster. The novel he was writing, he teased, would be about "his swans," seven wealthy, fashionable women who quite personified "beauty, taste, and manners."
His first swan was Barbara "Babe" Paley, whom he'd met on a trip with the David Selznicks to Jamaica. For Capote, "Babe was the epitome of class," simply "perfect" in every way; it helped that the famously gay writer was no threat to Paley's "madly jealous" husband.
Babe's "dearest friend" was Nancy "Slim" Keith, who quickly learned that if a lady wanted her confidences kept, she didn't tell Capote anything. She shouldn't have trusted Babe, either: When Slim left for a European trip, Babe asked if Slim's husband could accompany Babe's friend, Pamela Hayward, to a play.
Slim was aware of Pamela's predatory reputation, but what could she say?
Of course, Pamela, another of Truman's swans, stole Slim's man, a scandal that Capote loved.
Gloria Guinness was highly intelligent, possibly enough to be a spy in Nazi Germany. Lucy "C.Z." Guest was an upper-crust "elitist" with a "magical aura." Marella Agnelli "was born an Italian princess"; Lee Radziwill, of course, was Jacqueline Kennedy's sister.
Through the late 1960s, Capote claimed to be writing his masterpiece, his tour de force based on his swans, but several deadlines passed for it. He was sure Answered Prayers "would turn him once again into the most talked-about author in America."
Instead, when an excerpt from it was published, his swans got very ruffled feathers.
Every time you stand in line for groceries, the tabloids scream at you with so much drama that you either love it or hate it. Or, in the case of "Capote's Women," you cultivate it.
And that's infinitely fun, as told by author Laurence Leamer.
Happily, though, Leamer doesn't embellish or disrespect these women or Capote; he tells their tales in order, gently allowing readers' heads to spin with the wild, globe-hopping goings-on but not to the point that it's overdone. While most of this book is about these seven beautiful, wealthy, and serially married women – the Kardashians of their time, if you will – Capote is Leamer's glue, and Truman gets his due, as well.
Readers who devour this book will be sure that the writer would've been very happy about that.
"Capote's Women" should be like catnip to celeb-watchers of a Certain Age but even if you're not, find it. If you're a Hollywood fan, you'll want to get a lock on it.