Let's march to the polls and #takebackourcountry
Turning Election Day into a mass movement for change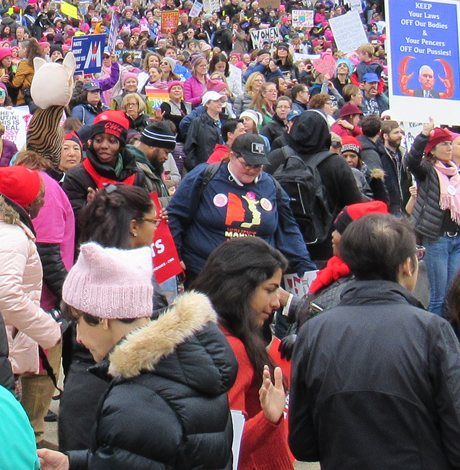 It's time to come together for the March to the Polls #takebackourcountry on Nov. 6, 2018 to prove we not only resist we will VOTE to take back our country.
Republicans are clearly counting on the people not coming out to vote as they continue to pass legislation, talk about and initiate destructive policy, and do everything they can to screw the majority of the American people. Whether they continue to get away with it is up to us.
For some reason it is easier to get massive numbers of people out to march in the streets in all kinds of weather than to get them to a voting booth. So I am calling for a March to the Polls on Nov. 6, 2018. We must begin immediately to register march leaders in every congressional district in the nation to ensure a massive turnout at every polling place. The logistics should be in place and the momentum in full swing in time for the beginning of early voting. If the people don't come out to cast a ballot this year, immigrants, women, the LGBTQ+ community, African Americans, Latinos, and every other minority, will all continue to suffer at the hands of this administration and Congress.
In recent elections in New Jersey, Alabama, Wisconsin, New Hampshire, Pennsylvania and many other communities it's been proven when the people come out to vote, when elections often turn on local issues with great local candidates, we the people win. We know we can win on Nov. 6. The only question remaining to be answered is whether we have the will and commitment to do it.
These mid-term elections are the most important in decades and maybe ever. They are about taking back our democracy from a runaway band of ultra-right wing zealots led by a president who often appears to be deranged. Even once moderate and reasonable Republicans have capitulated and are voting in a way that shows how much they fear this president, his tweets, and his die-hard supporters. It's as if they have given up any semblance of a backbone and decency and have given in to the worst instincts of the president and his supporters.
Examples of how important it is to participate in the March to the Polls is a recent poll from Quinnipiac showing the Ted Cruz-Beto O'Rourke Senate race in Texas at 47-43 and within the margin of error. A look at the results of the primary in Texas show 500,000 more Republicans came out to vote for governor than did Democrats. A second example is Congresswoman Kyrsten Sinema's race for the open Arizona Senate seat of retiring Sen. Jeff Flake (R). She is leading in all match-ups against Republicans at the moment but no matter what the polls say if Democrats don't come out to vote, then Republicans will continue to win and nothing will change.
We have seen millions of people come out for a series of marches beginning with the Women's March the day after Trump's inauguration. They have come together in Washington, D.C., and countless cities across the country. We marched for immigration, science, voting rights, LGBTQ+ equality and most recently in the March for Our Lives when approximately 800,000 came together in D.C. to march for common sense gun control with sister marches in more than 850 locations around the nation. If we can do that and get people out in every kind of weather we must do the same on Nov. 6, when we will make a lasting difference.
The March to the Polls will succeed if we have the support of major organizations — unions, environmental groups, Change.org, EMILY's List, the LGBT Victory Fund, HRC and others. We must form coalitions at the local level in every congressional district in the nation. If the awesome students from Marjory Stoneman Douglas High School in Parkland, Fla., could put together the March for Our Lives in less than six weeks from the Valentine's Day shooting at their school, surely we can successfully organize the March to the Polls in the six months we have until the mid-term elections.
Decent, committed and wealthy activists like Oprah Winfrey, George Clooney and billionaires Tom Steyer and Michael Bloomberg among others should commit the necessary planning money to fund the basics of the March to the Polls. Those include both a national and local website in every district and the grassroots organizers in every congressional district who will recruit the millions of volunteers to make this happen. The March to the Polls will not endorse candidates, it will leave that to others. It will be the mechanism to get people to the polls and we trust when the decent people of America come out to vote in huge numbers they will do the right thing and vote to #Takebackourcountry.
We know we need to excite people to get them to the ballot box. We need everyone who has ever marched this year to come out again on Nov. 6. We need everyone who has ever tweeted using the hashtag #resist or #strongertogether; everyone who has ever spoken out or stood up to the Trump administration or Republican leadership in Congress. We need all of them to sign up for the March to the Polls. If they do and get all their neighbors and friends to come out with them to march and vote, we win. Decency wins, the nation wins and the world wins. March to the Polls #takebackourcountry on Nov. 6, 2018.
Peter Rosenstein is a longtime LGBT rights and Democratic Party activist. He writes regularly for the Blade.
My suicide ideation: A journey to self-love
It is much harder for those of us on the margins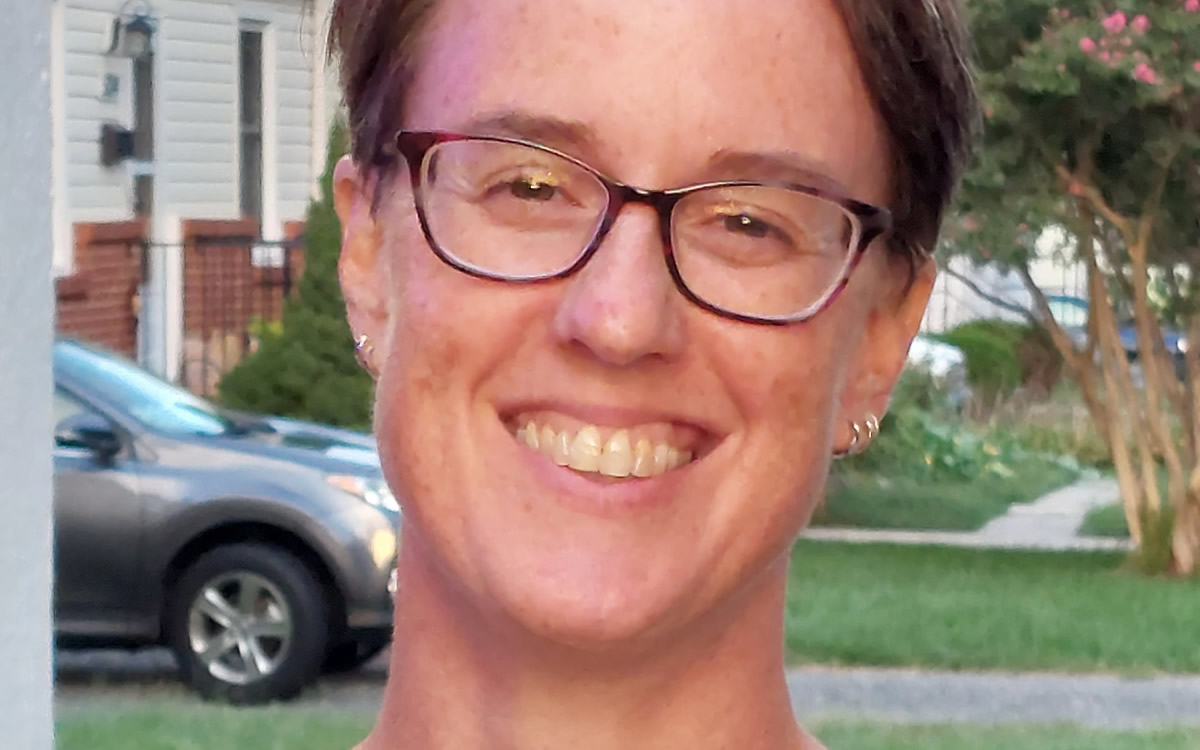 (Editor's note: This piece is a response to last week's Blade cover story by David Lett recounting his suicide attempt. If you are experiencing suicidal ideation, call 988 or one of many LGBTQ-specific advocacy groups offering support. If you would like to share your own story of overcoming isolation, depression, or suicidal ideation, email us at [email protected].)
Perhaps it was the grinding loneliness of the pandemic, but about two years ago my fantasies of being with women became daily distractions. I could not be fully present with my husband and felt a constant tug for something more, something outside of a life I had spent 18 years cultivating. I lived in a constant cycle of fantasy, guilt, denial, back to fantasy.
My supportive husband was willing to try an open marriage, but non-monogamy did not agree with my Christian upbringing. Then, as most stories go, I met someone. She was funny, attractive, and OK with the situation, so we gave it a shot. Each date sailed me up into unprecedented heights and hollowed out an equally deep pit of despair. "Yes! I am like this. . . Oh, dear God, I am really like this!" It was like coming home to who you knew you always were only to find you were now among those most judged, wicked, and despised. With each queer book we read and lesbian drama we watched, I discovered deep and integral parts of me debilitated and atrophied by shame. They started to heal.
The more these parts of me solidified, the more other parts unraveled. A cascade of questions and doubts plagued me. If I was not heterosexual, what else was not true about me? Was my life just a string of acts meant to fulfill social expectations? My career, education, even my friends. Was I me or just performing someone not me for others? The great irony of living by the rules of others is that we live for no one. Without the willingness to bravely share who I truly was, no matter how broken, that primal quest for connection, love and belonging would never be satisfied.
Hence I navigated that precarious path of how out to be — how to stay honest to myself but not cause discomfort. My husband remained open, but my late nights and emotional distance took a great toll on our relationship. I would return home to neatly folded laundry, well-prepared meals and enormous guilt. It was liberating and devastating all at once.
Staying with my husband seemed impossible, but the fear of being alone and rejected from family at age 45 was unbearable. This innate thing inside of me was destroying my life. I imagined cutting myself open and tearing out those parts, but when I looked closely I found they were inseparable — my queerness is fully entwined with my heart, head, and gut. I broke under the weight of this agony and spent weeks in and out of crying spells.
One day I found myself down by the tracks. The sound of a train thundering by broke through my numbness. With a few steps, I could surrender and be free from this torment. I stepped through the thin line of brush that separated me from the tracks. They seductively glistened in the sunlight. Relief. Yes, the final silence of death could take away everything.
Another train raced by, the horn deafening. The blast of wind pushed me away. I collapsed sobbing. I needed help if I was going to survive this.
Thanks to therapy, acupuncture, yoga, LGBTQ support groups and caring friends and family, I am slowly opening the door to self-love. It is much harder for those of us on the margins. The love from others is no substitute, be they a long-time partner, new girlfriend or family member. Unlearning my self-hatred meant letting go of the deeply held but deeply flawed promises of the straight life: be they heteronormativity, monogamy, gender conformity, the picket fence — you name it. I had to break my own heart. Only then I could truly love myself.
Jessica Arends is a writer and artist.
Left-wing candidates hurt Democratic Party
We will lose more elections if we nominate socialists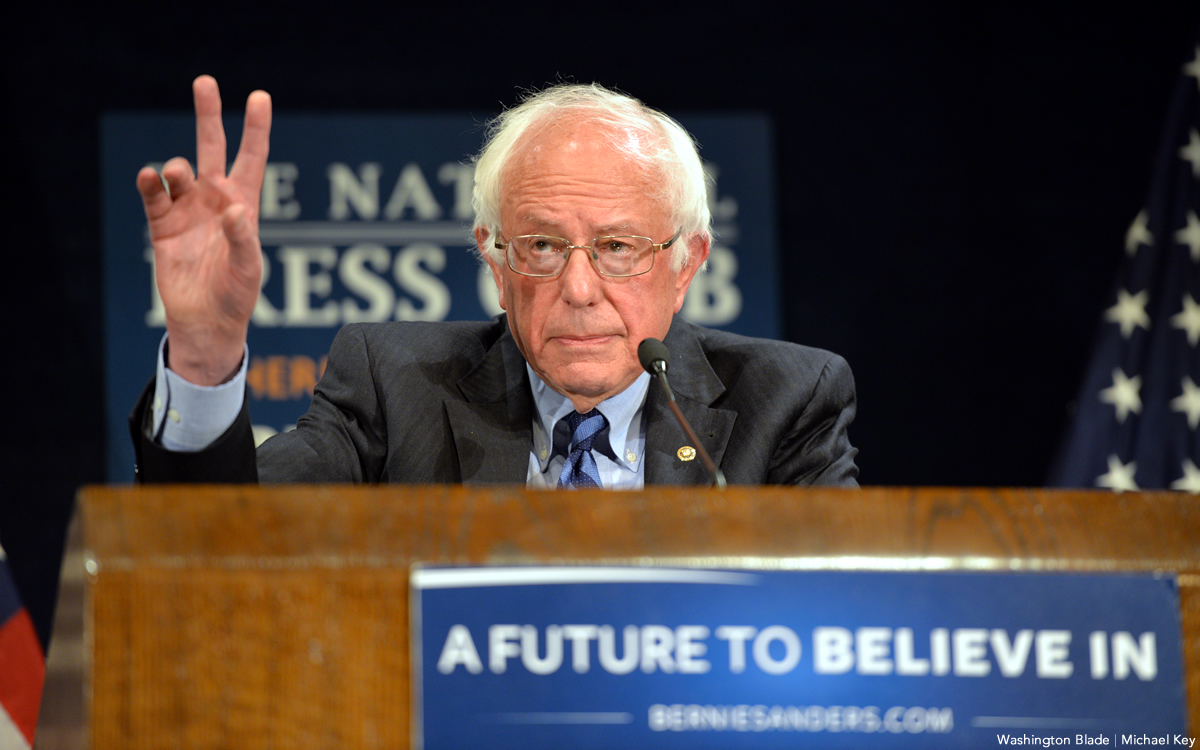 We are seeing time and time again how left-wing candidates are hurting the Democratic Party. While I agree with much of what some like Bernie Sanders (I-Vt.) and Alexandria Ocasio-Cortez (D-N.Y.) are supporting, we are seeing left-leaning candidates supported by them losing in the general election in most of the country.
While Trumpers are so much worse in what they stand for, the one similarity we are seeing, as we did in the mid-term elections, is these candidates also can't win a general election. The reality is, the majority of the country is moderate. In fact, in many areas the general election voter is moderate-leaning right.
We witnessed that last year in the Buffalo, N.Y. mayor's race where a Democratic Socialist won the Democratic primary, and then was defeated in the election by a write-in moderate Democrat. In New York City the moderate candidate, Eric Adams, won the mayor's race.
In the mid-term elections we have seen the same thing. A left-wing candidate can win a Democratic primary, then lose in the general election. James Hohmann recently wrote about this in the Washington Post in a column titled "The Democrats have a 'candidate quality' problem, too." He wrote, "Consider the 5th Congressional District of Oregon. Leading Republican and Democratic operatives agree that Rep. Kurt Schrader would have handily won reelection if he'd made it to the general in a district Biden carried by nine points. But he didn't. Instead, a more liberal Democrat, Jamie McLeod-Skinner, won the nomination in May and then lost the seat to Republican Lori Chavez-DeRemer last week by 8,500 votes." Another example he uses is "Rep. Henry Cuellar (D-Texas) narrowly beat back a primary challenge from his left in the primary and then easily won in the fall. In a neighboring district of the Rio Grande Valley, however, outspoken liberal Michelle Vallejo beat a moderate by just 30 votes in a primary runoff. Then she lost to Republican Monica De La Cruz by nine points. The GOP picked up a number of seats in New York state under similar circumstances." I would propose Alessandra Biaggi's primary against Sean Patrick Maloney (D-N.Y.), supported by AOC, cost him the seat in the general election in the new 17th district in New York.
It's good that Rep. Hakeem Jeffries (D-N.Y.), who will most likely be the new Minority Leader, is a moderate. There is a story on ABC News about the potential new leadership of the Democratic caucus in the House of Representatives. "Jeffries, first elected in 2012, has long been considered Pelosi's heir apparent, rising through the ranks to land a perch in the party's House leadership."
In a statement after Pelosi's speech on Thursday, he called her "the most accomplished" speaker in the country's history but did not allude to his own plans. A 52-year-old descendant of enslaved people, Jeffries could be a potential history-maker himself if Democrats retake the House in future cycles: He would be the first Black speaker. Jeffries has a reputation as a capable operator inside the conference with sharp media skills to sell a Democratic message to the public (and a penchant for referencing Biggie Smalls in floor speeches). However, he could face some opposition from the most vocal progressives in the House, who labeled him a centrist. "I'm a Black progressive Democrat concerned with addressing racial and social and economic injustice with the fierce urgency of now. That's been my career, that's been my journey and it will continue to be as I move forward for however long I have an opportunity to serve. There will never be a moment where I bend the knee to hard-left democratic socialism," he told The Atlantic last year."
It could easily be concluded Democrats lost the Wisconsin Senate seat because the disgusting incumbent, Ron Johnson (R-Wisc.), could tie his Democratic challenger to the 'Squad' and bring up his original support of the slogan 'defund the police'. While some will say newly elected Pennsylvania Sen. John Fetterman was also tagged with the left, he was lucky he had such a crazy Trump supported Republican like Dr. Oz to run against, and a moderate Democratic candidate for governor, Josh Shapiro, on the ticket who won big.
If Democrats are to retake the House and win the presidency in 2024, we will need moderate congressional candidates and a moderate to head the ticket. He/she/they can be for moving forward legislation on climate change, LGBTQ equality, choice, and a host of other issues that progressives like; but they can't be seen as left-wing or socialist. If they are, Democrats will lose. 
Peter Rosenstein is a longtime LGBTQ rights and Democratic Party activist. He writes regularly for the Blade.
A tribute to our LGBTQ bars
From Pulse to Club Q, these spaces are sacred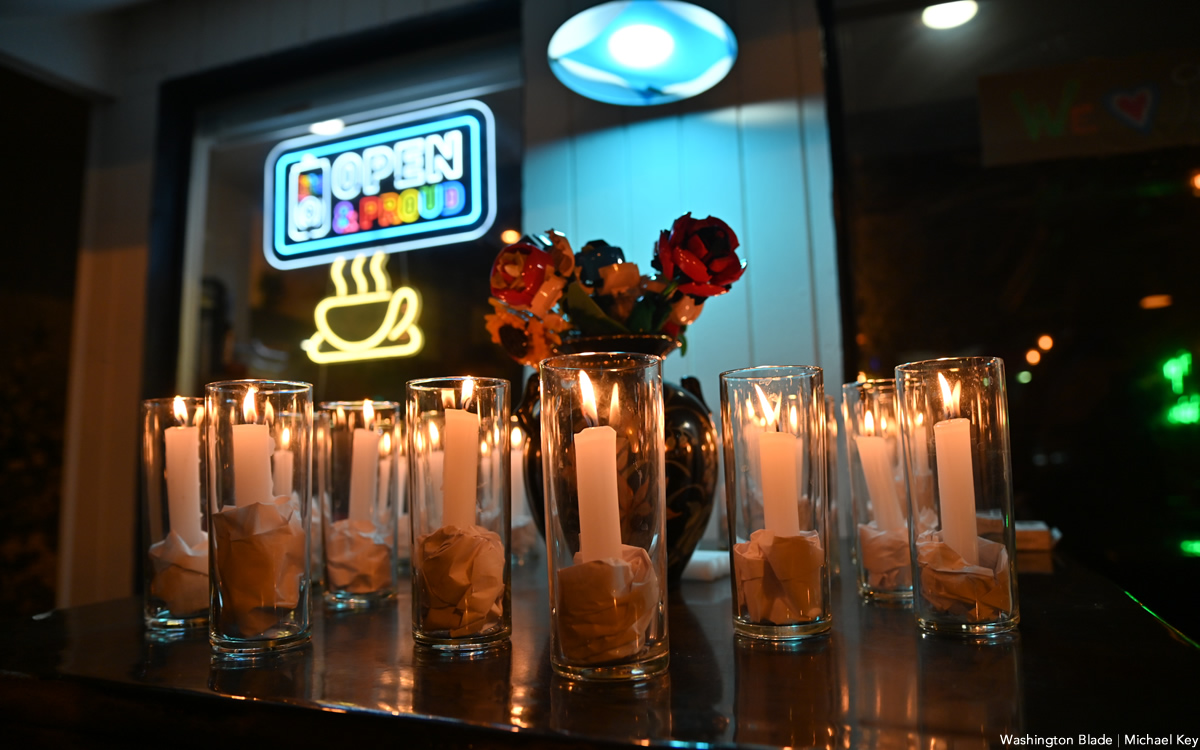 (Editor's note: I wrote this piece in 2016 after traveling to Orlando to cover the Pulse massacre. Sadly, its message is newly relevant today after the horrific events in Colorado Springs.)
ORLANDO, Fla. — The world watched in horror this week as the proudly resilient LGBT community here coped with unthinkable tragedy.
Sadly, our community has a lot of experience with such things.
From the AIDS crisis in which we fought an indifferent government and hostile neighbors. To an untold number of previous attacks on our bars and clubs, including the 1973 firebombing of the UpStairs Lounge in New Orleans that killed 32 gay men. To enduring the playground taunts and everyday slurs that go along with being "different" in this country.
We were horrified, too, about what happened at Pulse, though not as shocked as our straight counterparts. They will never know what it's like to walk through life with a permanent target on your back. To pause before each touch; to hesitate before exchanging a hug or kiss with a partner or spouse. To calculate before coming out at work. To endure the judgmental stares when checking in at a hotel or booking a restaurant reservation on Valentine's Day. To walk around the block, scanning the scene before mustering the nerve to walk into a gay bar. To be insulted, mocked, beaten up just for loving someone of the same sex. We've all been there.
So much has been written in recent years about this "post-gay" world in which we supposedly live. A world in which there's no need for LGBT-identified spaces like bars, clubs, coffee shops, bookstores and, yes, newspapers, because we're "integrated" and "accepted" now.
What happened in Orlando is a heartbreaking reminder that there's no such thing as "post-gay," and that our spaces are sacred. Where outsiders see only a bar or club, we see a community center or the place where we formed our closest friendships or met our significant others. Our bars and clubs have played a heroic role in supporting the community, serving as gathering places in times of triumph and tragedy and helping to raise countless dollars to fund our causes, to fight HIV, to aid our own. When the government turned its back, the first dollars raised to fight AIDS came from the bar and club scene.
The attack in Orlando was an attack on all of us because there's a Pulse in every city in this country. A place where we can let our guard down, be ourselves, embrace our friends and kiss our partners openly. We need those places because regardless of whether you live in Dupont Circle or rural Alabama, there is a risk in engaging in public displays of affection if you're LGBT.
A look at the public response to the Orlando massacre reveals just how much work lies ahead. The Florida governor has tried to erase LGBT identity from the attack. We can't even get validation in death in some quarters. The lieutenant governor of Texas tweeted homophobic Bible verses on the morning of the attack yet somehow still has a job. Last week, before the attack, Rep. Rick Allen (R-Ga.) read a Bible verse on the U.S. House floor that calls for the death of gay people. Shortly after, the House voted overwhelmingly to reject a spending bill that included discrimination protections for LGBT workers.
Even those Republicans who have issued milquetoast statements offering "thoughts and prayers" are left to reconcile those sentiments with their own voting records hostile to LGBT causes. The presumptive GOP nominee for president, whose name I can't bear to include in a tribute to Orlando, claims to care about what happened, yet has pledged to nominate Supreme Court justices committed to overturning the marriage equality ruling.
Hillary Clinton is right — this isn't the time for politics. As we struggle with how to respond to the massacre and to those who would demonize and discriminate against us and cast us back into the closet, we should resist the urge to lash out and respond simply with love.
It's been humbling to be here in Orlando this week, watching members of our community cope with such grace, dignity and determination. They didn't shut down the community center in fear, instead they opened the doors wide to all while working tirelessly to raise money for the victims, collect donations of water and supplies for blood centers overwhelmed by volunteers, negotiate deals with airlines to fly loved ones to town for unexpected funerals and more.
One of the remarkable people I've met here this week, Pastor Brei, said it best:
"Have faith and believe that evil and hate can be eradicated one person at a time. How do you treat someone? How do you embrace someone who treats you wrong? We all bleed, laugh, hope and have great victories and major defeats. And so, you know me, even if you don't know my name — I'm you."
Kevin Naff is editor of the Washington Blade. Reach him at [email protected].