SPOTLIGHTING LGBT HOMELESSNESS: Alston House celebrates a decade in operation
LGBT youth shelter named after slain D.C. activist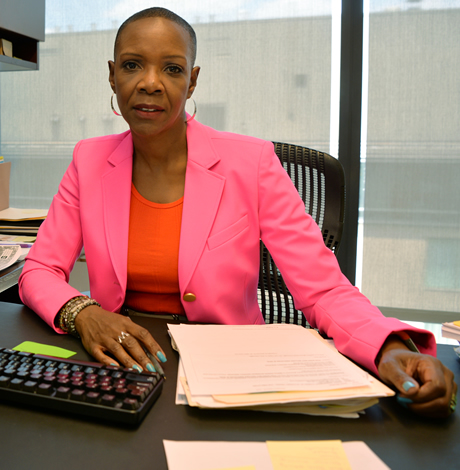 This story is part of our contribution to the 2018 #DCHomelessCrisis news blitz.  Local media outlets will be reporting and discussing stories about ending homelessness in the nation's capital all day. The collaborative body of work is cataloged at dchomelesscrisis.press.  
The first LGBT youth-focused shelter in D.C. is continuing its legacy of serving one of the most vulnerable demographics.
The Wanda Alston House and Foundation, now in its 10th year of service, serves LGBT individuals ages 16-24. The residential home-turned-shelter currently houses eight people, and hundreds have been through its doors over the last decade. The house is named after the late Wanda Alston, a D.C.-based LGBT activist who was murdered near her home in 2005.
Individuals enter the program based on their level of vulnerability and what kind of care the city's homeless management providers think will best fit that person's circumstances. The facility provides 24-hour support for residents through counseling, mental and medical health services. Tuition assistance and professional development is provided and other life skill services such as learning how to balance a checkbook, shop for groceries and manage a credit score are also offered. Residents receive three meals a day, clothing and toiletries as well as other necessities like Metro cards.
Full-time staff is trained, culturally competent and trauma-informed to ensure that all residents are supported. The operations manager and case manager work full-time at the house to make sure that everything runs smoothly and a clinical supervisor is also full-time to provide assessments and connect residents with the support they need.
The staff works together as an agency and as individuals to connect with the youths and help them cope, give support and help them navigate their lives. Sometimes that can be difficult and residents can respond by acting out.
"We are dealing with homeless youth that are isolated and rejected by the community," says June Crenshaw, executive director of the Wanda Alston Foundation. "They're forced to survive some unspeakable situations. Most, if not all, arrive having experienced some severe trauma. This can show up in less-than-positive ways like addiction, inability to cope with stress or not being able to navigate positive communication skills. But they're human and they've had to endure circumstances that most of us couldn't survive."
Crenshaw, a self-identified "old-fashioned" lesbian and woman of color, says most youth in the program are women of color.
"When I started in this role two years ago, a resident came to me and said she never saw a person that looked like me in a leadership role. That stuck with me," she says. "I'm proud to be a brown woman of the community that's working hard to make things better."
The program at the Wanda Alston House is slightly different from the programs at other LGBT shelters, she says. There are certain requirements that the residents must participate in that help them accomplish their personal goals within the 18-24 months they live there.
"We provide connections and care in all the ways that a person would need," Crenshaw says.
After leaving the house, individuals stay connected to the care at the facility for 90 days-six months. Staff continues to support them however they need it — like buying groceries, clothes or Metro cards and finding housing and employment as well as providing case management to help them navigate other support and services available.
Crenshaw says there's an "epidemic of LGBT homelessness." Around 50 percent of the homeless youth in D.C. are LGBT-identifying. At the Wanda Alston House, residents "talk and share experiences around being treated differently, misgendered, disrespected, attacked and discriminated against."
She says the city is committed to the youth but that in homeless centers that are not culturally sensitive to LGBT people, "grave mistreatments" can occur.
"Our population is trending as the most affected by homelessness and mental health issues," she says. "We have a responsibility to do better by our youth, make sure they stay safe and are allowed to thrive. Facilities like ours are needed as long as these circumstances exist."
The facility costs slightly over half a million dollars to run each year and most comes from local government offices such as the Mayor's Office of LGBT Affairs. Grant dollars are used to run the shelter and pay staff, but that doesn't cover all the expenses. They also rely on fundraising and the LGBT community and allies to support them. Donations amount to 25 percent of the budget.
Although D.C. has some of the most progressive laws in the nation and has been widely noted as one of the U.S. cities LGBT individuals can feel most open and supported, the competitive job market and high cost of living creates difficulties for LGBT people. LGBT people of color are more likely to be unemployed and represent a large portion of impoverished individuals and victims, Crenshaw says.
D.C. has the highest number per capita of LGBT individuals compared to other American cities. Crenshaw says not enough of the resources the city provides for homeless people are going to LGBT organizations and there is a lot of work yet to be done to resolve this epidemic.
The Wanda Alston House, however, has survived the turbulence of 10 years of operation and Crenshaw says they are ready and looking forward to at least another 10.
Rehoboth Beach welcomes Christopher Peterson back
Drag legend to perform weekly beginning July 4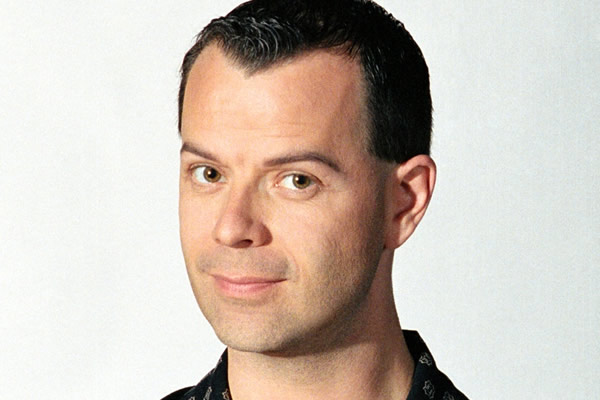 Christopher Peterson will celebrate 25 years of performing his brilliant show EYECONS when he brings it back to Rehoboth Beach this summer. He will be at Clear Space Theatre every Saturday at 10 p.m. and Sunday at 9 p.m. from July 4 to Sept. 5.
I have seen the show a number of times over the years from when he performed at the Renegade showroom (youngsters may not remember the Renegade out on the highway) to now at the Clear Space Theatre, so I am biased in saying it is always worth the price of a ticket. In fact it is worth a lot more because Christopher is an amazing talent. In addition to his own show he can be seen in "Priscilla, Queen of the Desert" at Clear Space.
I recently had the opportunity to chat with Christopher. He has lived in Key West, Fla., for years and performs there during the winter and when he isn't booked around the country. Christopher told me he was born Moncton, New Brunswick but grew up in Halifax (actually Dartmouth across the harbor) Nova Scotia, Canada 58 years ago.
We talked about gay life today and I asked him when he came out and he responded: "in the womb." He told me he always knew who he was even before he knew you could call it gay. He told me he was lucky and grew up in a family that always accepted him for who he was. I asked him if he was excited about coming back to Rehoboth and he told me he sometimes thought of this as his final 'widow tour' as it is his first time back at the beach since he lost the love of his life, James Mill, in September of 2019. They were together for 35 years and James was not only his partner in life but in business. Many in Rehoboth knew James and will miss seeing him at Christopher's side. He was a beautiful man.
Christopher has been called North America's greatest female impersonator and though I haven't seen all of them, I have seen enough to thoroughly concur with that. He not only impersonate the characters, he seems to become them. He never lip-syncs but sings their songs and talks in their voice. Christopher once said his only vocal training was in high school and in church choirs but you would never know that when listening to him sing. Christopher also designs all of his own costumes and they are incredible. It's amazing how quickly he can change from Marilyn Monroe and become Cher with just a new gown and new wig that he has stashed in the closet at the side of the stage. The transformation is mesmerizing.
Over the years he has impersonated so many iconic women, including Marilyn Monroe, Carol Channing, Madonna, Joan Rivers, Reba McEntire, Bette Midler, Tina Turner, Julie Andrews, Barbra Streisand, Liza Minnelli, Judy Garland, Eartha Kitt, Cher, Bette Davis, and Lucille Ball. He will add a new character once in a while if he feels comfortable having tried them out — one being Lady Gaga.
I asked him if he has a favorite character and he said, "That's like asking me if I have a favorite child. These are all my children and they each represent something special to me." He said, "as an example Streisand is the voice and Garland is the heart." I remember he was once quoted as saying Judy Garland is his favorite to do and since he told me she represents the heart it didn't surprise me as Christopher has a big heart. He often saves her for the end of the show and when you see her you leave wanting more.
I asked Christopher about the weirdest thing that ever happened during his show. He told me the story about an evening during the show, when he talks with an audience member, he leaned over the stage and began to chat with a table on the right of the stage and asked an older gentleman, Christopher called him Mary, how he liked the show. After saying he loved it the next thing Christopher saw was Mary keeling over. Turns out he had a heart attack. Christopher said he told the audience there would be a pause in the show and asked if there was a doctor in the house. One came forward and attended to the man and called 911. The gentleman seemed to recover and after they took him out on a stretcher the show went on. Christopher said this has happened more than once at his shows. Maybe it's the excitement.
I asked him if any of the women he impersonates have been to see the show and was surprised when he said no. I would think any of those still alive would be honored to see how Christopher does them and shows them off so well.
This will be an exciting summer in Rehoboth and Christopher is prepared for visitors to come to the show and still follow any restrictions in effect for the pandemic. The theater has said it will continue to abide by all COVID restrictions in order to ensure the safety of both the actors and the audience. Clear Space Theatre has been doing this all winter and doing it safely.
I urge anyone who has never seen Christopher Peterson to get your tickets early as anyone who has seen him will be buying tickets to his shows and you don't want to miss this chance to have a great fun evening in the theater.
'Halston' promises sumptuous look at rise and fall of a fashion icon
Gay designer defined women's style for an era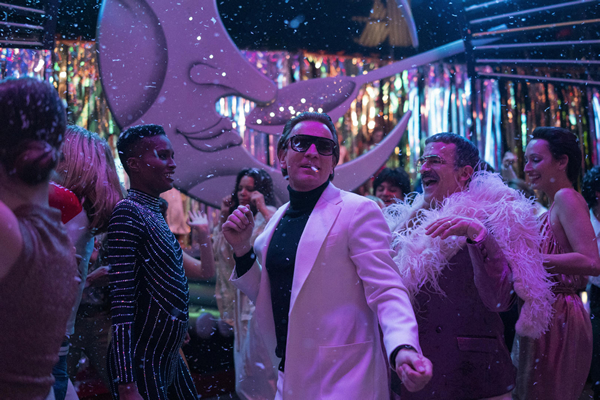 When we hear the name "Halston," our first thought is not likely to be of his status as an LGBTQ hero – except in the sense that he designed clothes for best friend Liza Minnelli.
Yet Roy Halston Frowick, who became the first "celebrity designer" in a career that defined women's fashion for an era and paved the way for the age of influencers by making his identity synonymous with his brand, can be clearly seen today as a queer pioneer. A gay midwestern boy whose grandmother gave him a love of sewing, he rose to fame after designing the famed pillbox hat worn by Jacqueline Kennedy at her husband's 1961 inauguration, and spent the next decade building a reputation fueled by the celebrity of a growing list of famous clients while honing a style that combined functionality, elegance and comfort in a way that seemed perfectly in tune with the rising women's liberation movement.
The empowering ease and "effortless" sex appeal of his designs came to epitomize '70s style, a signature feature of the Disco Era that has cast its not-so-subtle influence on every generation since, and the fashion house he started became legendary in an industry that was still tightly controlled (like every other industry) by straight men. It was an accomplishment that might have gone unheralded by most at the time, but which historical perspective reveals as a groundbreaking moment in the LGBTQ community's rise from the shadows.
Unfortunately, Halston's fall from glory – marked by his loss of control over the company he started, through a series of corporate acquisitions that might fairly be described as nefarious – and subsequent 1990 death from AIDS-associated Kaposi's sarcoma still largely overshadows his reputation (if not the fashions he created) in the popular imagination. But thanks to the arrival of the new Netflix limited series "Halston," which drops on May 14, that is about to change.
Created and directed by Emmy-winner Daniel Minahan, the five-episode biographical portrait stars Ewan McGregor as Halston, and follows the legendary designer as he leverages his single, invented name into a worldwide fashion empire synonymous with luxury, sex, status, and fame, literally defining the '70s and '80s era New York in which he lives, before a hostile take-over forces him to battle for control of his most precious asset – the name Halston itself. McGregor is joined by a cast that includes Bill Pullman (as Halston's business associate David Mahoney), Krysta Rodriguez (as Minnelli), Rebecca Dayan (as Elsa Peretti, another close Halston friend), Gian Franco Rodriguez (as Halston's sometime lover, Victor Hugo), David Pittu (as Halston illustrator and creative director Joe Eula), Rory Culkin (as Joel Schumacher), Kelly Bishop, Sullivan Jones, and Vera Farmiga – and as even a quick look at the publicity shots of each of them in full costume for their roles is enough to verify that the series has gone out of its way to meticulously recreate the look and feel of Halston's glamorous world.
The series found its way to the screen thanks to Minahan's interest in "Simply Halston," a bio penned by Vanity Fair writer Stephen Gaines. Working with producer Christine Vachon, he began work on adapting the book as a feature-length film, but the scope of the story made honing it into a two-hour-ish running time a daunting task, and the idea was shelved. The option on the book then passed through a series of other hands, but when the rights became available again, Vachon approached Minahan with the idea of revisiting the project as a mini-series, and, as Minagan says, "it just clicked." It wasn't long until Ryan Murphy reached out (through Alexis Martin Woodall, president of his production company) to express his interest, and things "started moving very quickly."
"Working with Ryan is a unique experience," says Minahan, who previously worked with the powerhouse producer on "The Assassination of Gianni Versace." "He draws the best out of people, and he demands excellence from everyone who works with him. He has an uncanny sense for story, and I've been fascinated for years by the tone he's able to strike in his work and the depth of emotion that he's able to express.
He also says Murphy had "a unique relationship" with the material that helped inform the end product. "[He] grew up in Indiana […] then he worked building an empire as a gay man in a corporate world as Halston did, so he was really generous with his experience. A lot of that made it into our scripts. We were very lucky to have him be involved."
As for McGregor, Minahan says that although he had considered a whole list of actors for the starring role, the "one and only meeting" he had was with the popular and prolific Scots actor. Though McGregor identifies as straight, he has long been an LGBTQ ally, with a history of sensitive and insightful performances in gay roles (most notably the fictionalized amalgam of Iggy Pop and Lou Reed he portrayed in Todd Haynes' glam-era fantasy, "Velvet Goldmine"), and according to Minahan, his work as Halston is nothing short of immersive.
"Watching Ewan transform into Halston was fascinating," he says. "When he arrived in New York, he asked for a room where he could work undisturbed with some props — True cigarettes, which are the same brand Halston smoked, cigarette holders, Flair pens like Halston used, scissors, fabric, a black turtleneck, a tape measure, and some yellow lined notepads." The actor also worked with costume designer Jeriana San Juan, acquiring a detailed familiarity with the technical minutiae involved with designing and assembling clothes – even going so far, according to San Juan, as studying her eye movements while she worked "so he could better track his eyeline when he's designing as Halston in the show."
Of course, it's one thing to capture the physical reality of a true-life character, and quite another to infuse that character with an inner life that honors their experience. From the fabulous ferocity he displays in the show's trailer, the versatile star of movies as wide-ranging as "Trainspotting," "Moulin Rouge," and the middle "Star Wars" trilogy looks to have delivered a career-topping performance – and if there's any doubt whether he can convey the authenticity required to illuminate the drive that took Halston to the pinnacle of the fashion world when it was still run by a conservative and closed-minded "boys' club," his delivery of the line, "I've been an outsider my entire life, till one day I just stopped giving a flying fuck," should put it to rest.
With what could become one of the season's most acclaimed performances at the center, and its sumptuous depiction of an iconic era through San Juan's costumes and the world-building of production designer Mark Ricker, "Halston" looks to be a benchmark for "prestige" TV in 2021.
In any case, thanks to the enduring fascination its subject and his legacy still hold for millions of fans and admirers, queer and straight alike, it's sure to be at the top of a lot of "must watch" lists when it debuts on May 14.
Laundry is his love language
New book explores author's fascination with clean clothes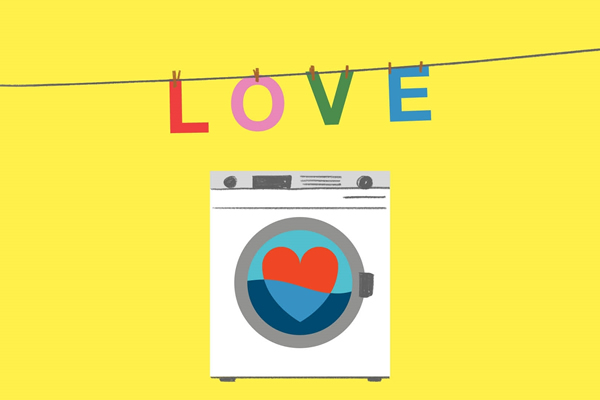 'Laundry Love: Finding Joy in a Common Chore'
By Patric Richardson with Karin B. Miller
c.2021, Flatiron Books $25.99/185 pages
Tomorrow's outfit is on a chair over there.
That's where it's been since you last washed it. What you wore today came from a basket and off a hanger, the shirt needed ironing, there was a tiny stain on the pants but who noticed? and you just bought new socks, so there's that. Time to do the wash? Yeah, but get a load of this: "Laundry Love" by Patric Richardson (with Karin B. Miller).
In one of his earliest memories, Patric Richardson's uncle holds him aloft so that Richardson could watch laundry swimming in the washer. He was almost a baby then, but the fascination was set: at age three, Richardson was "over the moon" when he received a toy washing machine as a birthday gift. He remembers that it was Harvest Gold.
Growing up, Richardson absorbed washday secrets from an extended family of women and he learned the appeal of laundry hung on a line outside. While at the University of Kentucky, he met three professors who taught him about textiles, and employers educated him further. Love of fabric eventually became Richardson's career and laundry is his love-language: "caring for your loved ones' clothes shows them love."
The first thing to know, Richardson states, is that "our clothes are bossy." If something you enjoy wearing says "Dry Clean Only" on the label, lay it on the kitchen counter, grab a pair of scissors, and cut that label off because, "anything can be washed at home."
Here, you'll learn how to save time on wash day. Find out why big-brand-name detergents are unsafe, and see what you need to care for your clothes properly. Learn to iron, eliminate horrible stains, wash woolens and other awkward-to-clean items, and see how to rescue yellowed linens and special-event clothing like a pro.
Remember, says Richardson: "You don't have to do laundry – you get to do laundry."
These days, though, author Patric Richardson doesn't "get to" very often. His husband, he says, does their wash while Richardson runs a clothing store and offers "Laundry Camp" at the Mall of America. But since not everyone can be a happy camper, there's "Laundry Love."
If you're thinking that a book about joyfully washing clothes would be a mighty skinny book, you're right but laundry is only a part of this story here. The rest is biography, and a love-letter to Appalachain and southern women. In giving props to the women who raised him, Richardson shows how his interest in fabric grew, too; the subject of textiles, which may be perceived as mundane by many, is treated in this light as something precious and accessible.
If you come for the biography, you'll be glad you stayed for the hints as Richardson shows how even the most delicate items can be safely home-cleaned. That fur you love? Done. That stinky-perfumed vintage item you found? Clean. Ahhhhhhh, so pick up the undies in the corner, use grandma's linens, shop thrift stores with impunity. Go ahead, fear-free. Having "Laundry Love" should take a load off your mind.