Bowser, city 'committed' to meeting needs of LGBT homeless
Shelter operators required to undergo competency training
(Editor's note: The Washington Blade is one of many local media outlets partnering with Street Sense Media, a local news outlet that publishes a biweekly newspaper and other content in a mission to end homelessness in Washington, on its third annual media day. 
Inspired by an 88-outlet collaboration in San Francisco in 2016, Washington had its first installment that same year with three outlets. Six outlets joined in 2017. This is the Blade's first year participating.
Look for Street Sense on your favorite social media outlet (streetsensedc on Facebook or @streetsensedc on Twitter) for links to complementary coverage in other regional publications. 
Street Sense's mission is to end homelessness in Washington by empowering people in need with skills, tools and confidence to succeed. The Blade's coverage spotlights how homelessness acutely affects Washington's LGBT community. Find out more at streetsensemedia.org.)
The D.C. Department of Human Services, which oversees the city's homeless programs, has put in place policies and procedures to ensure that LGBT homeless people, both adults and youth, are treated with respect and receive the services they need, according to two department officials.
DHS spokesperson Dora Taylor said that since taking office in 2015, D.C. Mayor Muriel Bowser has made it known that aggressively addressing the city's homeless problem, including specific issues pertaining to LGBT homeless people, are among her administration's highest priority.
Taylor noted that among DHS's actions since Bowser became mayor has been its implementation of the LGBTQ Homeless Youth Reform Amendment Act, which the D.C. Council passed unanimously in 2014. Council member Mary Cheh (D-Ward 3) and then-Council member Bowser (D-Ward 4) were the co-introducers of the legislation.
Among other things, the measure allocates city funds for expanding existing homeless facilities, including shelters, to include additional beds for "youth who identify themselves as lesbian, gay, bisexual, transgender, or questioning."
The legislation also requires service providers, including operators of homeless shelters, to put in place "best practices for the culturally competent care of homeless youth" that identify as LGBT or questioning.
Taylor and DHS Senior Advisor Carter Hewgley said implementation of the law included a policy change adopted by DHS that requires all homeless shelters operated by the city or by city contractors to allow transgender people – youth or adults — seeking to enter a shelter to choose the one that is consistent with their gender identity.
The two noted that under the city's shelter system, shelters are segregated by gender except for those designated for families with children.
Hewgley said DHS has an ongoing program for training shelter employees, including case managers, on how to appropriately deal with LGBT homeless people.
"The expectation is that you are meeting every person where they are and treating them with dignity and respect," he said.
According to Hewgley, the shelter system has a comprehensive grievance process for situations where a shelter resident believes he or she has been treated improperly by a staff member or a fellow shelter resident.
He said DHS's training programs are aimed at greatly minimizing if not completely eliminating reports from LGBT activists in the past about how LGBT shelter clients were bullied or harassed by other shelter residents because of their sexual orientation or gender identity.
Hewgley told the Blade that DHS and the Mayor's Office of LGBTQ Affairs in September organized a joint "listening session" to obtain suggestions from LGBT activists familiar with the city's homeless programs, along with other experts, on how to improve homeless services for LGBT people in need.
Sheila Alexander-Reid, director of the Office of LGBTQ Affairs, who described the listening sessions as focus groups, said her office has been involved in providing competency training for employees of all city agencies and is especially interested in assisting with trainings for shelter workers.
Hewgley said the listening sessions or focus groups were divided into four subgroups that discussed the needs and concerns of four categories of LGBT people using the city's homeless shelter system – unaccompanied women, unaccompanied men, couples and families, and transgender and non-binary individuals.
He said the sessions resulted in a decision by DHS to prepare a 10-page report summarizing the findings and recommendations of the participants in the four groups called "LGBTQ+ Homeless Services: Identifying Service Gaps for LGBTQ+ Adults and Youth Experiencing Homelessness and Creating a Vision and Strategy for Improving Support to this Community."
Among those who participated in the listening sessions were officials with LGBT and other organizations that provide services for homeless clients, including Casa Ruby, Whitman-Walker Health, SMYAL, the Wanda Alston House, Catholic Charities, HIPS, and the Fiscal Policy Institute.
Some of the recommendations of the participants include anecdotal reports by LGBT clients of shelters about instances of less than adequate treatment by staff and other shelter clients showing that improvement is still needed.
Have to pee? Check out new John Waters Restrooms
BMA introduces gender-neutral facilities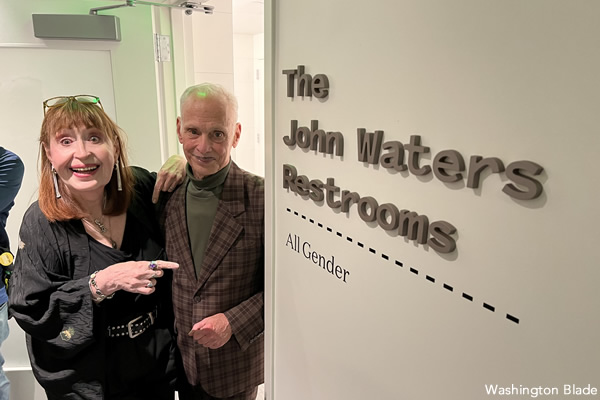 The Baltimore Museum of Art unveiled its latest addition on Wednesday: the John Waters Restrooms, named for the iconic filmmaker who is a trustee of the museum.
There were plenty of snickers and jokes about who would be the No. 1 and No. 2 patrons of the new facilities, but beneath the potty humor was an important message about access to the most fundamental spaces in society.
Joining Waters at a BMA event Wednesday to officially dedicate the gender-neutral restrooms was Elizabeth Coffey, a transgender actress and longtime friend and collaborator of Waters'. Coffey noted the importance of access to public spaces to the trans community. Preceding her at the lectern was Christopher Bedford, the Dorothy Wagner Wallis director of the BMA, who noted that adding the gender-neutral restrooms was the right thing to do.
After brief remarks, Coffey and Waters led a group of museum supporters and reporters downstairs to see the new space and Coffey cheekily took the inaugural trip into one of four private stalls. The stalls and adjoining communal washroom were designed by Quinn Evans Architects and feature white tile with bright red tile in the stalls. The idea for naming the restrooms came from Waters when he bequeathed his fine art collection to the BMA, according to a museum statement. 
The John Waters Restrooms will open to the public on Sunday, Dec. 12, in conjunction with the adjacent Nancy Dorman and Stanley Mazaroff Center for the Study of Prints, Drawings and Photographs and Ruth R. Marder Center for Matisse Studies. Waters is about to embark on a national tour of spoken-word performances.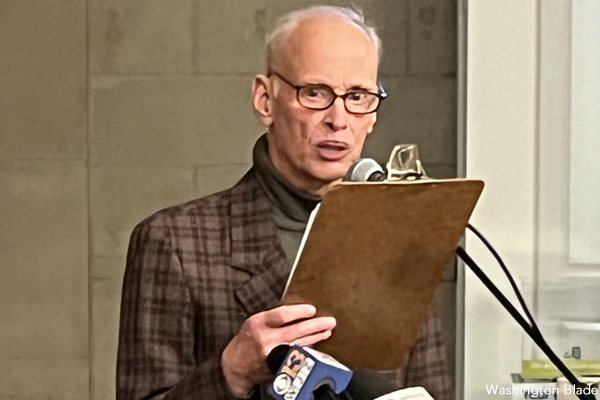 Sharon Gless on new memoir and connection to LGBTQ community
Beloved TV icon's book was seven years in the making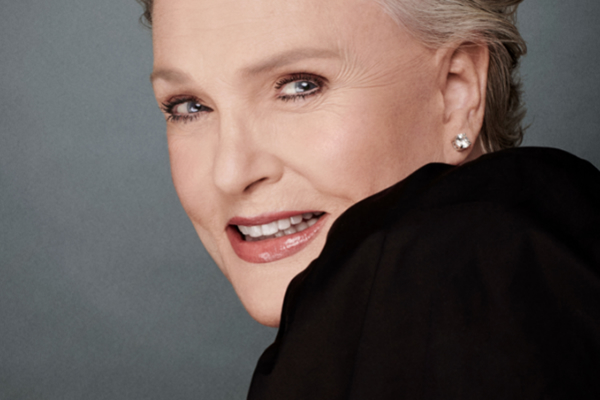 Have you ever read a memoir that is so intimate, so revealing, so honest, that as you were turning the pages it felt like the writer was sitting next to you, speaking directly to you?
Kudos to multiple Emmy Award-winning actress Sharon Gless for making that a part of the experience of reading her new memoir "Apparently There Were Complaints" (Simon & Schuster, 2021). The Los Angeles native with Hollywood in her veins (her maternal grandfather was a hotshot entertainment lawyer), Gless rose to prominence via her portrayal of New York police detective Christine Cagney in the popular and groundbreaking 1980s TV series "Cagney & Lacey"(alongside Tyne Daly). As if she hadn't already established an LGBTQ following through that show, she went on to play Debbie Novotny, the smart and sassy mother of Michael on Showtime's equally groundbreaking "Queer As Folk"in the early 2000s. Gless sat down for an interview in advance of the publication of her book.
BLADE: Your new memoir, "Apparently There Were Complaints" opens on a serious note with your 2015 pancreatitis diagnosis. So, I'd like to begin by saying that, from one Gemini to another, I hope you are in good health.
SHARON GLESS: Thank you, honey, I'm in very good health. Thank you, my fellow Gemini.
BLADE: Why was now the time to write your memoir?
GLESS: Well, it's taken seven years. It's not like it was yesterday. I never actually intended to write a memoir, Gregg. I was called in to a meeting by CBS for what I thought was a conversation to offer me a new series. We talked for an hour and, apparently, I was so entertaining that at the end of the hour meeting, the president of CBS said, "You know we own Simon & Schuster." I said, "I didn't know that." She said, "We do, and I think you've got a book in you." I said, "I don't usually write." She said, "That doesn't matter. You're a storyteller, Sharon." So I walked out with a book deal [laughs] with Simon & Schuster and not the series I was hoping for. Actually, I didn't meet (with) Simon & Schuster for another year. I sort of let it go. The next day there was a text from the president of Simon & Schuster. I sort of ignored it because I didn't want to do that. I wanted to act! A year went by, and I wasn't so busy, and I was in New York, and I said, "What the hell!" I went to meet him. I read one chapter to him, one chapter that I had written in case he asked for anything. He signed me that day [laughs].
BLADE: Were you a journal or diary keeper or did you rely on your memory for the details?
GLESS: Never. No. My very best friend Dawn (LaFreeda), who's been my best friend forever and … I'm a talker, a storyteller, and I would tell her stories about my life throughout our relationship. She kept them! She said, "You have a book in you." So, there's another person saying so. She kept the stories. When Simon & Schuster made me the offer, Dawn dragged out all my stories. A couple of times I had gatherings at my house where I had four people over, and I said, "Ask me some questions," and put a recorder down. I'd just start talking. Then as more of my life coming out on the page, which is hard to do, I started remembering more and more. It took a form that I had always intended. I came up with the title, "Apparently There Were Complaints," very early on. I made the book about all the complaints people had about me throughout my life. It helped that Dawn had kept records of all the stories I've told. Some of those I used in the book. It's funny, as you write, as you keep going, you start remembering more and more and more because one emotion leads to the next emotion or the next time someone hurts your feelings or the next complaint.
BLADE: I'm glad you mentioned the emotional part of it, because writing a memoir means revisiting the past, including your complicated relationship with your grandmother, whom you called Grimmy, as well as your parents. Did you find it to be painful, freeing or both?
GLESS: Sometimes because some of the memories were painful. There were times when I was reading some of it that I would go back to that place. I just finished recording [the audio book] a couple of weeks ago. What surprised me is when I'd get to certain places, especially about Grimmy, you can hear on the recording, my voice breaks. I left it in. They asked me if I wanted to rerecord it and I said, "No. Leave it in." She was really the best thing that ever happened to me. It's that she was tough.
BLADE: One of the things that stood out to me about "Apparently There Were Complaints"is the way that not only does it sound like you — I've interviewed you before so in reading the book, it sounded like you…
GLESS: Thank you! It's very important to me that you hear my voice in that.
BLADE: It totally comes through. The other thing that shines through is your sense of humor and comic timing.
GLESS: Thank you!
BLADE: How important was it for you to make that aspect of your personality a part of the book?
GLESS: Very important. I do have a sarcastic, not a mean sarcastic, a funny sarcastic side. Some of the complaints and some of my addictions and some of the things I talk about…you've got to take some of it lightly or who's going to want to read that? Clearly, I survived. It's not all bad news. When I came up with the title, [laughs] which was perfect because there were so many complaints about me in my life, sometimes you just have to laugh, even at the sadder stuff. I'm still standing, Gregg!
BLADE: Yes, you are! Memoirs, like TV shows such as "Finding Your Roots," are a way for both the subject and the audience to uncover fascinating details that might not otherwise have been public knowledge. The story about your boarding school classmate Gibbie, also known as the late Abigail Folger, in chapter seven feels like an example of that. Would you ever consider being on one of those genealogy tracing shows?
GLESS: I didn't know a show like that existed. I would never do something like "This Is Your Life"[laughs], remember that? I didn't know about a show that traces your genealogy. I'm always fascinated in my background. I'm certainly not opposed to anybody scraping up my genealogy.
BLADE: You write about your interactions with LGBTQ+ people in your life, personally and professionally, and Chapter 43, titled "I'll Be There," which is about your experience playing Debbie Novotny in Showtime's "Queer As Folk"made me weep, it was so beautiful. This is less a question than it is an expression of gratitude for, well, being there.
GLESS: Thank you! The pleasure, for lack of a better word, is all mine. You have all changed my life. I became so much more educated. I thought, "Oh, I know it all. All my best friends are gay." Right? But I learned so much on "Queer As Folk." Thestories that they wrote and the performances. I didn't realize the real plight, the behind-the-scenes pain that went on in the gay community. Because of "Queer As Folk" I became quite educated and impassioned. I meant it when I said, "I'll be there."
BLADE: The Peacock streaming service is doing a "Queer As Folk" reboot. What do you think about that?
GLESS: Yes, I'm aware they're doing a reboot of it. What I think about it is I'm so sorry they're not using the original cast. It's never going to be better. But good luck to them, and I hope they have even close to the hit we were. I think the biggest star of that show right now is going to be the city of New Orleans. We'll see how the stories go.
BLADE: Because the entertainment industry is a central component to your memoir, if "Apparently There Were Complaints"was to be made into a theatrical movie or TV miniseries, who would you want to play you?
GLESS: It would take several actresses because there's a lot of years. If there was somebody who could span it. I'm a big fan of Jennifer Lawrence. She has a husky voice, too. And there's also an irreverence and a sensitivity to her. If anybody ever wanted to do that, I think she'd be great.
BLADE: Finally, in addition to us both being Geminis, we also share South Florida as our home. What do you like best about living here?
GLESS: The happiness on my husband's (TV producer Barney Rosenzweig) face. When he retired he moved us here. I'm married to a man who if he's happy, everybody's happy [laughs]. He adores Florida. Los Angeles was always my home. I was born there, raised there. I'm an Angeleno, through and through. I've been to Los Angeles over the last year and I don't like what's happened to it. Now I'm grateful to be returning to an island as beautiful as the one I live on. Los Angeles needs a total reboot, rebuild, re-everything. It's fallen on hard times, L.A. I remember it when I lived there. It was a magical city.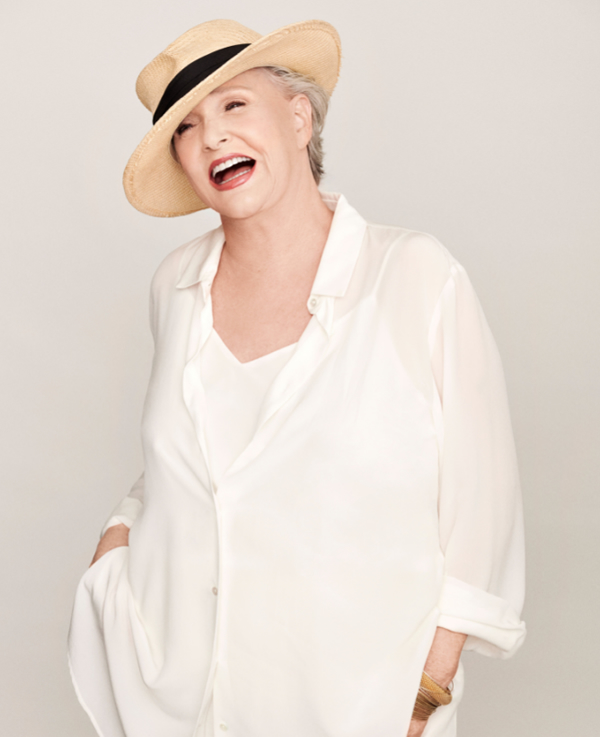 PHOTOS: High Heel Race
Spectators cheered along drag queen contestants for the 24th annual event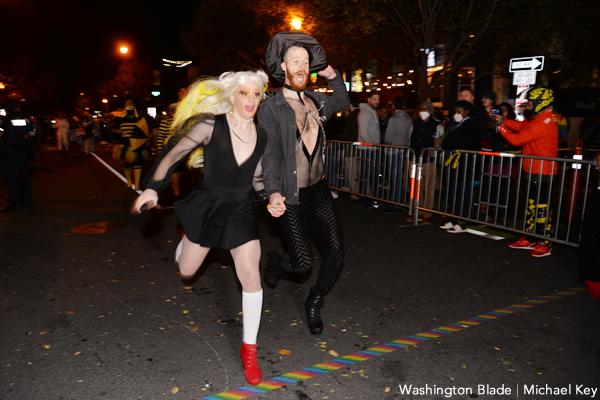 The 34th annual High Heel Race was held along 17th Street on Oct. 26. The winners this year were @dragqueenathena and "Dan." D.C. Mayor Muriel Bowser, D.C. Police Chief Robert Contee and members of the D.C. Council joined drag queen contestants and hundreds of spectators for the event.
(Washington Blade photos by Michael Key)