40 Senate Dems call for rejection of anti-LGBT adoption measure
Republicans approved anti-LGBT amendment in House bill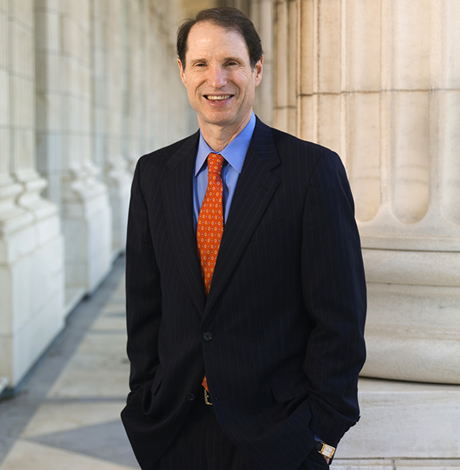 A group of 40 Senate Democrats led by Sen Ron Wyden (D-Ore.) are calling for rejection of an amendment that would penalize states and localities for policies barring taxpayer-funded adoption agencies from discriminating against LGBT families over religious objections.
In a letter dated July 24 to the Senate Appropriations Committee, the lawmakers call for rejection of an amendment inserted into the House version of major funding legislation by Robert Aderholt (R-Ala.) enabling anti-LGBT discrimination in adoption services.
"The inclusion of such legislation would sanction taxpayer-funded discrimination and prevent a significant share of Americans from opening their homes to foster children," the letter says.
The letter draws on the ongoing opioid crisis and the increasing number of children without homes as a result of the problem as a reason for lawmakers to reject the amendment.
"It is never acceptable to use federal funds to discriminate based on religion, sexual orientation, gender identity, family structure or marital status, but the timing of the House language is particularly egregious given the spike in foster care caseloads across the country brought on the opioid epidemic," the letter says.
Aderholt introduced the amendment into the fiscal year 2019 labor, health and human services and education appropriations bill during the House Appropriations Committee markup of the legislation. The committee adopted the amendment by a party-line 29-23 vote. Rep. Scott Taylor (R-Va.) was the only Republican to vote against it.
It's unlikely the legislation or the amendment will reached President Trump's desk for him to sign it into law. The Senate committee has already its approved its version of the funding and a similar measure wasn't included in the bill. If the bills were conferenced, that would likely mean the anti-LGBT provision would be dropped.
Moreover, in years past, the funding bill for the Departments of Labor, Health & Human Services and Education hasn't even reached the House floor and those programs continued to receive federal funds through omnibus spending legislation, according to the ACLU.
The Washington Blade has placed a request seeking comment on the letter with the offices of Sen. Richard Shelby (R-Ala.), who chairs the Senate Appropriations Committee, and Sen. Patrick Leahy (D-Vt.), the top Democrat on the panel. [UPDATE: A Leahy spokesperson said the senator "agrees that the Aderholt provision is discriminatory and would insist that it be dropped in conference."]
Ian Thompson, legislative director for the American Civil Liberties Union, commended Wyden and other senators for speaking out against the anti-LGBT adoption amendment.
"There are over 118,000 children awaiting adoption in the United States," Thompson said. "The best way to provide loving and stable homes for these children is to have as many qualified prospective foster and adoptive parents as possible. Today, 40 members of the Senate – led by Sen. Wyden – joined leading child welfare organizations and civil rights advocates in saying that discrimination has no place in our child welfare system because every child deserves the opportunity to grow up with the support of a loving family."
Two LGBTQ people named to Chilean president-elect's Cabinet
Gabriel Boric and his government takes office on March 11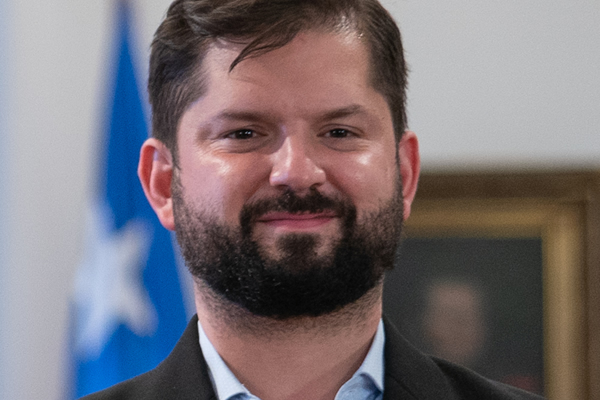 Chilean President-elect Gabriel Boric on Friday named two openly LGBTQ people to his Cabinet.
Marco Antonio Ávila, who is a gay man, will be the country's education minister. Alexandra Benado, who is a lesbian, will be Chile's sports minister.
Javiera Zúñiga, a spokesperson for Movilh (Movimiento de Integración y Liberación Homosexual), a Chilean LGBTQ rights group, applauded Boric for naming Ávila and Benado to his Cabinet.
"The visibility of sexual orientation and gender identity is no longer an impediment to access any position in Chile," said Zúñiga in a press release. "Sexual orientation and gender identity are irrelevant for the positions, whether they are public or private. Capability is the only thing that matters."
Boric and his government will take office on March 11. Chile's marriage equality law goes into effect the day before.
Florida House committee passes "Don't Say Gay" bill
Equality Florida quickly condemned the measure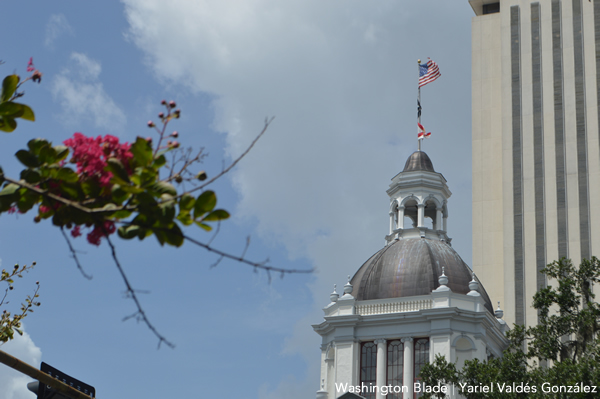 The Republican majority Florida House Education and Employment Committee on Thursday passed House Bill 1557, the Parental Rights in Education bill, colloquially referred to as the "Don't Say Gay" bill advancing the measure to the full House.
HB 1557 and its companion bill, Senate Bill 1834, would ban classroom discussions about sexual orientation and gender identity in schools, erasing LGBTQ identity, history, and culture — as well as LGBTQ students themselves.
The bill also has provisions that appear to undermine LGBTQ support in schools and include vague parental notification requirements which could effectively "out" LGBTQ-identifying students to their parents without their consent.
"The Trevor Project's research has found that LGBTQ youth who learned about LGBTQ issues or people in classes at school had 23 percent lower odds of reporting a suicide attempt in the past year. This bill will erase young LGBTQ students across Florida, forcing many back into the closet by policing their identity and silencing important discussions about the issues they face," said Sam Ames, director of advocacy and government affairs at the Trevor Project. "LGBTQ students deserve their history and experiences to be reflected in their education, just like their peers."
In an email to the Los Angeles Blade, Brandon J. Wolf, the press secretary for Equality Florida noted; "Governor DeSantis' march toward his own personal surveillance state continues. Today, the Don't Say Gay bill, a piece of legislation to erase discussion of LGBTQ people from schools in Florida, passed its first committee and became another component of an agenda designed to police us in our classrooms, doctor's offices, and workplaces. Make no mistake — LGBTQ people are your neighbors, family members, and friends. We are a normal, healthy part of society and we will not be erased."
This will kill kids, @RonDeSantisFL. You are purposefully making your state a harder place for LGBTQ kids to survive in. In a national survey (@TrevorProject), 42% of LGBTQ youth seriously considered attempting suicide last year. Now they can't talk to their teachers? https://t.co/VtfFLPlsn3

— Chasten Buttigieg (@Chasten) January 20, 2022
The Trevor Project's 2021 National Survey on LGBTQ Youth Mental Health found that more than 42 percent of LGBTQ youth seriously considered attempting suicide in the past year, including more than half of transgender and non-binary youth.
According to a recent poll conducted by Morning Consult on behalf of The Trevor Project, 85 percent of transgender and non-binary youth — and two-thirds of all LGBTQ youth (66 percent) — say recent debates about state laws restricting the rights of transgender people have negatively impacted their mental health.
When asked about proposed legislation that would require schools to tell a student's parent or guardian if they request to use a different name/pronoun or if they identify as LGBTQ at school, 56 percent of transgender and non-binary youth said it made them feel angry, 47 percent felt nervous and/or scared, 45 percent felt stressed, and more than 1 in 3 felt sad.
If you or someone you know needs help or support, the Trevor Project's trained crisis counselors are available 24/7 at 1-866-488-7386, via chat at TheTrevorProject.org/Get-Help, or by texting START to 678678.
Lesbian couple murdered, dismembered in Mexico border city
Julissa Ramírez and Nohemí Medina Martínez killed in Ciudad Juárez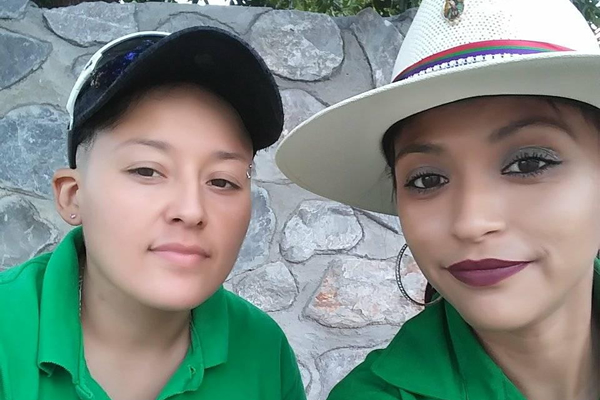 Authorities in the Mexican border city of Ciudad Juárez on Sunday found the dismembered bodies of a lesbian couple along a local highway.
The dismembered body parts of Julissa Ramírez and Nohemí Medina Martínez were found in plastic bags that had been placed along the Juárez-El Porvenir Highway.
El Diario, a Mexican newspaper, reported the married women lived in El Paso, Texas, which is across the Rio Grande from Ciudad Juárez. Authorities said relatives last spoke with Ramírez and Medina on Saturday afternoon.
A source in Ciudad Juárez with whom the Washington Blade spoke on Thursday confirmed Ramírez and Medina "were lesbian women" and their murder was "very violent."
Members of Comité de la Diversidad Sexual de Chihuahua, an LGBTQ rights group in the state of Chihuahua in which Ciudad Juárez is located, and Chihuahua Gov. María Eugenia Campos Galván are among those who have expressed outrage over the women's murders. Comité de la Diversidad Sexual de Chihuahua on Wednesday also urged local and state authorities to investigate whether the murder was a hate crime.
"People of sexual diversity are questioned, including their existence through heteronormative discourse," said the group in a statement. "They have the right to a life free of violence in which they exercise all their rights, in addition to living without fear or fear of rejection and aggressions that can unfortunately escalate to hate crimes."
EXHORTA SECRETARÍA DE GOBERNACIÓN A @MaruCampos_G A ACABAR CON LESBOFOBIA@SEGOB_mx a través de @CONAPRED y @CONAVIM_MX pidió al Gob del Estado que esclarezca el asesinato de Yulizsa y Nohemí…#JusticiaParaYulizsaYNohemi (1/3) pic.twitter.com/kLC7UNIoV2

— Comité de la Diversidad Sexual de Chihuahua (@DiversidadChih) January 19, 2022
El Diario reported Ramírez and Medina are two of the nine women who have been reported killed in Ciudad Juárez since the beginning of the year.
Personas de las Diversidades Afectivo Sexuales, an LGBTQ rights group in Ciudad Juárez, and feminist organizations on Thursday organized a protest during which participants demanded local, state and federal authorities do more to end to violence against women in the city. The press release that announced the demonstration specifically cited Ramírez and Medina.
"We seek justice and clarification in the murder of Nohemí and Yulissa, a lesbian couple who was found in Juárez-Porvenir Highway," it reads.