Calendar: Aug. 10-16, 2018
Yoga, dance parties, bear happy hours and more for the week ahead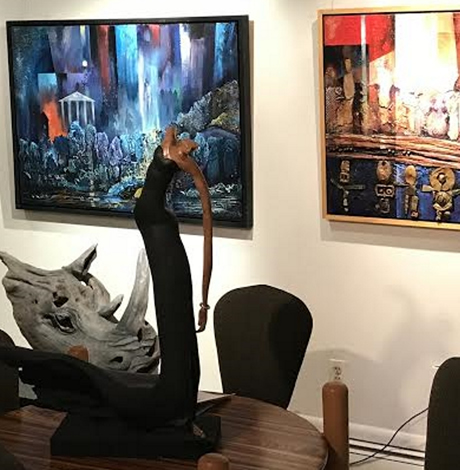 FRIDAY, AUG. 10
Woof! Happy Hour is at the D.C. Eagle (3701 Benning Rd. N.E.) from 5-11 p.m. tonight. Free pizza is available at 7:30 p.m. Doors open at 5 p.m. and no cover charge is needed before 9:30 p.m. Rail/well drinks are $4 until 11 p.m., Bud Light bottles are $4 until 10 p.m., draft beers are $4 until 10 p.m., and draft pitchers are $9 until 10 p.m. Parking is limited.  
Bear Happy Hour, hosted by D.C. Bear Crue, is tonight at UPROAR Lounge and Restaurant (2009 8th St. N.W.) from 5-10 p.m. Drink specials are available until 10 p.m. Rail cocktails and draft pitchers of Bud Light and Shock Top are all $5. Free appetizers will be handed out throughout the evening.
LezLink Happy Hour is tonight from 6-9 p.m. at XX Crostino (1926 9th St. N.W.). The event is a safe space for queer women and is free. For more information, visit facebook.com/events and search "LezLink Happy Hour August."
GAMMA, a support group for gay and bisexual men, meets tonight at Luther Place Memorial Church (1226 Vermont Ave. N.W.) from 7:30-9:30 p.m. Meetings are also held in Vienna, Va., and Frederick, Md. For more information, visit gammaindc.org.
Women in their 20s and 30s meets tonight at 8 p.m. at the D.C. Center (2000 14th St. N.W. Suite 105). The social discussion for queer women in D.C. meets on the second and fourth Friday of each month and is welcome to all, including newcomers. Following the meeting, members go out to dinner nearby.
SATURDAY, AUG. 11
AGLA hosts Afternoon Jolt today at Rappahannock Coffee Shop (2406 Columbia Pike, Arlington, Va.) today from 2:30-5:30 p.m. The event is a coffee social and attendants are invited to bring friends. For more information, visit facebook.com/events and search "AGLA Afternoon Jolt."
Pride Outside and the Latino GLBT History Project host a Latinx LGBTQ History Tour today at 3 p.m. outside the SunTrust Bank on the corner of Columbia Rd. and 18th St. N.W. The tour is a mile's walk, so comfortable walking shoes and water are suggested. Historian Jose Gutierrez hosts the bilingual free tour that highlights various historical Latinx LGBT locations in D.C.
Cobalt (1639 R St. N.W.) hosts VIBES: White Party from 4-9 p.m. tonight. This is the second installment of three monthly queer day parties. Guests must be 18 years or older. It is hosted by Beaux Banks and Ariel Von Quinn. Keenan Orr and DJ Honey are DJ-ing. Jaymes Mansfield is a special guest. This Free Life, a campaign that works to prevent and reduce tobacco use among LGBT young adults, is featured. There is no cover charge for guests who RSVP early online.
Shakira performs at the Capital One Arena (601 F. St. N.W.) tonight at 9 p.m. Her D.C. performance on her "El Dorado" world tour is rescheduled from Jan. 16. Tickets range from $80-1,000. Details here. 
Distrkt C's Winter White party is at the D.C. Eagle (3701 Benning Rd. N.E.) tonight from 10 p.m.-6 a.m. Twisted Dee Martello is DJ-ing. White attire is suggested. Tickets are $28 at distrktc.ticketspice.com/winter-white-2018. The White combo pass, which includes admission to LA Fantasy's White Sunset from 5-10 p.m. at The Living Room (1008 Vermont Ave. N.W.), is $39.
SUNDAY, AUG. 12
The D.C. Front Runners' Distance Run is this morning from 9 a.m.-noon at the Taras Shevchenko Monument (22 and P St. N.W.). The running route distance is 8-12 miles. For more information, visit dcfrontrunners.com.
Lambda Sci-Fi, an LGBT group for sci-fi, fantasy, and horror fans, meets today at 1:30 p.m. with a social following at 2.  Members are asked to bring a snack or non-alcoholic beverage to share. For location or more information, visit lambdascifi.org.
MONDAY, AUG. 13
Washington Restaurant Week begins today and runs through Aug. 19. Brunch and lunch are $22 and dinner is $35. Over 250 restaurants in the D.C. area are participating this year. For a list of participating restaurants or to book a reservation, visit ramw.org/restaurantweek.
TUESDAY, AUG. 14
Inside Out LGBT Radio Show is today from 2-3 p.m. on WPFW 89.3. Listeners are invited to call in and let their voices be heard. After the live show, it will be available on iTunes and Google Play as well as archived by WPFW. For more information or to stream live, visit wpfwfm.org.
Gaymer Trivia hosted by D.C. Gaymers is at Cobalt (1639 R. St. N.W.) tonight from 7-11 p.m. A prize raffle will be available and tickets are one for $1 or 15 for $10. Donations to go toward more prizes and administrative fees are accepted during the event. Cash, credit and Venmo are accepted. For more information, visit facebook.com/events and search "Gaymer Trivia."
WEDNESDAY, AUG. 15
Zenith Gallery (1429 Iris St. N.W.) presents the "Expressing Humanity: Historical, Spiritual, & Symbolic" today and through Sept. 1. Works by Bernie Houston, Hubert Jackson and Ibou N'Diaye are featured and the exhibit explores how nature can be turned into fine art. The gallery is open Wednesday-Saturday from noon-6 p.m. or any time by appointment. For more information and to see other exhibits that are featured, visit zenithgallery.com.
Grrrls* Night is at the Wunder Garten at NoMa (1101 1st St. N.E.) tonight from 6-9 p.m. The event is hosted by Metro D.C. Democratic Socialists of America, and is a space for women, transgender people of all genders, and femmes to come together and socialize or discuss socialism. New members are welcome. There is a full bar and the venue dog- and child- friendly. Lawn games and materials and instructions for making red rose pins will be provided. Donations will be accepted.
The Tom Davoren Social Bridge Club meets tonight at 7:30 p.m. at the Dignity Center (721 8th St. S.E.). No partner is needed to attend. For more information, call 301-345-1571.
Karaoke is at the D.C. Eagle (3701 Benning Rd. N.E.) tonight from 9 p.m.-1 a.m. Karaoke night is every Wednesday.
THURSDAY, AUG. 16
Express Yourself! Madonna's 60th Birthday Flow Yoga is tonight from 6-7:05 p.m. at 405 Yoga D.C. (1000 Florida Ave. N.E.). The flow yoga session will be accompanied by the music of Madonna. For a chance to win a $100 gift card or additional swag, dress in a Madonna outfit or musical era. Any drop in, class pack or membership can be used. Drop in passes are $19 at clients.mindbodyonline.com.
The Nice Jewish Boys' Summer in the City Happy Hour is tonight from 7-9 p.m. at TRADE (1410 14th St. N.W.). Extended happy hour specials are available until 10 p.m. For more information, go here. 
Rainbow Theatre Project's play "In the Closet" opens tonight at the D.C. Arts Center (2438 18th St. N.W.) at 7:30 p.m. The show runs until Sept. 16. The show, written by Siegmund Fuchs, a litigation lawyer for the Department of Justice, follows four gay men at different stages in their lives. Tickets are $35 at brownpapertickets.com.
Disco Funk Brunch at Crazy Aunt Helen's
Tara Hoot and DJ Phil Reese perform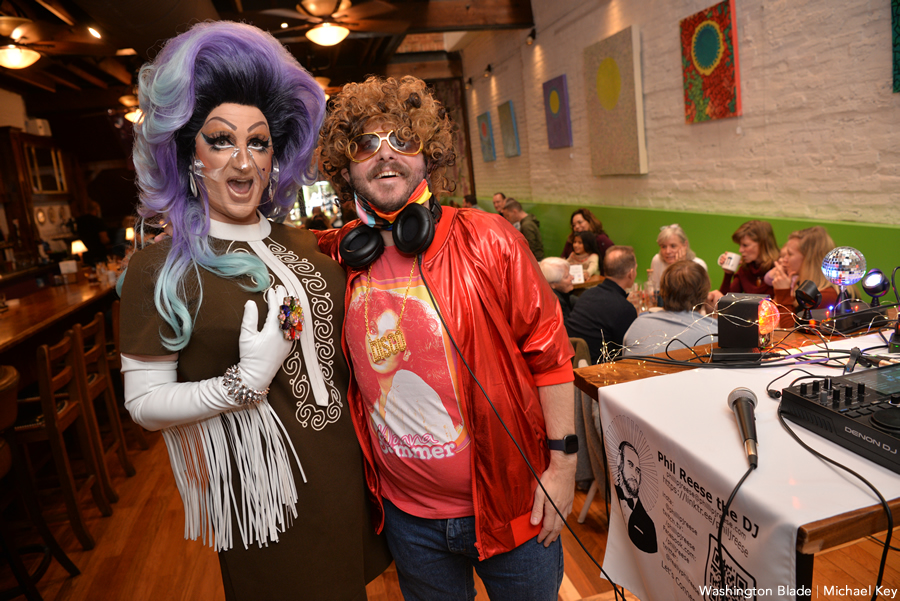 Drag queen Tara Hoot and DJ Phil Reese perform at the biweekly Disco Funk Brunch at the LGBT-owned Crazy Aunt Helen's on Sunday. For future showtimes, go to crazyaunthelens.com. (Blade photo by Michael Key)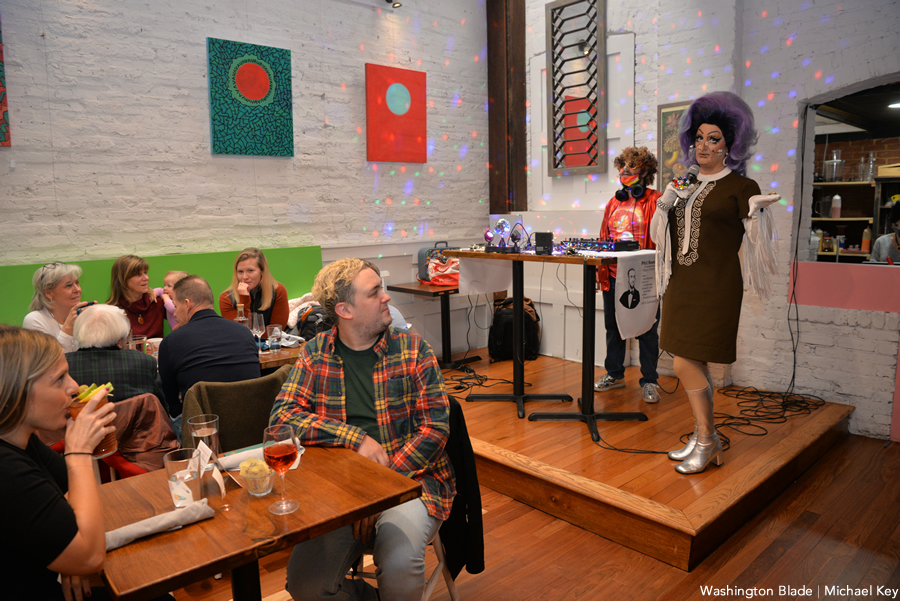 Blade's summer closing party set for Sept. 17 in Rehoboth
Benefits journalism scholarship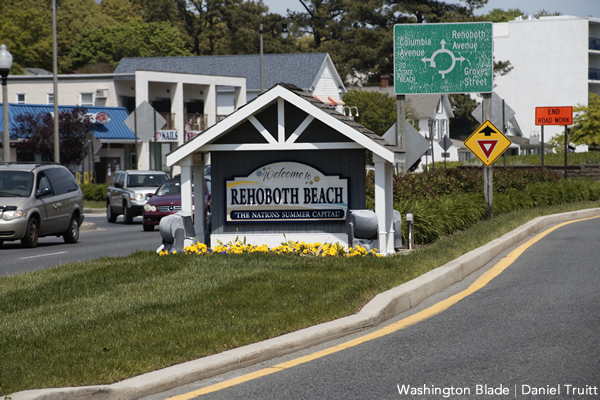 The Washington Blade's 15-year tradition of hosting a summer kickoff party in Rehoboth Beach was disrupted due to COVID restrictions. In lieu of that May event, the Blade is hosting a summer closing party on Friday, Sept. 17 at 6 p.m. at The Pines (56 Baltimore Ave., Rehoboth Beach, Del.).
Tickets are $20, which includes two drinks and appetizers. The event benefits the Blade Foundation's Steve Elkins Memorial Journalism Fellowship, a 12-week program in which an LGBTQ student journalist covers stories of interest to Delaware's queer community each summer.
All COVID safety protocols will be followed, including a requirement that attendees furnish proof of vaccination to gain entry.
If you are unable to attend you can make a donation to the Blade Foundation at BladeFoundation.org. Sponsors of the event include Delmarva Power and The Pines.
Rehoboth to close out summer with SunFest
Series of events to replace long-running Sundance due to pandemic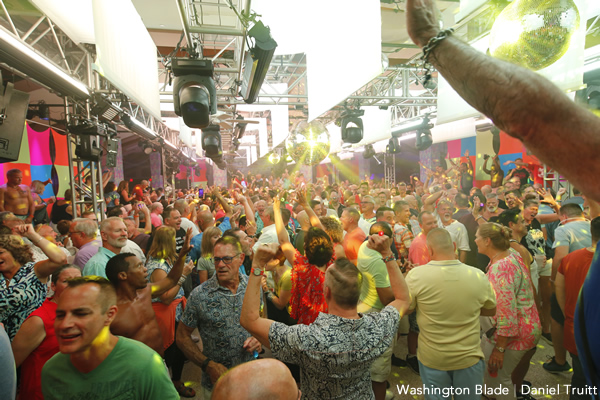 SunFest will feature a week of live performances, dances, and a live auction, sponsored by non-profit LGBTQ+ center CAMP Rehoboth.
The weeklong festival runs from Aug. 29 to Sept. 5 and is a change from the annual SunDance that CAMP Rehoboth has sponsored since 1988. This transformation began last year when the event was forced to go digital due to the coronavirus and the in-person events scheduled this year are important, according to development director and co-coordinator of SunFest Anita Broccolino.
"We love that community feel and the in-person makes all the difference in the world for us. Not being able to do it last year just reminded everyone how important we all are to one another," Broccolino said. "I think that bringing back these events this year is just huge for us and it will be extra celebratory as a result."
The festival begins with a 5k race and online auction opening on Sunday. Monday night features a give-back event at Iron Hill Brewery while Tuesday's agenda is still to be determined, said Broccolino. Diego's will host a Studio 54 give-back dance party on Wednesday and Thursday is the Port 251 women's give-back.
Live performances featuring the Skivvies, Randy Harrison and Diane Huey are scheduled for Friday night and Jennifer Holiday will follow with a performance on Saturday night, both at the Rehoboth Beach Convention Center. The festival closes out Sunday with auction pick-ups and Fun in the Sand and Sun, according to the CAMP Rehoboth website.
This event is also important to the organization's contributions to the community, said Broccolino.
"The essential services we provide for free to the community, which is a huge amount of health and wellness activities, as well as arts programming, a lot of youth programming and the community counts on us for those things. We never stopped during COVID, we made as much as we could virtual, but we took quite a hit not being able to raise those funds and awareness of the programs," Broccolino said. "We invite the entire community to come celebrate with us and make it to Rehoboth Beach, and let's make it joyful, and wonderful and make sure we're living up to the standards of all the people who helped found CAMP Rehoboth and live up to their legacy and beyond."