Blue wave builds as red regime unravels
As the political tide turns, our besieged constitutional system shows resilience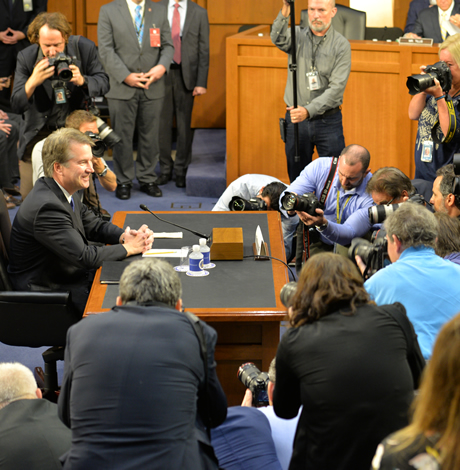 Our politics are like a major storm watch. Most of us think we are not in the flood zone, that others bear the risk. But our civic foundations are eroding, and much of what our forebears won for us could be swept away. Yet hopes are rising as the Trumpist storm feeds on itself. Paul Manafort has flipped. Special Counsel Robert Mueller is tightening the noose.
As Hurricane Florence bore down on the Carolinas, Donald Trump disputed the official death toll from last year's Hurricane Maria in Puerto Rico, a debacle for which (as always) he gave himself an A+. Meanwhile, the purported Deep State turned out to be led by the president's own staff. Trump's shrillness increases against his predecessor, his defeated rival, his critics, reporters, and athletes. As he unravels, he resembles Captain Queeg in The Caine Mutiny. He is both dangerous and ridiculous. He is an improbable leader, which is why few took his candidacy seriously.
Demagoguery is not defeated by pretending it doesn't work. The most strident professed patriots are those attacking American institutions and saying "I'd rather be a Russian than a Democrat." Defeating them requires persuading voters, not calling them stupid. Democratic candidates are learning this lesson. They are listening to voters and addressing their needs while conservatives cackle past the graveyard mocking "Trump Derangement Syndrome."
Smartphone warriors on platforms like Reddit love wielding over-the-top verbal missiles like "Ben Shapiro ABSOLUTELY DEMOLISHES Libtard Feminazi Charlie Kirk." This recalls the plague victim in Monty Python's "Bring out your dead" scene who cries, "I'm not dead!" Trump's true believers hurl schoolyard taunts at Bob Woodward's detailed reportage, yet it remains very much alive. Appealing to reason instead of passion is harder, but success in that effort is more enduring.
In sorting out candidates, we do well to consider what people's best roles are. Everyone who excels at what they do doesn't merit a promotion. Here are two examples: Sen. Elizabeth Warren is sharp-witted and effective at grilling witnesses. Stormy Daniels's attorney Michael Avenatti is bold, scrappy, and well suited to taking on Trump's nihilist right. Neither should be president. The Democratic standard bearer needs to connect with independents as well as party stalwarts.
Avenatti, age 47, at least passes the entry-level test of whether presidential candidates are closer to 48 than 78. Most Democratic presidential aspirants meet basic criteria of smartness, diligence, sanity, and non-treasonousness. Several, however, are over 70. It is time for the Democratic team to freshen its bench.
It bodes well for 2020 that the midterms have brought so many new faces, including a record number of women. There are signs of a turning tide. Ohio billionaire and Republican donor Les Wexner has renounced the party and praised President Obama. Boston billionaire Seth Klarman, previously New England's biggest Republican donor, is giving millions this year to Democrats. The Pew Research Center reports a surge in turnout for this year's U.S. House primaries, especially among Democrats. Many Centrist Democrats have adopted popular progressive policies. Our besieged constitutional system shows resilience.
Restoring our republic requires adding votes, not subtracting them through ideological purification. As Joe Biden likes to quote his father, "Don't compare me to the Almighty. Compare me to the alternative."
News broke on September 16 that Christine Blasey Ford has come forward with her allegation that Supreme Court nominee Brett Kavanaugh sexually assaulted her more than thirty years ago in high school. She told The Washington Post about it before Kavanaugh's nomination, and passed a polygraph test administered by a former FBI agent.
Stephanie Mencimer notes in Mother Jones that the alleged witness in the case, Mark Judge, who attended Georgetown Prep with Kavanaugh, has written about rampant drunken partying there. That might explain his inability to remember the incident.
Senate Republicans have used a process complaint about the lateness of the charge to distract from its credible substance, inadvertently demonstrating why victims of such assaults hesitate to speak up. Power trumps all for the Republicans, who are in a hurry to install a wildly unrepresentative right wing majority on the court while they can.
The battle over what kind of country we will be goes on.
Richard J. Rosendall is a writer and activist. He can be reached at [email protected].
Copyright © 2018 by Richard J. Rosendall. All rights reserved.
Should we be scared of Omicron?
A reminder to stay vigilant against latest mutation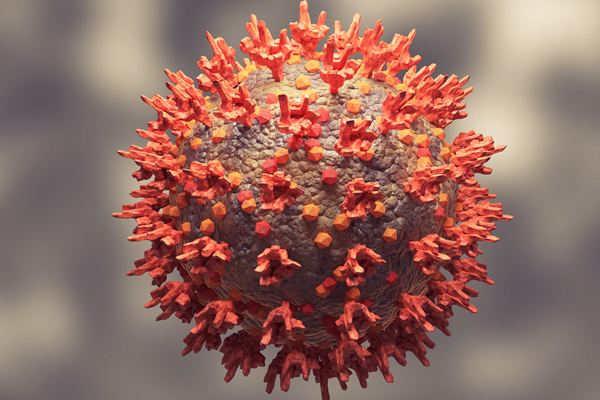 It's Sunday of Thanksgiving weekend when I sit down to write this column. The craziness in the world continues but other than the scare of the new COVID mutation, which has been named Omicron, there isn't one headline to grab attention. Instead, there are many, including some manufactured by the news media to gain viewers or sell papers. Some like the car rampaging through the Christmas parade is frightening but incidents like this seem to be happening all too often.
The stock market went down 1,000 points on Friday because market players freaked out about the new COVID mutation coming out of South Africa. However that didn't seem to stop people from spending their money on Black Friday. Rep. Lauren Boebert (R-Colo.) was again on the attack this time against fellow Congresswoman Ilhan Omar (D-Minn.) accusing her of being a Muslim terrorist. She apologized, or pretended to, but again the Republican leadership wouldn't condemn her statements. These things seemed to be grist for the news media with no one else unfortunately really voicing concern.
Boebert's comments were taken as old hat. They are disgusting, offensive, and dangerous, but as long as her constituents reelect her we will have to live with them. She is joined by Rep. Marjorie Taylor Greene (R-Ga.),  Madison Cawthorn (R-N.C.), and Paul Gosar  (R-Wyo.) who represent the worst in Congress and the worst of the American people. Yet again until their constituents throw them out we have to live with their stupidity and the absurdity of their being where they are. 
The new COVID mutation out of South Africa is potentially a game changer. But it will be important for scientists to look at this carefully to determine how quickly it spreads and whether or not the current vaccines will offer any protection against it. Countries around the world, including the United States, have quickly instituted travel bans for South Africans and those in countries surrounding it. The World Health Organization at this time has suggested this should not be done as it will have limited impact on its spreading and could have severe and detrimental economic impact on countries whose people are being banned. One thing we must learn from this is how important it is to ensure everyone all over the world has access to vaccines as we know the more people who are inoculated the harder it is for the virus to mutate. It is not time to panic yet and by Sunday there was some reporting this new mutation may not be any more difficult to deal with than the current ones and not lead to any more severe illness. The takeaway from all this is we need to keep vigilant, get vaccinated and get booster shots, and make sure we vaccinate our children. Continue to wear masks indoors and wash our hands.
Now the other interesting stories last weekend were about what will happen in the Senate in the weeks leading up to the Christmas holidays. Remember the House of Representatives passed President Biden's Build Back Better bill as a reconciliation measure, which means it can pass the Senate with a simple majority. That would mean every Democratic senator and the vice president. The focus is on two senators: Manchin (D-W.Va.) and Sinema (D-Ariz.). In reality we need to look at a number of others who will fight to either take out or put something into the bill the House passed. It is clear it will not pass in the current form and then it has to go back to the House again.
Another issue that will be taken up is the debt ceiling. It may be a little easier than thought because as recently reported, "After taking a hard line and refusing to negotiate with Democrats during the last standoff over the debt limit, Senate Minority Leader Mitch McConnell (R-Ky.) is quietly looking for a way to get the issue resolved without another high-profile battle." Then there is the budget and since none is passed Congress will have to pass another continuing resolution since the one they passed in September expires on Dec. 3. 
So for the next few weeks there will be a focus on the Senate to see what they do and how obstructionist Republicans want to be. Seems while things change, they somehow remain the same.
Peter Rosenstein is a longtime LGBTQ rights and Democratic Party activist. He writes regularly for the Blade.
It doesn't take a miracle
Hanukkah a time for LGBTQ Jews to celebrate full identity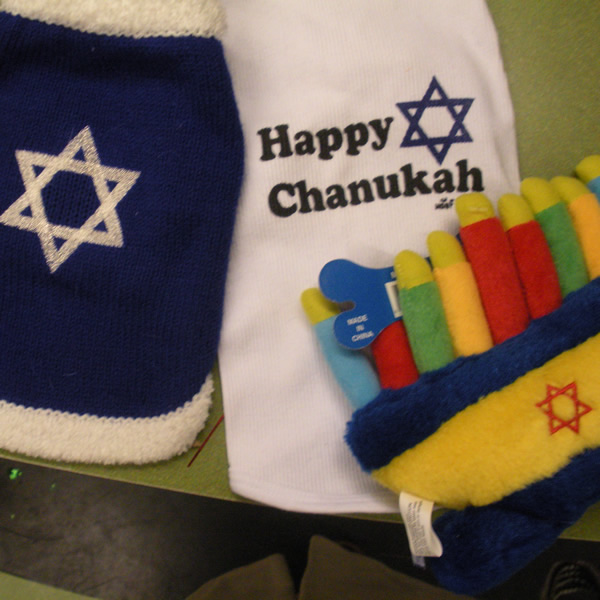 For Jews around the world, Sunday night marked the beginning of Hanukkah. The story of Hanukkah celebrates the liberation of Jerusalem by the Maccabees, a small and poorly armed group of Jews who took on, and defeated, one of the world's most powerful armies. 
Upon entering Jerusalem, the Maccabees saw that there was only enough oil to light the Temple's eternal flame for one night. But the oil lasted eight nights — enough time for new oil to be prepared. The eternal flame remained lit, and light triumphed over darkness.
The story of Hanukkah was a miracle. While we celebrate and commemorate that miracle, we should also remember that it doesn't take a miracle for one person to make a difference.
The entire world is shaking beneath our feet. The climate is in crisis and our planet is in danger. A viral contagion has claimed the lives of millions, and there's no clear end in sight. Creeping authoritarianism threatens the entire world, including here at home.
Sometimes it seems like it will take a miracle to solve even one of these problems. The reason these problems seem so overwhelming is because they are — no one person can fix it themselves.
Here in the LGBTQ community, we have made enormous strides, and we ought to be proud of them. But there is so much more work to be done.
Not everyone in our community is treated equally, and not everyone has the same access to opportunity. Black, brown and trans LGBTQ people face systemic and structural disadvantages and discrimination and are at increased risk of violence and suicide. It must stop.
These are big problems too, and the LGBTQ people as a collective can help make the changes we need so that light triumphs over darkness. But it doesn't take a miracle for individuals to light the spark.
Our movement is being held back by the creeping and dangerous narrative that insists that we choose between our identities instead of embracing all of them.
The presentation of this false choice has fallen especially hard on LGBTQ Jews, many of whom feel a genuine connection to and support for Israel. They feel marginalized when asked to sideline their identity by being told that the world's only Jewish state shouldn't even have a place on the map. And they feel attacked when asked about the Israeli government's policies during a conflict, as if they have some obligation to condemn them and take a stand simply because of their faith.
One of the ways we can shine our light is to fight for an LGBTQ community that is truly inclusive.
This holiday season, pledge to celebrate all aspects of your identity and the rights of LGBTQ people to define their own identities and choose their own paths. If you feel the pressure to keep any part of your identity in the closet, stand up to it and refuse to choose.
In the face of enormous challenges that require collective action, we must not give up on our power as individuals to do what's right. It doesn't take a miracle to do that.
The tradition of lighting the menorah each night represents ensuring the continuity of that eternal flame. One of the reasons the Hanukkah menorah is displayed prominently in the windows of homes and in public squares is because the light isn't meant to be confined to the Jewish home. The light is for everyone — and a reminder that we can share it with the world every day to try to make it better.
As long as we keep fighting for justice, we don't need to perform miracles. But we do need to do our part so that light triumphs over darkness.
It is up to each of us to map out what we can contribute to create a truly inclusive LGBTQ community. This holiday season, be the light. If you can, donate to a group that helps lift LGBTQ youth in crisis. Volunteer your time to fight for the rights and the lives of trans people. And be kind to one another.
Whether you are Jewish, Christian, Muslim, or of no faith at all, take this opportunity to share your light with the world. It doesn't take a miracle to do that.
Ethan Felson is the executive director of A Wider Bridge.
Trend of banning books threatens our freedom
'History has taught you nothing if you think you can kill ideas'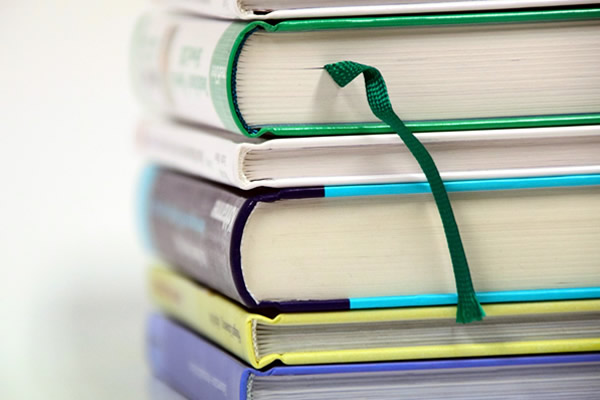 I knew Helen Keller was a DeafBlind activist. But, until recently, I didn't know that some of her books were torched.
Nearly 90 years ago, in 1933 Germany, the Nazis added "How I Became a Socialist," by Keller to a list of "degenerate" books. Keller's book, along with works by authors from H.G. Wells to Einstein were burned.
The Nazi book burnings were horrific, you might think, but what does this have to do with the queer community now?
I speak of this because a nano-sec of the news tells us that book censorship, if not from literal fires, but from the removal from school libraries, is alive and well. Nationwide, in small towns and suburbs, school boards, reacting to pressure from parents and politicians, are removing books from school libraries. Many of these books are by queer authors and feature LGBTQ+ characters.
Until recently, I didn't worry that much about books being banned. My ears have pricked up, every year, in September when Banned Books Week is observed. Growing up, my parents instilled in me their belief that reading was one of life's great pleasures as well as a chance to learn about new ideas – especially, those we disagreed with. The freedom to read what we choose is vital to democracy, my folks taught me.
"I don't care if it's 'Mein Kampf,'" my Dad who was Jewish told me, "I'll defend to my death against its being banned."
"Teachers should be allowed to teach it," he added, "so kids can learn what a monster Hitler was."
In this country, there have always been people who wanted to ban books from "Uncle Tom's Cabin" by writer and abolitionist Harriet Beecher Stowe to gay poet Allen Ginsberg's "Howl."
In the 1920s, in the Scopes trial, a Tennessee science teacher was fined $100 for teaching evolution. (The law against teaching evolution in Tennessee was later repealed.)
But, these folks, generally, seemed to be on "the fringe" of society. We didn't expect that book banning would be endorsed by mainstream politicians.
Until lately.
Take just one example of the uptake in book-banning: In September, the Blade reported, Fairfax County, Virginia public school officials said at a school board meeting that two books had been removed from school libraries to "reassess their suitability for high school students."
Both books – "Lawn Boy" a novel by Jonathan Evison and "Gender Queer: A Memoir" by non-binary author Maia Koabe feature queer characters and themes, along with graphic descriptions of sex.
Opponents of the books say the books contain descriptions of pedophilia. But, many book reviewers and LGBTQ students as well as the American Library Association dispute this false claim.
The American Library Association honored both books with its Alex Award, the Associated Press reported. The award recognizes the year's "10 books written for adults that have special appeal to young adults ages 12 through 18."
Given how things have changed for us queers in recent years – from marriage equality to Pete Buttigieg running for president – it's not surprising that there's been a backlash. As part of the blowback, books by queer authors with LGBTQ+ characters have become a flashpoint in the culture wars.
As a writer, it's easy for me to joke that book banning is fabulous for writers. Nothing improves sales more than censorship.
Yet, there's nothing funny about this for queer youth. My friend Penny has a queer son. "LGBTQ kids need to read about people like themselves," she told me. "It's horrible if queer kids can't find these books. They could become depressed or even suicidal."
If we allow books to be banned, our freedom to think and learn will be erased.
"History has taught you nothing if you think you can kill ideas," Keller wrote in a letter to students in Nazi Germany.
Anti-queer officials may remove LGBTQ books from school libraries. But, our thoughts will not be unshelved.
Kathi Wolfe, a writer and a poet, is a regular contributor to the Blade.