Ministerio de Justicia de El Salvador lanza políticas LGBTI
Activistas participan en la iniciativa gubernamental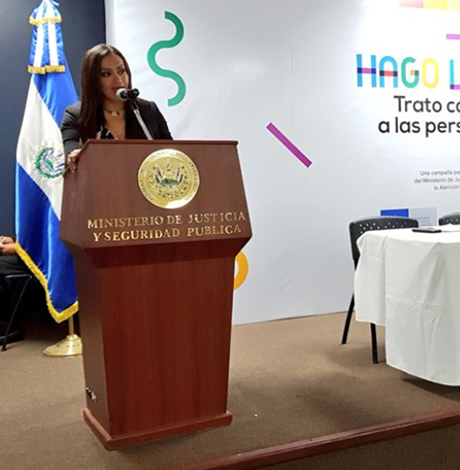 #HagoLoJusto es un esfuerzo que el MJSP realiza con el apoyo de la Federación Salvadoreña LGBTI y el Proyecto Derechos y Dignidad, una campaña que aspira a la deconstrucción de preconceptos sobre las personas LGBTI. La mayoría de las actividades priorizan la generación de espacios de intercambio y aprendizaje con personas diversas, haciendo énfasis en que se trata de un tema de acceso a derechos humanos que deben ser garantizados por el MJSP y su personal.
"El lanzamiento de la Política de Atención a la Población LGBTI reafirma el compromiso del MJSP en velar por la atención integral de este importante sector de la sociedad," dijo Eva Rodríguez, subdirectora del Proyecto Derechos y Dignidad.
"Esta campaña es una muestra que esta política está avanzando y representa una gran oportunidad para que el personal del Ministerio pueda brindar un servicio sin discriminación a la población LGBTI," agregó la subdirectora en conferencia.
"En los últimos tres meses hemos sensibilizado a más de mil empleados y empeladas del Ministerio," dijo Tatiana Herrera, representante de la Federación Salvadoreña LGBTI. "Seguiremos luchando por el amor, la paz y la justicia."
La campaña tiene previsto la realización acciones disruptivas, desayunos conversatorios, cineforos, talleres de formación, presentaciones de teatro, un concurso de fotografía, difusión a través de redes sociales y piezas audiovisuales, entre otras. En algunas de estas actividades estarán actuando como piezas claves cuatro miembros de la Federación Salvadoreña LGBTI.
"Estas políticas son importantes porque por ejemplo yo no quisiera llegar a un lugar donde me están tratando mal, pero ahora hay una política que me respalda y el personal estará capacitado," comenta al Washington Blade Aldo Peña, miembro de la Federación Salvadoreña LGBTI. "Desde el momento en que me vean y presente mi documento y hay una discordancia con mi nombre y mi identidad, si ellos tienen el conocimiento dirán que se trata de una persona trans."
La campaña #HagoLoJusto tiene por objetivo sensibilizar, y que el personal de las diferentes instituciones de Ministerio puedan aprender todos los aspectos que contiene la Política del MJSP para la Atención a la Población LGBTI.
"Con el lanzamiento de esta campaña que nos va a permitir llegar a cada uno de las y los empleados de Ministerio, ordeno la aplicación de todos los componentes de la política del MJSP para la atención a la población LGBTI," dijo Mauricio Ramírez Landaverde, ministro de Justicia y Seguridad Pública.
SAN SALVADOR, El Salvador — El 12 de noviembre se realizó el lanzamiento de la campaña #HagoLoJusto, un modelo de comunicación interna para la aplicación de la política del Ministerio de Justicia y Seguridad Pública (MJSP) en atención a la población LGBTI. Este esfuerzo se enmarca en el plan de implementación de la política y busca sensibilizar sobre la discriminación de las personas por su orientación sexual e identidad de género y dar a conocer dicha política LGBTI al personal del MJSP y sus dependencias.
WNBA players back petition for White House to 'prioritize' Brittney Griner's release
Phoenix Mercury center detained in Russia in February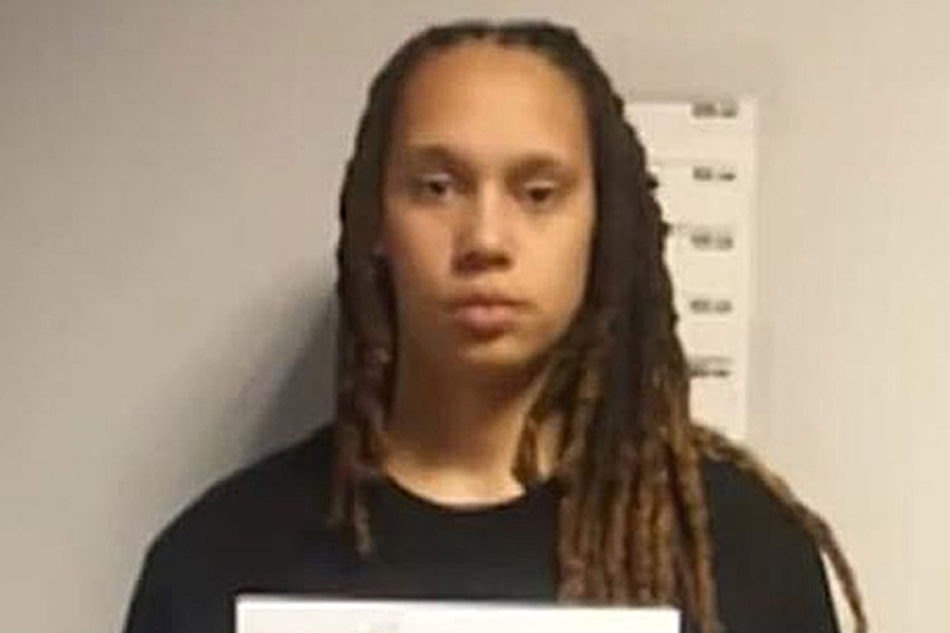 The Women's National Basketball Players Association has endorsed a petition that urges the Biden administration to "prioritize" WNBA star Brittney Griner's release.
"It is imperative that the U.S. government immediately address this human rights issue and do whatever is necessary to return Brittney home quickly and safely," reads the Change.org petition that Tamryn Spruill, a freelance journalist and author, created.
"The WNBPA and its members proudly join Tamryn Spruill, the creator of this petition, in demanding that lawmakers prioritize Griner's return," it continues. "White House and Biden adminsitration, we ask that you take action today—doing whatever is necessary—to bring Brittney Griner home swiftly and safely."
More than 135,000 people have signed the petition.
Spruill on Saturday in a tweet said the WNBPA, a union that represents WNBA players, partnered with them and Change.org "in demanding that our elected officials work urgently to gain BG's swift and safe release."
A new phase in the Brittney Griner/Change.org petition is underway! @TheWNBPA has partnered with me and @Change in demanding that our elected officials work urgently to gain BG's swift and safe release.

Details here:https://t.co/AHtb1DYcSI#WeAreBG

— Tamryn Spruill (@tamrynspruill) May 14, 2022
Griner — a center for the Phoenix Mercury and a two-time Olympic gold medalist who is a lesbian and married to her wife — was taken into custody at Moscow's Sheremetyevo Airport in February. Russian officials said customs inspectors found hashish oil in her luggage.
The State Department earlier this month determined Russia "wrongfully detained" Griner. A Russian court on Friday extended her detention for another month.
"The Russian system wrongfully detained Ms. Griner," then-White House Press Secretary Jen Psaki told reporters on Friday during her last White House briefing. "We take our responsibility to assist U.S. citizens seriously. And we will continue to press for fair and transparent treatment for all U.S. citizens when they are subject to legal processes overseas."

"Now, because the State Department recategorized her as wrongfully detained, it means that our Special Presidential Envoy for Hostage Affairs — it's quite a title but a well-deserved one — is going to be overseeing this case and leading the effort," added Psaki. "Because it's a deliberative process and we know from experience of bringing other Americans home, we're just not going to detail what those efforts look like at this point in time."
Griner faces up to 10 years in prison.
GOP Sen. Cynthia Lummis issues 'apology' after transphobic comments during graduation speech
"My reference to the existence of two sexes was intended to highlight the times- times in which the metric of biological sex is under debate"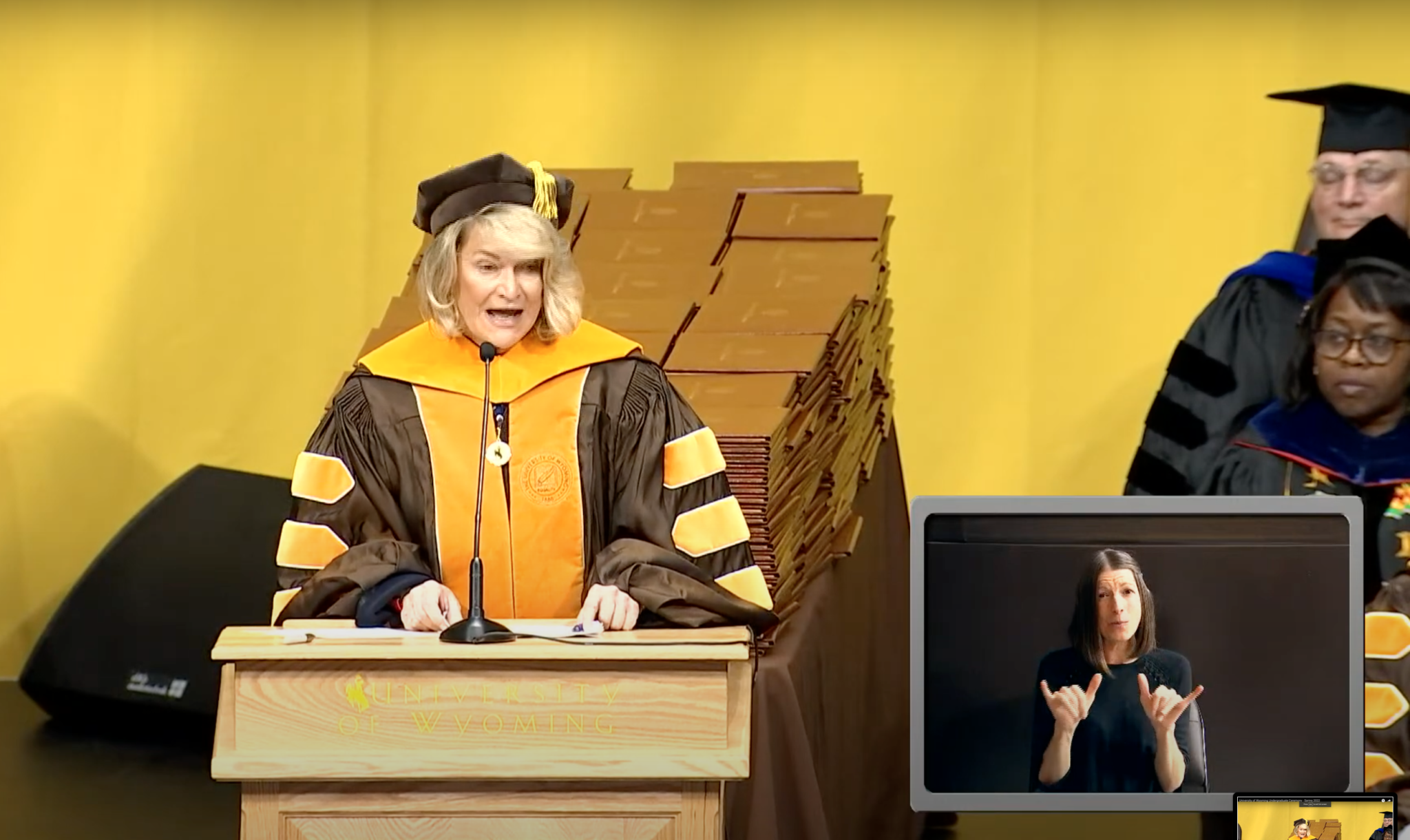 During her speech delivered to the University of Wyoming's College of Arts and Sciences and the College of Education commencement Saturday afternoon, Republican U.S. Senator Cynthia Lummis told graduates that "the existence of two sexes, male and female" was a "fundamental scientific truth."
The audience's immediate reaction to her transphobic remarks were loud expressions of disapproval including jeering, boos, and demands she leave the podium.
The senator's remarks came in the latter third of her twenty-minute address which had primarily focused on the critical need for teachers and in the fields of agriculture and other endeavors she noted were Wyoming hallmarks.
In a statement released by her office Sunday, a spokesperson noted that Lummis was apologizing to those who felt "un-welcomed or disrespected" by the comments.
"My reference to the existence of two sexes was intended to highlight the times in which we find ourselves, times in which the metric of biological sex is under debate with potential implications for the shared Wyoming value of equality," the statement read.
"I share the fundamental belief that women and men are equal, but also acknowledge that there are biological differences and circumstances in which these differences need to be recognized. That being said, it was never my intention to make anyone feel un-welcomed or disrespected, and for that I apologize. I have appreciated hearing from members of the University of Wyoming community on this issue, and I look forward to continuing this dialogue."
An Assistant Professor in the University of Wyoming's Sociology Program in the College of Arts and Sciences tweeted pointing out the graduate's reactions along with the fact that the UW campus community had recently lost a Trans student to suicide, making the senator's remarks more hurtful.
The university's president also issued a statement Sunday expressing support for all members of the UW campus and community:
May 15, 2022
To the UW community:
On Saturday, the university celebrated spring 2022 commencement with a series of events that showcased the best of what makes us special: our students, our staff, our faculty and our ability to openly embrace and debate complex issues. One of our speakers made remarks regarding biological sex that many on campus take issue with. While we respect the right of all to express their views, from students to elected officials, we unequivocally state that UW is an institution that supports and celebrates its diverse communities that collectively make us the wonderful place that we are.
Thank you to the many students and families who celebrated with us this weekend. We welcome the incredible individuality and intellect of all our dynamic and diverse students and never want you to feel otherwise.
Sincerely,
Ed Seidel, President
Being overtly anti-trans at graduation in the same year we lost a trans student to suicide (even if she was oblivious) is beyond cruel.

— Jenni Tabler, PhD (@jenni_tabler) May 14, 2022
Hi 👋. If you are interested in the response of our university. There is a lot of reflection required to support students and the broader state. But we are also people. I'm just a person who lost a student this year. I want all my students to feel seen and to live and thrive. pic.twitter.com/otSXPcc0WE

— Jenni Tabler, PhD (@jenni_tabler) May 16, 2022
Senator Cynthia Lummis' remarks are at the 50:11 time mark:
Task Force targets five battleground states in 'Queer the Vote'
LGBTQ rights organization raises over $15,000 at D.C. event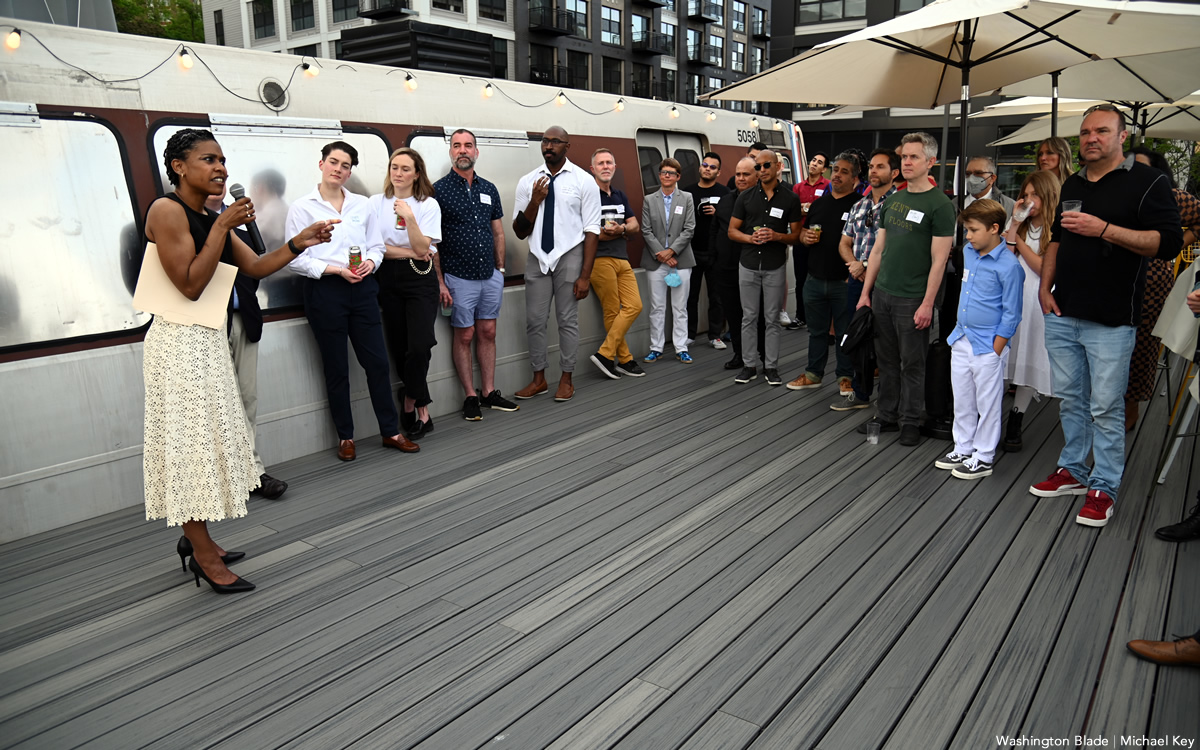 Nearly 50 people attended the National LGBTQ Task Force's Reunited and Resilient fundraiser at Metrobar on Friday, May 13.
Task Force board member Peter Chandler announced at the first in-person D.C. gathering of the organization since the start of the COVID-19 pandemic, "we all are thirsty and hungry for community right now."
Following remarks by Task Force Executive Director Kierra Johnson and Deputy Executive Director Mayra Hidalgo Salazar, the organization raised more than $15,000 in pledges of donations from guests.
"I think a lot of us are seeing this bill pop up," Salazar said, referring to Florida's "Don't Say Gay" law. "And some of us can feel hopelessness, but I'm really thrilled to share with you that the Task Force is super determined to make sure that we are driving the political power of the LGBT movement through our 'Queer the Vote' work in Florida."
Johnson elaborated on the Task Force's "Queer the Vote" initiative. "As we look to the 2022 midterms, the Task Force is moving our resources into civic engagement across five states: North Carolina, Texas, Florida, Ohio and Michigan," said Johnson.
"That's not by accident: that's intentional," continued Johnson. "These are battleground states. These are states where we are seeing not only attacks on LGBTQ issues, we're seeing attacks on abortion, we're seeing attacks on voting rights, we're seeing attacks on immigrants. We're seeing multi-front attacks on our people, and that's exactly where the Task Force wants to be: at those intersections of social justice issues and LGBTQ liberation."
"The states that we are going to — we could change the impact on elections. In some places the margin is one percent; it is a one percent margin of whether we win or lose. And the majority of states in this country are 10% LGBTQ voters. That plus BIPOC [Black, Indigenous, and people of color] voters, we have the power to impact elections and make real change."