December 14, 2018 at 12:21 pm EST | by Brock Thompson
What do gay friends want for Christmas? To be seen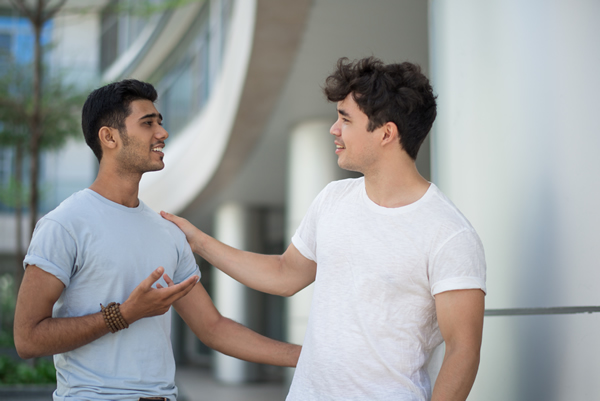 I'm a real estate agent by trade. And ask any real estate agent how business is or how the market is doing, and you'll likely get the same answer — it's great — or some variation on that. This, despite whatever the truth really is. We're just trained to be optimistic, upbeat. I guess people are more or less like that. Asking anyone, how are you, and you'll likely get the rote answer — fine. It's just what we're trained to say.
Also, why do real estate agents also just automatically tell you that the market and their business is going great? Well, they, as human beings, don't want to be seen as vulnerable, weak, or, God forbid, bad at what they do. I think gay men are a lot like real estate agents. No wonder most real estate agents seem to be gay men.
But why is this really? It seems gay men, especially here in D.C., have a lot of walls. And I've certainly remarked on this here before. And in many ways, it comes from a simple force of habit. From an early age we were taught to defuse and deflect and redirect any questions about ourselves we might find too personal. It's just what we were trained to do in a lot of ways. But at the same time, gay men also seem to rely heavily on their friends, as we carve out urban families and support networks.
Also, our queer community is just so small, and in many ways, getting smaller. News travels fast and everyone seems to love a bit of gossip here and there. I certainly include myself there. And everyone seems to be one degree removed from someone else. Social media has also made our gay worlds a little tighter, so to speak, and it certainly doesn't take a degree in forensic science to track down someone to put a face with a story. All this makes it difficult to really share it seems.
Beyond that, people seem reluctant to talk about their lives because they may never really be asked. When a friend revealed to me that he was diagnosed with depression earlier this year, I asked him what I could do to help. "Just ask me how I'm doing from time to time." Such a simple request that was almost jarring to hear. I mean, do I not do this already? We're friends after all. It occurred to me that what he was asking was to really ask and to keep asking. And not to settle for cursory answers. When talking to my friend James about this column, he suggested ditching the old standby questions and going in for a deeper connection. Targeted questions could yield connections between friends. No more, 'How are you's?' But trying instead for something deeper.
But back to real estate. Yes, our automatic reaction to anyone asking how things are going is to tell you how fantastic it all is. And truth be told, wouldn't you rather work with someone upbeat and optimistic? When it comes to friends, would you want to be around someone sad or troubled? That's difficult, right? We tend not to want to be around sorrow; we just want the highlight reels. But really asking is also the hallmark of a good friend. So, for at least two friends I know, I will try to be more present, more available, more of an active player in how they're doing.
Going forward into 2019, it's really the least I can do.
Brock Thompson is a D.C.-based writer. He contributes regularly to the Blade.