January 8, 2019 at 9:23 am EST | by Lou Chibbaro Jr.
Gay man killed in weekend D.C. murder spree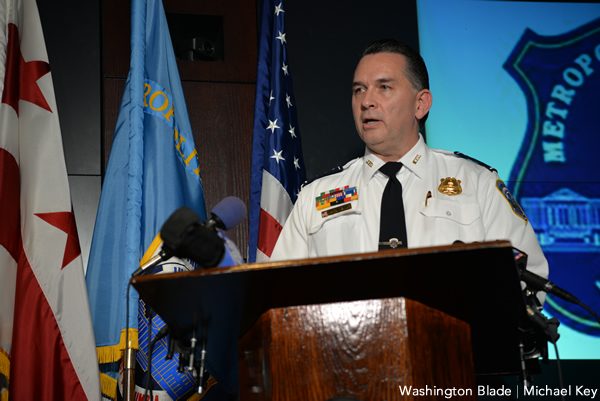 A 36-year-old gay man who was a former manager at Bloomingdale's department store in Chevy Chase, Md. was one of five people murdered in D.C. last weekend in a start-of-the-year crime spree that has troubled Mayor Muriel Bowser and Police Chief Peter Newsham.
D.C. police said officers responding to a call for help found Vongell Lugo unconscious and suffering from multiple stab wounds in the hallway of the Garfield House apartments where he lived at 2844 Wisconsin Ave., N.W. about 4:14 a.m. Sunday, Jan. 6.
A police statement says Lugo was pronounced dead at the scene a short time later after D.C. Fire and Emergency Medical Services personnel arrived.
A police incident report says probable cause was developed at the scene to arrest U.S. Navy Hospital Corpsman 3rd Class Collin J. Potter, 26, who was present at the scene, for Lugo's murder. Police initially charged Potter, who was stationed at the Marine Corps Base in Quantico, Va., with first-degree murder while armed.
The U.S. Attorney's Office, which prosecutes criminal cases in the District, lowered the charge to second-degree murder while armed at a presentment hearing in D.C. Superior Court on Monday afternoon.
At a news conference called by Bowser on Monday to discuss the city's plans for addressing a wide range of issues in 2019, Newsham provided details about each of the five murders that took place over the weekend, including the Lugo case, which he called a "domestic homicide."
Police have said they have no information so far to indicate any of the five murders were related to each other by a common perpetrator.
After the news conference Newsham told the Washington Blade in an interview that homicide investigators believe Lugo and Potter were in a relationship.
"We believe they knew each other and they had a relationship," Newsham told the Blade.
When asked if police ruled out the possibility that Potter could have targeted Lugo for a hate crime Newsham said: "I don't want to say that, but it appears that there was a domestic relationship at this point. But I don't want to completely rule that out because information can come forward. But it appears there was a domestic relationship. That's the information we have right now."
Similar to past cases of murders of LGBT people, D.C. police made no mention of Lugo's sexual orientation in the police news release announcing the murder and arrest in the case. Police have said they follow a policy of not disclosing the sexual orientation or gender identity of crime victims unless they have specific evidence indicating the victim was targeted because of his or her sexual orientation or gender identity.
A gay man who was a friend and former co-worker of Lugo said Lugo was well known as gay among his circle of friends in D.C. and Maryland, where he worked at the Chevy Chase Bloomingdale's.
"Yes, he was open about being gay," said the friend, who asked not to be identified. "He hung out mostly in straight bars, occasionally in gay bars," said the friend. "I just can't believe this. I'm so sad."
Court records show that prosecutors on Monday submitted a Gerstein Affidavit in connection with Potter's arrest. Such an affidavit usually provides specific information and evidence obtained by police to a judge to justify an arrest. The Blade was unable to immediately obtain a copy of the affidavit because the Superior Court's public information officers who respond to press inquiries had been furloughed as part of the federal government shutdown.
Under D.C.'s limited home rule charter the federal government operates the city's court system.
The available online court records show that Superior Court Judge Sean C. Staples ordered Potter held without bond pending a preliminary hearing scheduled for Jan. 18.
Potter's court appointed attorney, Matthew F. Davies, couldn't immediately be reached for comment. The Blade will report on additional information on the Lugo case when it becomes available.
During her news conference on Monday the Blade asked Bowser whether she and Chief Newsham could take steps to address anti-LGBT hate crimes following at least six unrelated assaults against gay men in 2018 that police listed as anti-gay hate crimes.
"Well certainly you know we are very focused on making sure the community feels comfortable making reports to us and knowing that all reports will be taken seriously and investigated and that we will seek justice for hate crimes against our LGBT community," Bowser said.
"And we take all of these crimes very seriously," she said. "And while it's anecdotal I feel that the community knows that they can call the police for help," she added.