January 11, 2019 at 1:37 pm EST | by Patrick Folliard
Ky. native channels home state, family in 'Gulf View Drive'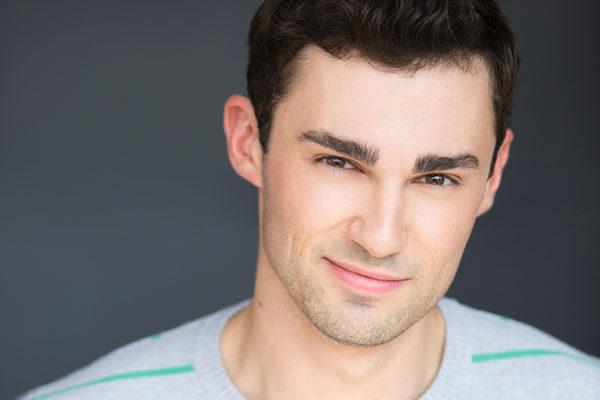 'Gulf View Drive'
Jan. 17-Feb. 10 
Washington Stage Guild at The Undercroft Theatre 
900 Massachusetts Ave., N.W.
$50-60



Typically, D.C. actors rehearse a part for three to four weeks, play the role for a month or so, then bid the character farewell.
But not for Wood Van Meter. Currently the genial but determined out actor is playing southern author Raleigh Brummett in Washington Stage Guild's "Gulf View Drive," the company's final installation of Arlene Hutton's romantic trilogy.
Van Meter first played Raleigh in trilogy opener "Last Train to Nibroc," a two-hander in which aspiring writer Raleigh and his future wife May (Lexi Langs) meet cute as strangers on a train. Next, he assayed Raleigh as a dissatisfied newlywed in "See Rock City." Now, in "Gulf View Drive," he plays a slightly more mature Raleigh who is both attaining professional goals and facing new personal obstacles. (Washington Stage Guild is presenting pay-what-you-can staged readings of the first two plays in the trilogy "Last Train to Nibroc" and "See Rock City" on Jan. 23 and 30 respectively.)
"It's been a dream," says Van Meter, 27. "Raleigh is a straight character with intelligence and integrity. He's a guy who has a sort of progressive take on masculinity, especially for the era. It's set in the '40s and '50s. Usually when rehearsals begin, initial read-throughs can be notoriously awkward. But not here. It's like a happy reunion. Lexi and I are good friends and really like working together."
They also share chemistry onstage.
Van Meter met Raleigh at the perfect time: For a large portion of 2016, Van Meter was performing on a cruise ship. And though the song and dance gig was fun, toward the end of his contract, Van Meter recalls, he really longed to do a straight play.
At about this time, he learned the Stage Guild was looking for an actor to play a passionate creative type in his early to mid-20s. What's more, much of the trilogy is set in Van Meter's native Kentucky. It struck Van Meter as a perfect fit. Trilogy director Bill Largesse agreed.
Though Van Meter is probably best known for his 2018 Helen Hayes Award-nominated performance as Joseph in Toby's Dinner Theatre production of "Joseph and the Amazing Technicolor Dreamcoat," his bio is eclectic.
In 2015, he played squeaky-clean, young Mormon missionary in Rep Stage's production of "The Whale," out playwright Samuel D. Hunter's dramedy about Charlie, a 600-pound man who is literally eating himself to death (memorably played by out actor Michael Russotto). Van Meter describes the run as incredibly gratifying and says he learned more from Russotto about acting in 10 weeks than he learned throughout his entire four years at college.
The son of two doctors, Wood (short for Woodford like the Kentucky bourbon) Van Meter grew up in Lexington, an hour north of small-town Corbin where much of Hotton's trilogy takes place. For Van Meter, a lot of his Raleigh characterization comes from an uncle who lives in central Kentucky.
"I use his sense of fun and intuitive compassion and his thick accent."
As a kid, Van Meter studied classical voice but sang country. After high school, he left for Pittsburgh with his parents' blessings to study musical theater at Point Park University.
"In my junior year, I became a bit lost. I was too tall (6'4") to play teenagers and not the leading man type. I'm a baritone that can sing high, but not the kind of young rock tenor that's so popular today. It was a confusing time but I didn't give up."
After graduating, things moved quickly. Van Meter was cast as a swing in the musical "Elmer Gantry" at Signature Theatre. He moved to Washington and has worked consistently as an actor ever since.
Van Meter's life is nicely organized. He lives in D.C.'s trendy Bloomingdale neighborhood. When not on stage, he works the front desk at Barry's Bootcamp, a fitness studio in Dupont Circle. His boyfriend isn't involved in theater but loves to attend.
Yet, like so many working actors, Van Meter is not yet booked for another show after his current job ends.
His crowded resume boasts some LGBT parts including five months as Tony the gay hairdresser in the Kennedy Center's long-running comedy "Shear Madness," but he aspires to stronger roles.
"I haven't hit those holy grail gay characters like you find in 'Angels in America.' I'd like to do those one day. And I'm dying to play the gay Streisand employee in the one-man comedy 'Buyer & Cellar.' That's a part I'd love to do."