Singers shine in Signature's Judy Garland tribute cabaret
Soloists show genuine affinity for 'Trolley,' 'Rainbow' and more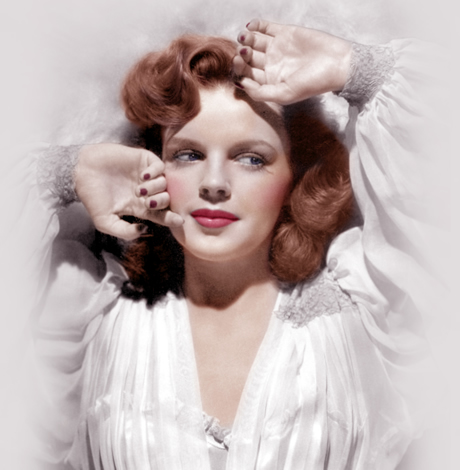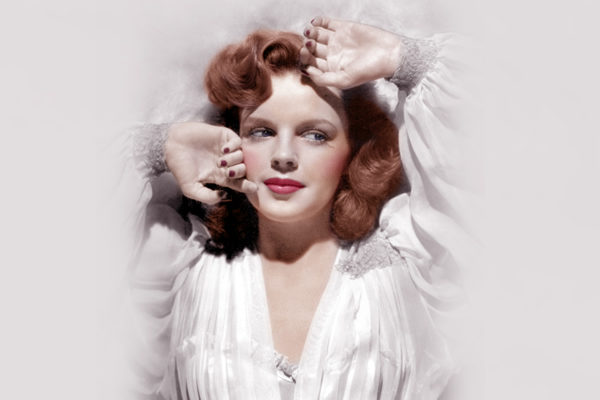 'Judy Garland: A Star Is Born' 

Through Jan. 26

Signature Theatre 

4200 Campbell Ave.

Arlington, Va.

$38

703-820-9771
Celebrating one of history's greatest voices can get a little tricky. So rather than overthink things, Signature Theatre's new cabaret, "Judy Garland: A Star Is Born," jumps right in and gives a fresh and fun account of Garland's legendary talent.
Out director Matthew Gardiner, who also conceived the cabaret, keeps it simple: Two singers, a couple musicians and an unadorned stage except for, of course, a baby grand piano and an outsized, iconic photo of Garland. By morphing The ARK (Signature's smaller black box space) into an intimate club setting, Gardiner creates the ideal environment for an informal evening saluting the brilliant though troubled performer.
The singers, who so pleasingly cover Garlands' hits, are Awa Sal Secka and Katie Mariko Murray. The terrific pair is accompanied by music director/pianist Chris Urquiaga, and Bill Hones on standing bass. In about 90 minutes and almost 20 songs, they track Garland's career from her debut as vaudeville toddler Frances Gumm; meteoric rise to stardom at MGM; comebacks with the film "A Star Is Born" and seminal, award-winning concert performances; and finally decline and untimely death from accidental drug overdose in 1969 at just 47.
The familiar playlist reads like a dream, Mariko Murray and Sal Secka ably take turns with the classic material: "Zing! Went the Strings of My Heart," "You Made Me Love You," "The Trolley Song," a plaintive "By Myself," "The Man That Got Away" and others.
Sel Secka gives a gorgeous rendition of "The Boy Next Door," first sung by Garland in the 1944 film classic "Meet Me in St. Louis" directed by one of her husbands and Liza's father, Vincent Minelli. Sal Secka's luscious take on the standard is the highpoint of the show.
There are duets too including a jazzy "Ding-Dong! The Witch Is Dead!" from "The Wizard of Oz" (1939). The show lovingly closes with "Over the Rainbow," famously from the same film, followed by a superb encore that I won't reveal.
Sel Secka and Mariko Murray share both narration duties and a playful rapport. Though their patter can be a tad unpolished at times, a charming enthusiasm and love for Garland always shines through.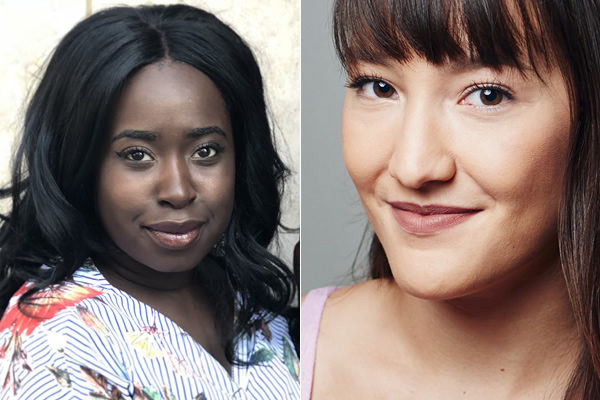 Gardiner, who adores Garland and danced to her albums as a little boy at home in suburban Maryland, neither eschews Garland's highs of stardom nor the terrible lows including unceasing criticism of her appearance, prescribed amphetamines for pep and weight loss, a difficult abortion, a dependence on drugs and alcohol and on and on.
The uglier particulars are well known to diehard Judy fans. Yet, when delivered by performers who are newly acquainted with the seamier details of the star's life, followed by gasps of disbelief from some uninitiated audience members, these facts drive home the harsher realities of Garland's legend.
The show skips over the dubious sexuality of some of Garland's husbands and her father's attraction to young men. There's no mention of her death possibly sparking the Stonewall riots. But it does include some surprises (for me, anyway). Like who knew the great Johnny Mercer wrote "That Old Black Magic" with Garland in mind? Or that after her death, Frank Sinatra paid off Garland's sizeable debts?
The cabaret singers' affinity extends to Urquiaga, the accompanist. They enjoy when he takes a key-pounding, hair-tossing solo; but, like Mariko Murray wise cracks, it's always "Back to Judy."
Perhaps what's most striking here, is how the singers who were born long after Garland's death, display an authentic exuberance and deep respect for the woman and her artistry. They're awed by her consummate storytelling and the vulnerability found in her performances. That's some tribute.
Local theaters come to life to celebrate Pride
Kennedy Center, GALA, Olney and more offer live and virtual events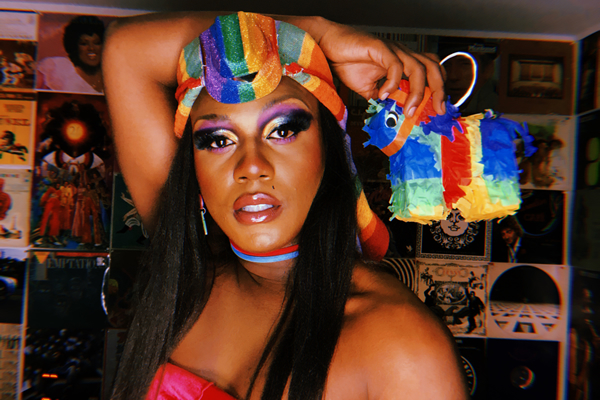 With reopening comes opportunities to celebrate Pride with live performances.
For the first time in more than a year, the Gay Men's Chorus of Washington's Potomac Fever Ensemble will be performing together live. The small, close-knit harmony a cappella group is presenting a fun mix of contemporary pop, crowd favorites, and Broadway songs at National Christian City Church at 5 Thomas Circle, N.W., on Saturday, June 12 at 3 p.m. Admission is free. Gmcw.org
And if you move fast, there's still time to catch an outdoor performance of Solas Nua's production of "In the Middle of the Fields." Penned by Deirdre Kinahan ("Wild Sky," "The Frederick Douglass Project"), the new work "centers on Eithne, who is undergoing chemo-therapy for breast cancer. Stepping out of her house and into the nearby fields, she wonders what her life will be like on the other side of recovery from a deadly disease."
Directed by Laley Lippard and featuring talented local actors Jessica Lefkow, Caroline Dubberly, and Ryan Sellers, the aptly titled play is staged outdoors at P Street Beach in Dupont Circle. Audiences are seated at a distance; blankets and chairs are available for seating options. Solasnua.org
GALA Hispanic Theatre continues its return to live performances with "Ella es tango" ("She is tango") through the end of June. An original musical revue conceived by GALA artistic director Hugo Medrano with texts by Patricia Suárez and featuring artists from Argentina and the U.S., it highlights the contribution of women composers and singers to sexy but traditionally male dominated genre.
"Ella es tango" is performed indoors at GALA's bijou space in Columbia Heights, and starting June 11, 2021, the theatre capacity increases and seats will be assigned three feet apart (every third seat) instead of six feet apart (every fifth seat). Galatheatre.org
The Olney Theatre Center (OTC) boasts an impressive lineup of summer offerings for its outdoor, open air amphitheater, the Root Family Stage.
Beginning late July through the end of August, OTC presents the weekly Friday night Andrew A. Isen Cabaret Series featuring some of the DMV's top musical talents featured in some exciting combinations.
The pairs include Awa Sal Secka and out actor Bobby Smith (July 23); Ines Nassara and Tracy Lynn Olivera (July 30); Donna Migliaccio, and Nova Payton (August 6); Rayanne Gonzales and local gay performer Rayshun Lamarr who appeared as a contestant on TV's "The Voice" (August 13); Greg Maheu and Vishal Vaidya (August 20); and finally, Malinda Kathleen Reese and Alan Wiggins (August 27).
And for two free performances on consecutive Wednesday nights in August, OTC presents "Olney in Drag" where audiences are asked to "enjoy a drink as these fabulous drag queens shine brighter than the stars in the evening sky." The first show (August 18) features Brooklyn Heights, Betty O'Hellno, Ariel Von Quinn, and Evon Michelle.
Queens taking the stage for the second show (August 25) include Kristina Kelly, Vagenesis, Tiara Missou (David Singleton who appeared in "Elf the Musical" at OTC), and Echinacea Monroe (terrific out actor Solomon Parker). Olneytheatre.org
Also this summer, the Kennedy Center has big outdoor plans for its wide-open, riverside REACH campus.
The Millennium Stage is scheduled to present free outdoor experiences ranging from live music and film screenings to dance lessons, yoga sessions, arts markets, and more.
Slated programming promises to celebrate varied cultures and styles, and work in partnership with the UNHCR, the UN Refugee Agency, National Theater for the Deaf, Smithsonian Asian American Center, Creative Nomads, SAMASAMA, D.C. Legendary Musicians, Step Afrika, and members of the Drag community, as well as internal collaborations with the Kennedy Center's Culture Caucus. Kennedy-center.org
And while the Shakespeare Theatre Company (STC) isn't venturing outdoors yet, they are continuing to present "Blindness," a brilliant piece about pandemic and societal breakdown featuring the voice of Juliet Stevenson, at Sidney Harman Hall through July 3. The unforgettable experience remains an in-person theatrical installation with socially distanced seating; 40 audience members per event; and masks required indoors).
And "All the Devils Are Here: How Shakespeare Invented the Villain starring Patrick Page" continues to stream until July 28.
Looking forward to September, STC's first full production will be a two-week limited engagement of gay writer James Baldwin's "The Amen Corner" from Sept. 14-26 in Sidney Harman Hall, completing its glorious run that was cut short by COVID in March 2020. Shakespearetheatre.org
'Will Power's Flow' a hip-hop tour de force
Justin Weaks on playing multiple parts, theater scene after COVID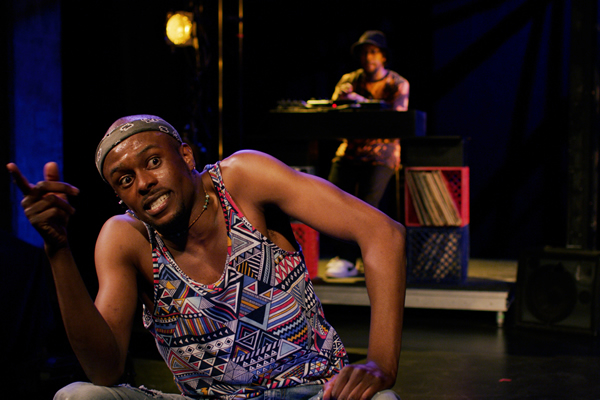 'Will Power's Flow'
Studio Theatre
Streaming through June 27
$37
Studiotheatre.org
Out actor Justin Weaks really digs hip-hop. So, when Studio Theatre asked him to take on the title role in a filmed remount of "Will Power's Flow," an early 2000s hip-hop theatrical piece about music and the storytelling of contemporary urban denizens in the West African griot tradition, it wasn't an impossible stretch.
Growing up in Concord, N.C., a suburb outside of Charlotte, Weaks' household was strictly into soul and R&B. But since living in D.C., he says, it feels like hip-hop music has deeply dug its claws into him.
In "Flow," Weaks, 30, is backed by the hip-hop beats of DJ/composer/sound designer Nick "Tha 1da" Hernandez. "But you'll hear me on some beats too. I have a good time with it."
But the most challenging aspect of tackling "Flow" is playing multiple parts, he adds. In addition to his lead role as performer Will Power (the 7th storyteller), he plays six other storytellers, and about another dozen characters. But this sort of tour de force isn't entirely new to the actor who triumphantly played multiple roles in "Long Way Down" at the Kennedy Center as well as in "Gloria" at Woolly Mammoth, the work that garnered him a Helen Hayes Award nomination.
The D.C.-based actor who describes himself as "happily single," ranks as one of Washington's most gifted talents.
WASHINGTON BLADE: Was it challenging to assay Will Power, a part so associated with a real-life artist?
JUSTIN WEAKS: Actually, this production was my introduction to Will Power. My friend and director Psalmayene 24 reached out to me – he said Studio wanted to remount "Flow" with a new actor, and asked if I was interested. I was blown away by the script. It's a behemoth of a piece. Any yes, any time you're dealing with a piece that was originally performed by its writer, there is an extra responsibility to the work and the words.
BLADE: And how was returning to the stage after a long absence?
WEAKS: The return to Studio felt right. I love the programming at Studio. Like how intimate their spaces are. As a performer you're held by the audience.
BLADE: But because of COVID restrictions, this production was filmed over two days. How was that?
WEAKS: I've had very little film experience. This was my first major rodeo in front of the camera. Everything about it was new. I learned so much while doing it. It's something that's foreign. You have to think of it as a great opportunity to learn, to grow, and see what you need to work on.
I'll admit that I feel incredibly vulnerable with this filmed play being out there. That's new for me. I've experienced vulnerability in real time when I'm on stage but to have the work be done a month ago, edited, and out there, it makes me feel exposed in a way I've never felt.
BLADE: I'm sure you'll get used to that.
WEAKS: After I've done a few feature films, I'll probably feel differently.
BLADE: Was it difficult returning to work after such an odd year?
WEAKS: Returning to work as an artist isn't easy. I consider our return process to be like boot camp. We're different people now. My body sits differently. My voice and breath are different. After isolation and not working much, I had to relearn my instrument again.
BLADE: Is it different?
WEAKS: There is so much that is changing in terms of the industry — theater and film industry. How they hire and pay artists. So many of us made more on unemployment than when we were busy working full-time pre-COVID.
Theaters will be in for a surprise when they reopen doors and find that artists don't want to go back to the way things were before the pandemic. We're in a different time now and we'll rise to the new time rather than shrinking back into what was. Clearly it wasn't serving many of us.
BLADE: And is there anything about Flow that's especially appealing to LGBTQ audiences?
WEAKS: Oh, yes. If you're someone who has struggled at all this past year, then this piece will interest you. If you're figuring out what the future looks like, how to move on, how to cope, how to have faith, or hang on to something real, then this play is for you.
A mix of laughs and sadness in '2.5 Minute Ride'
Studio virtual production penned by Tony-winning Lisa Kron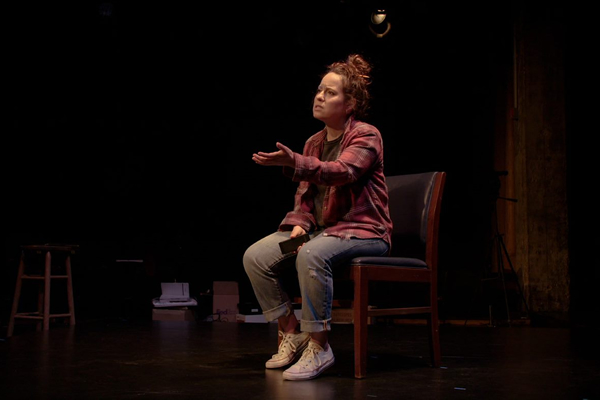 '2.5 Minute Ride'
Streaming through June 6
Studio Theatre
$37
Studiotheatre.org
Tony Award-winning lesbian playwright Lisa Kron writes about families. Sometimes her own, and sometimes other people's.
With her autobiographical solo show "2.5 Minute Ride," now streaming at Studio Theatre, the focus is on her relationship with her father, a nearly blind Holocaust survivor with a mad passion for roller coasters.
The 75-minute piece opens with Lisa (engagingly played by Dina Thomas) alone in an empty theater. Casually dressed in jeans and a flannel shirt, she arranges a couple of chairs and a slide projector. She's about to open the family album – usually a dreaded experience for strangers, but not so here.
Rather than an endless cavalcade of unknown faces and places, these projected slides are blank pictures, allowing the audience to imagine people and locations of their own conjuring.
From the start, it's clear that this anecdote-jammed monologue will be a mix of laughs and sadness. As Lisa, Thomas pokes fun at her oddball relatives. There's the brother who finds a bride on the Internet, a grandmother who left behind countless unopened packages of cosmetics bought because she felt bad for the Avon Lady, and Lisa's closeted uncle whose hoard of gay porn was uncovered after his death.
Though not in the least bit sugarcoated, Kron's descriptions are never cruel.
But the foremost eccentric here, is Lisa's thrill-addicted father Walter. A German Jewish immigrant, he escaped Nazi Germany as a teenager by Kindertransport. His parents weren't so fortunate — unable to get out, they met tragic fates in the camps.
Over the years Walter establishes an upper-middle class life in Lansing, Mich. Almost annually, the family makes trips to Cedar Point amusement park, the roller coaster capital of the world, in Sandusky, Ohio, where Walter, a bona fide coaster junkie, indulges in his favorite pastime, a habit that he's loath to give up even as he ages. So, at 74, despite failing vision, diabetes, and a bad heart, Walter continues to ride the coasters (the play's title is a salute to this passion)
Lisa marvels at her family's bad health. Most of the extended family is dead or crippled, she says.
They're so different from her girlfriend Peg's physically vital, outdoorsy clan.
There's another journey whose details Lisa generously shares. It's the one-time trip she and her dad take to Auschwitz, the death camp where Walter believes his parents to have perished. As traveling companions, the pair do pretty well. She supplies sight while he brings the languages. During their time alone together, Lisa learns a lot about Walter, the ways in which he processes joy and grief, for instance, along with some larger lessons about how great tragedy exists alongside the mundanity of life.
Streamed solo shows have become staple theatrical fare throughout the pandemic. If they're not your thing, then "2.5 Minute Ride" may not be for you. That said, Thomas gives a compelling, layered performance as Lisa. Ably directed by Joanie Shultz, Thomas convincingly talks about family with compassion but not sentiment. Through Kron's prose, she vividly recreates relations and locales ranging from her maternal grandmother's home, the brother's rented wedding venue, a rental car, the Auschwitz parking lot.
Kron, who is married to fellow celebrated playwright Madeleine George, is probably best known for writing the book and lyrics for "Fun Home," the award-winning Broadway musical, a queer coming-of-age story adapted from Alison Bechdel's 2006 graphic memoir of the same name. Kron also wrote the biographical "Well," a family memoir centered on the relationship of mothers and daughters, and wellness.
"2.5 Minute Ride" offers a funny, poignant entry into Kron's family. It's an invitation worth accepting.