'Jeffrey' production brings AIDS era to life with humor
93-set play finds gay lead character navigating romance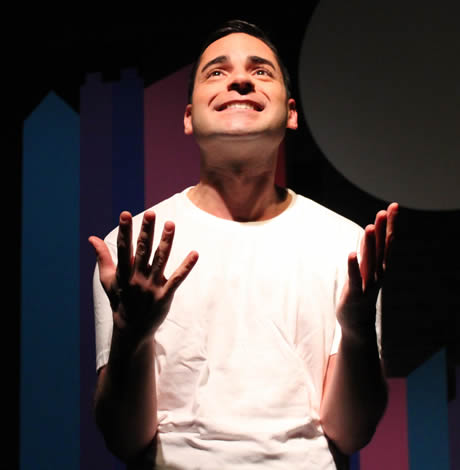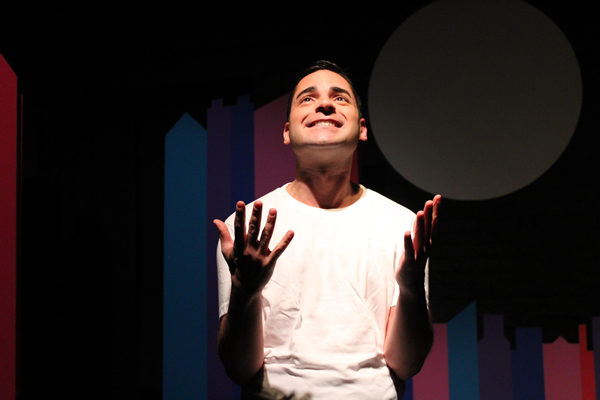 'Jeffrey'
Rainbow Theatre Project
D.C. Arts Center
2438 18th St., N.W.
$35
Touted as the first AIDS comedy when it successfully debuted off-Broadway in 1993, out playwright Paul Rudnick's "Jeffrey" feels a little dated today, almost like a period piece, but that's a good thing.
When we meet Jeffrey, he's negotiating sex in the age of AIDS. His encounter with a prospective partner wrapped extra safely in Saran Wrap, sets the tone of the evening. Rudnick pokes sharp fun without trivializing the seriousness of the epidemic. From the start, audience members are laughing, relating and perhaps remembering.
Now playing at Rainbow Theatre Project, "Jeffrey" is a perfect fit for the company whose mission is presenting plays and musicals that reflect LGBT experiences, interests and history.
The plot is simple. Jeffrey (a stoic Rinaldo Martinez), an aspiring actor who works as a cater waiter at some of Manhattan's swankiest events, which in the '80s and early '90s includes splashy AIDS fundraisers and frequent memorial services for gay men struck down way too soon, is feeling emotionally battered. Surrounded by sickness and death, Jeffrey vows no more sex. Instead, he'll focus on career and fitness. But on his very next visit to the gym, Jeffrey meets and is immediately attracted to sexy Steve (Reginald Richard) who is HIV positive.
Further complicating matters, Jeffreys' closest friend Sterling (Matthew Pauli), a snooty but unerringly practical interior decorator, and his much younger, dumb-as-a-fox boyfriend Darius (Randyn Fullard), a dancer in "Cats," like Steve and are rooting for the relationship.
Determined to remain celibate, Jeffrey, who owns up to 5,000 sexual encounters, looks for answers everywhere from a support group for sexual compulsives to a downtown jerkoff club. However, unexpected meetings with Steve make his newly adopted lifestyle increasingly difficult to maintain.
Director Robert Mintz, who helmed Rainbow's staged reading of "Jeffrey" in 2016, lucidly segues from reality to wild fantasy scenes including a choreographed orgy at a hoedown-themed AIDS fundraiser, Jeffrey's phone call home to Wisconsin in which his square parents offer him safe sex tips, and a game show for gays. The quizmaster asks "Who is your sexual fantasy?" Sterling answers, "Yoko Ono. To see the apartment."
Set designer PJ Carbonell makes smart use of the tiny D.C. Arts Center space with a romantic full moon hanging over a striped, carnival-colored New York City skyline. Projections deftly move the action from Manhattan gyms to swank department stores to gay clubs to hospital waiting rooms.
As Jeffrey and Steve, Martinez and Richard share a subdued chemistry. Richard believably portrays Steve's frustrations as he endeavors to live a normal life despite everything. His is a memorable performance. The remainder of the eight-person cast (Craig Houk, Emily Levey, Joshua Street and Rick Westerkamp) plays a wide range of multiple roles: Mother Teresa, a society doyenne, a sexual compulsive with a 14-inch penis, and an out-and-proud pre-operative transsexual lesbian and her mother and more.
Hough is a comedic standout as a handsy Catholic priest ("Historically," he says, "that falls somewhere in between chorus boy and florist.") whose idea of heaven is gay sex and a good show tune. Martinez's Jeffrey serves as perfect foil to Hough's priest.
While there have been hotter and slicker takes on "Jeffrey," Rainbow's version is undeniably entertaining. Equally important, the production has a heart that beautifully captures Rudnick's message: embrace joy wherever and whenever you can.
Theater that starts uncomfortable conversations
Theater Alliance director on 'City in Transition' — 4 plays about D.C.'s quadrants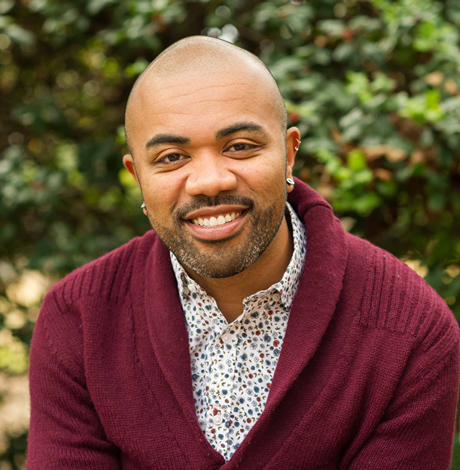 'City in Transition: The Quadrant Series'
Streaming from April 24-May 24
Theater Alliance
Recently, a Facebook post asked "Are there any activist theaters in D.C.?" A local actor quickly replied. "There's only one," she wrote. "It's Theater Alliance."
During a phone interview from his home in Anacostia last week, Theater Alliance's producing artistic director Raymond O. Caldwell, addressed the social media query: "We keep our heads down and do the work. Well before the pandemic, we were trying to have conversations about race in America. Then it seemed niche work. Now that work is in vogue. There might come a time when it's no longer stylish. But that's OK, we're ultimately doing it to transform people's lives and start conversations.
"Our plays won't change the world. Straight up. But we can start conversations that are uncomfortable and don't have easy answers. And by partnering our productions with various nonprofits, we're able to involve people in the movement whether it's on the front line or stuffing envelopes."
In residence at Anacostia Playhouse, Theater Alliance's mission is to illuminate the experiences, philosophies, and interests of D.C.'s diverse population. When Caldwell, who is gay, took helm of the company in January 2019, the organization was already steeped in diversity. He's worked to continue and expand on that, creating a cultural institution that's invited in the surrounding, mostly Black community.
The company kicked off its virtual season in December with eight pieces about protest centered around the demands of the Black Lives Matter movement. Having started off nationally, they're now moving locally with "City in Transition: The Quadrant Series," a 90-minute intersection of theater and film directed by Caldwell.
Part of the multi-Helen Hayes Award-winning company's Hothouse new play development series, "City in Transition" consists of four filmed plays about Washington's quadrants, SE, SW, NE, and NW written by local black playwrights Khadijah Z. Ali-Coleman, Avery Collins, Shalom Omo-Osagie, and Leslie Scott-Jones.
The not long pieces are set in the present, past, and future. Topics include Black nonprofits battling to get funding via a game show; the meeting of hip-hop artists and violence set against the gentrified waterfront; a wealthy Black family debating whether to transform its landmark Black property into a trendy lounge for whites; and a white census taker discussing the changing city and current protests with a Black Washington native.
"Almost 13 years ago, I came to D.C. to be in Chocolate City but to my surprise, it wasn't here," says Caldwell, 37.
"When I think about a city changing and moving through gentrification, what concerns me is the loss of history, the stories of the folks who once lived here disappear.
"And interestingly, as D.C. gentrifies, we start noticing an uptick of murals and Black aesthetic of the city. It allows liberal yuppies to feel they're in an urban environment but forgetting the rich history particularly for Black people in DC."
He initially came to Washington for a six-month fellowship but stayed on. After six years at
Arena Stage, desirous to work outside of a white space, he began teaching at Howard University.
At Howard, his work centered on the universality of storytelling. "I pitched what folks would consider white work like Lillian Hellman's provocatively lesbian-themed play, 'The Children's Hour.'"
"I'd ask my predominantly Black audience to imagine ourselves there as well, and they would.
The audience left thinking the play was written by a Black woman. It was additionally powerful because we in the Black community have trouble talking about homosexuality."
As gay, Black, and Asian, Caldwell sometimes refers to himself as third culture: "Being who I am allows more space for me to see biases. I go into work asking myself what are the opportunities for transformation within me and the ensemble of artists I'll be working with?"
Born in Germany to a German-Filipino mother and African-American father, he mostly grew up in Germany but spent summers with his father in the U.S. At 13, he went to live with his father.
"He thought I'd had enough of the European experience and wanted to teach me what it was to be a Black man in the world. And interestingly, that became the center of my activism."
Caldwell's American grandmother described him like this: "That boy can't help but livin'."
It's true, he keeps busy, says Caldwell. He doesn't turn down too many projects. "I'm honored to be creating art. There are so many ideas I want to push and propagate and now having a space and platform makes it especially hard to say no. It's a good place to be."
'Aunt Julia and the Scriptwriter' a raucous, transgressive romance
GALA Hispanic Theatre debuts second live performance since COVID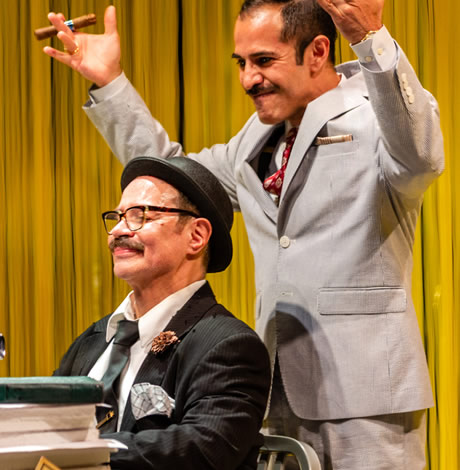 'Tía Julia y el escribidor' / 'Aunt Julia and the Scriptwriter'
In person April 22-May 9 ($45)
Online starting May 5 ($25)
GALA Hispanic Theatre
3333 14th St., NW
Galatheatre.org
When GALA Hispanic Theatre reopened its doors in the fall, the actors performed in a giant plexiglass box. And now, for the Columbia Heights company's second live performance production, what looks like "a giant sneeze guard" separates the action on stage from the audience.
Opening next week, Caridad Svich's eponymous adaptation of Nobel Prize-winning writer Mario Vargas Llosa's autobiographical coming-of-age novel "Tía Julia y el escribidor, or "Aunt Julia and the Scriptwriter," is a raucously funny, transgressive yet tender romance.
A fun workplace story set against the radio-novela focused world of 1950s Lima, it's the story of Mario, an aspiring young writer who embarks on an ardent affair with Julia, his alluring, older aunt by marriage.
The production's out director José Zayas knows the story well.
He first encountered this peek into Vargas Llosa's youth with "Tune in Tomorrow," an Americanized 1990 screen adaptation (relocated to New Orleans) starring Keanu Reeves and Barbara Hershey. Smitten with the film, Zayas promptly sought out the source material: "It's an especially autobiographical, genuine Latin American comedy. Truly a delightful work to encounter."
When tapped to direct something for Repertorio Español's 2015 season, Zayas requested that longtime collaborator Svich adapt "Tía Julia." Both she and the esteemed New York theater agreed.
"We're very simpatico," he says. Zayas and Svich are equally adroit in Spanish and English, and together they share a passion for classic Hollywood screwball comedies like "The Frontpage," "Twentieth Century," and "His Girl Friday," and their love for the genre is evident all over the play and production.
"It's an especially unique adaptation with different influences coming into play," says Zayas, a Harvard grad who was born in Puerto Rico, grew up in the U.S. Virgin Islands, and now lives in New York. "It's one of the interesting things that happens when you adapt in the United States and you're working in Spanish – the rhythms are different.
"And while there's nothing explicitly LGBTQ about the play, besides me and some of the cast," he adds, "it has a feel — the fascination with the comedies of the period — the strong women of the time like Rosalind Russell, the style, and form of it. It's all there, maybe coded, but there."
Already in rehearsal at GALA when COVID hit in March 2020, the presented in Spanish with English surtitles production was postponed until now. Resuming rehearsals after a long break means hearing the play in new voices, new ideas, new textures, and in some cases new cast members, says Zayas. Fortunately, out actor Carlos Castillo, a talented GALA vet, remains in the role of young Mario's mentor, the exceedingly eccentric scriptwriter Pedro Camacho.
Zayas adds, "Before the show was cast, I immediately saw Carlos as Pedro. He's biting into the part and loving it."
Zayas also staged GALA's reopening in October with "El Perro del Hortelano" ("The Dog in the Manger"), a classic Spanish comedy. Part of a pilot program, the show observed myriad safety protocols including masks, socially distanced seating, and a dramatically improved air filtration system. Zayas conferred with out set designer Clifton Chadick on a contained terrarium like set that addressed the concerns of COVID-19 while telling the story in a modern light.
For "Tía Julia," safety measures are again in place (though now there will be 50 rather than 25 seats available per performance in the 364-seat house). Moreover, Zayas and Chadick are reunited. "This time," Zayas says "there's a giant sneeze guard between the stage and the house. In the context of the play, it feels like the audience is in the radio studio watching through glass. It makes sense. I think we came up with a fun way of doing it. "
Much of Zayas' career has been making theater for Spanish speaking and Latinx audiences. "It's tricky. While you want to get as broad a base as possible, I find it edifying to have these conversations with Spanish speakers. But I like to invite others to join in too. See, it's a little complicated."
"But ultimately, theater is about experience and connection. Being an adventurous theatergoer is really exciting. It makes you a better listener and a better person – you become more empathetic, attuned to language, and different behaviors. And this is one more connection."
Virtual Latinx play features gender diverse actors
Reading and discussion presented by Rorschach Theatre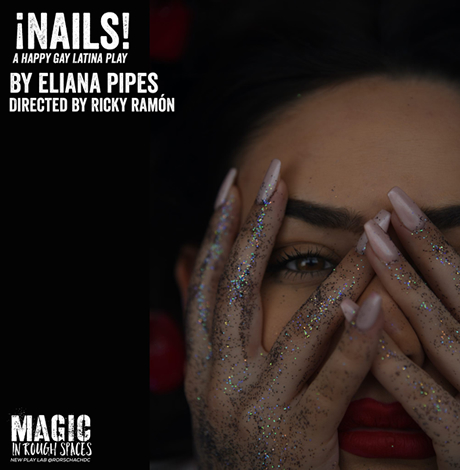 "¡NAILS!," a play about a young Latina lesbian who is mortified by her quickly growing nails, is presented in a virtual reading and discussion presented by Rorschach Theatre on Wednesday, April 21 at 7 p.m. via Facebook.
In this queer play, Catalina wants to ask her crush Serena out but her fingernails are growing at a magical pace. Her deep concern explores cultural clashes for queer people of color using the genre conventions of Latinx magical realism, queer camp and comedy.
The enhanced stage reading features multiple gender diverse actors, including Savina Barini (they/them), Scott Whalen (he/they), Graciela Rey (she/her), Jordyn Stroman (he/his), Jesús I. Valles (they/them) & Malachi Sauls (he/they).
Following the reading, playwright Eliana Pipes and others on the production team will discuss how to transform this work in progress into a musical.
For more information, visit the Facebook event page and elianapipes.com.