January 24, 2019 at 4:42 pm EST | by Patrick Folliard
'Jeffrey' production brings AIDS era to life with humor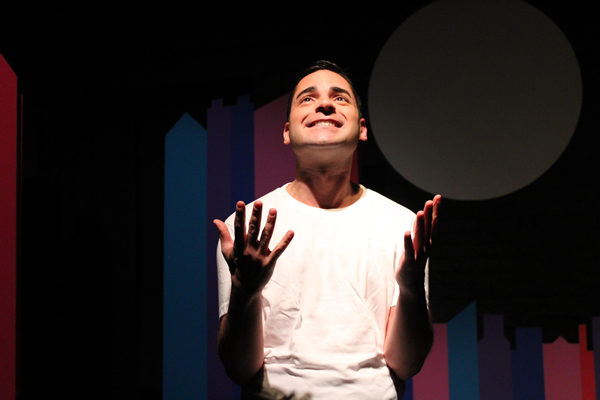 'Jeffrey'
Rainbow Theatre Project
D.C. Arts Center
2438 18th St., N.W.
$35
Touted as the first AIDS comedy when it successfully debuted off-Broadway in 1993, out playwright Paul Rudnick's "Jeffrey" feels a little dated today, almost like a period piece, but that's a good thing.
When we meet Jeffrey, he's negotiating sex in the age of AIDS. His encounter with a prospective partner wrapped extra safely in Saran Wrap, sets the tone of the evening. Rudnick pokes sharp fun without trivializing the seriousness of the epidemic. From the start, audience members are laughing, relating and perhaps remembering.
Now playing at Rainbow Theatre Project, "Jeffrey" is a perfect fit for the company whose mission is presenting plays and musicals that reflect LGBT experiences, interests and history.
The plot is simple. Jeffrey (a stoic Rinaldo Martinez), an aspiring actor who works as a cater waiter at some of Manhattan's swankiest events, which in the '80s and early '90s includes splashy AIDS fundraisers and frequent memorial services for gay men struck down way too soon, is feeling emotionally battered. Surrounded by sickness and death, Jeffrey vows no more sex. Instead, he'll focus on career and fitness. But on his very next visit to the gym, Jeffrey meets and is immediately attracted to sexy Steve (Reginald Richard) who is HIV positive.
Further complicating matters, Jeffreys' closest friend Sterling (Matthew Pauli), a snooty but unerringly practical interior decorator, and his much younger, dumb-as-a-fox boyfriend Darius (Randyn Fullard), a dancer in "Cats," like Steve and are rooting for the relationship.
Determined to remain celibate, Jeffrey, who owns up to 5,000 sexual encounters, looks for answers everywhere from a support group for sexual compulsives to a downtown jerkoff club. However, unexpected meetings with Steve make his newly adopted lifestyle increasingly difficult to maintain.
Director Robert Mintz, who helmed Rainbow's staged reading of "Jeffrey" in 2016, lucidly segues from reality to wild fantasy scenes including a choreographed orgy at a hoedown-themed AIDS fundraiser, Jeffrey's phone call home to Wisconsin in which his square parents offer him safe sex tips, and a game show for gays. The quizmaster asks "Who is your sexual fantasy?" Sterling answers, "Yoko Ono. To see the apartment."
Set designer PJ Carbonell makes smart use of the tiny D.C. Arts Center space with a romantic full moon hanging over a striped, carnival-colored New York City skyline. Projections deftly move the action from Manhattan gyms to swank department stores to gay clubs to hospital waiting rooms.
As Jeffrey and Steve, Martinez and Richard share a subdued chemistry. Richard believably portrays Steve's frustrations as he endeavors to live a normal life despite everything. His is a memorable performance. The remainder of the eight-person cast (Craig Houk, Emily Levey, Joshua Street and Rick Westerkamp) plays a wide range of multiple roles: Mother Teresa, a society doyenne, a sexual compulsive with a 14-inch penis, and an out-and-proud pre-operative transsexual lesbian and her mother and more.
Hough is a comedic standout as a handsy Catholic priest ("Historically," he says, "that falls somewhere in between chorus boy and florist.") whose idea of heaven is gay sex and a good show tune. Martinez's Jeffrey serves as perfect foil to Hough's priest.
While there have been hotter and slicker takes on "Jeffrey," Rainbow's version is undeniably entertaining. Equally important, the production has a heart that beautifully captures Rudnick's message: embrace joy wherever and whenever you can.