'Playing the Palace' a campy, fun rom-com read
What happens when a prince meets an event planner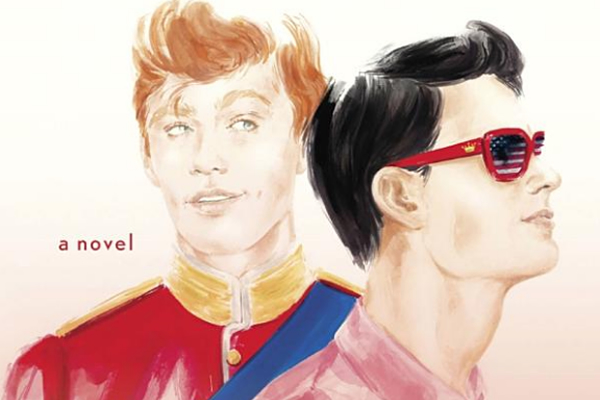 'Playing the Palace'
By Paul Rudnick
c.2021, Berkley
$16/272 pages
If you loathe romance or hate to laugh, then skip this book.  
If you're looking for a rom-com that's as fab and campy as Provincetown or Rehoboth Beach on a summer night, "Playing the Palace" by Paul Rudnick is the book for you.
Reading "Playing the Palace" is like sipping a delicious frozen Daiquiri.
Carter Ogden, the neurotic, good-hearted, Jewish, funny, out, gay narrator of this frothy romance, becomes your BFF and drinking buddy at the opening sentence, "It's still weird, waking up alone."
The plot of the book is simple: Carter, 29, is an associate "event architect" (in plain English – event planner) in New York City. He makes ends meet by living with wacky, supportive roommates.
Carter, a native of Piscataway, N.J., and IHOP aficionado, is feeling dejected as he approaches his 30th birthday. His ex, an actor, has left him. He can't help but wonder if he'll ever find love again.
Until, at work, he meets Edgar, the Prince of Wales. Edgar has come over from the United Kingdom to speak at a charity event for a group that works to provide clean water to countries that need it. And, this being a fictional prince in a rom-com, Edgar is openly gay.
As you've been forewarned, we're not dealing with realism here.
Edgar sees Carter and asks him to give him tips on how he can get his speech across more effectively.
From that moment on, the two – the IHOP-loving event planner and the future King of England — are in a fine romance. (Edgar is an orphan. His parents were killed in a plane crash.)
Their quest for the happily-ever-after involves pancakes, projectile vomiting, social media and a Thanksgiving meet-up of Carter's Jewish aunts and Edgar's grandmother, the Queen of England.
By itself, the story of "Playing the Palace" might seem predictable. What makes it sizzle – why you laugh out loud even as you root for the romance to work out – is its narrative voice.
"Playing the Palace" is a funny, sometimes touching monologue in the voice of Carter.
You'd have to have a heart of stone not to love Carter when he says he "addressed my problems to the framed photo of the late beloved Ruth Bader Ginsburg on the wall of my tiny, partitioned bedroom."
Writing a whole novel as a monologue could fizzle out if other writers tried it.
But, Rudnick a gay novelist, playwright, essayist, screenwriter and humorist, is a master of this form.
His plays, produced on and off-Broadway include "Jeffrey," "I Hate Hamlet," "The Most Fabulous Story Ever Told" and "The New Century." He's won an Obie Award, two Outer Critics Circle Awards and the John Gassner Playwriting Award.
Rudnick's novels include "Social Disease" and "I'll Take It." "Gorgeous" and "It's All Your Fault" are among his YA (young adult) novels.
His screenplays include "Addams Family Values," "In & Out," the screen adaptation of "Jeffrey" and "Sister Act." He wrote the screenplay for "Coastal Elites," the comedic satire that debuted on HBO last year.
Something of a polymath, Rudnick is, according to his bio, "rumored to be quite close" to film critic Libby Gelman-Waxner, whose reviews have appeared in Premiere magazine and Entertainment Weekly.
A frequent contributor to The New Yorker, his essays have appeared in Vanity Fair, The New York Times and Vogue.
As you might expect, the volume is chock full of pop culture references and wit. "I took a shower using my new manly body wash," Carter says, "which is exactly the same as the female version, only with simplified graphics and a steel-gray, squared-off bottle, as if it contains motor oil and testosterone."
It's not surprising that Rudnick told Entertainment Weekly that he's working on a musical of the movie "The Devil Wears Prada."
Reading "Playing the Palace" is like seeing a Broadway musical.
"I was looking into eyes that were so radiantly blue I either wanted to faint or yell 'just stop it,'" Carter says when he first sees Edgar.
"Playing the Palace" is a show-stopper.
More queer books we love
Bellies: A Novel, Time Out and more for your gift list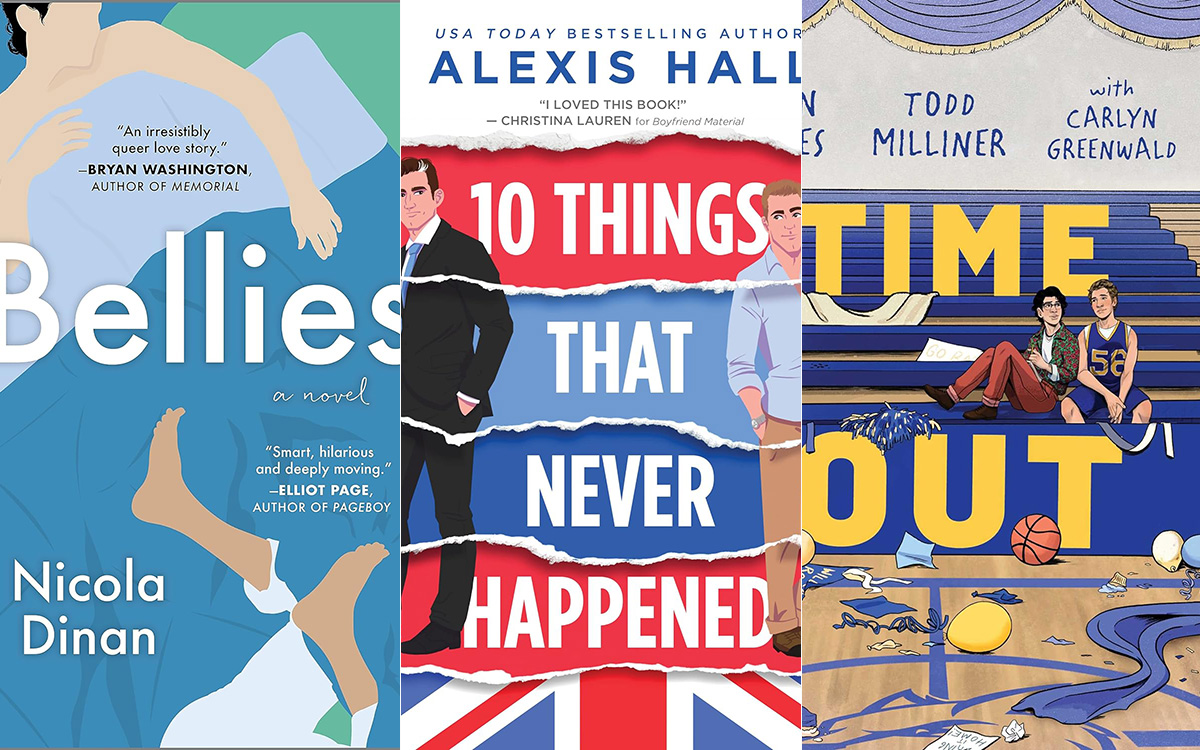 For the person on your gift list who'd love a boy-meets-boy story, wrap up "Bellies: A Novel" by Nicola Dinan (Hanover Square Press), the tale of a playwright and the man who loves him wholly, until a transition threatens to change everything.
If there's a romantic on your list, then you're in luck: finding a gift is easy when you wrap up "10 Things That never Happened" by Alexis Hall (Sourcebooks), the story of Sam, whose job is OK, and his boss, Jonathan, who should have never hired Sam. Too late now, except for the romance. Wrap it up with "Time Out" by Sean Hayes and Todd Milliner with Carlyn Greenwald (Simon & Schuster), the story of a basketball player who's newly out of the closet, and a politically minded boy who could easily get his vote.
For the person on your list who likes to read quick, short articles, wrap up "Inverse Cowgirl: A Memoir" by Alicia Roth Weigel (HarperOne). It's a collection of essays on life as an intersex person, and the necessity for advocating for others who are, too.
Our favorite books for holiday gifts
Hitchcock, Britney, Barbra, and more!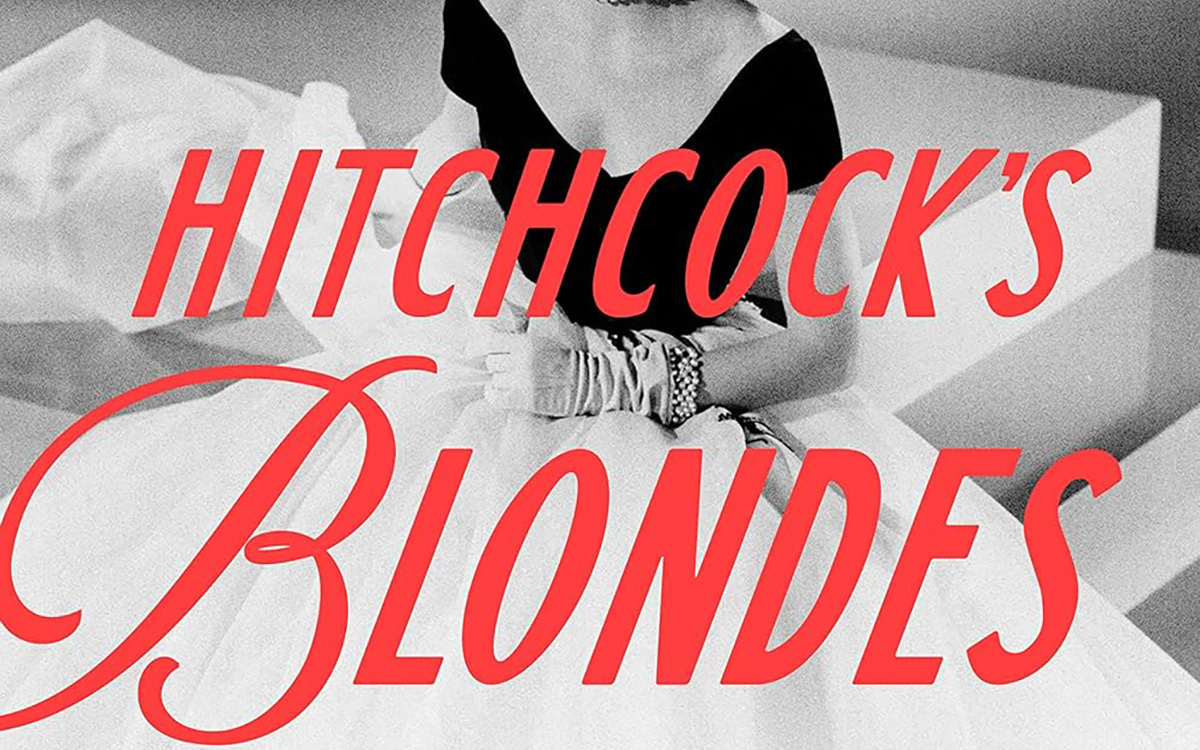 When it gets dark early, it's cold outside and you want to spice up your life, what's more intriguing than a book? Here are some holiday gift ideas for book lovers of all ages.
Who isn't fascinated by the dark, twisty, sometimes, mordantly witty, movies of Alfred Hitchcock, or by Grace Kelly, Tippi Hedren, Ingrid Bergman and the other actresses in his films? "Hitchcock's Blondes: The Unforgettable Women Behind the Legendary Director's Dark Obsession" by Laurence Leamer, author of "Capote's Women," is an engrossing story not only of Hitchcock, but of the iconic "blondes" he cast in some of his most beloved movies from "39 Steps" to "Rear Window" to "Vertigo" to "Psycho." $29. G.P. Putnam's Sons.
Reading about Hitchcock, no matter how intriguing the book, is never as good as watching his films. "Alfred Hitchcock: The Essentials Collection" (Blu-ray $39.96. DVD: $32.40) features "Rear Window," "North by Northwest," "Psycho" and "The Birds."
"Corona/Crown," by D.C.-based queer poet Kim Roberts in collaboration with photographer Robert Revere, is a fab present for lovers of photography, museums, and poetry. Revere and Roberts were deeply affected by the closure of museums during the COVID pandemic. In this lovely chapbook, they create a new "museum" of their own. "This is what I learned when the pandemic struck," Roberts writes, "when I couldn't stop thinking about the artwork in all the museums, bereft of human eyes." $21.25 WordTech Editions
Few things are as scary and/or captivating as a good ghost story. "The Night Side of the River," by acclaimed lesbian writer Jeanette Winterson, author of "Why Be Happy When You Could Be Normal?" and "Oranges Are Not the Only Fruit," is a provocative and engrossing collection of ghost stories. These deliciously chilling stories feature spirits, avatars, a haunted estate, AI and, pun intended, lively meetings between the living and the dead. $27. Grove.
"Blackouts," a novel by queer writer Justin Torres that received this year's National Book Award for fiction, is a breathtaking book about storytelling, queer history, love, art, and erasure. A perfect gift for aficionados of characters that become etched into your DNA. $30. Farrar, Straus & Giroux.
"The Woman in Me," the memoir by Britney Spears will be devoured by queers of all ages – from tweens to elders. Much of Spears's story is known – from her youth in Louisiana to her rapid rise to fame to her conservatorship (when her father controlled her life). Yet the devil, as the saying goes, is in the details. In this riveting memoir, Spears reveals the horrifying and exhilarating aspects of her life: from how her father controlled what she ate and when she took a bath to the restrictions put on her ability to see her sons to her love of singing, dancing, and creating music. Spears writes of the queer community's "unconditional" love and support for her.  $32.99. Gallery.
Few memoirs have been more eagerly anticipated than Barbra Streisand's "My Name Is Barbra." In its nearly 1,000 pages, EGOT-winning (Emmy, Grammy, Oscar and Tony), divine, queer icon Streisand, 81, tells seemingly everything about her life. She quarreled with Larry Kramer over filming "The Normal Heart." It didn't work out: Streisand thought mainstream audiences would be turned off by explicit sex scenes. Marlon Brando and Streisand were good friends, she loves Brazilian coffee ice cream and her mother was a horror show. Contrary to how some lesser mortals see her, she doesn't see herself as a diva. The print version of "My Name is Barbra" is fab. The audio version, a 48-hour listen, which Streisand narrates, is even better. $47. Viking. $45 on Audible.
"Chasing Rembrandt," by Richard Stevenson is a terrific gift for mystery lovers. Richard Stevenson was the pseudonym for Richard Lipez, the out queer author, who wrote witty, engaging mysteries featuring the openly gay detective Donald Strachey. Sadly, Stevenson died in 2022. But, "Chasing Rembrandt," a novel featuring Strachey and his romantic partner Timmy, was published this year. The idea for the story was sparked by a real-life incident when paintings were stolen from the Isabella Stewart Gardner Museum. "Robbers wreak havoc, smashing the glass covers protecting masterpieces and slicing paintings out of their frames," Stevenson writes at the beginning of this entertaining story, "They make off with thirteen works, including three Rembrandts and a Vermeer, worth more than half a billion dollars and beloved in the world of art. It is arguably the greatest property theft in human history."
With the repartee of Nick and Nora and the grit of Philip Marlowe, Strachey works to solve this mystery. $16.95. ReQueered Tales.
Some books never get old. "The Wild Things," the beloved children's picture book written and illustrated by acclaimed gay writer and illustrator Maurice Sendak, was published in 1963. Sixty years later, the Caldecott Medal-winning classic is still loved by three to five-year-olds, their parents, siblings, aunts, and uncles. A new digital audio version of "Where the Wild Things Are," narrated by Michelle Obama, was released this fall. Who can resist the Wild Things, when they plead: "Oh, please don't go–we'll eat you up–We love you so!"? Widely available in hard cover, paperback and e-book format. Audio: $5.50.
What's more fun than playing a festive album while you're reading during the holidays? Deck the halls! This year, queer icon Cher has released "Christmas," her first holiday album. Highlights of the album include: Cher singing with Cyndi Lauper on "Put A Little Holiday In Your Heart," Stevie Wonder on "What Christmas Means to Me" and Darlene Love on "Christmas (Baby, Please Come Home)" and the rapper Tyga on "Drop Top Sleigh Ride." The perfect gift for Cher aficionados.
The Blade may receive commissions from qualifying purchases made via this post.
Cunningham's 'Day' is one of the best books of the year
Characters are resilient, even hopeful, in the midst of disease, death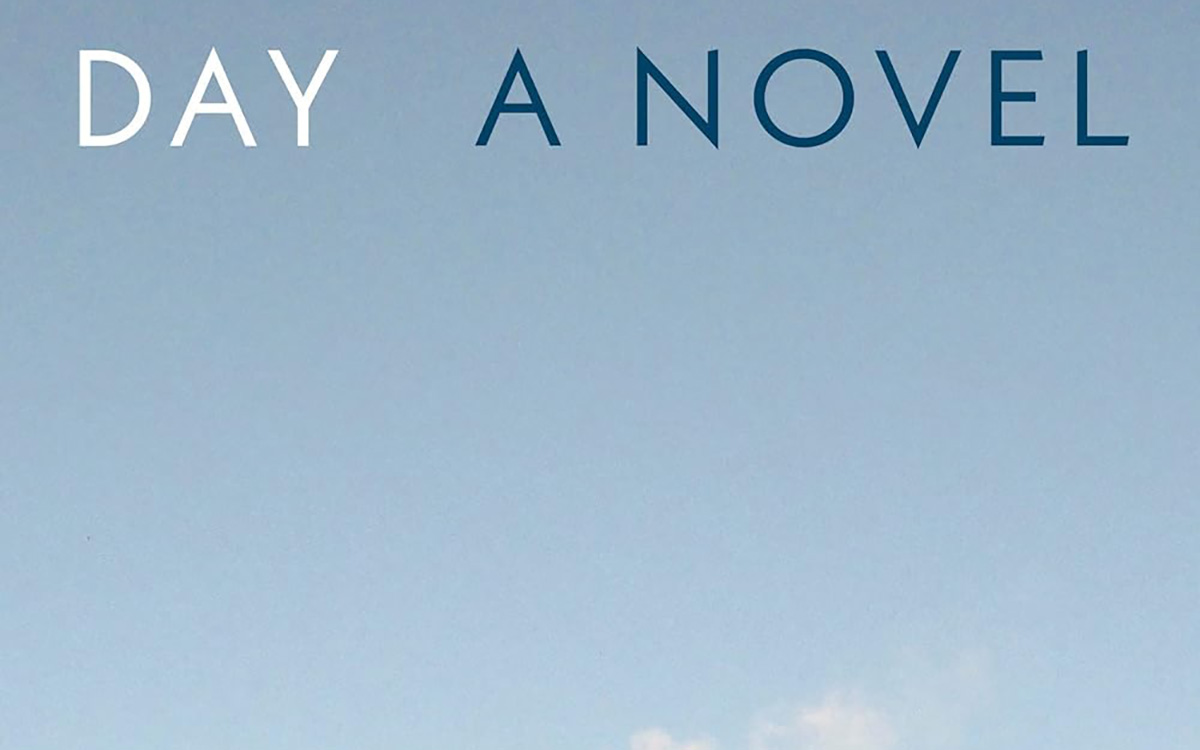 'Day'
By Michael Cunningham
c. 2023, Random House
$28/273 pages
"She always had the feeling that it was very, very dangerous to live even one day," Virginia Woolf, the groundbreaking, queer, gender-bending, feminist, novelist and essayist, writes in "Mrs. Dalloway" of Clarissa, a society woman, wife of a Parliament member and mother, who's giving a party on a June day in 1920s London. 
Since the pandemic, at the height of the AIDS epidemic, during the Lavender Scare, going back to the dawn of time, who, especially if they're queer, hasn't often felt like Clarissa? Even on lovely June days.
"Day," a new novel by Michael Cunningham, his first novel since "The Snow Queen" in 2014, beautifully and eerily reflects this feeling. Its characters are fearful and fragile, yet, resilient, even hopeful, in the midst of disease and death.

Like "Mrs. Dalloway," "Day," takes place during one day – April 5. Only, the day is spread over three years.
The morning of the day is in April 2019 – before the pandemic. When no one's talking about, let alone heard of, COVID.
The afternoon of the day is in April 2020 – at the height of the pandemic. Before the COVID vaccines have been developed. When everyone (except low-income, essential workers) is locked down by themselves or with their loved ones.
The evening of the day is in April 2021 when people, wondering what to make of the "new normal," are beginning to emerge from the pandemic.
As it is in several of Cunningham's novels, the main characters of "Day," are a family (along, with a few friends and relations, who are supporting characters).
As with "Mrs. Dalloway," and with Cunningham's luminous "The Hours," in "Day," the city, New York, and the passing of time, itself, are characters.
"A man pulls up the metal shutter of his shoe repair shop," Cunningham writes in "Day," "A young woman, ponytailed, jogs past a middle-aged man who, wearing a little black dress and combat boots, is finally returning home."
Dan, his wife Isabel, and their two children — five-year-old Violet and 10-year-old Nathan — live in a brownstone in Brooklyn. Dan is a musician. He's had his struggles with cocaine and has performed in a rock band. Now, he does a lot of house husband/child care tasks as Isabel, a photo editor, works hard to keep her magazine from dying.
Isabel's charming younger gay brother lives in their attic loft. It's a New York City real estate/break up thing. Robbie, a sixth grade school teacher, has just broken up with his boyfriend. He can't afford to live on his own. He questions why, 15 years ago, he decided against going to medical school.
Dan and Isabel decide that Robbie has to move out and find a place of his own because their kids are too old to share a bedroom.
Though, "Day" references George Eliot, it's a 21st-century narrative. When Robbie, after the virus (never explicitly called COVID) enters the world, gets stuck in Iceland, he develops Wolfe, an idealized version of himself on Instagram.
You never see the word "COVID" or "pandemic" in "Day." Yet it's clear that a virus (likely COVID) has entered the characters' world. Their world, as with real life at the time, has reminders of AIDS. Rob develops a cough that's reminiscent of a symptom at the height of the AIDS epidemic.
Dan and Isabel's marriage is becoming strained. They are both in love with Robbie. Thankfully, it's not what you think! It's not a lust thing. Robbie represents something ideal to them.
Few have more evocatively channeled the sensibility and style of Woolf than Cunningham.
Woolf – her awareness that a novel about a day featuring nothing more than a woman giving a party; a man, at a street corner, taking off his hat to greet a woman he knows; or a wife trying to calm her husband, a "shell-shocked" World War I vet; can be as interesting as murder-and-battle-filled fiction – is as tightly etched in Cunningham's DNA as a pair of skinny jeans.
As a teenager in Pasadena, Calif., he devoured Virginia Woolf's novels as avidly as his friends turned on to Jimi Hendrix and Janis Joplin, Cunningham told me when I interviewed him for the Blade before the release of "The Hours," the 2002 movie of his Pulitzer Prize-winning novel of the same name.
("The Hours" was adapted into an opera with the same name in 2022.)
But Cunningham, who is married to psychotherapist Ken Corbett and Professor of the Practice in Creative Writing at Yale University, is no mere imitator of Woolf.
The alchemy of Cunningham's talent is his own. "Day" was well worth waiting almost a decade for. It's one of the best books of this or any year.
The Blade may receive commissions from qualifying purchases made via this post.