January 14, 2019 at 12:04 pm EST | by Lou Chibbaro Jr.
Slain D.C. gay resident remembered at candlelight vigil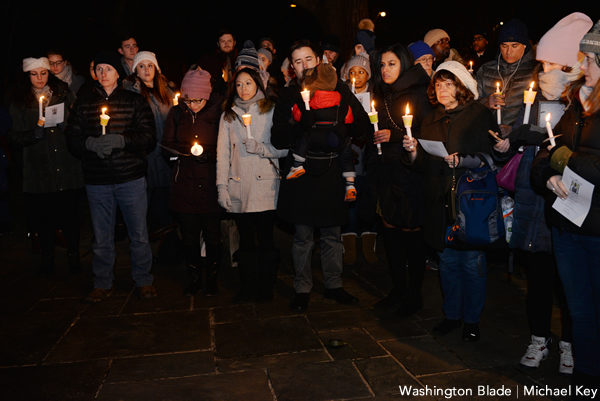 More than 80 people turned out Friday night, Jan. 11, for a candlelight vigil to honor the life of gay retail and language services company manager Vongell Lugo, 36, who police say was stabbed to death in his apartment in Northwest D.C. on Jan. 6 by a man he knew.
Friends, co-workers, and family members wept and laughed as they told stories of their interaction with a man virtually all who spoke said was beloved for his ability to lift people up and ease their troubles.
"Everyone who met him became his friend for life," said one female friend who was among the dozens of Lugo's straight friends and former co-workers who joined his gay friends at the vigil. It was held in a small park across Wisconsin Avenue, N.W. from the Garfield House apartments near the Washington National Cathedral where Lugo lived and died.
U.S. Navy Hospital Corpsman Collin Potter, 26, has been charged with second-degree murder while armed in connection with Lugo's death. He is being held without bond at the D.C. Jail pending a Jan. 18 preliminary hearing in D.C. Superior Court. Police have yet to disclose a motive for the murder other than to list it as an incident of domestic violence.
Among those participating in the vigil were employees of TransPerfect, an international company that provides foreign language translation, interpretation and business services. Lugo most recently served as the company's associate manager for client experience for the Americas. His LinkedIn page says he began work for the company in 2016 as a recruitment specialist.
Others attending the vigil said they worked and quickly became friends with Lugo during his stints as a manager in the men's clothing department at the D.C. area retail stores J. Crew, Bloomingdale's, and the Gap beginning in 2003.
"Vongell was a beloved son, brother, uncle, and coworker," said Sydney Vranna in an online write-up on Lugo. Vranna, who said Lugo was her roommate for six years and one of her closest friends, described him as a "kind soul, the center of the party, and a beacon of light that made an impact on everyone he came into contact with."
Among those who spoke at the vigil was 8-year-old Bryan Stan-Lee Richardson, the son of Lugo's sister Cressel.
"My uncle tried to make me happier," said Bryan while holding a lit candle. "He always tried to make me happy when I got sad."
Others who worked for Lugo at one of the retail store chains said he was highly professional and knowledgeable in his work and treated them with respect and always eased tensions.
"Vongell always had an entourage of friends and wherever Vongell was there was always a good time," said one friend and former co-worker. "He had an immediate spirit and you could feel his energy," the friend said. "If somebody was unhappy regardless of the situation he brought out the lighter side of things. He was always shining."
An obituary prepared by his family says he emigrated to the U.S. in 1994 from Trinidad and Tobago at the age of 12. He received a bachelor's degree in sociology from the University of Maryland in 2010.
Rev. Steven Baines of National City Christian Church, who was scheduled to preside over Lugo's funeral services on Monday, delivered an opening prayer at the vigil.
"His love is brighter than any senseless tragedy," he said. "His love is brighter than any darkness that we feel tonight. His love is wider than any of our pain and our sorrow."
An 11 a.m. viewing and noon funeral service were scheduled for Monday, Jan. 14, at the chapel at Rock Creek Cemetery at Rock Creek Church Road and Webster Street, N.W. to be followed by a burial and reception.