New BENT party debuted Jan. 5 at 9:30 Club
Queer-focused event targets 'all weirdos and creative souls'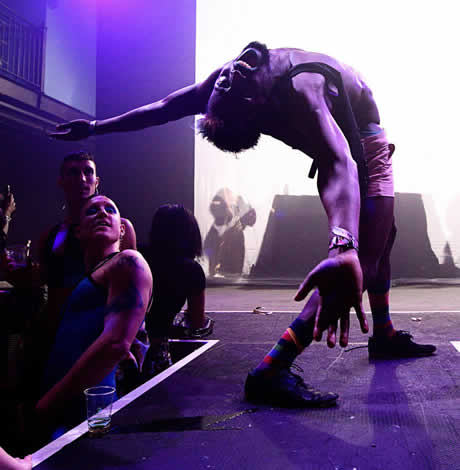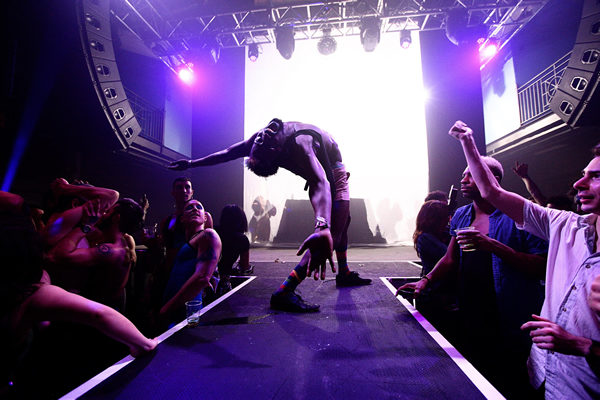 When one door closes — and then the whole building around that door is flattened by a real-life non-Miley wrecking ball — another one opens.
This first door, of course, was Town. The second is BENT, 9:30 Club's new queer-inclusive dance party. BENT launched Jan. 5 with streamers, glitter, leather-studded performers and all.
BENT aims to be Town's phoenix, says organizer and DJ Steve Lemmerman, arising from so many spilled vodka-sodas.
In the mourning summer of 2018, the staff of 9:30 Club gathered for an all-staff meeting, led by I.M.P. owner Seth Hurwitz (I.M.P. manages 9:30 Club, The Anthem and other venues). A longtime employee suggested a stronger gay nightlife presence, especially given the imminent shuttering of Town. And so the idea of BENT was born.
Lemmerman, known as DJ Lemz on stage, jumped at the opportunity.
"I offered myself as tribute, 'Hunger Games'-style," he says.
He and Hurwitz together got BENT off the ground. Lemmerman explain that the goal of the event is so that "the community in D.C. can come together to just have fun, leave their cares at door and dance the night away."
The sold-out late-night party was much more than highly danceable tunes, however. BENT takes its cues from weekends at Town, featuring shirtless, gender-bending dancers atop platforms across the main dance floor. Drag performances punctuated the evening, more forceful and energetic than ever, as the runway penetrated deep into the crowd. DJ Lemz himself also offered a heartfelt thanks to the crowd.
Lemmerman's goal with BENT is to "create new chapter for D.C. in our nightlife. I wanted to construct a beautiful home for many people to feel safe in, and to escape their lives if only for a night."
The party also is meant to "highlight as many people in this well-deserving community as possible." BENT certainly isn't a solo project. Lemmerman had company behind the booth from DJs like Keenan Orr and The Barber Streisand.
Meanwhile, on stage, Pussy Noir played both emcee and artist, the first time performing at 9:30 Club. Pussy Noir was joined by Donna Slash, Bombalicious Eklaver and others.
Noir noted that, "while big gay clubs are falling out of fashion, the queer population is ever increasing and so is the need for safe, fun and exciting spaces in which to exist. The best thing is the party is not gay, it's queer, and for us that means all people, all weirdos and all creative souls."
In the moody downstairs space of the club, DJ Jacq Jill held court for a sister party named HELLBENT. Lemmerman called it, "a showcase of the underground side of queer DJs. It's women-focused and I'm pumped for that."
Lemmerman, a Baltimore native, has been working the D.C. music space for several years. He started DJing at 9:30 Club at age 18, and later became a resident DJ at Nellie's. He also founded Sleaze almost two years ago, a queer party in the upstairs space of Wonderland Ballroom.
Lemmerman worked with collaborators like Guillaume Desnoe, the creative director for I.M.P., and Dustin Sugar-Moore, the marketing director, to reinvent the floor space of the venue. They worked to minimize the spotlight on the DJ and refocus on the center of the room so that partygoers could better meet each other.
Audrey Fix Schaefer, I.M.P. communications director, says, "having a first-time event like this to sell out made my heart explode. We'd love for this part to become permanent."
As for future iterations, she remained demure.
"There will always be surprises. We're going to keep it exciting and unpredictable — that'll be the hallmark."
For Lemmerman and his co-hosts, BENT signifies a celebration of every corner of queerdom. The party, he says, "received huge support, bringing in many different levels of our D.C. community. There's just so much passion from everyone."

Rehoboth Beach welcomes Christopher Peterson back
Drag legend to perform weekly beginning July 4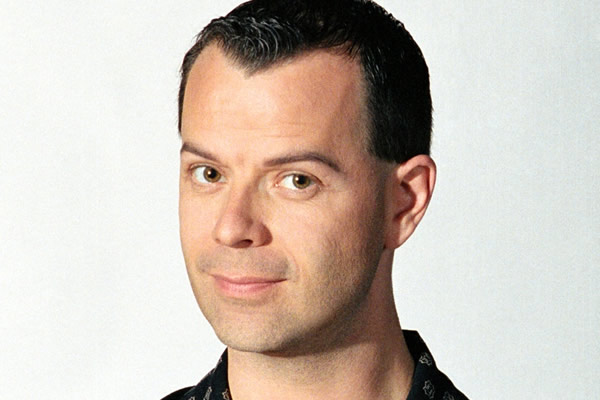 Christopher Peterson will celebrate 25 years of performing his brilliant show EYECONS when he brings it back to Rehoboth Beach this summer. He will be at Clear Space Theatre every Saturday at 10 p.m. and Sunday at 9 p.m. from July 4 to Sept. 5.
I have seen the show a number of times over the years from when he performed at the Renegade showroom (youngsters may not remember the Renegade out on the highway) to now at the Clear Space Theatre, so I am biased in saying it is always worth the price of a ticket. In fact it is worth a lot more because Christopher is an amazing talent. In addition to his own show he can be seen in "Priscilla, Queen of the Desert" at Clear Space.
I recently had the opportunity to chat with Christopher. He has lived in Key West, Fla., for years and performs there during the winter and when he isn't booked around the country. Christopher told me he was born Moncton, New Brunswick but grew up in Halifax (actually Dartmouth across the harbor) Nova Scotia, Canada 58 years ago.
We talked about gay life today and I asked him when he came out and he responded: "in the womb." He told me he always knew who he was even before he knew you could call it gay. He told me he was lucky and grew up in a family that always accepted him for who he was. I asked him if he was excited about coming back to Rehoboth and he told me he sometimes thought of this as his final 'widow tour' as it is his first time back at the beach since he lost the love of his life, James Mill, in September of 2019. They were together for 35 years and James was not only his partner in life but in business. Many in Rehoboth knew James and will miss seeing him at Christopher's side. He was a beautiful man.
Christopher has been called North America's greatest female impersonator and though I haven't seen all of them, I have seen enough to thoroughly concur with that. He not only impersonate the characters, he seems to become them. He never lip-syncs but sings their songs and talks in their voice. Christopher once said his only vocal training was in high school and in church choirs but you would never know that when listening to him sing. Christopher also designs all of his own costumes and they are incredible. It's amazing how quickly he can change from Marilyn Monroe and become Cher with just a new gown and new wig that he has stashed in the closet at the side of the stage. The transformation is mesmerizing.
Over the years he has impersonated so many iconic women, including Marilyn Monroe, Carol Channing, Madonna, Joan Rivers, Reba McEntire, Bette Midler, Tina Turner, Julie Andrews, Barbra Streisand, Liza Minnelli, Judy Garland, Eartha Kitt, Cher, Bette Davis, and Lucille Ball. He will add a new character once in a while if he feels comfortable having tried them out — one being Lady Gaga.
I asked him if he has a favorite character and he said, "That's like asking me if I have a favorite child. These are all my children and they each represent something special to me." He said, "as an example Streisand is the voice and Garland is the heart." I remember he was once quoted as saying Judy Garland is his favorite to do and since he told me she represents the heart it didn't surprise me as Christopher has a big heart. He often saves her for the end of the show and when you see her you leave wanting more.
I asked Christopher about the weirdest thing that ever happened during his show. He told me the story about an evening during the show, when he talks with an audience member, he leaned over the stage and began to chat with a table on the right of the stage and asked an older gentleman, Christopher called him Mary, how he liked the show. After saying he loved it the next thing Christopher saw was Mary keeling over. Turns out he had a heart attack. Christopher said he told the audience there would be a pause in the show and asked if there was a doctor in the house. One came forward and attended to the man and called 911. The gentleman seemed to recover and after they took him out on a stretcher the show went on. Christopher said this has happened more than once at his shows. Maybe it's the excitement.
I asked him if any of the women he impersonates have been to see the show and was surprised when he said no. I would think any of those still alive would be honored to see how Christopher does them and shows them off so well.
This will be an exciting summer in Rehoboth and Christopher is prepared for visitors to come to the show and still follow any restrictions in effect for the pandemic. The theater has said it will continue to abide by all COVID restrictions in order to ensure the safety of both the actors and the audience. Clear Space Theatre has been doing this all winter and doing it safely.
I urge anyone who has never seen Christopher Peterson to get your tickets early as anyone who has seen him will be buying tickets to his shows and you don't want to miss this chance to have a great fun evening in the theater.
Miss Richfield debuts new show at Rehoboth's Blue Moon
Celebrating '40 Years on the Throne'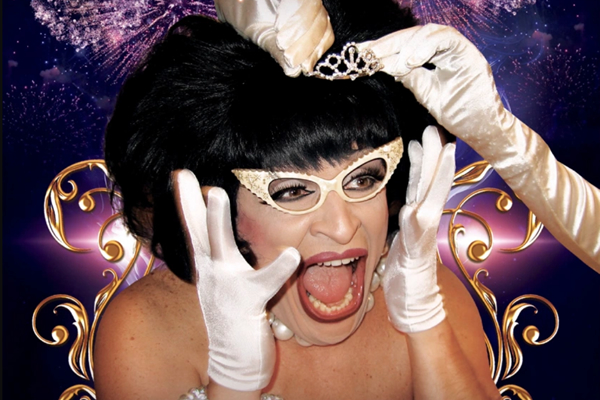 REHOBOTH BEACH, Del. — Miss Richfield 1981, the longtime drag star known for Provincetown residencies and performances aboard gay cruises, debuted a new show here Monday for an invitation-only audience at the Blue Moon.
The show, dubbed "40 Years on the Throne," celebrates Richfield's four decades entertaining largely LGBTQ audiences with tales from her hometown "where butter is a spice and gravy is a beverage."
Coincidentally, the Blue Moon is also celebrating 40 years in business this year.
Russ King, a Minnesota native, created the Miss Richfield persona to chronicle "her lifelong goal of being crowned beauty queen of her first-ring suburb of Minneapolis."
Monday's show — a dress rehearsal before it heads to Provincetown — got off to an unintentionally hilarious start, when Richfield tripped and fell onto the stage. She laughed it off, blaming a nearby female patron for "pushing me." Then Richfield left the stage and started over.
The riotous show included a rendition of Dolly Parton's "9 to 5" that brought the audience up to date on Richfield's recent travels; a video montage of her many outrageous TV appearances, including on "Cake Boss"; and a beauty pageant quiz show with two audience members. Longtime fans will be relieved to know that the new show includes Richfield playing the saw.
At the end of the show, Richfield solicited audience feedback as she refines it for her summer residency. Richfield is scheduled to open the show on May 29 at the Pilgrim House in Provincetown, Mass., and it's slated to run through the summer, wrapping on Sept. 18. (Tickets are $30 for general admission and $40 for VIP at pilgrimhouseptown.com.)
King now lives in Rehoboth and is planning to return for a one-night-only performance of "40 Years on the Throne" on June 21 at the Blue Moon. (Visit BlueMoonRehoboth.com for tickets, $40.)
The Blue Moon has a full summer of entertainment planned, including performances by the Boy Band Project (June 7, July 19, and Aug. 30); Lady Bunny (July 5, Aug. 23); and Sherry Vine (Aug. 16). The talented Nate Buccieri returns for another summer on the piano, Sundays through Thursdays, 6-8:30 p.m. The award-winning "Climax! With Magnolia" continues on Sundays at 9:30 p.m.
Red Bear offers Valentine date nights
Event held this weekend complies with CDC guidelines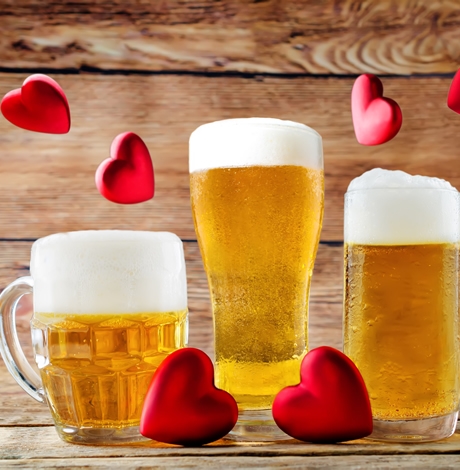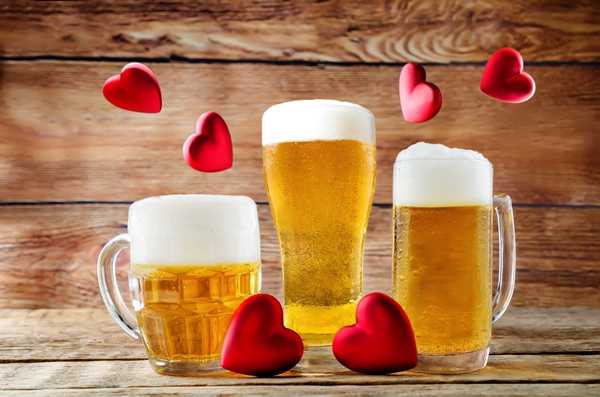 Red Bear Brewery (209 M St., N.E.) hosts Brewery Date Nights this Valentine's Day weekend from Friday, Feb. 12 at 1 p.m. to Sunday, Feb. 14 at 10 p.m.
This event could be a good opportunity for those looking for a holiday cuddle with their favorite bear over a choice brew for two. Red Bear complies with D.C. and CDC pandemic guidelines while offering a rerelease of their Cupid's Black Heart Strawberry Chocolate Bock and Cupid's Arrow Chocolate Raspberry Chocolatini.
For more information or to monitor pandemic-related changes, visit redbear.beer.