January 19, 2019 at 2:16 pm EST | by Evan Caplan
New BENT party debuted Jan. 5 at 9:30 Club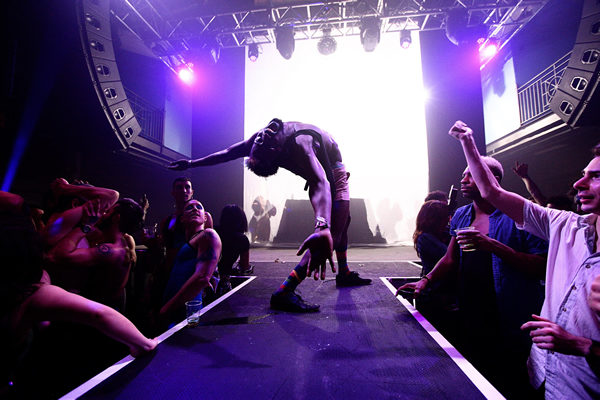 When one door closes — and then the whole building around that door is flattened by a real-life non-Miley wrecking ball — another one opens.
This first door, of course, was Town. The second is BENT, 9:30 Club's new queer-inclusive dance party. BENT launched Jan. 5 with streamers, glitter, leather-studded performers and all.
BENT aims to be Town's phoenix, says organizer and DJ Steve Lemmerman, arising from so many spilled vodka-sodas.
In the mourning summer of 2018, the staff of 9:30 Club gathered for an all-staff meeting, led by I.M.P. owner Seth Hurwitz (I.M.P. manages 9:30 Club, The Anthem and other venues). A longtime employee suggested a stronger gay nightlife presence, especially given the imminent shuttering of Town. And so the idea of BENT was born.
Lemmerman, known as DJ Lemz on stage, jumped at the opportunity.
"I offered myself as tribute, 'Hunger Games'-style," he says.
He and Hurwitz together got BENT off the ground. Lemmerman explain that the goal of the event is so that "the community in D.C. can come together to just have fun, leave their cares at door and dance the night away."
The sold-out late-night party was much more than highly danceable tunes, however. BENT takes its cues from weekends at Town, featuring shirtless, gender-bending dancers atop platforms across the main dance floor. Drag performances punctuated the evening, more forceful and energetic than ever, as the runway penetrated deep into the crowd. DJ Lemz himself also offered a heartfelt thanks to the crowd.
Lemmerman's goal with BENT is to "create new chapter for D.C. in our nightlife. I wanted to construct a beautiful home for many people to feel safe in, and to escape their lives if only for a night."
The party also is meant to "highlight as many people in this well-deserving community as possible." BENT certainly isn't a solo project. Lemmerman had company behind the booth from DJs like Keenan Orr and The Barber Streisand.
Meanwhile, on stage, Pussy Noir played both emcee and artist, the first time performing at 9:30 Club. Pussy Noir was joined by Donna Slash, Bombalicious Eklaver and others.
Noir noted that, "while big gay clubs are falling out of fashion, the queer population is ever increasing and so is the need for safe, fun and exciting spaces in which to exist. The best thing is the party is not gay, it's queer, and for us that means all people, all weirdos and all creative souls."
In the moody downstairs space of the club, DJ Jacq Jill held court for a sister party named HELLBENT. Lemmerman called it, "a showcase of the underground side of queer DJs. It's women-focused and I'm pumped for that."
Lemmerman, a Baltimore native, has been working the D.C. music space for several years. He started DJing at 9:30 Club at age 18, and later became a resident DJ at Nellie's. He also founded Sleaze almost two years ago, a queer party in the upstairs space of Wonderland Ballroom.
Lemmerman worked with collaborators like Guillaume Desnoe, the creative director for I.M.P., and Dustin Sugar-Moore, the marketing director, to reinvent the floor space of the venue. They worked to minimize the spotlight on the DJ and refocus on the center of the room so that partygoers could better meet each other.
Audrey Fix Schaefer, I.M.P. communications director, says, "having a first-time event like this to sell out made my heart explode. We'd love for this part to become permanent."
As for future iterations, she remained demure.
"There will always be surprises. We're going to keep it exciting and unpredictable — that'll be the hallmark."
For Lemmerman and his co-hosts, BENT signifies a celebration of every corner of queerdom. The party, he says, "received huge support, bringing in many different levels of our D.C. community. There's just so much passion from everyone."