January 24, 2019 at 7:11 pm EDT | by Lou Chibbaro Jr.
Lesbian named chief of police in Hyattsville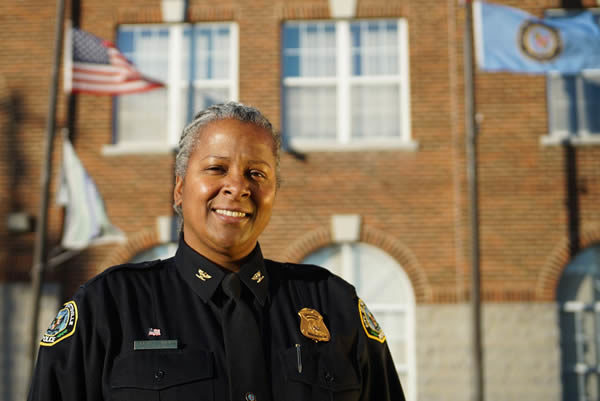 Amal Awad, a 27-year veteran on the Prince George's County, Md., Police Department who rose through the ranks from patrol officer to major, was named last month as Chief of Police in Hyattsville, Md., becoming the first black, female, and openly LGBT person to hold the position.
In a little-noticed development, Hyattsville Mayor Candace Hollingsworth administered the oath of office for Awad at a Dec. 13 ceremony at the suburban Maryland jurisdiction's City Council Chambers with Awad's wife, Jade, and their daughter standing at her side.
"My heart is filled with excitement and pride as I accept this appointment and the responsibility that the City of Hyattsville has bestowed upon me," Awad said in a statement.
"I look forward to continuing to work with the dedicated men and women of the City of Hyattsville Police Department to enhance relationships, reduce crime, and create opportunities so that all of our residents and community members feel safe, welcomed and valued," she said.
"Together our beautiful and welcoming city will continue to thrive."
A statement last month announcing the mayor's decision to appoint Awad as chief says she began her career in policing more than 27 years ago as a Prince George's County police officer at the District 1 Station in Hyattsville. It says she joined the P.G. department after receiving a master's degree in management from Johns Hopkins University, where she graduated with honors.
The statement says her accomplishments with the P.G. County Police Department include serving as commander of the District 2 Station in Bowie, Md. It says she held the rank of Major in the Office of the Chief of Police at the time she retired. According to the statement, Awad came out of retirement in 2017 to join the Hyattsville Police Department to serve as its captain, the department's number two position.
In July 2018, she was promoted to the position of Interim Police Chief following the retirement of longtime Hyattsville Police Chief Douglas K. Holland, the statement says. Hollingsworth announced her decision to appoint Awad as permanent chief on Dec. 7.
"It gives me great pleasure to announce that Interim Chief Amal Awad has been selected as the City of Hyattsville's next Chief of Police," Hollingsworth said in a statement. "Our new Chief of Police has strong, longstanding ties to Hyattsville," the mayor said.
"Residents have expressed loud and clear that they desire a police department that remains committed to community policing at the highest level, and I know without a doubt that Chief Awad will make the city, and all of us, proud as the department's next leader," Hollingsworth said.
Awad's appointment as Chief of Police came just under a year after lesbian Corinne Picardi, 47, a 19-year member of the Cabin John Park, Md., Volunteer Fire Department and a nationally certified firefighter and paramedic, was sworn in as the department's new fire chief.
Similar to Awad's searing-in, Picardi was joined at her swearing-in ceremony by her wife and the couple's two daughters. Picardi also became the first female and first known LGBT volunteer fire chief ever appointed in Montgomery County, in which Cabin John Park is located.
The Washington Blade has submitted a request for an interview with Chief Awad.