January 28, 2019 at 11:00 am EST | by WBadmin
3rd Annual DC Brau & Washington Blade Pride Can Design Contest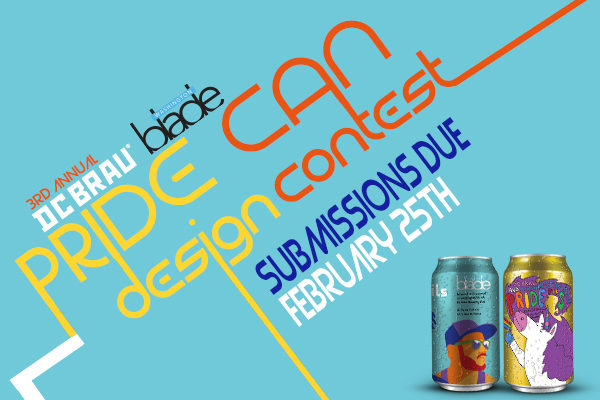 DC Brau Brewing Company and The Washington Blade are searching for a new design for a special can of Brau Pils to be released during this summer's Pride celebration. For a third time, professional and amateur creatives are invited to submit their original designs for consideration for this year's limited-edition "PRIDE PILS" can. This year's release is extra special as the LGBT community celebrates 50 years since Stonewall, as well as the golden anniversary of The Washington Blade, the nation's oldest LGBT newspaper.

"The Washington Blade is excited to continue our partnership with DC Brau that allows the LGBT community to showcase themselves in a creative way," says Blade publisher Lynne Brown. "We can't wait to see how the designs celebrate the diversity of our community."
Approximately 1,200 cases of Brau Pils will be re-packaged as PRIDE PILS for distribution during PRIDE 2019 this June in Washington, D.C. The winning can design will be chosen through a multi-step process that includes a period of public voting on the Blade's website in early March to narrow the field to three top contenders, one of which will ultimately work with DC Brau to finalize the artwork for production.

"We continue to be proud of this partnership with The Washington Blade and what we've been able to do together for worthwhile causes in D.C.'s LGBT community," says DC Brau's CEO & co-founder Brandon Skall. "Last year, we were able to donate more than $16,000 to SMYAL and The Blade Foundation from the sale of the PRIDE PILS cans designed by Alden Leonard. We're excited for another great run of PRIDE PILS this summer to celebrate the Blade's 50th anniversary during Pride."
For all Pride Can Design Contest details and to submit an entry, visit www.washingtonblade.com/dcbrau. Deadline for design submissions is Monday, February 25 at 11:59 p.m. EST. Must be 21 years or older to participate.

"The PRIDE PILS project is one of our favorite charitable collaborations we do each year," says Mari Rodela, the brewery's chief community and culture officer. "The mix of creative design, community involvement and great beer is what we're all about at DC Brau! We're proud to be able to work with talented and generous partners for this project that greatly benefits two worthwhile organizations."

Proceeds from the sale of PRIDE PILS will benefit The Blade Foundation (https://www.bladefoundation.org), which is dedicated to funding new enterprise journalism projects and encouraging the next generation of LGBT journalists, and local LGBTQ youth empowerment program, SMYAL (smyal.org).
View official contest rules and instructions HERE.
To download can template click HERE.
To view sample DC Brau can label click HERE.
Submit all designs below or by clicking HERE.