February 1, 2019 at 4:02 am EST | by Joey DiGuglielmo
Brother, Help Thyself turns 40; set to give $75k in grants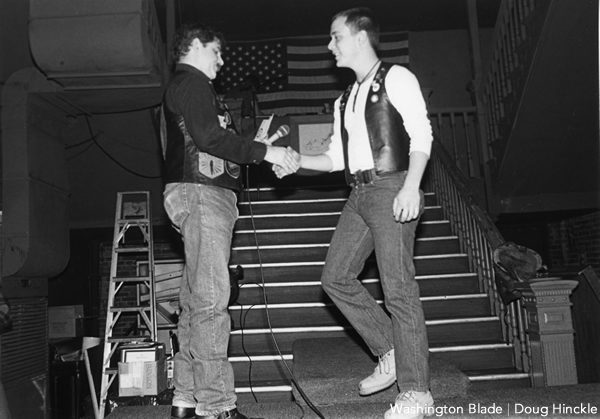 The first time Jim Slattery sat in on a Brother Help Thyself grant hearing, the experience made an impression. He recalls hearing a rep from a PFLAG chapter in Columbia, Md., speak to the board about the importance of its aid.
"She spoke so passionately about it and I think it was just a $100 check she had gotten from Brother Help Thyself back in the '80s," Slattery said. "But she talked with such passion about that donation as if it was a million dollars and I was sitting there against the wall in tears. I knew at that point I wanted to be formally involved with BHT. I made my interest known and before the end of the meeting, I was voted onto the board."
Slattery, who's gay, had been invited by a friend, Bradley Hill (still a Brother board member) to observe.
"I said, 'Sure, I'll come by sometime. I went and never really left,'" Slattery, who joined in 2009, said. He's a former Brother president and is now vice president.
Brother, Help Thyself Inc. is a community-based organization that provides financial and other support to non-profit organizations serving the LGBT and HIV/AIDS population in the Baltimore and Washington areas. It was founded in 1978 by four gay motorcycle clubs and claims it's "one of the first organizations in the United States to provide funding for (LGBT) health, cultural and social services."
The first fund drive by The Capital Area Board of Leather and Levi Motorcycle Clubs raised $4,518. Brother was formed to award the grant to The Gay Men's VD Clinic (later Whitman-Walker), which was having financial difficulties.
Brother celebrates its 40th anniversary this weekend with a Saturday, Feb. 2 event at the Belvedere Hotel (1 E. Chase St.) in Baltimore. "A Dressier Affair: Celebrating 40 Years of Brother, Help Thyself" is from 7-10 p.m. and will commemorate the organization's long history. Awards for the 2018 grant cycle will be given out as well as five annual community service awards given and two non-grant awards of $2,500 each to LGBT youth non-profits.
No tickets are required; hors d'oeuvres and a cash bar will be available. Usually Brother grants are handed out at informal events held at the Eagle or Grand Central but they're going a bit more formal this year because of the anniversary. Former board members have been invited and information on the agency's history will be presented.
Since its inception, Brother has awarded 1,098 grants totaling more than $3 million to 194 regional LGBT non-profits. This year, Brother will award about $75,000 in grants to 32 organizations. Current officers are Andrew McCarty, president; Mark Clark, treasurer; and Nina Love, secretary.
Brother funding comes from donations, fundraisers, endowments and interest. The agency receives no District, state or federal funding. It's a wholly volunteer-led organization run by an 11-member board. Members rent a small office at Dignity Washington, an LGBT Catholic group, on Barracks Row. Meetings are held in the Dignity conference room the second Wednesday of each month.
Brother typically receives between 30-35 applications each year. To be eligible, potential recipients must meet geographic requirements (which are slightly beyond D.C. and Baltimore proper) and have operating budgets less than $2 million annually. Food & Friends, for example, previously received Brother grants for several years but since 2009 has been too large to qualify.
The organization grew steadily over the years. After the initial $4,500 grant, $10,000 was awarded to various entities in 1980, $21,000 by 1982, $35,000 by 1986 and so on. Since 1991, at least $71,000 has been awarded each year. None are automatically renewed. Agencies must submit grant applications each year and appear before the board. The agencies must either be LGBT specific or have an LGBT component/arm to their work.
Players in D.C.'s Different Drummers pay a $175 annual due to play in the LGBT band but it uses Brother donations to offset dues for members who can't afford it. Annual Brother funds yield the Drummers between $1,000-2,000 each year.
"For our organization, it's meant that LGBT people and our allies who want to make music are able to do so without any sort of financial impediment," said Chip Clapp, who plays the euphonium in Drummers and who's gay. He's on Drummers' development committee.
"I think the work they're doing really speaks for itself," Clapp said.
Dr. Imani Woody, founder and CEO of Mary's House for Older Adults, a local non-profit for senior LGBT people, says Brother grants — which vary in amount each year — have been crucial in helping her agency in practical ways. One recent grant, for example, was used so she could hire an assistant to help in the office.
"I love Brother Help Thyself, I love Jim and Andrew (McCarty) and all the guys that work there," Woody, a lesbian, says. "It's an important space and was important for us because even though we have a national presence, we're a small non-profit and Brother, Help Thyself really understood that and bought into our mission."