February 2, 2019 at 6:00 am EST | by Michael K. Lavers and Yariel Valdés González
Migrants find refuge at lesbian-run shelter in Mexico border city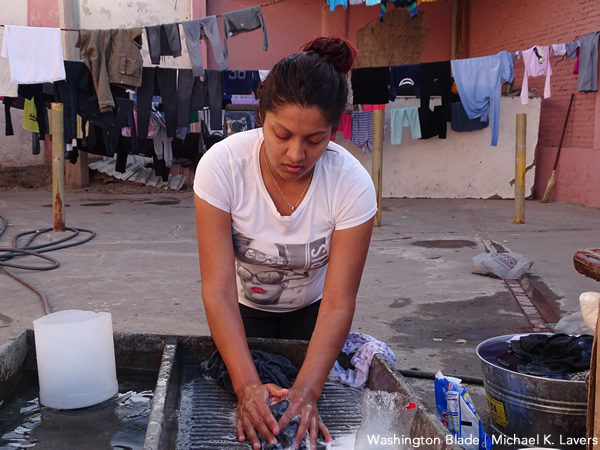 MEXICALI, Mexico — Cindy Campos was washing clothes on a concrete washboard in the courtyard of Cobina Posada del Migrante, a migrant shelter in the Mexican border city of Mexicali, shortly after 4 p.m. on Jan. 27.
Campos and her two children — her 6-year-old daughter Alexia and her 4-year-old son Dylan — and her sister arrived at the shelter the day before. Campos, 22, told the Washington Blade they fled Mexico's Michoacán state after her partner was shot to death outside her home.
"We fled mainly because of fear of what will happen to my children, to me," she said.
Campos and her children are among the more than 200 migrants from Mexico and Central America who are currently living at the shelter, which is less than a mile south of the Calexico West Port of Entry between Mexicali and Calexico, Calif., in the Imperial Valley.
A group of local LGBTI residents founded the shelter in 1987.
Altagracia Tamayo, a lesbian activist in Mexicali, currently manages Cobina Posada del Migrante. Casandra, a native of Acapulco who identifies as a transsexual woman, lives at the shelter and oversees its day-to-day operations.
Cobina Posada del Migrante is one of seven migrant shelters in Mexicali, which is the capital of Mexico's Baja California state. It currently receives financial support from the governments of Mexicali, Baja California and Mexico. Casandra was quick to point out to the Blade the migrants who stay at the shelter don't have to pay for anything.
"It's free," she said.
Tens of thousands of migrants who hope to seek asylum in the U.S. have traveled to the border over the last couple of years.
Many of these migrants were traveling in large caravans that arrived in Tijuana, a city that is roughly two hours west of Mexicali, last November and May respectively. Mexicali has not seen this influx of migrants, but many of those who are staying at Cobina Posada del Migrante hope they too can find refuge in the U.S.
José Javier Vázquez told the Blade he and his son left their home in Honduras' Cortés department on Oct. 22, 2018, because of poverty and death threats they received from gang members.
Vázquez, his son and a group of five other people traveled through Mexico on freight trains that are known as "the beast" or "La Bestía" or walked. Vázquez, a farmer whose wife and two daughters remain in Honduras, told the Blade he hopes to cross the U.S. border and seek asylum.
"It's the wish that I have," he said.
Maira González Alvarado from Michoacán state is currently living at the shelter with her two young daughters, including one who was born six weeks ago. She told the Blade her mother is already in the U.S., and she wants to live with her.
"Each day there are seven people killed where I am," said González.
Campos told the Blade that her children witnessed her partner's murder.
"They were there," she said. "All of this was very hard."
The shelter's residents spoke with the Blade against the backdrop of continued outage over President Trump's immigration policy that includes the separation of migrant children from their parents once they enter the U.S.
Trump continues to demand a wall along the U.S.-Mexico border, even though a physical barrier already exists in Mexicali, Tijuana and other border cities that include Nogales, which borders Arizona.
The Trump administration last week began to implement a controversial pilot program that will force some migrants who ask for asylum at the San Ysidro Port of Entry south of San Diego to remain in Mexico as they await the outcome of their cases. The Transgender Law Center last fall released the results of an autopsy that shows Roxsana Hernández, a transgender woman with HIV who died while in U.S. Immigration and Customs Enforcement custody on May 25, was beaten before she died.
"I am not as bad as they say," González told the Blade.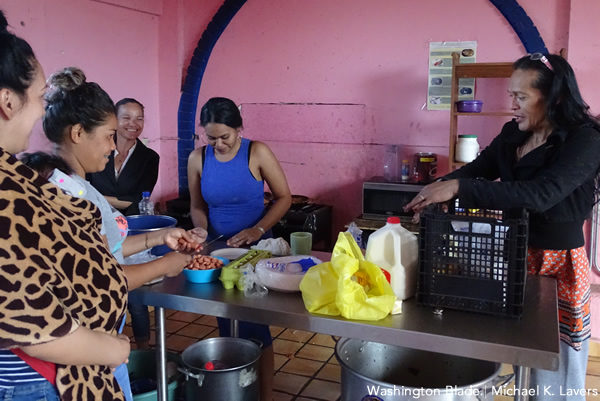 Casandra acknowledged Trump's immigration policy has sparked concern among migrants in Mexicali. She also pointed out closing the border could adversely impact the U.S. economy, in part, because migrants often take jobs on farms and elsewhere that Americans don't want.
"The U.S. would die of hunger," Casandra told the Blade. "It will lose millions of pesos if the port of entry closed for two days."