February 15, 2019 at 10:32 am EST | by Mark Lee
Virginia, D.C. confront punishment and redemption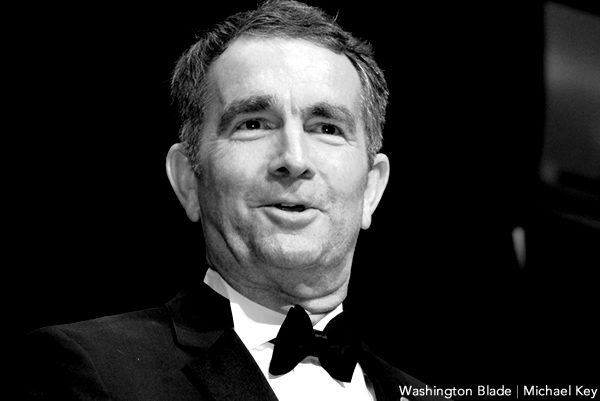 In Virginia, scandals have roiled the reputations and threatened the tenures of the commonwealth's top three elected officeholders. In D.C., an increase in violent felony gun crimes by repeat offenders has led to a change in how defendants will be prosecuted.
In both jurisdictions, officials and residents are confronting issues of punishment and redemption.
Two weeks ago, Virginia's Democratic governor Ralph Northam stumbled through an admission and next-day retraction of appearing in either blackface or a KKK costume on his 1984 state medical school student yearbook page. He did, however, admit to putting shoe polish on his cheeks while winning an out-of-state dance contest dressed as Michael Jackson the same year.
There were immediate and ubiquitous statewide and national calls for Northam's resignation, including by nearly every state party official or officeholder and announced Democratic candidate for president, civil rights organizations, and the LGBT national group Human Rights Campaign.
The assumption was that the Democratic lieutenant governor, an African American, would ascend to the top spot. That politician, Justin Fairfax, was himself quickly embroiled in allegations by two women of sexual assault and rape, which he denied as false, occurring in 2000 at college and at the Democratic National Convention in 2004. Fairfax's tenuous incumbency is legally more serious, solely subject to both criminal charges and possible impeachment.
Virginia Attorney General Mark Herring, also a Democrat and third in line to become governor, who had previously announced that he intended to run for governor in 2021 following the statutorily limited one-term tenure of Northam and called for the governor to step down, next went public with his own blackface-donning incident at a college party. Although fewer in number, pervasive calls for Herring's similar resignation or ouster from office ensued.
The widespread and reflexive political outcry and calls for swift remedy through departure from office reflect a growing intolerance toward politicians thought culpable of offenses either political in nature or illegal as crimes. Little consideration for reflection and even less regard for due process seems to be the new national standard of punitive public reaction overwhelmingly in vogue.
A conflicted citizenry now faces how to quickly and decisively mete out punishment for both perceived political and actual legal offenses, and whether to even factor redemptive statements or, as in the case of Fairfax, specific denials.
This mirrored a simultaneous development in D.C. regarding criminal prosecution designed to combat escalating violence.
Under an agreement signed by Mayor Muriel Bowser and long advocated by police chief Peter Newsham, many local violent gun offenses will now be prosecuted as federal crimes in federal district court. It is part of a city crackdown in response to a 40-percent increase in shootings taking place in the District, 40 percent of which are committed by repeat offenders.
This revised approach to handling violent felony crimes is anticipated to include up to 400 annual cases. Also affected will be younger adult offenders often not subject to mandatory minimum sentences by the local court, an option unavailable under federal prosecution. Convicted felons will also face sentences of up to 10 and 15 years, longer than now typically imposed and without the same diversionary sentencing options.
Although there was scant public objection to the plan, the action raises significant policy questions regarding the ongoing political viability of city politicians placing an emphasis on softer sentencing designed to maximize second chances and re-entry redemption. The lack of outcry likely indicates diminished patience with the approach when contrasted with growing public safety concerns.
Both the turmoil in Virginia over racist behaviors or potential sexual crimes of politicians and the shift in prosecution of violent offenders in D.C. raise fundamental questions regarding punishment and penitence whether involving officeholders or offenders.
These attitudes portend that calls for stricter and rapid penalty, whether in the statehouse or on the street, reflect a shifting political zeitgeist.
Forgiveness may be falling out of fashion faster than we fathom.
Mark Lee is a long-time entrepreneur and community business advocate. Follow on Twitter: @MarkLeeDC. Reach him at OurBusinessMatters@gmail.com.