February 17, 2019 at 6:26 pm EDT | by Chris Johnson
Gillibrand declares support for third-gender option on federal IDs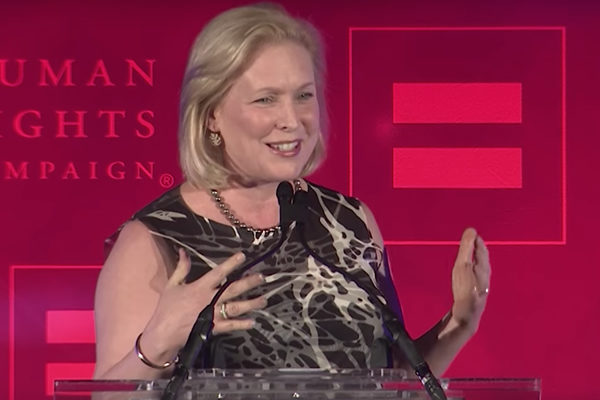 Sen. Kirsten Gillibrand (D-N.Y.), a 2020 Democratic hopeful, has come out in favor of a non-binary gender marker on federal identification documents, according to CBS News.
The New York Democrat's support for the third-gender option — a practice adopted in at least two states — Oregon and New Jersey — for birth certificates and driver's licenses — makes her the first 2020 candidate to take that position.
According to CBS News, Gillibrand emphatically said "yes" to recognizing "X" as a third-gender option at the federal level during an LGBT event on the campaign trail in Somesworth, New Hampshire.
Palana Belken, a transgender woman and organizer for the American Civil Liberties Union of New Hampshire, reportedly was the attendee who asked the candidate about the issue.
At the state level in New Hampshire, State Rep. Gerri Cannon, one of the transgender lawmakers elected as a state legislator in 2018, has introduced legislation seeking a third-gender option on identification documents.
According to the Equality Federation, five states are considering legislation allowing a third-gender option and easing the process by which transgender people can change their gender marker on identification documents: Arizona, Colorado, Hawaii, New Hampshire, New Mexico and New York.
The effort of intersex and non-binary people to choose a third gender option on U.S. passports has been ongoing for some time.
The LGBT group legal Lambda Legal sued the State Department for refusing to allow Dana Zzyym, an intersex person, to select "X" as a gender marker on her passport. Last year, a federal judge in Colorado ruled the State Department must grant Zzyym the third-gender option. Both the Obama and Trump administrations fought Zzyym's request to select "X" as a gender marker.