February 24, 2019 at 1:07 pm EST | by Michael K. Lavers
Cuban government blocks Blade media partner's website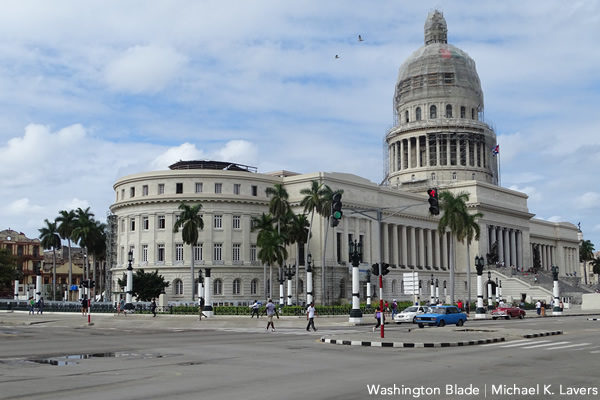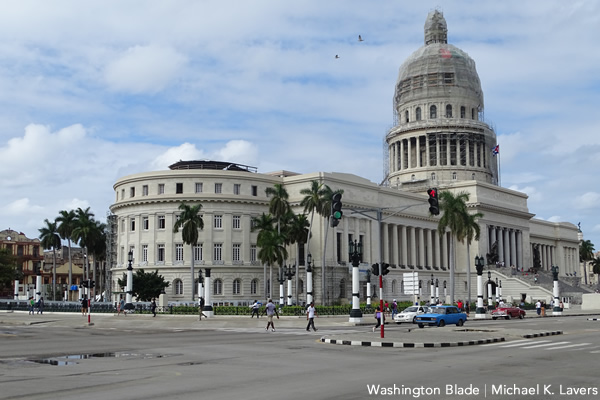 The publisher of the Washington Blade's media partner in Cuba on Saturday said the country's government blocked access to his website in the country.
Maykel González Vivero, co-founder of Tremenda Nota, an independent online magazine in Cuba that covers the country's LGBTI community and other minority groups, wrote on his Facebook page that authorities "just blocked access to Tremenda Nota in Cuba." González in his post also notes Tremenda Nota was blocked on the eve of a referendum on the draft of the country's new constitution.
González noted to the Blade that Tremenda Nota on Friday published an article about the results of an official survey that indicates 77 percent of Cubans between 15-74 said same-sex couples should receive the same rights as heterosexual couples.
Evangelical church groups publicly objected to the inclusion of an amendment in Cuba's new constitution that would have extended marriage rights to same-sex couples. The Cuban government in December announced the provision had been removed from the draft constitution that is before voters on Sunday.
Tremenda Nota reported Cuba's National Office of Statistics and Education released the survey results on Feb. 15, nine days before Sunday's referendum. Tremenda Nota also reported Mariela Castro, the daughter of former Cuban President Raúl Castro who spearheads LGBTI issues in Cuba as director of the National Center for Sexual Education, and Luis Ángel Adán Roble, a member of the Cuban National Assembly who also advocates for LGBTI issues, told one of its reporters that they knew about the survey results before they were publicly released.
"Tremenda Nota was blocked on the eve of the constitutional referendum," González told the Blade.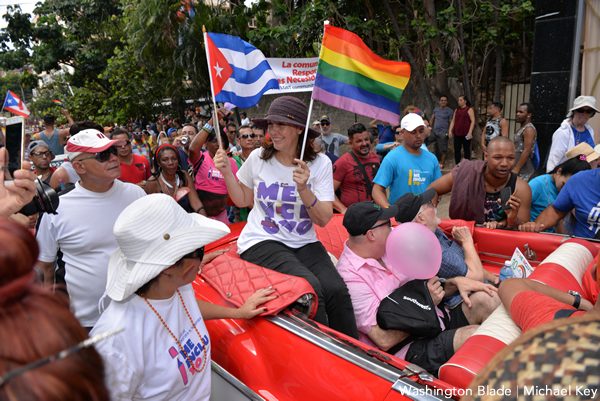 González noted other independent media outlets have been blocked. These include 14ymedio, a website founded by Yoani Sánchez, a journalist who is a vocal critic of the Cuban government.
Sánchez on Sunday posted to her Twitter page a screenshot that shows she cannot access her website from Havana.
"I don't dare to guess if we will remain blocked after the referendum," González told the Blade on Sunday. "We will know over the next few days. It is not common for media outlets that are not controlled by the government to be censured for the Cuban audience."
Reporters Without Borders notes Cuba is ranked 172 out of 180 countries on its 2018 World Press Freedom Index. Freedom House in a 2017 report notes Cuba "has the most repressive media environment in the Americas."
"Traditional news media are owned and controlled by the state, which uses outlets to promote its political goals and deny a voice to the opposition," reads the report. "Journalists not employed by state media operate in a legal limbo — they are technically illegal, yet tolerated unless they cross ill-defined lines. Journalists at both state and independent media risk harassment, intimidation and detention in connection with any coverage perceived as critical of authorities or of Cuba's political system."
Freedom House notes authorities detained "scores of journalists" before then-President Obama visited Havana in 2016.
González and his partner, Carlos Alejandro Rodríguez Martínez, who is Tremenda Nota's editor, were detained in September 2017 after they tried to interview a Cuban Communist Party official in Sagua la Grande, a city in Cuba's Villa Clara province, about Hurricane Irma preparations. Authorities in October 2016 arrested González in the city of Baracoa in eastern Cuba while he was reporting on the aftermath of Hurricane Matthew.
González told the Blade the harassment of independent journalists in Cuba has increased since President Miguel Díaz-Canel took office last April.
"The Cuban government has given a lot of proof of its distrust of the press," said González. "Under Díaz-Canel, the harassment of journalists has even increased."
"The censorship of Tremenda Nota, which is a media outlet that writes about women, people of African descent and the LGBTI community, should be seen as an attack against the visibility of the stories that we tell. It is, therefore, a misogynist, racist, homophobic, lesbophobic and transphobic censorship."
The Blade has reached out to the Cuban government for comment.