SPRING ARTS 2019 TV: Small screen delights
'American Gods,' 'Killing Eve,' 'Sabrina' pepper TV season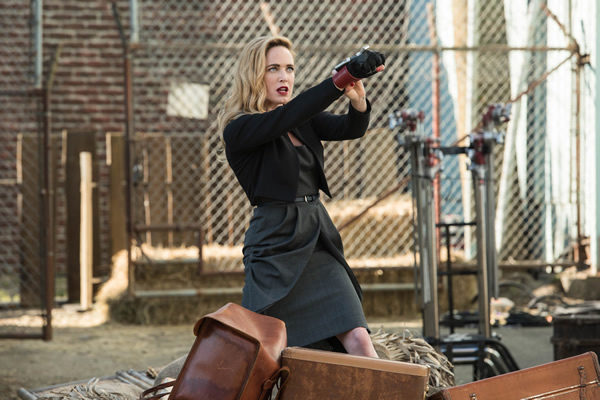 The spring television season includes some exciting new shows, some old favorites returning for a new season and some shows returning after their winter break.
The controversial HBO documentary "Leaving Neverland" explores allegations of sexual abuse made against Michael Jackson by James Safechuck and Wade Robson who were befriended by the pop star when they were boys. Despite a lawsuit filed by Jackson's estate, HBO will air the doc as a two-part miniseries starting March 3.
Anarchic queer filmmaker Gregg Araki moves to the small screen with "Now Apocalypse" which premieres on STARZ on March 10. Known for the "Teen Apocalypse Trilogy ("Totally Fucked Up," "The Doom Generation" and "Nowhere"), as well as the cult favorites "The Living End" and "Mysterious Skin," the Japanese American writer/director has created a 10-episode comedy series that focuses on the sexual and romantic escapades of four friends in Los Angeles. The series center on Ulysses (Avan Jogia) who is not sure if he's stumbled on a massive conspiracy or if he is just paranoid from smoking too much weed.
NBC ups its representation game with the premiere of "Abby's" on March 28. The series is about a bisexual ex-marine who runs an illegal neighborhood bar with very specific rules in her backyard. Abby will be played by out actress Natalie Morales, whose credits include playing Rosie Casals in "Battle of the Sexes." In a fun twist, the series will be filmed outdoors in front of a live audience in a multi-camera format.
Snap your fingers and roll your hips for the dramatic entrance of "Fosse/Verdon" on FX on April 9. Directed by Thomas Kail ("Hamilton"), the series explores the tempestuous relationship between legendary choreographer Bob Fosse (played by Sam Rockwell of "Vice" and "Three Billboards Outside Ebbing, Missouri") and his wife and muse Gwen Verdon (played by Michelle Williams of "Manchester by the Sea," "My Week with Marilyn" and "Brokeback Mountain"). Fosse and Verdon were married in 1960. They separated in 1971, but never divorced and worked together until his death in 1987.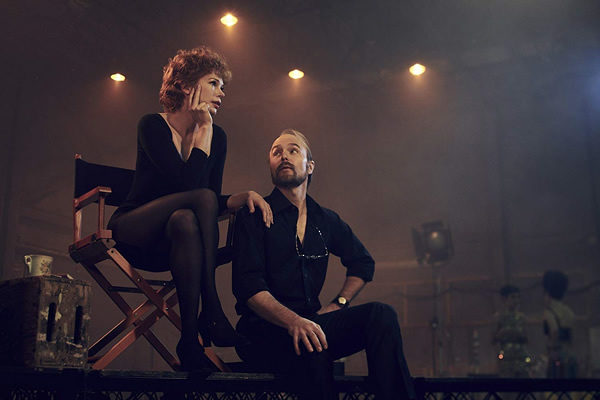 "Catch-22," Joseph Heller's darkly satirical novel about men and war, comes to life as a Hulu miniseries on May 17. Christopher Abbott stars as the hapless bombardier Yossarian. The cast also includes Kyle Chandler, Hugh Laurie and George Clooney, who also served as executive director and directed some of the episodes.
Season one of "American Gods" surprised viewers with the graphic gay relationship between Salim (Omid Abtahi) and the Jinn (a mythic being of fire played by Mousa Kraish). Season two of the series based on the novel by best-selling author Neil Gaiman, premieres on STARZ on March 10. Details are scarce, but the "star-crossed lovers" are expected to be regular characters.
"Queer Eye," the award-winning reboot of "Queer Eye for the Straight Guy" returns to Netflix on March 15.
The fifth and final season of "Jane the Virgin" will premiere on the CW on March 22. Loosely based on a Venezuelan telenovela, the parodic soap opera has included a number of LGBT characters, including Petra Solano and her latest love interest Jane "JR" Ramos.
Season two of "Killing Eve" premieres on BBC America on April 7. Sandra Oh recently won a Golden Globe for her performance as Eve Polastri, an MI5 officer who is tracking Villanelle (Jodie Comer), a psychopathic Russian assassin. The two women become obsessed with each other, both personally and professionally, and their complex love-hate relationship becomes both violent and erotic when they finally meet. Out actress Fiona Shaw plays Eve's superior Carolyn Martens, head of the Russia section at MI5.
Season two of "9-1-1" returns to Fox on March 18. Co-created by the unstoppable team of Brad Falchuk, Tim Minear and Ryan Murphy (known for their work on "Glee," "American Horror Story" and "Pose"), the show focuses on the intense personal and professional lives of first responders in Los Angeles. The show's current LGBT characters include Aisha Hinds and Tracie Thoms as paramedic/firefighter "Hen" Wilson and her wife Karen Wilson, a lesbian couple raising Hen's son from a previous relationship.
Season four of "Legends of Tomorrow" returns to the CW on April 1. The time-traveling rag-tag team of heroes and villains trying to save planet earth is currently anchored by bisexual Captain Sara Lance (Caity Lotz), also known as White Canary.
After aholiday break (and a special Christmas episode), "The Chilling Adventures of Sabrina" returns to Netflix for season one, part two on April 5. Developed by openly gay writer Roberto Aguirre-Sacasa from his comic book novel of the same name, the show centers on Sabrina Spellman (Kiernan Shipka), a half-mortal, half-witch teenager fighting the evil forces that threaten her family. While not all of the show's queer content has been embraced by LGBT critics, two queer characters have enchanted both critics and audience members.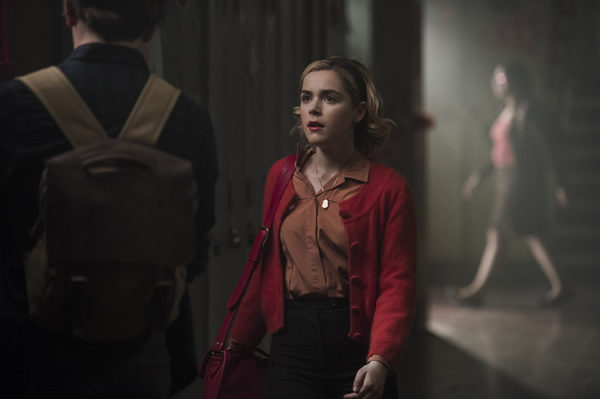 Chance Perdomo plays Sabrina's cousin Ambrose Spellman, a pansexual warlock from Britain who is Sabrina's partner in crime. He's been placed under house arrest by the Witches Council for trying to blow up the Vatican.
Non-binary actor Lachlan Watson plays Susie Putnam, a close friend of Sabrina who identifies as genderqueer and who has been assaulted by members of the high school football team. With Sabrina and other friends, Susie becomes a founding member of WICCA (the Women's Intersectional Cultural and Creative Association).
Finally, Washingtonians recently got a sneak peek at season three of "The Handmaid's Tale." In a rather chilling juxtaposition, while President Trump was declaring a state of national emergency, the cast and crew of the award-winning show were filming on the National Mall. Scores of women dressed in the red robes of the Handmaids were clustered around the Tidal Basin and the monuments; shots of the Washington Monument will apparently be replaced by images of a giant cross, since the show is set in the dystopian theocratic regime of Gilead which was built on the ashes of the Unites States.
Despite the twists and turns of the second season, the entire principle cast is expected to return when "The Handmaid's Tale" season three drops on Hulu on June 5.
Short-form 'Smothered' is long on laughs
Indie sitcom features longtime gay couple who can't stand each other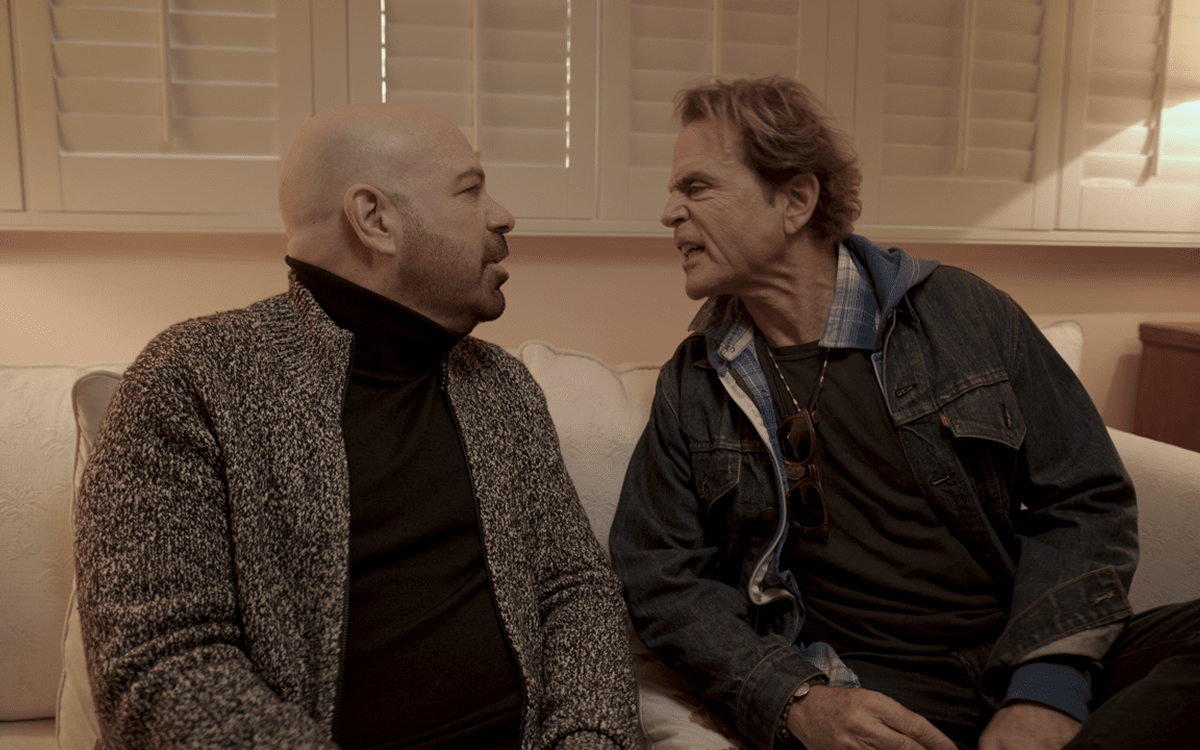 We all know at least one couple who can never seem to get along. Whenever we spend time with them, no matter the occasion or setting, they can't help taking jabs at each other and triangulating everyone who will listen to them into their volatile dynamic. We might sympathize with them, like them, or even love them, but we can only stand to be around them in small doses.
Which is why "Smothered," an indie-made sitcom about a longtime gay couple who can't stand each other and spend virtually every minute of screen time saying so in the most hateful ways possible, sounds like a terrible idea.
Created, written, and produced by its two stars, Jason Stuart and Mitch Hara, it's the story of Ralph and Randy, a Boomer-aged married pair whose decades-old love appears to have fizzled out long ago. Apart from being gay and Jewish, they don't have much in common, and they seem like total opposites; Ralph (Stuart) is a needy romantic still clinging to his fantasy of a happy-ever-after marriage, while Randy (Hara) is a vain and unapologetically shallow serial cheater who eagerly jumps at any opportunity to spit venom at his nebbish-y spouse. To call their relationship dysfunctional would be putting it lightly – for one thing, fighting with each other also turns them on, which leads to some amusingly uncomfortable moments – but even if it weren't, they would still be insufferable. Why would anyone want to watch a show that essentially consists of nothing but these two sniping at each other?
That's not a hypothetical question, because people do want to watch it – enough so, in fact, that after becoming an acclaimed hit on Amazon Prime in 2020 (due in part, undoubtedly, to the pandemic-driven need for a constant flow of easily-accessible home entertainment content), Stuart and Hara's meagerly-budgeted, DIY-style comedy not only got the green light for a second season, but conducted a successful GoFundMe campaign to deliver it. It drops this month on Amazon Prime, Revry, and all major streaming services, with slicker production values and an expanded cast that includes recognizable guest stars.
So how did this happen? One reason, certainly, is that the show's short-form structure – most episodes are approximately 4 to 10 minutes long – lets audiences consume it in bite-sized chunks and step away in between segments if needed. The second reason, however, is that it's wickedly funny – which makes those little breaks not only unnecessary, but unlikely.
In the first season, "Smothered" established a format in which its two anti-romantic leads spent each episode hashing out their differences in front of an ever-changing parade of therapists – none of whom are able to last more than one session with them. It was a gimmicky-but-clever conceit that allowed the couple's story to be told through both of their own filters while providing a great platform for Stuart and Hara, whose elaborate verbal sparring flows like a river of shiny-but-jagged jewels. Ralph and Randy are firmly established as hateful from the beginning of episode 1, and proceed to show us just how over-the-top their hatefulness is until we love them for it in spite of ourselves.
With the second season – and an expanded budget – the show breaks free of its self-imposed boundaries to become less of an exercise in "variations on a theme" improvisational comedy and more closely resemble a traditional sitcom. Picking up where the previous season left off, Ralph and Randy are finally resolved to get a divorce, but after a financial catastrophe and a subsequent brush with the law, they can't afford it; furthermore, to qualify as residents in a new subsidized housing facility for LGBTQ elders, they must be a couple – so they are forced to continue living together. There are still a few therapists (or, in some cases, surrogate therapists) in the mix, but this time around we get to see the couple's interactions with other characters and experience their life together first hand instead of only through the catty and quippy recaps with which they would regale their couples counselors in season one.
It's a positive move, allowing the show to grow wider and avoid the pitfalls of sticking to a formula with enticing-yet-finite possibilities. It also allows the characters to become more fully drawn; they're still just as horrible, but somehow, by experiencing things with them instead of only as a barrage of comedic zingers, they become more human to us, more relatable. The things we saw in them that reminded us of ourselves were part of why we laughed at them in season one, but now they are the things that help us begin to like them a little, and maybe even – can it be so? – root for them to get over themselves and rekindle the love for each other that obviously still burns inside them.
Another benefit of opening up the show's format is the freedom to add characters who can stick around to become part of the story, like the uber-butch lesbian manager of their new housing facility (pioneering queer TV veteran Amanda Bearse in a hilariously tongue-in-cheek performance) or the hunky Latino chef (Bryan Quiros) whose coming between them might just be the thing that pushes them back together again. The biggest boon, however, is the opportunity it gives Stuart and Hara to deepen their characters, to let go of their comic ferocity – just enough of it, at any rate – and simply be real, once in a while. It makes a big difference, because while season one was a solid, funny, and deliciously snarky good time worth bingeing over a night or two, season two has evolved enough to let us see, a little more clearly, that it also has a heart. Considering that short-form narratives are still often disregarded by many audiences over their presumed insubstantiality, it's no small feat when one proves such prejudices to be unfounded.
We don't want to scare you away, though. Heart or no, it's also still a fast-and-furious onslaught of bitchiness and bad behavior that will have you cringing and laughing at the same time. Likewise, while it makes a point of diversity and inclusiveness among its widened cast, it also delights in flagrantly stepping over the line into "politically incorrect" territory, skewering contemporary oversensitivity with the kind of irreverent generational humor (confusion over pronouns, anyone?) and campy stereotype that might raise a few hackles among viewers too young to remember the days when such transgressive comedic flourishes were one of our greatest weapons against the cookie-cutter conformity of the hetero-centric mainstream.
In any case, "Smothered" seems unconcerned with offending people – in fact, it almost seems to delight in doing so – and never lets any kind of "agenda" take the focus away from the absurdly vicious love/hate dramedy going on in the middle of it all. With Stuart and Hara's playful chemistry, sharp writing, and finely-tuned acting carrying most of the weight, that's more than enough reason to cast off any preconceptions you might have and take a dip in the "short form" pool. In this case, the water's fine.
For musical fans, the TV series of the spring is 'Up Here'
A refreshing new addition to a genre that can never get enough love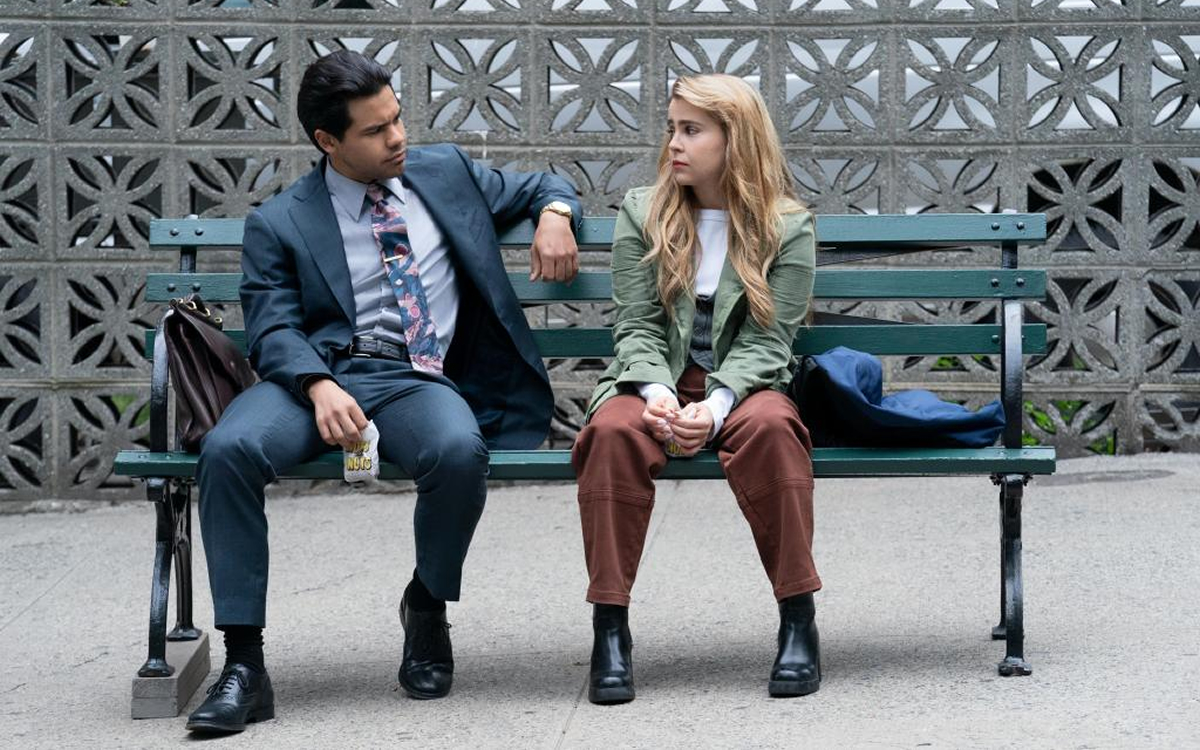 Love stories are never out of season, but if there's any time when they feel more welcome than usual, it's in the early blossom of spring.
We're not talking about just any love stories here, but the kind of sappy, feel-good tales of romance that most of us scoff at but secretly dream of living for ourselves. Perhaps unsurprisingly, the same people who enjoy that oft-maligned sub-genre also tend to be fond of musicals, and if that sounds like you – especially if you're a nostalgic Millennial or an older Gen-Z-er with a fondness for the Disney classics of the '80s and 90s – then congratulations: you're the target audience for "Up Here," Hulu's new series about the young love on the cusp of Y2K!
A musical romance set in the waning days of 1999 New York City, it follows Lindsay (Mae Whitman) and Miguel (Carlos Valdes), two misfits chasing their dreams of success who fall in love and discover that when it comes to finding happiness together, their greatest obstacle might be themselves – or at least, the personified memories that live inside their heads, giving elaborately orchestrated and impeccably arranged voice to the treacherous world of embarrassments, obsessions, fears, and fantasies that influence their behavior and their choices.
It's not exactly a new concept. From "Herman's Head" to "Inside Out" and countless other iterations in between, the eminently relatable idea of a "committee" inside our minds – often made up of people whose presence in our past left a significant mark – commenting on and trying to influence every detail of our lives has provided plenty of fuel for onscreen entertainment. It might be a trope, but whether it's played for laughs or for serious contemplation (it's almost always a mix of both, though the ratio may vary widely), these stories always give us food for thought.
"Up Here" is no exception, but it hones and targets its appeal by delivering that meal with a heaping side of musical meta-commentary. Developed and adapted by Steven Levenson with married songwriting team Kristen Anderson-Lopez and Robert Lopez, it's based on a 2015 musical by the latter – a married pair responsible, either together or individually with other writing partners, for composing the songs of "Avenue Q", "Frozen" and "Coco", along with several other massively successful musical entertainments of the past decade or so. Combined with the track record of Levenson (who wrote the book for Broadway's "Dear Evan Hanson" and the screenplay for 2021's "Tick, Tick… Boom!") and co-Executive Producer Thomas Kail (director of 2020's filmed "Hamilton" and showrunner for the acclaimed FX bio-series "Fosse/Verdon), the Lopez knack for upbeat, stirring, and infectiously clever pop-inflected songs gives the show more than enough promise to ensure any serious musical fan will be on board to at least give it a chance.
When they do, they'll likely be hooked from the start by a quirky, tongue-in-cheek tone that somehow manages to strike a sustainable balance between self-aware parody and sincere exploration of an art form which, frankly, ends up being the butt of a lot of jokes from those immune to its stylized charms. Musical fans know what we're talking about, and we feel their pain – but we can't help also appreciating the more cynical worldview that often makes the genre seem more like feel-good pablum than serious artistic expression. Still, regardless of one's personal taste for musicals, it's hard not to respect an approach that acknowledges the inherent absurdity of the format while still committing itself unapologetically to honoring the optimistic romanticism that makes it so irresistible for a legion of die-hard aficionados – many of whom, at the risk of perpetuating a stereotype, happen to be queer, an additional perspective that will surely help the show's tale of romance between two square pegs in a world full of round holes land even closer to home for a substantial percentage of its viewing audience.
It's also hard not to be won over by the performers, who seem to gleefully embrace – and rightfully so – the opportunity to show off all their triple-threat chops onscreen, not to mention the chance to sing material from the two-time-Oscar winning Team Lopez. Whitman, a former child actress and voice performer who successfully transitioned into "grown-up" roles (most notably opposite Christina Hendricks and Retta on the dark TV crime comedy "Bad Girls") and came out as pansexual in 2021, turns her unconventional appeal into an anchor for the show's sometimes far-flung wildness; she wins our hearts by the end of her first scene, and she only becomes more endearing from there. Valdes makes a perfect counter to her offbeat underdog energy, the "Lion King" to her "Little Mermaid", a swoon-worthy sensitive good guy in disguise who can't help wearing his heart on his sleeve even as he tries to blend in with the douche-y finance bros in his workplace. Katie Finneran, John Hodgman, Andréa Burns, Scott Porter, Sophia Hammons, and Emilia Suárez comprise the ensemble of voices inside the lovers' heads, each of them embodying real people with backstories of their own – which affords them all an occasional spotlight moment and allows for plenty of subtle nuance in their performances as they serve as a literal chorus for the "dramedy" at hand.
As for the material itself, "Up Here" boasts an extremely polished, sharply cinematic aesthetic that goes a long way toward softening any resistance to its musical conceits – and making up for a song score that, while solid and suited to the purpose, is largely devoid of the sort of standout "earworms" that typically score big points for musical fans. At times reminiscent of a goofy send-up like "Schmigadoon", at others more a reverent homage to the screen musicals of classic Hollywood, and at still others approaching the sublimely deconstructed anti-romanticism of French auteur Jacques Demy's '60s masterpieces, it benefits from a refusal to fall back on its potential for camp value – though it occasionally leans hard in that direction, on purpose – by keeping us emotionally invested in its two appealing leads. It also makes sure to keep a healthy balance between musical fantasy and everyday reality, limiting the big, splashy production numbers to 2 or 3 per 30-minute-ish episode.
Probably the most intriguing aspect of the series, however, is its narrative structure, in which it shows us things through the experience of one of its characters – including their inner dialogues with their respective mental critics and commentators – and then replays them from the perspective of another. Again, it's not an innovative concept, but it makes for a musical that has the space to go deeper than the not-entirely-accurate preconception of the genre as insubstantial "fluff" might deem possible.
Is that enough to make it appealing for people who don't like musicals? It would be tempting to say yes, but there's no denying that "Up There" is a show designed for a certain type of audience. If that DOESN'T sound like you, it's probably best for you to skip it. For the rest of us, however, it's a refreshing and surprisingly thought-provoking new addition to a genre that, for our money, can never get enough love.
'The Real Friends of WeHo' proves to be the epicenter of … something
Show is one 'we didn't need'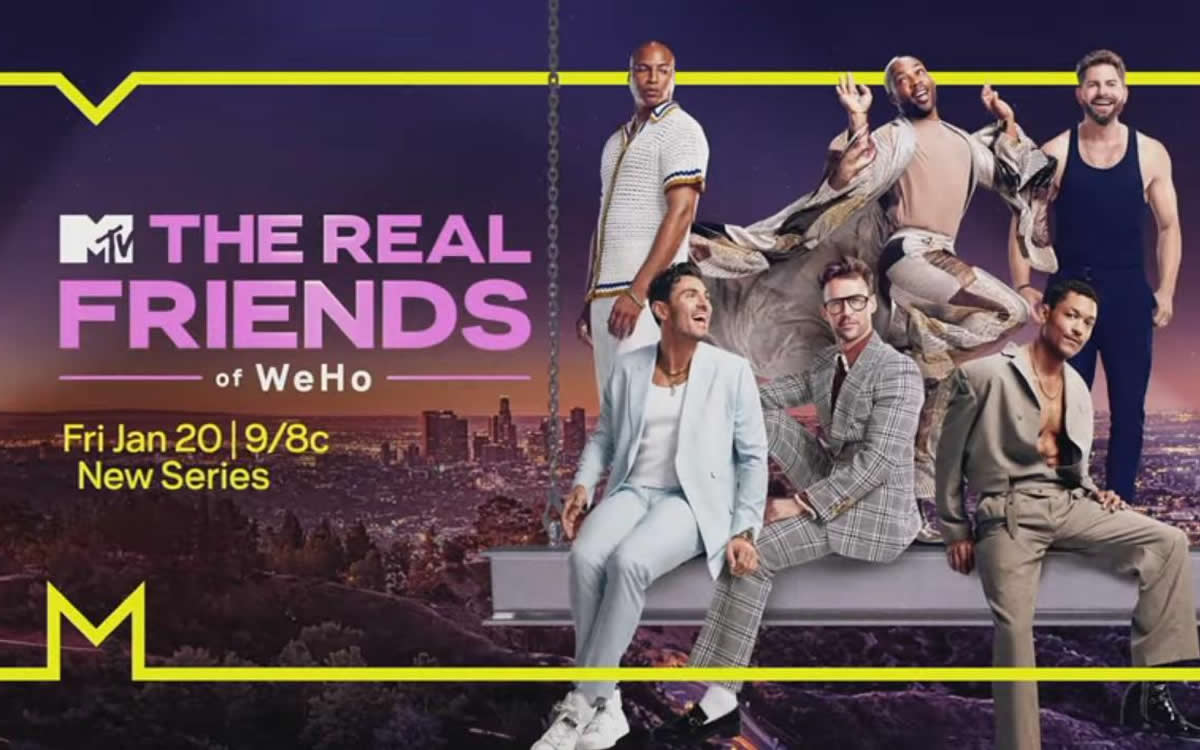 The "groundbreaking" new reality show launched this week, and man, was there drama. Too bad it wasn't on the show itself.
Across the meta-sphere, pearls were clutched, and faces were hand-palmed, and the comments went from bitchy and nasty to bitchier and nastier. The WeHo Times "didn't hate it," and "kind of related" (but, hello, the show is set in … WeHo.)
The Wrap called it a show "we didn't need." The Decider (whose decision is that you "skip" the show) describes the program as "just watching six gays proclaim that they 'aren't here for drama' and 'don't tolerate foolishness,' even though they are now contractually obligated to be present for drama and endure an exhausting level of foolishness. It's a given that none of this is real, but it should at least be entertaining."   
Those were the nice reviews.
The writer of the blogshere LGBTQ Nation claimed that the show turned his "brains into real skull goo" and wrote a meandering non-sensical massacre of a review to prove it. None were quite as vitriolic as the Daily Beast however, that called it a "colossal gay nightmare" and stated that it "stinks as badly as the alley dumpster behind The Abbey after jockstrap night." 
I will have to take his word for that. I saw the show but have no desire to check out said dumpster.
Whether the vitriol is deserved or not, the viewers seem to have stayed away. Or at least, their interest did. The social media accounts for the show have a paltry number of followers so far. Only 3 percent of Google reviewers liked the show. It currently has a .8 out of 5-star rating on IMDB. 
The show is really not that bad. Each of the guys has a reason for being on the show, and if they owned their individual motives rather than trying to be generalist and "representative," the show could be intriguing.
The biggest failure was in how the show rolled out in the first place. The show came on like a wrecking ball and landed right on itself. The opening claim that "West Hollywood is the epicenter of the gay world" was demonstrative of the arrogance that will likely kill it.
There are gay people in LA that would dispute that West Hollywood is the epicenter of the Los Angeles gay world, let alone the rest of the globe. San Francisco, New York and London may also have something to say about being gay centers. So, unless the intention was to piss off everyone not in West Hollywood, the opening line and its prominence in the promo for the show, was a big marketing mistake.
The next failure was rudeness and failure to "read the room" metaphorically. By forcing itself in between "RuPaul's Drag Race" and "Untucked" programs, while stealing time from them, the show runners were completely clueless as to how eventful and anticipated those shows are to their viewers each week. Literally trying to force them to watch "Real Friends" was presumptive that the new show had earned the affection necessary to succeed in that program slot. It clearly had not.
Thus the show seems set up to fail. By promoting that it is thoroughly in love with itself, it has not given the audience a chance to know if we are really even interested in a second date.
I personally am going back for one. The guys on the show are specific to the here-and-now of gay, design, fashion and entertainment West Hollywood life. It would be nice if they seemed conscious at all of the horror of AIDS we lived through there back in the day, or gave a passing interest to the current right-wing attacks on trans kids, but then their prototypes, the "Real Housewives" franchises, don't try to be "The View" either.
Brad Goreski is featured as the name-dropping designer whose first episode confession is that he has been secretly feeding his husband chicken disguised as turkey. It comes off cuter than it sounds. Goreski is the mouthpiece for most of the show's self-aggrandizement and I thought he was more charming when he was on "What Happens Live," and was more … real.
Todrick Hall is the cast member supposedly of great controversy, and takes his chance to explain and be humble around it. If he was selling, I bought it. I was also mystified — his supposed "scandals" are nowhere near Erika Jayne or Jen Shah levels, but with all the attacks, you would think they were.
Up and coming actor Curtis Hamilton is intriguing, as he is using his participation in the show to come out as gay publicly. We will see how the show handles that, and how his life plays out, but if things do not go well, it is the time in one's life where one needs friends.
Dorión Renaud is also an intriguing cast member. He is the CEO/founder of Buttah Skin. As an accomplished black gay man fighting against others with more privilege, he could be absolutely fascinating. So far, he is not. He has an emotional armor and seems on guard with a tone of toxic masculinity. He does have a moment where he admits to being painfully socially awkward.
It is at this moment, that rather than showing some compassion, social media influencer Joey Zauzig throws him out of the party for being "negative." Joey's own story on the show needs some depth-infusion. He claims to have "a million followers" across various social media platforms while showing his Instagram page of 200-something thousand. For an "influencer," that is not a lot.
The first episode features Joey's engagement to his beautiful boyfriend. It is a story of how they fell in love looking at each other's pictures and are now destined to be together for life. While that all could be true, the show did not take the audience along for the ride, so it all seems manufactured and artificial. There is no heartwarming emotional moment, at least, not for us.
Jaymes Vaughan, the final cast member, actually brings moments of romance tingles in scenes with his husband Jonathan Bennett. Their brief banter and impromptu kiss came off as authentic and real and charming. There is transparency that the producers actually wanted Jonathan for the show. He refused them, so they went with Jaymes. That disclosure was a bit embarrassing, and while getting more feelings for Jaymes because of it, it made you want to reject the show even more.
In the show "Sex and the City," New York City felt like another character in the show. WeHo does not feel present in this show by contrast. Unlike other similarly structured reality shows, the show's production itself DOES seem like another character presence and is discussed on camera regularly. At this point, it is unclear if that breakdown of reality TV protocol is refreshing or irritating.
Goreski laid claim to being the epicenter of the gay world. In an interview Zauzig predicted "some people are not going to like us and some people are going to love us."
So far, the lovers have not shown up, and the only epicenter to be seen is one of, potentially unfair, unprecedented disdain.
****************************************************************************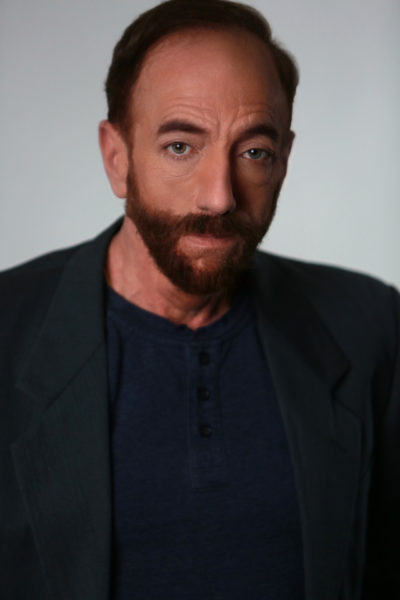 Rob Watson is the host of the popular Hollywood-based radio/podcast show RATED LGBT RADIO.
He is an established LGBTQ columnist and blogger having written for many top online publications including Parents Magazine, the Huffington Post, LGBTQ Nation, Gay Star News, the New Civil Rights Movement, and more.
He served as Executive Editor for The Good Man Project, has appeared on MSNBC and been quoted in Business Week and Forbes Magazine.
He is CEO of Watson Writes, a marketing communications agency, and can be reached at [email protected] .