April 5, 2019 at 2:01 pm EDT | by Brian T. Carney
Broadway legends Bob Fosse, Gwen Verdon revisited in uneven new FX series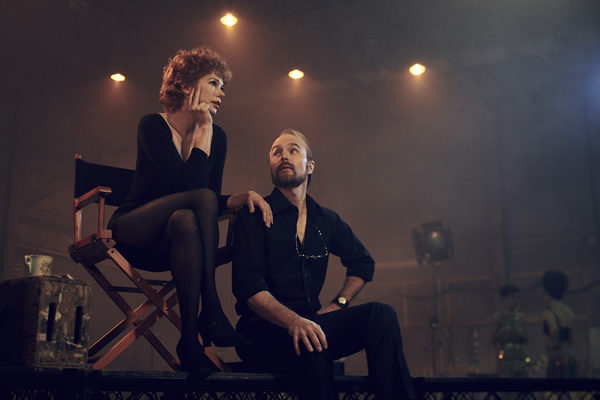 "Fosse/Verdon" is a giddy ride through the long tumultuous relationship (professional and personal) between show-biz legends Bob Fosse and Gwen Verdon. When the eight-episode limited FX series, which starts April 9, pulls in tight on Fosse and Verdon and their circle of friends, the results are amazing, a passionate portrait of ground-breaking artists who thrive on applause and follow spots while they try to outrun their doubts and insecurities.
Unfortunately, when the focus pulls away from the central relationships, things get a little fuzzy. Even for the most dedicated musical theater queen, it's hard to cram decades of Broadway and Hollywood history into an eight-hour miniseries.
Bob Fosse (1927-1987) wanted to be the next Fred Astaire. Instead he became a legendary director and choreographer, winning eight Tony Awards between 1956 ("The Pajama Game") and 1986 ("Big Deal"), an Oscar ("Cabaret") and an Emmy ("Liza With a Z") and creating iconic dance moves and production techniques that changed theatre history.
Gwen Verdon (1925-2000) started dancing on stage when she was 6 years old. She won four Tony Awards between 1953 ("Can-Can") and 1959 ("Redhead"), but suffered a long professional dry spell between her Tony nominations for "Sweet Charity" (1966) and "Chicago" (1976).
Fosse (a stunning Sam Rockwell) and Verdon (a luminous Michelle Williams) met in 1955 when they were working on the stage production of "Sweet Charity." She became his chief muse, one of the greatest interpreters of his choreography and often his unbilled collaborator. The pair married in 1960 and had one daughter, Nicole. They separated in 1971, but never divorced. After his death, she became the guardian of his artistic legacy and began a successful second career as a film and television actress.
"Fosse/Verdon" ambitiously tackles their entire relationship and even includes flashbacks to their childhood performances. It sometimes gets exhausting, confusing and a little repetitive. He uses alcohol, drugs and chorus girls to keep his demons at bay; she raises Nicole, comes to Bob's rescue and waits for her next great role.
Yet, in the middle of all this muddle, there are some magical moments that slow down and shine a spotlight on these fascinating people. When Fosse and Verdon meet, for example, creative and erotic sparks fly and the audition quickly becomes a mutual seduction. It's amazing to watch the two of them work together on the sets of "Sweet Charity" and "Cabaret." He is too inarticulate and impatient to explain his innovative choreography to the dancers; she coaches the dancers, works with the technicians and finds the right costumes for Sally Bowles. He, of course, gets the Oscar.
There's also a powerful episode where the principal characters gather at a beach house to mourn the death of Joan Simon (Aya Cash) after Bob is released from a psychiatric hospital. Bob is with his new girlfriend Ann Reinking (Margaret Qualley) and Gwen is with her new boyfriend Ron. Also in attendance are Nicole (who gets sick after smoking a cigarette) and family friends and award-winning writers Neil Simon (Nate Corddry) and Paddy Chayefsky (Norbert Leo Butz).
The rainy weekend at the beach is a great chance to get to know the characters better. Episode writer Charlotte Stoudt and episode director Thomas Kail (Broadway's "Hamilton") dive deep into relationships old and new and offer fresh insights into the personal and professional passions that drive the characters. Stoudt, Kail and the designers also capture the 1970s with great flair; there's a chocolate souffle for dessert and a bight yellow fondue pot on the counter. Best of all. Michelle Williams offers a heart-rending performance of "Where Am I Going?" from "Sweet Charity."
Throughout the series (or at least the five episodes that were available for review), the acting is superb. Williams is simply magnificent as Verdon; she brings the legendary dancer to fiery life in a richly nuanced performance that throbs with passion. Whether onstage or off, Williams dazzles. Rockwell is terrific as Fosse, even when the role gets a little repetitive. Both actors sing and dance very well and embody their legendary characters with admirable ease. Instead of relying on heavy prosthetics, they appropriately accomplish their transformations with theatrical flair, relying on vocal mannerisms, costumes, wigs and make-up, and those fabulous Fosse movements.
The terrific supporting cast also includes a sensational Paul Reiser as embattled "Cabaret" producer Cy Feuer, Evan Handler as Hal Prince and a great Susan Misner as Joan McCracken, Fosse's second wife.
The editing is crisp and the pacing is assured, but sometimes the writing trips over itself. Most notably, the script borrows heavily from "All That Jazz," Fosse's stunning fictional cinematic autobiography. Montages of Fosse's self-destructive behavior are lifted directly from the movie, as is Nicole's tearful musical eulogy for her father. Luckily, Sam Rockwell never repeats Roy Schneider's classic line, "It's showtime."
There's also very little context for the action. There's almost no mention of Fosse's rivals Michael Bennett and Jerome Robbins. Supporting characters come and go in a confusing blur and most of the celebrity impersonations (Liza Minnelli! Ben Vereen! Joel Grey!) are unremarkable and indistinct. It's also a little odd that there are no visible LGBT characters.
Despite these weaknesses in the writing, "Fosse/Verdon" is a must-see for LGBT fans. The performances are sensational, the show looks great and the story is entrancing. It's a great show to watch in a queer bar surrounded by other enthusiastic fans; if you're watching at home, make sure you have a musical theater maven on hand to help you follow along.