March 7, 2019 at 1:11 pm EST | by Patrick Folliard
'Vanity Fair' actor on stage life as gay, disabled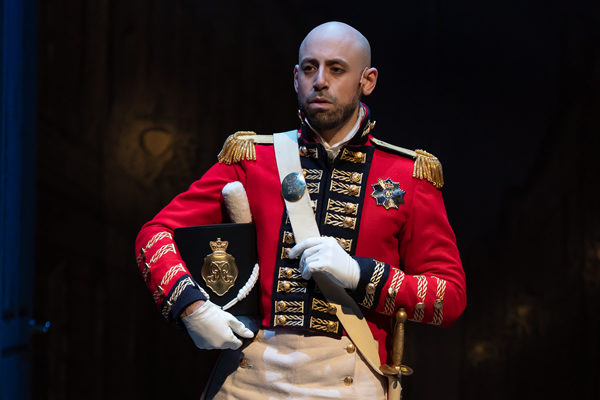 Anthony Michael Lopez 

'Vanity Fair'

Through March 31

Shakespeare Theatre Company 

Lansburgh Theatre 

450 7th St., N.W. 

$44-$118

202-547-1122
With his current gig, accomplished out actor Anthony Michael Lopez proves versatility incarnate, assaying roles ranging from subdued spurned suitor to assorted comic parts played wildly broad, in Kate Hamill's "Vanity Fair" now at Shakespeare Theatre Company.
"The first scene opens with me in drag," says Lopez, 33. "I dive into a dress. Somebody throws me a wig from across the stage, I slap it on my head, turn around and I'm the headmistress of a girls' school."
"It hopefully gets you used to the kinds of conventions you'll be seeing," he adds.
In addition to nasty headmistress, Lopez adeptly plays multiple roles including Dobbin, a noble victim of unrequited love. "Because it's a swiftly unfolding, sweeping epic spanning 15 years and a couple of countries, a lot of the performance style is big, plot points must be made crisply, and the cast needs to make quick changes. It's challenging but so much fun."
Like William Makepeace Thackery's same-titled 1848 novel, Hamill's tremendously entertaining "Vanity Fair" tracks the shady rise and thud-like fall of devious but likable parvenu Becky Sharp. The New York-based playwright is celebrated for adapting, often irreverently, literary classics centered on strong women for the stage.
With an inventive, lean cast of seven, playing more than 20 parts, Hamill's play was initially written for a smaller space, but for its run in STC's not tiny Lansburgh Theatre, director Jessica Stone gives a stylistic nod to Victorian burlesque – a merger of traditional theater and English music hall – to successfully translate the action to bigger space.
"Along with the fast-paced, sometimes slapstick humor we're dealing with issues, says Lopez. "These people's lives fall apart in front of you. Playing high highs and super lows — like Becky Sharp's life – is really gratifying."
As a kid, Lopez showed a precocity for showbiz. Family lore has it that at four, he demanded his uber supportive mother get him an agent and put him on "Sesame Street." He was doing children's theater at 10, and by high school was nabbing leading roles Don Quixote in the musical "Man of La Mancha." He determinedly pursued acting at Illinois Wesleyan University. Shortly after graduation, he was cast in the national tour of "The 25th Annual Putnam County Spelling Bee," and has been working ever since. Lopez knocks on wood. 
In a surprising twist on professional theater, Lopez explains, he often finds himself one of the only openly gay people in the room. As part of the high-profile 2016 production of "Othello" with movie star Daniel Craig and David Oyelowo, Lopez was one of the only out cast members. 
"When I was younger, I was self-conscious about coming off 'too gay.' But now I realize that fear inhibits my ability to perform and connect with actors, words and feelings," he says. "I sometimes have to remind myself not to butch-up. That's a defense mechanism. As gays it's kept us safe. But ultimately I'm not OK with not being myself."
"My first big movie role is a gay dude," he says delightedly of the biopic "Mapplethorpe," a studio, wide-release feature (now in theaters) based on the life of the seminal and controversial gay photographer. Lopez plays gay activist Jack Fritscher, founding editor of gay leather-themed magazine Drummer and Mapplethorpe's sometime lover and friend.
Looking forward, Lopez wants to do more Shakespeare. He'd like to play the visibly disabled title character in "Richard the Third" (now running concurrently at STC). "Because I'm disabled – I have a prosthetic leg – it's a part that I really interests me. Also, I'm beginning to think more about lead roles. As a gay man I never thought I could play Macbeth. But [out actor] Sir Ian McKellan did it, so why not me?"
Lopez was born with a condition that requires he use a prosthetic leg: "While there are certain limitations, I can still serve ferocious choreography. ["Vanity Fair's" cast both dances and takes parts in precision like scene changes, which Lopez executes with agile aplomb.] But getting new equipment approved by insurance companies can be a nightmare."
It's vital that he take care of himself, he says. "It's important to stretch, hydrate, and get rest. I'm lucky that I can wear long pants and easily play non-disabled roles. And with some productions, the director might make the decision to costume me in shorts and the character is now disabled because I'm playing the role."
Whether at home in New York City or on the road, Lopez loves working. But while away, he's not immune to homesickness. "I miss my friends and my boyfriend who's "not in theater, thank God!" He's a renaissance man who's currently doing production work for film, TV, and commercials. "He just did the sets for the New Kids on the Block video. Yes, the video came as a surprise to us too," he adds.
Typically used to a more sub-textual, performance style, Lopez is relishing the theatricality of "Vanity Fair": "It's been really great to snap my head out to the audience and declare this or that. There's just something so satisfying about it."