March 9, 2019 at 7:12 am EST | by Kevin Majoros
Trans athlete: an advocate and a competitor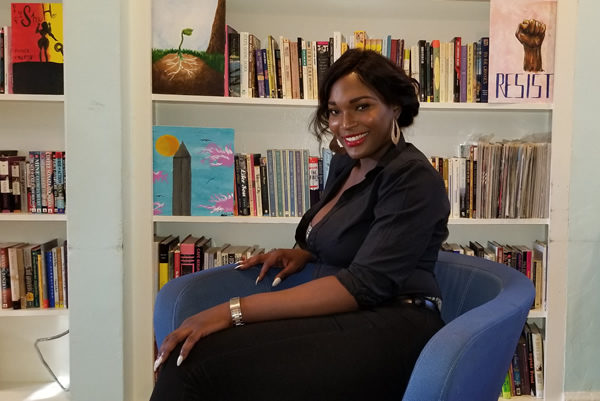 Porsha Burton is missing her sport. A former track and field athlete, she stopped competing in high school to begin the process of transitioning to her true gender identity.
Burton began as an 8 year old with the Cambria Youth Association in Philadelphia and found success as a sprinter and shot putter. She ran through her freshman year of high school before starting hormone blockers at age 15.
"My participation in sports stopped because it seemed counterproductive to be pumping muscles while I was trying to be softer," says Burton. "Also, my appearance was changing, and it would have been distracting to race against boys and not fair to the girls."
Had Burton chosen to compete, according to transathlete.com, the Pennsylvania Interscholastic Athletic Association has a policy on "mixed-gender" participation that includes some phrasing on transgender athletes. 
However, the policy allows a school's principal to make the final decision about what gender the student is and what team they may play on, without outlining any criteria for the decision making process.
A class project in junior high led Burton to a path of sexual health advocacy where she educated herself on topics such as pregnancy prevention, STIs and HIV. At age 18, she furthered her own transition by working with a doctor at the Mazzoni Center to gain more knowledge on hormones, therapy and surgeries.
Her work career began at The COLOURS Organization in Philadelphia as a peer educator performing street outreach to young trans women.
"My brother passed from HIV complications during that time," Burton says. "I have always wished I could have shared more of the things I have learned with him."
A relationship brought her to D.C. where she was impressed by the people of color she was meeting who had education on their side. She began working at the DC Center for the LGBT Community before moving over to the D.C. Department of Health as a Health Impact Specialist. Burton was contracted out by the DOH and worked inside of local youth organization SMYAL for over a year.
Now working as a community health worker, Burton is hoping to reintroduce sports into her life.
"If you are going to whisper in people's ears how great they are going to be, you should also be the best that you can be," says Burton. "I have a love for being athletic and am excited at the thought of competing again. My younger self would have been inspired by seeing a trans woman as an athlete. I never would have stopped."
Burton happens to be living in a city with a thriving LGBT sports community. The DC Front Runners offer a walking and running program along with a 10-week series of track workouts.
"It's wonderful to live in a city like D.C. with such an incredible infrastructure for the LGBT community," says Mick Bullock, Club Coordinator for the DC Front Runners. "We have members from all walks of life, and we are a running family. We accept everyone and are very experienced with nonbinary and trans athletes."
"We want to represent the whole community and we love diversity," adds Jeremy Garrett, track coach for the DC Front Runners. "We offer a full range of paces and cater to all abilities. The track program is designed to be fun and a great workout."
While Porsha Burton explores her path back into sports, the LGBT sports community in D.C. stands ready to embrace her and any individual that wants to reap the benefits of participating in sports.
"My former teammates taught me how to be a team player," says Burton. "I would like for people who want to understand why a trans athlete should be able to compete and be part of a team, to do more research. Most of the great things in life were made from a team effort."