March 14, 2019 at 11:38 am EDT | by Peter Rosenstein
Should Jack Evans resign?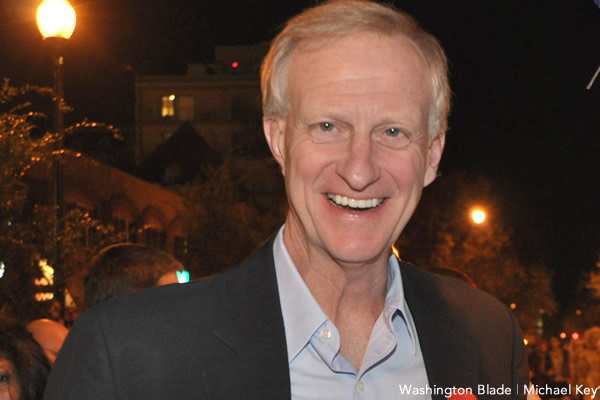 Some are calling for Council member Jack Evans (D-Ward 2) to resign. I am following with interest the federal probe of Evans. Although things don't look good for him, I wouldn't yet place a bet on his demise. Over the years he has walked a fine line with his lobbying and Council duties.
I've known Jack since he was chair of the Dupont Circle ANC 2B from 1989 to 1990. At the time he was living in the Webster House and was a familiar face in the neighborhood. He won the Ward 2 Council seat in a special election after John A. Wilson ran for Council Chair and won. Ward 2 covers a wide swath of Northwest D.C. and includes Chinatown, Logan Circle, Dupont Circle, Sheridan-Kalorama, Foggy Bottom, the West End, Georgetown, Burleith, Hillandale, and much of Downtown Washington (including the White House, the National Mall, and the U.S. Capitol Building). The District includes some of the wealthiest communities in the city and he represents the business community. Jack is clearly the go-to Council member for them. It doesn't hurt he is also chair of the Council's Finance Committee.  
I have had an uneven relationship with Jack over the years often criticizing his work as a lobbyist. I have also been a rabid critic of the so-called Constituent Service Funds for which Council members are allowed to raise up to $40,000 a year. Over a four-year term they are allowed a slush fund of $160,000. Evans has often been criticized for how he raised and used the money.
Over the years Jack has had to answer many questions. In 1999, some questioned his influence to move forward the Ritz-Carlton Hotel and Condos in the West End for Millennium Partners, the company his wife worked for. But then Jack has not been alone in his outside work for those doing business with D.C. David Catania comes to mind as another one and other Council members had second jobs. I think at the moment only two, Evans and Cheh hold outside jobs. I remember when Jim Graham was first elected on the promise he would be a full-time Council member and then got caught having a consulting contract with Whitman-Walker, which he was embarrassed into giving up.
But Jack has done some good things as well. He is a strong supporter of the arts and has pushed to try to have the Council taken out of the business of approving contracts. Now that could be because it would make it easier for him to lobby the city if that happened because he wouldn't actually have a vote on contracts. But it is a good idea.
Jack has often stepped close to the line of conflict of interest. But he also has a great constituent services staff who are hardworking and make him look good. He is also likely the most knowledgeable person about city finances in the city.
Whether that will be enough to save him this time I don't know but as I said I wouldn't count him out no matter how bad this looks — and it looks bad. I have supported Jack and worked against him. I am waiting for the results of the federal probe to decide what I will do now. Interestingly, I was contacted by a number of people recently asking if I would consider a run against Jack. Years ago, a few business people who were mad at Jack for one reason or another offered me a healthy war chest if I would run against him. I said no and those same people ended up supporting him in the next election.
If Jack goes down this time my thoughts would be the same as they are in the 2020 presidential election where I have written I don't want to see anyone over 70 on the ballot. It is time for us elders in the party to support the next generation of Democrats. So even if Jack is found guilty of crimes it would be the height of hypocrisy for me to run. If he is guilty or is forced out there are many in Ward 2 who are young, able and interested in the race and I would support one of them.
But I don't think we are quite there yet. 
Peter Rosenstein is a longtime LGBT rights and Democratic Party activist. He writes regularly for the Blade.